"Great Value" Bookstore Sale!
$29.99 Combos
"The Biblical Family"
Combination Offer! DVD - Volumes 1 & 2 - by Pastor Crone
Regularly $39.98, Only $29.98 - You SAVE $10.00
Both families and marriages are under incredible stress in today's modern world. Divorce among Christian couples is just as high as among unbelievers and this should not be so! What is causing this rate of Christian breakup, and can the Bible offer principles for life and living that can solve this terrible situation?
We simply need to get back to Biblical values and God's definition of the family unit. We seek to equip you with the foundational truths needed to have a Family Built to Last that can only be found in God's Word, the Bible. Here you will discover such things as seeks to equip you with the foundational truths needed to have a Family Built to Last that can only be found in God's Word, the Bible. Here you will discover such things as the critical Role of Man, Husband, Father, Wife, Mother and children.
God's way is not just the right way, it's the best way for having the best possible life this side of heaven. There is still time and there is still hope, no matter how far things have gone. We just need to get back to The Biblical Family today!
Volumes 1 and 2, 12 Sessions total, on 6 DVD's - http://www.cuttingedge.org/detail.cfm?ID=2624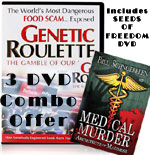 "Genetic Roulette / Medical Murder"
"Two Sides of the Same Coin" Combination Offer
Regularly $44.94, On Sale Only $29.99, Save Nearly $15.00
The stark messages in Genetic Roulette and Medical Murder are two sides of the same coin.
'Genetic Roulette' proves the scientific dangers inherent in Genetically Modified Foods. They demonstrate how human scientists have taken God's good food and have genetically modified it so that it actually is killing people today!
Also contains a 28-minute expose' on modified seeds, another grave danger to our long- term health.
'Medical Murder' examines the murderous nature of our chemically- based medical industry. Literally, the collaboration between government regulators and chemical medicine producers is so deadly that we can call it 'Architects of Madness'. The third highest cause of death in America is "iatrogenic" -- induced in a patient by a physician!
But, there is more concern; the Government is killing you as it subsidizes the top killers of our population.
This Combination DVD offer has over 5 hours of teaching! http://www.cuttingedge.org/detail.cfm?ID=2470
News Alert
Monday, May 19, 2014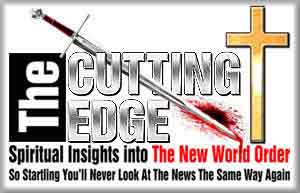 "God's Final Jubilee"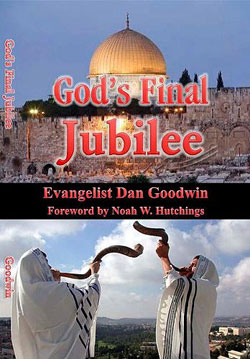 New Book by Dan Goodwin, Intro by Dr. Noah Hutchings, SW Radio
CURRENT NEWS: "Should Israel rebuild the Temple? Israelis say 'Yes'," Israel Today, 7/30/13
"Israel Housing and Construction Minister Uri Ariel (Jewish Home) recently declared, "we need to build a real Temple on the Temple Mount.""
Surprisingly, the majority of Jews interviewed on the street agree.
"Judaism says that when Messiah comes, we will rebuild the Temple. "
"God's Final Jubilee" demonstrates the shocking reality that so many pertinent prophecies are now being fulfilled according to a set timetable that Israel is now entering her "Final Jubilee"!
This book is being proclaimed by some as, 'The most up to date study of prophetical events of our day!' Others have called it 'a stunning and even chilling revelation of how close we are to the end of the world!'
The purpose of this book is to sound the horn to the people of God. Jesus is coming, and He is coming soon! Global events are happening so fast it is hard to keep up. Everything is in place for the rise of Antichrist.
It is time for the saints to awaken; it is time for the church of God to arise from its slumber. The clock is getting ready to strike midnight. Everything on earth is about to change. Woe unto those who are not ready to meet the Lord.
This book reveals: * The 70th and final Jubilee is on the horizon. * The Bible's built-in Prophetic calendar. * The customs of a Jewish wedding and the Bride of Christ. * The purpose of the Tribulation from the book of Daniel. * Ten solid proofs of a Pre-Tribulation rapture. * The reason the Tribulation is measured in days not years. * The Kinsman Redeemer and the title deed to planet earth. * Why we may be the last generation. * A seven thousand year history of the world. * The identity of the two witnesses. * When the New Testament really began. * What in the world is going on. * The coming blood red moons.
Regularly $18.95, On Sale $14.95
http://www.cuttingedge.org/detail.cfm?ID=2622
If you like this book, you might also like: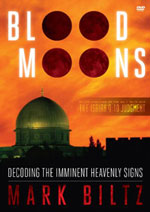 "Blood Moons DVD: Decoding Imminent Heavenly Signs"
DVD by by Mark Biltz
Something remarkable is just on the horizon. God is about to move mightily in the world. Are you spiritually prepared? Are your loved ones prepared?
From the beginning, in Genesis, God declared He specifically created the sun and the moon as 'signs'. God would use these heavenly bodies a signals of coming climactic historical events when the Creator of the Universe was about to intersect human history. But, how do we unlock the code to interpret God's signals?
Mark Biltz very well might have discovered the key, as he documents in this DVD, 'Blood Moons'. http://www.cuttingedge.org/detail.cfm?ID=2614