"Pray For The Peace of Jerusalem"
Against All Odds Israel Survives
"Does A Divine Power Continue To Uphold Israel?"
6 DVD set - Run Time: 9 hours
How does Israel survive against all odds?
Modern-day Israel is truly a divine wonder of the current age. How has it triumphed through four major wars and survived relentless terrorist attacks? Meet the actual people who lived through what can only be described as miracles of Biblical proportions, and share their remarkable stories.
Episode 1 - The Assignment; Episode 2 - Miracle at Michmash; Episode 3 - Shula: The Girl Who Became a Spy; Episode 4 - The Miracle of Survival: Hitler and the Holocaust; Episode 5 - A Boy Named Ezra; Episode 6 - The Miracle of '48; Episode 7 - 1967!; Episode 8 - A Warrior Named Kahalani; Episode 9 - The People of the Book Come Home; Episode 10 - A Place of Miracles?; Episode 11 - Myth or Miracles?; Episode 12 - Rescue at Entebbe; Episode 13 - In Search of a Miracle.
DVD 1: Episodes 1-3 - Shula Cohen, a married woman living in Beirut, risks her life to become one of Israel's most famous spies. Israeli troops in the Yom Kippur War are saved when a mysterious wind exposes thousands of mines that imperil their lives. During World War II, the Biblical account of Saul and Jonathan inspires a British major to launch an improbable victory against a Turkish garrison.
DVD 2: Episodes 4-6 - An outnumbered Israeli squad is saved when approaching enemy troops inexplicably flee. Compelling dramatizations and interviews chronicle miraculous triumphs in Israel's fight for independence from the British and in the establishment of a Jewish homeland in 1948. The devastating history and haunting legacy of the Holocaust is considered.
DVD 3: Episodes 7-9 - Avigdor Kahalani, one of Israel's most decorated and beloved war heroes shares his incredible stories of survival and victory in the Yom Kippur War. Considering the miracle of Israel's own existence, her citizens share firsthand what it means to live in the land of their forefathers.
DVD 4: Episodes 10-12 - Strange beings wielding flaming swords foil marauding Arabs in their attempt to destroy a Jewish community. Thousands of storks suddenly appear to devour locusts plaguing a farming village. The subject of miracles and faith take a personal meaning when former hostage Sarah Davidson recalls the harrowing 1976 hostage crisis that set the stage for a daring rescue mission at Entebbe airport.
DVD 5: Episode 13, Plus Extra Feature - Is Israel a place of miracles? In this inspiring episode, Michael Greenspan concludes his investigation and reflects on the remarkable people he has met and the incredible stories he has heard. Series writer and director Tom Ivy hosts Against All Odds: The Making of a Miracle, a fascinating behind the scenes look at the creation of this extraordinary exploration of fact and faith.
DVD 6: Against All Odds Feature Film - This feature film version captures all the powerful drama and uplifting spirit of the stirring thirteen-part series. Gripping dramatizations, eyewitness accounts, and interviews with historians and religious leaders etch a fascinating portrait of a nation's soul. ORDER NOW
News Alert
Monday, May 12, 2014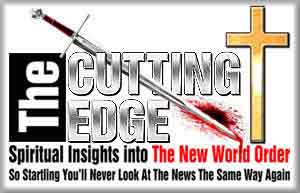 "God's Final Jubilee"
New Book by Dan Goodwin, Intro by Dr. Noah Hutchings, SW Radio
Regularly $18.95, Sale Priced Only $14.95
T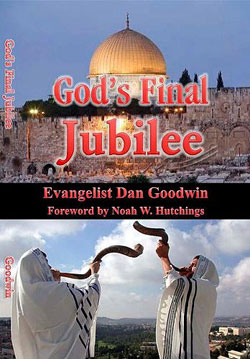 his book is being proclaimed by some as, 'The most up to date study of prophetical events of our day!' Others have called it 'a stunning and even chilling revelation of how close we are to the end of the world!'
The purpose of this book is to sound the horn to the people of God. Jesus is coming, and He is coming soon! Global events are happening so fast it is hard to keep up. Everything is in place for the rise of Antichrist.
It is time for the saints to awaken; it is time for the church of God to arise from its slumber. The clock is getting ready to strike midnight. Everything on earth is about to change. Woe unto those who are not ready to meet the Lord.
This book reveals: * The 70th and final Jubilee is on the horizon. * The Bible's built-in Prophetic calendar. * The customs of a Jewish wedding and the Bride of Christ. * The purpose of the Tribulation from the book of Daniel. * Ten solid proofs of a Pre-Tribulation rapture. * The reason the Tribulation is measured in days not years. * The Kinsman Redeemer and the title deed to planet earth. * Why we may be the last generation. * A seven thousand year history of the world. * The identity of the two witnesses. * When the New Testament really began. * What in the world is going on. * The coming blood red moons. http://www.cuttingedge.org/detail.cfm?ID=2622
If you like this book, you might also like: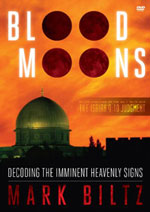 "Blood Moons DVD: Decoding Imminent Heavenly Signs"
DVD by by Mark Biltz
Something remarkable is just on the horizon. God is about to move mightily in the world. Are you spiritually prepared? Are your loved ones prepared?
From the beginning, in Genesis, God declared He specifically created the sun and the moon as 'signs'. God would use these heavenly bodies a signals of coming climactic historical events when the Creator of the Universe was about to intersect human history. But, how do we unlock the code to interpret God's signals?
Mark Biltz very well might have discovered the key, as he documents in this DVD, 'Blood Moons'. http://www.cuttingedge.org/detail.cfm?ID=2614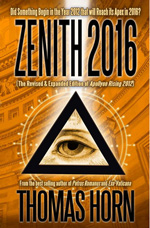 "Zenith 2016: Masonic Countdown Started in 2012 To Produce Global Leader!"
Book by Tom Horn
Regularly $19.95, Sale Only $14.95
The Illuminati began a series of events in 2012 which they believe will culminate in the appearance of a world messianic leader in just a few short years. A New World Order birthed out of Chaos is coming and quickly.
Learn about Blood Moons, Feast Days and the Comet of the Century, the return of the Nephilim, the planned role of Pope Francis I, and what the Protestant Reformers believed about 2012-2016. 451 pages long