HOT NEWS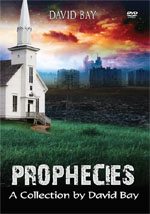 I. China suddenly has stepped in to support Russia and Iran in their conflict with the West.
Is China preparing for her prophetic role in the events foretold in the Book of Revelation?
NEWS BRIEF: China's Russia Power Play: Sanctions-burdened Russia is getting business from China's growing military machine", US News & World Report, Nov 10, 2014
"President Barack Obama will meet with Chinese President Xi Jinping this week on international issues like Ebola and terrorism, but things likely will get awkward if they discuss Beijing's growing nuclear arsenal and increasingly cozy partnership with Russia. "
"Xi has aggressively asserted his government's power at home and abroad since taking office in 2013, and is gaining a reputation as China's most powerful leader in decades. The new president is expanding China's military to challenge U.S. supremacy in the Pacific Ocean and trying to keep his country on track to become the world's largest economy by the 2020s. "
Even though China owes her financial prosperity to American purchases, and even though China owns more American Dollars than she should, her leaders seem to never miss an opportunity to display their independence from the United States. Never has this fact been so obvious than in this issue of China's support of Russia in a manner which alleviates much of the financial pain inflicted by Western sanctions.
"... Xi has become friendlier with Russian President Vladimir Putin, who also wants help countering U.S. influence and boosting his troubled economy, says Elbridge Colby, a national defense analyst with the Center for a New American Security think tank in Washington. 'Putin called China a 'trusted friend' before meeting with Xi in May, and both sides have emphasized that the countries' relationship has reached new levels – something that would be impossible without good relations between the two leaders', Colby says."
What specific steps has China taken that has benefited Russia in her struggle with the West?
* "China has boosted its military spending by 170 percent from 2004 to 2013"
* "That military expansion likely will soon include deals with Russia to purchase S-400 air defense missile systems, Su-35 jet fighters and possibly even new submarines in exchange for broad trade and energy partnerships with China"
* "Purchasing advanced weaponry from Russia may further embolden China to continue bullying its neighbors"
* "Purchasing new submarine technology from Russia also could allow Xi to challenge U.S. dominance by expanding China's nuclear arsenal. China mainly uses diesel-powered submarines with limited sailing range."
* "China's growing industry and population have spurred more purchasing of Russian energy resources"
China is also taking major steps that will make it easier for Iran to side-step American sanctions.
NEWS BRIEF: "China to Double Investment in Iran: Despite Western Sanctions", Israel National News, 11/17/2014
"Iranian deputy minister for energy Esmail Mahsouli was quoted in the Iranian Mehr News Agency saying China raised its quota on Iranian infrastructure projects from $25 billion to $52 billion ... Those raises in funding will particularly focus on water, electricity, oil and gas projects ... The talk of Chinese financing comes as the US and Europe continue to maintain sanctions on the Islamic regime over its nuclear program, which is currently being discussed in Vienna talks ahead of a November 24 deadline."
"The cash-strapped nation has been turning to China, Russia and Turkey to circumvent the sanctions."
Why is China taking these steps to allow Russia and Iran to circumvent Western sanctions? The answers are complex, but at the the end of the day, China is solidifying her financial and military power so she can move Westward into the Middle East and into Israel, in fulfillment of Revelation 9:13.
In Revelation 9:13, we see God initiate the Sixth Trumpet Judgment, a war that kills one-third of mankind. "And the sixth angel sounded, and I heard a voice from the four horns of the golden altar which is before God, Saying to the sixth angel which had the trumpet, Loose the four angels which are bound in the great river Euphrates. And the four angels were loosed, which were prepared for an hour, and a day, and a month, and a year, for to slay the third part of men. And the number of the army of the horsemen was two hundred thousand thousand: and I heard the number of them."
In this judgment, God liberates four particularly powerful demonic angels who had been bound at the great river, Euphrates, possibly since the Tower of Babel incident so many centuries ago. These angels then lead an immense army of "horsemen" numbering 200 million men! The only nation on Earth capable of fielding such an army is China.
Then, in Revelation 16:12, we understand that this huge army belongs to the "Kings of the East":
" And the sixth angel poured out his vial upon the great river Euphrates; and the water thereof was dried up, that the way of the kings of the east might be prepared."
China has been identified as this "Kings of the East" prophecy for reasons which will surprise you. To date, China has completed her all-weather road to through Kashmir into Afghanistan, over which her army will travel. Now, she is arming herself with modern weapons which will enable her to kill 33% of all mankind, just as the prophecy foretells. (Read full details in NEWS2066).
God is preparing China to fulfill these Revelation prophecies. She is beginning to assert her power.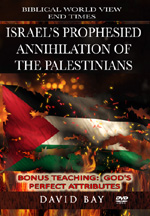 DVD
II. Violence again erupts in Jerusalem, and the IDF admits it is preparing for the "next war"!
Remember, the Palestinians plan to blow up their own Dome of the Rock -- al Aqsa Mosque -- blaming the Jews, thus triggering their own prophesied annihilation. Violence in Jerusalem and the Temple Mount are the keys to this destruction.
NEWS BRIEF: "Security and Defense: Getting ready for the next war", The Jerusalem Post, 11/15/2014
"Only a few months have passed since the end of the lengthy conflict with Hamas in Gaza, a war that saw over 4,000 rockets fired into Israel ... The next war, however, which may break out at any time, may not involve such wide-ranging air defense protection – particularly if Hezbollah, armed with over 100,000 rockets and missiles, becomes involved. Officials from the Home Front Command have in recent days told The Jerusalem Post about detailed plans to counter future threats to Israel's soft underbelly."
"... the Home Front Command is working intensively on a daily basis, quietly and largely out of public view, to prepare its systems for the sudden outbreak of hostilities. "
NEWS BRIEF: "IDF mobilizing reinforcement battalions to West Bank", The Jerusalem Post, 11/11/2014
"A number of battalions have been sent to the West Bank to reinforce security measures there ... One of the battalions sent to the area is from the Golani infantry brigade, which was training in the North prior to being mobilized to the West Bank. The IDF's Central Command has also increased patrols along roads in the West Bank."
Violence is already spiking in Jerusalem and the Temple Mount.
NEWS BRIEF: "Netanyahu, Kerry and King Abdullah in Tri-Lateral Meeting to Calm Violence", Israel Today, 11/14/2014
"Israeli Prime Minister Benjamin Netanyahu, US Secretary of State John Kerry and Jordan's King Abdullah II met on Thursday in the Jordanian capital Amman to discuss the tense situation in Jerusalem. In the press conference following, it was declared that the common goal is an end to the escalating violence."
This meeting is likely to fail in its efforts to stop the Palestinian violence, because their leadership is greatly stoking the fires of anger. Soon, violence will break out that will cause the Palestinians to destroy their own Dome of the Rock and then Israel is likely to respond with the prophesied annihilation of the Palestinians (See a full discussion of this prophecy in the DVD shown above, "Israel's Prophesied Annihilation of the Palestinians")
When this annihilation of an entire people occurs, the world will be more shocked than it has ever been in world history.
Yet, we know that this complete destruction is only the first of many in God's prophetic plan. Prophecies of destruction in Daniel, Joel 2-3, Zechariah 12 and the Book of Revelation will follow close behind.
Are you spiritually prepared? Click to the Salvation Plan if you or someone you know are not ready to meet Jesus in eternity!
---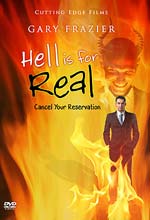 "Proof of Hell"
"Hell Is For REAL: Cancel Your Reservation"
DVD By Renowned Bible/Prophecy Teacher, Gary Frazier
When I walked out of the theater after watching 'Heaven Is For Real', I felt uncomfortable, for the almost subliminal message was that, eventually, all people go to Heaven. Since the movie did not show the Biblical road to Heaven, it leaves a message that all people will go there.
Great Soul-winning tool, as Dr. Frazier presents the Plan of Salvation at the end.
---
NEW BOOK - Grappling with the Chronology of the Genesis Flood - Huge New Book, 828 Pages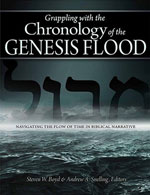 The Flood as described in the Book of Genesis not only shaped the global landscape, it is an event that literally forms our understanding of early biblical history. Now an experienced team of scientists and theologians has written a definitive account of the Genesis Flood with detailed research into the original biblical text and evidences unlocked by modern science and study.
Delve into the technical aspects of the chronology, historicity, and significance of understanding this landmark event, including what we can learn from the Hebrew words used to describe it.
Examine the numerous geological, geophysical, and paleontological indications pointing to the reality and global scope of the Flood.
Learn how and why the authors' exhaustive research began, putting forth objectives, criticisms they would address, and identifying obstacles to be resolved.
Often recounted and discounted as just a myth or children's story, what we find with deeper study is instead a cataclysmic event, the flood truly wiped out life on our planet with the exception of those preserved through God's plan. The devastation the Genesis Flood wreaked upon a rebellious world remains an important part of the biblical narrative we should understand for what it was - a divine act of judgment on a sin-immersed world. ORDER YOURS TODAY
---
Unique Biblical Worldview DVD's
"America: End Times Destruction Foretold"
New DVD by David Bay, Director, Cutting Edge Ministries
Only $14.99 -- Watch Dynamic Trailer
One prophecy dramatically informs us that America, specifically, will be in some degree of financial prosperity until God annihilates her in judgment, with fire, in one hour. That inspired prognostication from God is found in Revelation 18, so let us turn our attention to this most important prophecy, maybe one of the most important predictions of our End of the Age time period.
America may be the Economic Babylon of Revelation 18, as she is certainly symbolic of the widespread system of Anti-God evil that the Bible says is inherent in any Babylonian system.
Revelation 18 describes destruction by fire--God's fire--of "Babylon the Great"
You will never look at news the same way again!
One Hour -- http://www.cuttingedge.org/detail.cfm?ID=2653
Buy All Titles 'Biblical Worldview" DVD's
---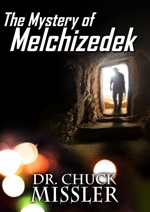 The Mystery of Melchizedek DVD by Dr. Chuck Missler
The Mystery of Melchizedek and its prophetic significance? The person, Melchizedek, is one of the most important, and yet unknown person in the entire Bible.
* Who was this strange Priest/King that received tithes from Abraham?
* How is Melchizedek relevant to the Messiah of Israel?
* Did Melchizedek have a temple that predated Solomons?
* Why are the distinctives so divergent from the enforced separation of the kingship and priesthood under David?
Were the bread and wine served by Melchizedek eschatological? Did they embrace the Cross? (They, too, echo across the pages of the OT)
* Was the Lords Communion anticipated in Gen. 14?
Deriving from some very recent discoveries in Jerusalem, these studies may challenge many of the comfortable traditions that have shaped our classic Biblical perspectives. Join us as we explore some fascinating challenges to our previous understandings of things that shape our ultimate destiny&
Contains 1 hour of teaching
---
New Book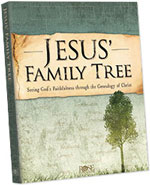 "Jesus' Family Tree - Seeing God's Faithfulness In The Genealogy Of Christ"
Enjoy Studying 30 Key People from Jesus' Family Tree! Now you can easily dive into the fascinating lives of 30 key people from Jesus' family tree, including Adam, Noah, Abraham, Ruth, David and more with this full-color reproducible book.
for example:
* See how God fulfilled his promises through the generationsdespite the strengths and weaknesses of each individual.
* Deepen your understanding of how Jesus fulfilled Old Testament prophecies regarding the Messiah's ancestryhe was from the family line of David, from the seed of Abraham, from the stem of Jesse, and more.
* Find out fascinating facts, such as why 5 women were mentioned in Jesus' family tree (when they were usually never mentioned).
* Get incredible charts, maps and time lines showing hundreds of facts at a glance.
ADDED BONUS: Genealogy of Jesus Diagram: A fold-out family tree from Adam and Eve to Jesus Christ. Shows every person in the Bible who is listed in Jesus' direct ancestry.
See All Our $9.99 Books / DVD's
72 Titles From Which To Choose!

See All Our $4.99 Books DVD's
30 Titles From Which To Choose!
Have the interventionist overthrow actions -- in Iraq, Afghanistan, in Northern Africa, the Middle East and Central and Southern Africa -- by Bush/Blair/Obama failed or have they succeeded beyond anyone's wildest imagination?
---
May Jesus Richly Bless You,
David Bay, Director
Cutting Edge Ministries
800-451-8211