HOT NEWS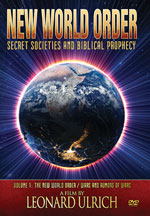 I. Vice-President Joe Biden boasted that the present International Order -- Old World Order -- is fraying all around the edges and is in danger of falling.
What will replace this old order? The New World Order, of course.
We thank the Vice-President for his candor in verifying Cutting Edge teaching.
NEWS BRIEF: "Biden: International Order 'Literally Fraying at the Seams' ", The Weekly Standard, October 3, 2014
"Speaking at the John F. Kennedy Forum at Harvard Kennedy School in Boston, Massachusetts last night, Vice President Joe Bidengave an extensive rundown of foreign policy challenges and crises that the world and the Obama administration are facing today ... he painted a rather bleak picture of the modern world..."
"He went on to allude to the wolves at the door of the United States, and how the post-World War II order is 'literally fraying at the seams'."
What are these crises that are threatening the present "International Order"?
1) Russia and Vladimir Putin

2) ISIS

3) Ebola
Cutting Edge has long maintained that these major crises are being used to overthrow the present Old Order so the New World Order could be established. However, it is refreshing to see that the Vice President of the United States lists these three major world events today as forces which are threatening to destroy this present Order.
In 2007, we posted an article entitled, "Five Major Created Global Disasters Are Being Constantly Preached To The World As Reasons To Form The Global New World Order!" (NEWS2193). These five deliberately created crises are still very active in our world today. Biden touched on three of them in his remarks.
1) Threat of Global War -- Russia struggling with Ukraine as she seeks to form her Supernation #5 of the Club of Rome Plan falls under this heading
2) Threat of Global Terrorism - The ISIS worldwide threat is a key part of this crisis scenario. Today, the headline screamed "FBI director warns of Khorasan attack"
3) Threat of Global Virus -- In 2007, the virus being touted as the one which could kill 100,000,000 people worldwide was the Avian Flu Virus. Today, Avian Flu has been replaced in the crisis management lexicon by Ebola.
Joe Biden did not mention the other two deliberately manufactured crises which the Illuminati is using to overthrow the Old Order:
4) Threat of Global Economic Collapse

5) Threat of Climate Change
As you will instantly realize, these two crises are very much in the news today. Remember, the threat of disaster is nearly as effective as real disaster in scaring people enough that they will allow the government to "temporarily" take away our freedoms and rights. Please read full details in NEWS1571, entitled, "Propaganda Principle: Fear of Conflict Nearly As Effective In Producing Desired Changes As Actual Conflict"!
With the principles of NEWS1571 in mind, please note this following current news article.
NEWS BRIEF: "Ebola: Fear is spreading as fast as the disease ", NorthJersey.com, October 6, 2014
The title of this article says it all about Ebola: "Fear is spreading as fast as the disease"!
All these threats will burst upon the world scene after Antichrist arises, and not before. Daniel 7:7-8 states that Antichrist cannot arise until the prophetic 10-Supernation Reorganization is complete (Read full details in NEWS2363, entitled, "There Is Only ONE Sequential Prophecy Which Shall Provide Us A Clear Gauge By Which We Can Know The Approximate Time That Antichrist Will Arise!"
Once you see that these planned 10 supernations are formed, you can begin looking up, knowing that your/our Redeemer draweth nigh!
II. Russia Today Online posted an article which stated that the crisis with ISIS was going to enable the United States to redraw the map of the Middle East.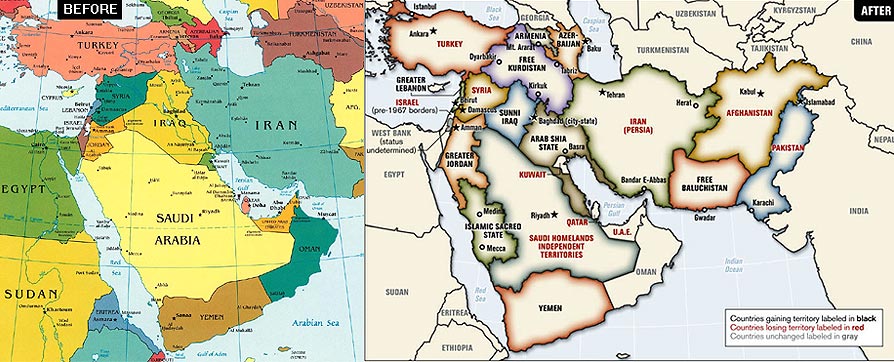 Since 2007, we have been reporting that the Pentagon Plan is to redraw the map of the Middle East so that no significant dictator within the region could possibly delay the planned imposition of Supernation #7!
NEWS BRIEF: 'US-trained ISIS militants used to reorganize Middle East' ", by William Engdahl, Russia Today, October 5, 2014
"ISIS militants trained by US Special Forces have been used as a lever to create disorder and organize a Sharia state along the lines of an Islamic caliphate to the advantage of the US military, geopolitical analyst William Engdahl told RT ... The violence has lasted for over a decade, since the invasion of Iraq in 2003, because the US has been involved militarily in the Middle East – it's quite as simple as that. They toppled Saddam Hussein, Hosni Mubarak in Egypt, they set off the wave of Arab Spring color revolutions throughout the Arab world to reorganize the entire structure of the region to the advantage of the US military position vis-à-vis China and Russia, fundamentally. "
This author is entirely correct! The only addition I would make is that this planned conflict in the Middle East is tacitly supported by the leaders of Russia (Supernation #5) and China (Supernation #10). Revelation 17:12, 17, is literally being fulfilled in your Daily News:
"And the ten horns which thou sawest are ten kings ... For God hath put in their hearts to fulfil his will, and to agree (to act in harmony), and give their kingdom unto the beast, until the words (prophecies) of God shall be fulfilled."
In your Daily News, this verse is being carried out every single day, as President Obama of the North American Union (Supernation #1) is "acting in harmony" with President Putin of the Eurasian Economic Union (Supernation #5), and the leaders of every other planned supernation. This nearly invisible cooperation is what is driving world events.
And, it is all fulfilling End Times' prophecies!
But, the timing for all the planned disasters will await until Antichrist is on the world scene.
---
Special IRS Appeal October 6, 2014
Cutting Edge Ministries has seen a good response from our readers. but still have a ways to go to raise this money. We thank those who have donated for your generosity. If you are able to help us to reach our goal and meet this immediate need, will you help us today?
The IRS has slapped Cutting Edge Ministries with unreasonable and unwarranted fines, against which we have been fighting for almost a year now. Our professional accountant, who has served this ministry well since 1991, is aghast that the IRS would levy these fines. He has never faced such persistent activity on the part of the IRS.
This is NOT a matter of Cutting Edge owing the IRS money, as we have always paid on time and in full. This is simply a matter of an unreasonable levy against us.
We do not have the money to pay these fines! Furthermore, if we do not pay them, the IRS could triple or quadruple them, forcing this ministry to close. We also need corporate support. We know that significant numbers of supporters own their own businesses. What better way to invest your donations than with a ministry reaching over 130,000 people annually with the Salvation Message?
If you are one of the people who enjoy our site but do not support us regularly, please consider what you can do at this time. We need your help to progress onward.
The simplest way in which to make a one-time support is to click on this icon --

You may also make a donation while you are creating an order in the Bookstore by simply clicking the above green donation button found at numerous areas within the Bookstore Shopping Cart.
We have also tried to earn your support:
1) We have cut prices on numerous items in the Bookstore -- Special Offers -- plus Big Savings on Special Offers and Sale Items 270 Items marked down, some up to 75% off! We also attempt to bring in 1-3 new items per week, in order to keep the Bookstore fresh. . http://cuttingedge.org/on_sale.cfm
2) We are going to continue our special $25 per year subscription promotion, for which you will get a FREE DVD / CD for every $25 of support. For example, if you can give $100, you get all four free. To see the six titles available, go to this link. https://www.cuttingedge.org/secure/subscriptions/support.html
This promotion is also available for those who wish to renew their subscriptions, and for people giving a subscription to someone else as a gift.
If you wish to make a contribution, you can use our electronic Subscription Form from the link above, call us at 800-451-8211, or mail a check or money order to:
Cutting Edge Ministries, 1792 South Lake Drive, Lexington, SC, 29073.

We desperately need your assistance and we need it now. Can you help? We do not have enough cash reserves to meet these fines.

---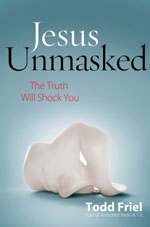 "Jesus Unmasked"
"What Jesus Taught About Himself"
"The Truth Will Shock You"
How much does God hate sin and how much does He love you? If you ever doubt how kind, good and loving God is look at the Cross. Jesus' brutal death on the Cross is God's greatest and clearest demonstration of His holy wrath and perfect love.
Jesus Unmasked will blast a bright light into a dark and dying world. Give the book to the atheist in your life. -- RAY COMFORT
Todd Friel has written the book you always wanted to give to your friends. Jesus Unmasked is clear, direct, and simple all without ever being shallow. Get several copies so you can share them with friends who need Jesus. -- TEDD TRIPP
No matter where you are in the Christian walk, you'll find "Jesus Unmasked" a profitable and spiritually uplifting study. -- PHIL JOHNSON
224 pages - Download a free preview - Watch the promo
---
Have the interventionist overthrow actions -- in Iraq, Afghanistan, in Northern Africa, the Middle East and Central and Southern Africa -- by Bush/Blair/Obama failed or have they succeeded beyond anyone's wildest imagination?
---
May Jesus Richly Bless You,
David Bay, Director
Cutting Edge Ministries
800-451-8211