Hot News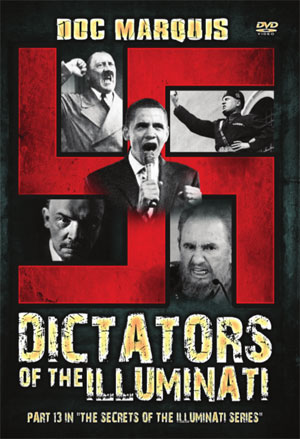 I. Did President Obama overstep legal bounds when he announced his airstrike order against ISIS / ISIL?
After bitterly complaining that Republican President George Bush overstepped legal boundaries in his invasion of Iraq and the prosecution of the war, Democrat President Barack Obama proves he is just as much a dictator as Bush!
NEWS BRIEF: "Obama's Breathtaking Expansion of a President's Power To Make War ", by Jack Goldsmith, 9/11/2014
"President Obama hoped to repeal the Bush-era authorization declaring war on al Qaeda—instead he's expanded it without bound."
I believe that Barack Obama never really intended to "repeal" Bush's authorization to conduct war on terrorism, but it was necessary for his public rhetoric as a "Liberal" Democrat to say that he wanted to repeal this authorization. Since Obama is following the same Elite script as was Bush, he quietly ignored his rhetoric as he continued war against Iraq and Afghanistan. He found the war to his liking as he greatly expanded the drone war and he pushed American forces into Yemen, Somalia, Nigeria, and other nations in the "Non-Integrating Gap"!
"Future historians ... will puzzle over how Barack Obama the prudent war-powers constitutionalist transformed into a matchless war-powers unilateralist. And they will wonder why he claimed to "welcome congressional support" for his new military initiative against the Islamic State but did not insist on it in order to ensure clear political and legal legitimacy for the tough battle that promised to consume his last two years in office and define his presidency."
Do you remember that the George Orwell futuristic book, "1984" predicted that the global government carried out "continuous war" in order to keep their citizens under control? This "Pentagon's New Map Strategy" is the fulfillment of Orwell's predictions. America has already been fighting for 13 years in the "Non-Integrating Gap" region and Obama's use of these new war powers can keep un in that region indefinitely.
What, specifically, are the new powers the President is wielding? He is advocating two (2) major new kinds of unilateral authority:
1) "... President Obama proclaimed (in Syria) the power to use unilateral force for purely humanitarian ends without congressional or United Nations or NATO support. This novel theory, which removed all practical limits on presidential humanitarian intervention, became a reality in last month's military strikes to protect civilians trapped on Mount Sinjar and in the town of Amirli."
2) "The administration has said since August that air strikes in Syria were justified under his constitutional power alone. But yesterday it switched course and maintained that Congress had authorized the 2014 campaign against the Islamic State in the 2001 law that President George W. Bush sought to fight the Taliban and al Qaeda. The administration's new approach allows it to claim that it is acting with congressional approval. It also lets it avoid the strictures of the War Powers Resolution because that law does not apply to wars approved by Congress."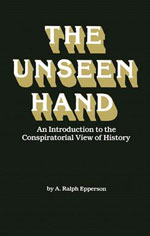 Acting without Congressional backing, President Obama has continued the course set by President Bush, thus proving to all the world that "there is no difference between Republican and Democrat" in this relentless drive to the New World Order. President George H.W. Bush began the public drive to the New World Order when he used that term on September 11, 1990, as he addressed Congress concerning Iraq's invasion of Kuwait. Since then, we have had three (3) "changes in ministers" -- Clinton, Bush, and Obama -- all following the same Plan to the New World Order.
This reality fulfills the classic definition of "Conspiracy", originally defined by President Thomas Jefferson. Listen:
"... a series of oppressions, begun at a distinguished period and pursued unalterably through every change of ministers, too plainly prove a deliberate, systematical plan of reducing us to slavery." ["The Unseen Hand", by A. Ralph Epperson, p. 196]
The Bible prophetically declares that the last Ten Kings of world history will carry out a conspiracy unparalleled in history.
"And the ten horns which thou sawest are ten kings, which have received no kingdom as yet ... And the ten horns which thou sawest ... God hath put in their hearts to fulfil his will, and to agree, and give their kingdom unto the beast, until the words of God shall be fulfilled." (Revelation 17:12, 16, 17)
The words "to agree" literally mean "to act in harmony", and that requires a prewritten plan approved by each of the final king, and that is the classic definition of a conspiracy! Doubt it not!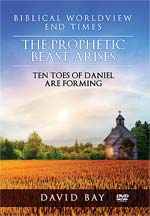 II. Since the ten leaders of the world are "acting in harmony" so God's prophetic words are fulfilled, you can ignore for now the panicked warnings that Russia is preparing nuclear war against America. Watch the trailer
Bible prophecy says, "not so fast, Skippy"!
NEWS BRIEF: "10 Minutes to World War III", Christian Post, 8/27/2014
"The jihadist threat is real.
"You have to wonder how effective ISIS would be without the use of social media. While Americans were horrified that one of our own was brutally beheaded—filmed for You Tube, thousands of Iraqis and Syrians have been slaughtered as well ... Iran has been fomenting these jihadists while we merrily go about our pleasure. Unless we choose to meet ISIS head-on, they will continue to inflict their brand of horror on the innocent. Jesus issued this warning to his followers: 'the day will come when men will kill you and think they are offering a service to God. They are deceived in thinking that God is pleased with this offering'."
"Americans may be easily distracted, but let's not to be foolish. ISIS is just as deadly as Al-Qaida ever was. We best not forget that we are their ultimate target and be prepared. We can't say we weren't warned."
I find it disconcerting that a Christian news organization would swallow the propaganda message, hook, line and sinker. The Jihadists are not the most dangerous enemy; our own Illuminati leaders dedicated to the New World Order are. In fact, news stories abound, telling the truth, that Islamic State was created by the West and trained during the past several years in Turkey before being unleashed.
The REAL danger is that our own leaders plan to stir up war and terrorism and, using it as an excuse, to dissolve our Constitution and impose an Absolute Dictatorship unequalled in human history, as they finally establish their New World Order worldwide.
Then, they plan to stage their global Messiah -- a Masonic Christ -- on the world scene, through a World War III.
Yes, a WWIII is planned, but not until prophecy declares it can, and that is after the establishment of the ten supernations in the world (Daniel 7:7-8).
And, that, as we demonstrate in our DVD "Daniel's Ten Toes Are Forming", is probably 8-10 years away. Not imminent, but years away.
---
New DVD - Doc Marquis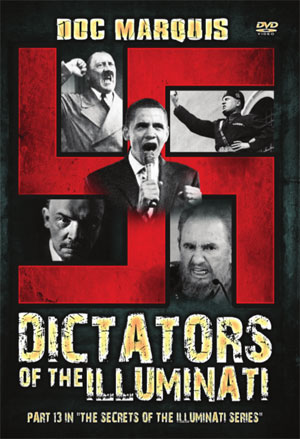 "Dictators of the Illuminati"
In order to understand the present, you must examine the past, and only then you comprehend the future.
Almost 6 years ago when Barak Obama entered the White House people have been saying, 'What is going on?', 'Obama is destroying everything,' 'None of this makes sense anymore.' Actually, it all makes perfect sense if you understand the plans and the inner dealings of the Illuminati.
Barak Obama is following a very well-honed plan of the Illuminati, one that had also been meticulously followed by Lenin, Stalin, Mao Tse Tung, Fidel Castro, Adolf Hitler and other such dictators. This plan is so devious and deceitful that even with all of her media savvy, famed journalist, Barbara Walters said: "We thought that he (Obama) was going to be...the next messiah."
National/International author, producer, lecturer and ex-Illuminati which, Doc Marquis takes us through the annals of history and reveals the origins of the Illuminati plan that past dictators had used to bring their nations under the subjugation of the Illuminati. Next, he will show how Obama is using the same Illuminati plan in the present time. And, then Doc will unveil how this same Illuminati plan will be used by the coming antichrist as found in the Book of Revelation.
Regularly $24.99, http://www.cuttingedge.org/detail.cfm?ID=2636
---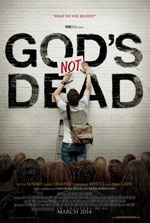 "God's NOT Dead DVD"
You Will Laugh, Cry, Shout Out Loud
Regularly $24.99, Now Only $19.99
Present-day college freshman and devout Christian, Josh Wheaton (Shane Harper), finds his faith challenged on his first day of Philosophy class by the dogmatic and argumentative Professor Radisson (Kevin Sorbo).
Radisson begins class by informing students that they will need to disavow, in writing, the existence of God on that first day, or face a failing grade. As other students in the class begin scribbling the words 'God Is Dead' on pieces of paper as instructed, Josh find himself at a crossroads, having to choose between his faith and his future.
Josh offers a nervous refusal, provoking an irate reaction from his smug professor. Radisson assigns him a daunting task: if Josh will not admit that 'God Is Dead', he must prove God's existence by presenting well-researched, intellectual arguments and evidence over the course of the semester, and engage Radisson in a head-to-head debate in front of the class. If Josh fails to convince his classmates of God's existence, he will fail the course and hinder his lofty academic goals.
With almost no one in his corner, Josh wonders if he can really fight for what he believes. Can he actually prove the existence of God? Wouldn't it just be easier just to write 'God Is Dead' and put the whole incident behind him?
GOD'S NOT DEAD weaves together multiple stories of faith, doubt and disbelief, culminating in a dramatic call to action. The film will educate, entertain, and inspire moviegoers to explore what they really believe about God, igniting important conversations and life-changing decisions.
Your soul will be filled with the Joy of Heaven by the message of this video. You will not only find fresh reasons for your faith in God, but you will want to buy this video for unsaved friends and loved ones.
120 minutes
---
New "Biblical Worldview" Teaching DVD Series
"Eternal Security"
"God's Anchor In A Brutal Storm"
New DVD by David Bay -
For centuries, a debate has raged amongst Christians, 'Can I lose my salvation', and 'Am I eternally saved the moment I received Jesus'? Proponents have argued endlessly about this subject, with many people believing that the question carries little to no real importance, and it is not worth dividing the brethren over it.
BUT -- the world stands at the End of the Age, and every Christian will discover that their belief on this subject may be the most important topic in the world. As Christians face the possibility of tortures at the hand of Antichristian forces, what kind of confidence do we have as we turn to face the enemy of our souls?
Did you know that Russian Communist prison guards believed they could force a person to lose their salvation? These guards delighted into so torturing the body, mind and soul of Christians that even devout Christians would commit a sin at the very end of their life that would plunge them into Hell. The future prison guards we will face will believe the very same doctrine and will specifically attempt to make you lose your salvation.
What does the Scripture say on this most important issue? What does Jesus say, and the Apostle Paul and others? The truth is that no believer can lose their salvation, and once you understand this doctrine thoroughly, you can face any torturer with absolute confidence. The message of this DVD arms you with that sure knowledge, thus becoming a true 'Anchor of Your Soul'!
http://www.cuttingedge.org/detail.cfm?ID=2638
See Other Three Titles Below
"The Rapture Precedes Daniel's 70th Week"
New DVD by David Bay
Is there a tie-in between the Rapture and the beginning of Daniel's 70th Week, which is known as the Great Tribulation?
Consider the Global rapture. Every Born Again believer will be instantaneously snatched from this dimension. Will be like a strong magnet passed over a bed of steel and aluminum fragments. What happens? The steel flies through the air to attach themselves to the bottom of the magnet while the aluminum pieces remain in the bed.
Jesus Himself will appear in the air over the Earth and utter a strong shout for His Church. At that instant, believers will be snatched from their earthly dimension and will fly through the air to meet Jesus, getting a glorified body along the way.
The 70th Week is the 7-Year Tribulation, whose major purpose is to further purify Israel to accept Jesus as their Messiah. The Christian Church is not in view here because Gods purpose is to finally deal with Israel.
Once God removes His Church, He can deal with Israel's last punishment and her preparation to receive Jesus as the Jewish Messiah.
Exciting times. Do not miss the Rapture of the Church! Watch Dynamic Trailer
One hour long Watch the trailer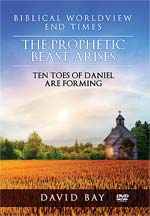 "The Prophetic Beast Arises: Ten Toes of Daniel Are Forming"
New DVD by David Bay, Director, Cutting Edge
One of the most exciting End Times' prophecies is that, at the End of the Age,all nations of the world are going to be reorganized into Ten (10) supernations, each one with a leader (Daniel 7:7-8).
Antichrist can arise only after this global reorganization has been completed. The Club of Rome created a global reorganization in 1972, and it printed the plan in a book entitled, 'Mankind At The Turning Point'.
After many years of moving forward on this plan very slowly, the pace has suddenly jumped forward! Antichrist may be closer to appearing than we had previously believed.
Yet, even though the majority of news every single day is moving the world rapidly toward this prophesied 10-Nation set-up, none of the Mass Media and very few of the Christian media are even aware that this exciting prophetic advance is being made.
We examine each of the 10 Supernations being created, and demonstrate how the news of the day is propelling the fulfillment of this great prophecy. You will be amazed and thrilled to learn how events that you had written off as being of no lasting value are really working hard to re-create the world into the 10 Toes (Supernations) of the prophet Daniel!
One hour long - http://www.cuttingedge.org/detail.cfm?ID=2633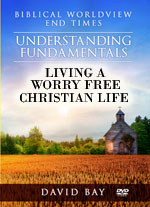 "Living A Worry-Free Christian Life"
by Cutting Edge Director David Bay
How is a Christian to live during these evil End Times? Most Christians are in some degree of depression because our values are constantly under cultural and moral attack, and because times are hard economically, with wars raging on all continents save one, with hatred and anger raging on the Daily News. How does one live a 'Worry Free Life'?
We must live our lives in strict adherence to Biblical teachings. For Example: 1) How can we begin practicing this kind of joyful day-by-day living? We start to 'cast and release'. Psalm 55:22 "Cast thy burden upon the LORD, and he shall sustain thee: he shall never suffer the righteous to be moved."
'Cast and release' * Examples in daily living
* Notice from the IRS
* Mechanical difficulty with the car
* Distressing call from a loved one
* Distressing news from your job
* Unexpected bill & you don't have the money
The Psalmist understood this 'cast and release' principle as a means to lift his spirits during hard times. "Why art thou cast down, O my soul? and why art thou disquieted within me? hope thou in God: for I shall yet praise him, who is the health of my countenance, and my God." (Ps 43:11)
Peter understood this principle of releasing the weight of our troubles. 1 Peter 5:7, "Casting the whole of your care, all your anxieties, all your worries, all your concerns, once and for all on Him, for He cares for you affectionately, and cares about you watchfully."
This "worry-free life" brings us that most important state in which we can rest:
Heart Peace
Run Time is 1 hour Order now
---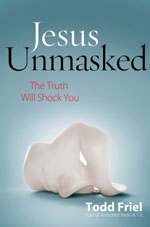 "Jesus Unmasked"
"What Jesus Taught About Himself"
"The Truth Will Shock You"
How much does God hate sin and how much does He love you? If you ever doubt how kind, good and loving God is look at the Cross. Jesus' brutal death on the Cross is God's greatest and clearest demonstration of His holy wrath and perfect love.
Jesus Unmasked will blast a bright light into a dark and dying world. Give the book to the atheist in your life. -- RAY COMFORT
Todd Friel has written the book you always wanted to give to your friends. Jesus Unmasked is clear, direct, and simple all without ever being shallow. Get several copies so you can share them with friends who need Jesus. -- TEDD TRIPP
No matter where you are in the Christian walk, you'll find "Jesus Unmasked" a profitable and spiritually uplifting study. -- PHIL JOHNSON
224 pages - Download a free preview - Watch the promo
---
Have the interventionist overthrow actions -- in Iraq, Afghanistan, in Northern Africa, the Middle East and Central and Southern Africa -- by Bush/Blair/Obama failed or have they succeeded beyond anyone's wildest imagination?
---
May Jesus Richly Bless You,
David Bay, Director
Cutting Edge Ministries
800-451-8211