Hot News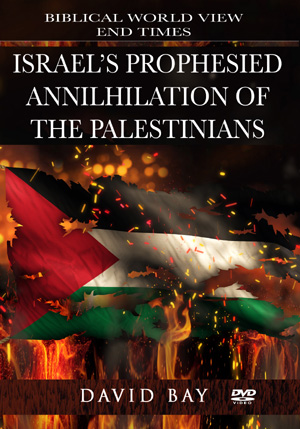 1. Israeli PM Netanyahu is setting into place exactly the type of temporary blast walls you would expect him to build if he were planning the annihilation of Palestinians foretold - Obadiah 15-18
The Palestinians are starting a new internal war with Israel at the worst possible time in modern history.
NEWS BRIEF: "Temporary wall erected between flashpoint Jewish and Arab neighborhoods in Jerusalem", The Jerusalem Post, 10/18/2015
"Temporary wall erected between flashpoint Jewish and Arab neighborhoods in Jerusalem. Police: 5-meter-high Jabel Mukaber concrete barrier intended to prevent ongoing terror wave against Armon Hanatziv residents."
NOTE: 5 meters equals about 15 feet
From my viewpoint as a former US Army Intelligence Analyst who served three years at a Pentagon level facility, I warn you that this activity is exactly what you would expect just before the Israeli Army carries out God's prophesied annihilation of the Palestinians (House of Esau, House of Edom).
As we prove in the DVD "Israel's Prophesied Annihilation of the Palestinians", Israeli authorities will want to minimize Jewish casualties as they kill Palestinians man, woman and child; and, the best way to do that is to build a barrier between the populations!
In September, 2000, we posted our first article on this subject: NEWS1422
In this article, we wrote: "The United States and Israel do possess a 'Fire' weapon of mass destruction, and we believe this is the weapon Israel may use to achieve God's pronouncement of the doom of His judgment as described in Obadiah 15-18. This weapon is a Thermobaric weapon most commonly called a 'Fuel-Air' bomb ... if the goal is to annihilate an entire city within minutes, the Thermobaric weapon would be the perfect weapon to employ. It can be launched from aircraft, helicopters, or even ground vehicles ... Palestinian cities would explode as if they were hit with small nuclear devices, but they would largely be destroyed by blast and fire, instantaneously."
Now, listen to what se said in September, 2000 -- "The key to watch is the 'physical separation' the IDF was ordered to carry out..."
On November, 2000, PM Ehud Barak ordered the IDF to begin construction of a major barrier wall separating Palestinian and Jewish populations. The depiction in this article shows the route of these fences, some of which are 15-feet-high concrete blast walls. See "West Bank Security Fence: Fence Route Map".
Please note also that, if the objective was simply to prevent Palestinian terrorists from crossing into Jewish areas, a more simple and less costly wire fence -- possibly electrified -- would accomplish the goal. The only reason Israel has gone to the enormous expense of creating 15-foot-high solid concrete walls is because their goal is far different than just keeping terrorists from striking.
As you can see, this map depicts a nearly-completed separation of population. Jerusalem remains the largest gap in the barrier separating the two populations. Now, PM Netanyahu has ordered "temporary" 10-foot-high concrete blast barriers to be placed at intersections between Jewish and Palestinian populations.
Conservative Jews are angry because they view these temporary barriers as ceding Palestinian neighborhoods to the Arabs; in reality, these barriers are designed to protect Jewish people who might be killed by Fuel Air blast over spray. Look at these "temporary" blast barriers as they were set in place.
Any military analyst would view this development as a somber sign of impending war, and would immediately set his own military on high alert.
God's prophecy demands this kind of annihilation, by fire.
"The house of Jacob shall be a fire and the house of Joseph a flame, but the house of Esau shall be stubble; they shall kindle them and burn them and consume them , and there shall be no more survivor of the house of Esau, for the Lord has spoken it." [Verse 18]
This prophecy will be fulfilled. God's Word demands it.
As we have stated before, Israel's Arab enemies have been so defeated by Western invasions of Afghanistan and Iraq, and have been decimated by the civil wars started by Western intelligence, that there remains no enemy capable of waging war against Israel. Enemies of the Jewish state hate Israel no less than they did in 2000, but they surely have lost their capability of threatening the Israeli state.
Presidents George W. Bush and Barack Hussein Obama have defeated Israel's enemies for her!
In this modern history, there is no better time for Israel to carry out God's judgment against the Palestinians as He foretold in Obadiah 15-18 and in Isaiah 34, written approximately 2,500 years ago.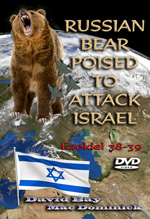 Can you imagine the "Rage" which all Islamic peoples will experience when they see that Israel has completely destroyed all Palestinians living in her land? Their leaders will want to go to war against Israel, but, alas, all Islamic armies have been destroyed by the American led forces! Muslims will rage, but will be impotent to act.
Enter Russia.
As we describe in our new DVD, "Russian Bear Poised To Attack Israel", the prophetic day is coming when Russia will lead a confederation of armies in an attack on Israel. This prophecy is also waiting for fulfillment.
After Israel destroys the Palestinians, Russia is likely to conclude that, since no Islamic power or combination of powers, can ever destroy Israel. Therefore, Russian leaders are likely to promise Muslim leaders that they will take it upon themselves to attack and annihilate Israel.
Last week, we noted that Russia must control Syria up to the Golan Heights if her forces were going to attack Israel. Russian military analysts can see the 15-foot-high concrete blast barriers going up, and will know exactly how they are going to be used. In this light, Russian military control over Syria is a most important development.
When the world recoils from the annihilation of Palestinians, and demands answers, the opportunity to share God's Omnipotent Power and Wisdom and Gospel to a very frightened world. Print a Salvation Plan and have it ready to share Jesus with a shocked and disbelieving people.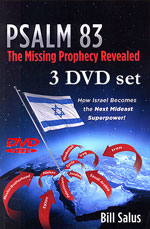 2. The parallel prophecy of the destruction of the Palestinians has just occurred!
When Palestinian President Abbas declared a Palestinian State at the United Nations last month, he set in Isaiah 34:12! Now the annihilation can occur.
Let us review Isaiah 34:12, a parallel prophecy of utter destruction of the Palestinians.
"And He (God) will stretch over it (Edom) a measuring line of confusion and the plummet stones of chaos over its nobles. They shall call its nobles to proclaim the kingdom, but nothing shall be there ..." [Isaiah 34:11b-12; Parallel Bible, KJV/Amplified Bible Commentary]
"They shall call its nobles to proclaim the kingdom, but nothing shall be there".
When you hear this proclamation of a Palestinian State, know that Bible prophecy has been fulfilled, know that nothing will come of it, and know that the final annihilating war of the House of Edom, the Palestinians, is close at hand. Are you aware that Palestinian President Abbas indirectly proclaimed a Palestinian State just a few weeks ago?
NEWS BRIEF: "After Winning Flag Rights at UN, Abbas Calls For PA Flag over Jerusalem", Breaking Israel News, Sept 11, 2015
"After winning the symbolic victory to fly the Palestinian flag at the United Nations in New York, Palestinian Authority (PA) President Mahmoud Abbas called for the same to be done in Jerusalem, the "eternal capital" of the Palestinians. On Thursday, the UN General Assembly overwhelmingly voted in favor of a motion allowing the flying of flags of non-member states with observer status. This allows the Palestinian flag to now be raised in front of UN buildings."
President Abbas considered the Palestinian State to be invoked into reality through this action at the United Nations. If you have any doubts, listen to this CNN news report just 19 days later.
NEWS BRIEF: "Historic raising of Palestinian flag at United Nations", CNN News, September 30, 2015
"At the ceremony, U.N. Secretary-General Ban Ki-moon called the occasion a "day of pride for the Palestinian people around the world" and a "day of hope. Now is the time to restore confidence by both Israelis and Palestinians for a peaceful settlement and, at last, the realization of two states for two peoples', he said."
Thus, the United Nations Secretary General called the Palestinians a "state".
Then Palestinian President Abbas left no doubt whatsoever.
"Abbas declared what he called 'Palestine' as a 'state under occupation'."
Therefore, on September 30, 2015, the first half of the prophecy of Isaiah 34:12 was fulfilled. What was that prophecy again?
"And He (God) will stretch over it (Edom) a measuring line of confusion and the plummet stones of chaos over its nobles. They shall call its nobles to proclaim the kingdom, but nothing shall be there ..." (Isaiah 34:11b-12)
Now, let us examine the prophecy of the rest of verse 12:
"... and all its princes shall be no more."
Now, why would her princes cease to exist after they had just proclaimed the creation of a Palestinian "state"? They must have just been destroyed, which brings us back to Obadiah 15-18.
Step One of proclaiming a Palestinian State has been exactly fulfilled.
Now, the destruction cometh -- just as God pronounced 2,600 years ago.
Are you ready to stand up courageously to tell an unsaved world what had just happened and why?
NOTE: News Alert continues after the advertisement, below
---
The Horsemen of the Apocalypse - Ready To Ride
Revelation 6:1-8 - DVD's by Dr. Missler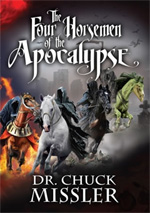 "Four Horsemen of the Apocalypse"
4-DVD Set by Dr. Chuck Missler
Regularly $79.99, Only $49.99You Save $30 buying the combo
This collection is approximately 8 hours and includes all of these great studies:
1) Behold a White Horse: The Coming World Leader
2) Behold a Red Horse: Wars and Rumors of Wars
3) Behold a Black Horse: Economic Upheaval and Famine
4) Behold a Livid Horse: Emergent Diseases and Biochemical Warfare
You can buy the titles individually, see below. http://www.cuttingedge.org/detail.cfm?ID=2701
BUY THESE TITLES INDIVIDUALLY
---
3. Is the FBI investigation of Hillary Clinton's emails simply a charade?
Is the Obama Administration conducting a cover-up to protect Hillary?
NEWS BRIEF: "Judge Jeanine Asks Obama: Is the FBI's Hillary Email Investigation 'Nothing More Than a Charade?', Breitbart News, October 17, 2015
"Judge Jeanine Pirro opened her Fox News Channel show 'Justice' Saturday with a monologue ripping Democratic presidential candidate Hillary Clinton and President Barack Obama for the Benghazi investigation, including Obama's standing up for Clinton and her server for saying he did not think it posed a national security issue."
" 'Our national security not endangered?' she said. 'There you go again, Mr. President. Like not a smidgen of corruption in the IRS and then Ferguson and Trayvon Martin and law enforcement. Mr. President, you pre-judge situations before knowing the facts. Why did you appoint Jim Comey if you weren't going to let him do the job at the FBI? You undercut the investigation. Were you signaling that you're not going to let the Justice Department bring charges, even if the FBI puts together a case? Is this investigation nothing more than a charade?' "
Hillary Clinton is threatened by this email scandal simply because it casts a cloud of doubt over her in ways that strike to the heart of the question as to whether she is fit to be President. Voters will tolerate a mistake-prone President, as they did Gerald Ford; Voters will even tolerate a candidate who is known to be a liar, as "Tricky Dick" Nixon proves.
But, they will not tolerate a candidate who is proven to be incompetent. This entire bumbling, stumbling scandal is painting a picture of Hillary in people's minds of one who is totally incompetant. That vision of her will kill her chances of ever being elected President of the United States!
NOTE: News Alert continues after the advertisement, below
---
Dynamic New DVD
"Masons In The Pulpit"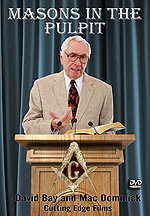 Regularly $24.99, Only $19.99 Until Shipping - New DVD by David Bay and Mac Dominick - Introductory Special Price, $5.00 off until we start shipping
If your church allows Masons to fill the pulpit, or be Deacons, or Sunday School teachers, you have a very serious spiritual problem with Almighty God. The Holy Spirit has written 'Ichabod (The Glory Has Departed)' above your front door!
While Freemasonry has successfully deceived a great many people, convincing them that Freemasonry is compatible with Christianity, God knows the Truth and is not tolerant of Masons In The Pulpit.
We begin at a very reasonable beginning premise: If a pastor refuses to resign from the Masonic Lodge he does so because he feels greater loyalty to the Lodge than to Jesus Christ.
Starting from this premise, we examine a number of key Masonic teachings and then ask the Pastor how he can reconcile these teachings with Biblical Christianity. We ask, 'Mr. Pastor, when you are teaching key Biblical doctrine, are you really thinking of the radically different teaching of Freemasonry?
Prime Example: Freemasonry teaches that its religion is far superior to any other religion on Earth, including Christianity. Mr. Pastor, are you thinking how superior Masonry is to Christianity when you are teaching Biblical doctrine. Second Example: Freemasonry teaches that it is necessary for Lodge leaders to deliberately lie to their people until they are 'mature enough' to comprehend and accept the truth; Mr. Pastor, when you are teaching key Biblical doctrine, are you secretly thinking that it is necessary for you to teach these 'lies' about Jesus and the God of the Bible until your people are spiritually mature to comprehend the true Masonic doctrine?
We prove that a Holy God cannot tolerate Masons in the pulpit of a church for which His Son, Jesus, bled on that cruel cross of Calvary.
Almost two hours of teaching
Authors are Mac Dominick and David Bay.
Will start shipping November 1. Offering $5.00 off until we start shipping.
- http://www.cuttingedge.org/detail.cfm?ID=2712
Will start shipping November 1 - Introductory Pricing Good Until Shipping Begins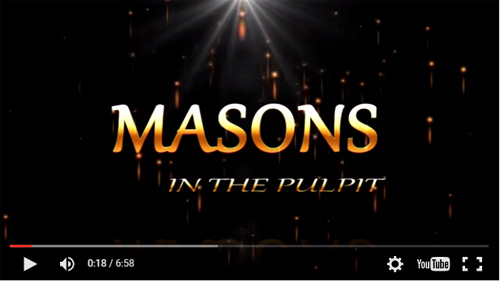 ---
4. Trump declares that his immigration policy would have prevented the 9/11 attacks!
Who attacked on 9/11 anyway?
NEWS BRIEF: "Trump: My immigration plans would have prevented 9/11", CBS News, October 18, 2015
"Donald Trump says that if he had been president in 2001, his immigration policies would have kept terrorists from attacking the World Trade Center on September 11."
Trump then goes on to declare his belief that illegal immigrants attacked the World Trade Center on 9/11/2001. Mass Media and the Federal Government have repeatedly stated that the great majority of terrorists aboard the planes of 9/11 were Saudi Arabian nationals. If this were true, then harsher illegal immigration laws might have prevented these terrorists from ever reaching the United States.
But, these role-playing cards from the Illuminati Card Game depicting exactly the attack of 9/11/2001, were issued to the public in early 1995, fully six (6) years before the actual attack! In fact, planning for this role-playing game began five years earlier.
"In 1990, role-playing inventor, Steve Jackson, was planning his newest game, which he would ultimately call the "Illuminati -- New World Order" Game. The action depicted on each card represented an action the Illuminati was going to take to overthrow our current civilization so the New World Order of the Masonic Christ (Antichrist) could be established.
Islamic terrorists had nothing whatsoever to do with the attacks on 9/11/2001.
At this point, Donald Trump's assertion that more restrictive immigration policies would have prevented the 9/11 attacks falls completely flat. In fact, because Trump used the old government lie that Islamic terrorists carried out the 9/11 attacks makes you wonder if he is not secretly an Illuminati?
NOTE: News Alert continues after the advertisement, below
---
NEW CHRIS PINTO DVD!!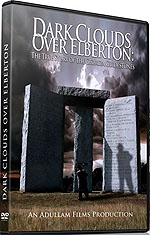 "Georgia Guidestones Mystery Revealed: Dark Clouds Over Elberton"
New DVD by Chris Pinto
At Long Last: The mysterious 'R.C. Christian' who funded the massive Georgia Guidestones is revealed by Chris Pinto. Masterful research project finally pays off. The monument was named the Georgia Guidestones. Written on the great granite stones are ten commands or guides that were intended to provide New Age wisdom for mankind. But the first of them calls for a reduction of the world population to a mere 500 million.
Researchers have wondered for decades about the identity of R.C. Christian and the purpose of his mysterious structure. Was he part of a globalist group? Was he working with the United Nations? After a five year investigation, this powerful documentary presents groundbreaking information, and dares to solve the mystery of who R.C. Christian really was.
This film is a must see for those who wish to learn more about the globalist use of environmentalism in the cause of population control.
Role of both Rosicrucian and Freemason secret societies in the building of the Georgia Guidestones is revealed Two (2) Hours Long

DVD Trailer
---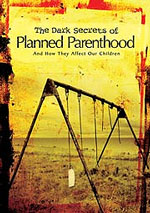 DVD
5. Republican Presidential candidate, Carly Fiorina, recalls her emotions as she stepped into a Planned Parenthood facility.
Fiorina said, "I watched as she was given really no choices ... I watched what that procedure did to her physically, emotionally, spiritually."
NEWS BRIEF: "Carly Fiorina Recalls the Time She Stepped Foot Inside Planned Parenthood Clinic: 'I Watched…' ", The Blaze October 18, 2015
"PLANO, Texas — Republican presidential candidate Carly Fiorina on Sunday shared the story about the time she stepped foot inside a Planned Parenthood clinic, a day that would leave a lasting impact on her for years to come. Her comments came after Pastor Jack Graham asked her to explain what events helped shape her pro-life views at the North Texas Presidential Forum."
"Speaking to hundreds of people at Prestonwood Baptist Church in Plano, Texas, Fiorina said she was in her early 20s when a friend asked her to accompany her to a Planned Parenthood clinic for an abortion. 'I watched as she was given really no choices', Fiorina said. 'I watched what that procedure did to her physically, emotionally, spiritually'."
"Fiorina also claimed that she learned soon after she started dating her current husband that his mother was advised to abort him."
These experiences permanently left such a strong impression upon Fiorina that she began to oppose Abortion Upon Demand.
---
NEW DOC MARQUIS DVD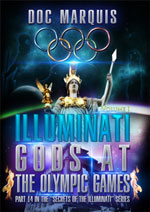 "Illuminati Gods At The Olympic Games"
by Doc Marquis, 2-DVD Set, 4 Hours Long
Regularly $24.99, Reduced To $19.99
Today's Olympic Games are dedicated to the ancient Serpent God of the global Illuminati, preparing the world for Antichrist.
You will vicariously be taken back to the very beginnings of the ancient Olympic Games and then brought up to the very time in which Adolf Hitler inculcated into the 1936 Games the Illuminati's brand of occultism.
You will then be brought to 1996 where the Illuminati began their tale of the serpent god, and through various occult practices and symbols prove that his return is imminent. 2 DVD set, nearly 4 hours long. Part 14 in the series, 'Secrets of the Illuminati'.
POPULAR DVD's FROM
CUTTING EDGE FILMS JUST $14.99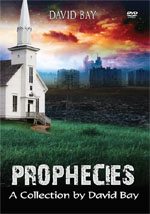 Prophecies Churches Are Ignoring - DVD Combo by David Bay - Volume 1 contains 3 DVDs with our first six programs.
Here are the six hot topics:
• The Prophetic Beast Arises: Ten Toes of Daniel Are Forming
• Rapture Precedes Israels Final 'WEEK' of History
• Eternal Security: God's Anchor In A Brutal Storm
• End Times' Judgment On Iraq (Babylon) Worse Than Believed Possible - Isaiah 13
• Israel's Prophesied Annihilation of the Palestinians
• America Identified In Prophecy: Economic Babylon of Revelation 18
Regular Price: $89.94 Sale Price: $29.99
---
See All Our $9.99 Books / DVD's
89 Titles From Which To Choose!

See All Our $4.99 Books DVD's
27 Titles From Which To Choose!
---
May Jesus Richly Bless You,
David Bay, Director
Cutting Edge Ministries
800-451-8211