I. Iran reaches 'framework' agreement with Western powers designed to prevent her from developing a nuclear capability.
Immediately, European nations call for an end to sanctions on Iran.
NEWS BRIEF: "Preliminary Iran nuclear deal reached", CNN News, April 2, 2015
Western powers reached a tentative agreement for Iran to halt her attempt to develop her own nuclear weapons. This agreement is only a first step, but it is viewed as a crucial first step. Immediately, European nations called for an end to the sanctions which had been imposed upon Iran years ago. And, this is the crux of this story!
NEWS BRIEF: "Iran, P5+1 joint statement calling for removal of all anti-Iran sanctions", Tehran Times, 02 April 2015
"Iran and the P5+1 group of world powers have adopted a joint statement after marathon talks in the Swiss city of Lausanne calling, among other things, for the removal of UNSC resolutions and sanctions against the Islamic Republic. The statement was read out in a joint press conference in the Swiss city by the EU high representative, Federica Mogherini, and Iran's Foreign Minister Mohammad Javad Zarif on Thursday."
Once these sanctions are lifted from Iran, then the Persian Kingdom can begin exporting crude oil to the entire world again! How much oil is Iran capable of exporting?
" In 2004 Iran produced 5.1 percent of the world's total crude oil (3.9 million barrels per day)..." (Wikipedia)
With the world swimming in an oil glut already equal to about 2 million barrels per day, Iranian sales suddenly exploding on the world market could increase the total oil glut to 4 million barrels per day ("A Nuclear Deal With Iran Could Increase Global Oil Glut", NPR, 3/18/15)
However, if Iran begins pumping anywhere near the 4 million barrels per day as she is capable of doing, the oil glut will get even greater. Do you remember our premise in NEWS2540, "Bringing Saudi Arabia Down", that the Elite plans to begin a war to abolish Saudi Arabia's severe dictatorship once other nations are developed so they can produce enough extra oil that the production from Saudi Arabia would not be missed, and most definitely would not destroy the world economic system?
I find it highly suggestive that, after years of trying to reach this agreement with Iran, an agreement is reached at the very time Saudi Arabia has launched a war against the Shi'ite rebels in Yemen! Once Iranian crude is added to the world's supply glut, then the world will certainly not collapse if Iran takes out Saudi oil facilities with a conventional missile barrage!
Don't you find this timing of the Iranian nuclear agreement fascinating?
NOTE: This News Alert continues following the product advertisement, below.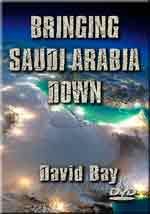 TWO NEW DVD's FROM CUTTING EDGE FILMS
"Bringing Saudi Arabia Down: Without Destroying World Economy" by David Bay

Saudi Arabia's brutal dictatorship must be overthrown according to the Pentagon's New Map Strategy. This war strategy -- followed since the 2001 Afghanistan invasion -- is overthrowing every single dictatorship in the Middle East and Africa. Already, Saddam Hussein of Iraq, Ghaddafi of Libya, Mubarak of Egypt, and Saleh of Yemen have been overthrown, while Syria's Assad is holding on to power by a thread. Find out more and Watch the Trailer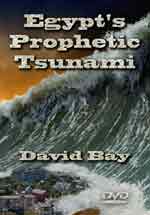 'Egypt's Prophetic Tsunami' - Isaiah 19
Still only $14.99, 53 minutes long
Egypt is dropping into the Abyss of her prophetic End Times Judgment - Isaiah 19. Current events are aligning perfectly with 2,600-year-old prophecy! Prepare to be amazed.
Isaiah 19 foretells two major events occurring in Egypt that will deliver her End Times destruction. These two events are:
1) Her government will turn severely dictatorial and will oppress the people. This oppressive government will spark a civil war in which Egyptian kills Egyptian;
2) The Nile River will inexplicably rise up in huge volume and will destroy Egypt's ability to feed herself. Ethiopia's Renaissance Dam is so poorly designed and built that it could burst, literally sending a tsunami wave all along the Nile River in Egypt.
But that's not the "end of the story"!
After pronouncing a death sentence on Egypt by the rampaging flood waters from the Nile River , God turns in great mercy to pronounce a millennia of blessing upon the Egyptian people!
Truly, these are exciting prophetic times - Watch the Trailer or order yours today.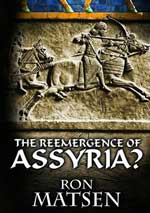 DVD
II. Syrian rebels have advanced spectacularly, now attacking Damascus suburbs!
If President Assad loses Damascus, he has lost his kingdom.
NEWS BRIEF: "Rebels seize Syria-Jordan border as ISIS storms Damascus ", Yahoo News, April 1, 2015
"Damascus (AFP) - Rebels backed by Syria's Al-Qaeda affiliate seized control Wednesday of the last border crossing with Jordan that had been under regime control, dealing a major blow to President Bashar al-Assad. 'Armed groups, joined today by Al-Qaeda affiliate Al-Nusra Front, took over the Nasib border point from regime soldiers' on the Syrian side of the frontier, said Rami Abdel Rahman of the Syrian Observatory for Human Rights."
Jordan immediately reacted by closing this border crossing and increasing the level of readiness by her military force.
And, then, came the really important attack, on Damascus.
"In another upset for the regime, the extremist Islamic State group stormed a refugee camp in Damascus its first assault inside the capital. Clashes between armed factions and IS jihadists raged in the Yarmuk refugee camp in southern Damascus after the jihadists overran much of the Palestinian haven in a lightening assault ... Yarmuk, located only six kilometres (3.7 miles) from downtown Damascus, was once a thriving home to 160,000 Palestinian refugees and Syrians."
Now that the fighting has come to within 3.7 miles of downtown Damascus, one has to wonder if the end of Assad's dictatorial regime is at hand. Remember, the Pentagon's New Map Strategy stipulates that entrenched dictators throughout the entire Middle East and Africa must be overthrown so that Regional Governments can be established. The West has already overthrown dictators in Afghanistan (2001), Iraq (2003), and Tunisia, Libya, Egypt, and Yemen (2011).
Big Picture = Creating Prophesied Ten Supernations, Ten Toes of Daniel
These Regional Governments in this area of the world are planned to be Supernation #7 (Northern Africa and the Middle East) and Supernation #8 (Central and Southern Africa), as shown on the Club of Rome Map, shown left.
Once completed, this global reorganization of all the nations of the world will fulfill the prophecies of Daniel 2:40-42 and 7:7-8!
Entrenched dictatorships, whether religious or secular, are the most potent of all obstacles standing in the way of the Illuminati completing this supernation strategy.
Therefore, they are falling like flies. Saudi Arabia is next.
This 30-Year Plan to remove all dictatorships in Africa and the Middle East is now moving southward, into Central Africa, shown here as Supernation #8. Bloody attacks by Islamic militants are sowing incredible disarray. Their immediate target is Christianity.
NEWS BRIEF: "Christians beheaded in Kenya university terror attack", The Times UK, April 3, 2015
"Heavily-armed militants from the al-Shabaab terror group have shot or beheaded dozens of university students, most of them Christians, after storming a campus in eastern Kenya at dawn today. Joseph Ole Nkaissery, Kenya's interior minister, said that one of the worst atrocities ever on Kenyan soil was '90 per cent' over, as the confrontation between the gunmen and Kenyan security services reached a climax this evening."
The actual death toll rose to 147 students, the vast majority of whom are Christian. In fact, these Islamic gunmen asked students if they were Muslim or Christian. If the student responded "Christian", they were instantly slaughtered. Those students who were shot rather than beheaded were shot face down, in the back of the head -- execution style.
Christian missionaries have historically been very successful in converting Africans, all throughout the Continent. Islamic forces understand this reality and are, therefore, singling out Christians for slaughter.
But, also remember, the same type of instability in Northern Africa and the Middle East (Supernation #7) is now occurring in Central and Southern Africa (Supernation #8). The march toward the prophesied Ten Kingdoms continues unabated!
NOTE: This News Alert continues following the product advertisement, below.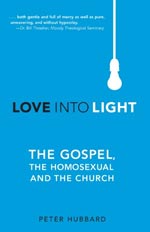 III. LGBT forces the sovereign State of Indiana to retreat!
When Gay forces can humiliate a Christian governor and overpower a Christian statehouse, you know that America is the new Sodom
NEWS BRIEF: "Gov. Mike Pence: Change RFRA law to make it clear discrimination won't be allowed ", IndyStar News, April 1, 2015
"In his latest effort to clarify the Indiana's controversial new 'religious freedom' law, Gov. Mike Pence called on lawmakers Tuesday to pass legislation clarifying that it does not allow business owners to discriminate in providing services ... Will the clarifying language go far enough to extinguish the national firestorm surrounding the new law?"
This firestorm was entirely the creation of the LGBT activists in Indiana and throughout this country. This 'Freedom of Religion" law simply states that no one can be kept from practicing their religious beliefs. The intent was to stop the erosion of Christians to practice their faith as they believe the Bible dictated.
But, the LGBT folks immediately re-created the law to say that Lesbians/Gays/Bi-Sexuals/Transgendered people could be discriminate against. When the Governor initially held firm, gay Corporate interests began to threaten to move out of Indiana. Even the College Basketball 'March Madness' hinted that they might move their games out of the state.
The capitulation by the Christian governor and legislature was exceedingly quick in coming.
NEWS BRIEF: "Gov. Pence signs 'religious freedom' revision to stop erosion of LGBT protections", IndyStar News, April 3, 2015
"After a week of tumult in Indiana, Gov. Mike Pence signed a revision to the state's "religious freedom" law late Thursday that eliminates the potential erosion of LGBT protections in communities, including Indianapolis, that have local anti-discrimination ordinances protecting sexual orientation and gender identity."
The strength of the LGBT movement and their ability to swing quickly against an issue is impressive. In fact, I believe this sorry event proves that America is now the new Sodom. Just as Jesus predicted when He prophesied that the Last Days would be "like the days of Lot".
But, instead of celebrating, LGBT members should fearfully look skyward because they can expect that the same God Who found the LGBT practices of Sodom to be so horrifically sinful that He destroyed them by fire and brimstone, will look at America the exact same way.
How did God destroy Sodom?
"Then the Lord rained upon Sodom and upon Gomorrah brimstone and fire from the Lord out of heaven; And he overthrew those cities, and all the plain, and all the inhabitants of the cities, and that which grew upon the ground ... And he looked toward Sodom and Gomorrah, and toward all the land of the plain, and beheld, and, lo, the smoke of the country went up as the smoke of a furnace." (Genesis 19:24-25, 28)
How is God going to destroy the New Sodom, America?
"Therefore shall her plagues come in one day, death, and mourning, and famine; and she shall be utterly burned with fire: for strong is the Lord God who judgeth her ... And the kings of the earth, who have committed fornication and lived deliciously with her, shall bewail her, and lament for her, when they shall see the smoke of her burning, Standing afar off for the fear of her torment, saying, Alas, alas that great city Babylon, that mighty city! for in one hour is thy judgment come." (Revelation 18:8, 10)
America has entered into her final days of national existence. God's judgment is sure, because God never, ever changes!
---
DVD - "Escaping Common Core: Setting Our Children Free"
Key Speaker Ray Moore, Executive Producer of "IndoctriNation" DVD
Common Core is a new label for state -controlled public education standards in an ongoing attempt to dumb down' the American educational system, a struggle that has raged for decades. Common Core will cause some students to become confused and to give up on academics. Are you horrified at the limited reading skills of children and young adults today? Just wait until this curricula has been taught for ten years! Few people will be able to read anymore.
We are NOT advocating that Christian parents aggressively try to reform the public school system from within. That concept is NOT biblical, has been tried for 40 years, and will never work. Scripture commands families to provide Christian education, not a secular or godless education.
We advocate that Christian parents remove their children from public schools to enroll them in the safe sanctuary of private Christian schools, home school or online Christian education.
The Bible tells the believer: 'Come out from among them and be ye separate, says the Lord...' (2 Cor. 6:17)
This 'Call To Action' is Biblically based! Many parents today refuse to address the spiritual forces endangering their childrens beloved eternal souls in public schools. Many are too in love with the worlds system - even if they have to send their precious children to a pagan, atheistic, hostile public school. Our approach is Biblical, following the express teaching of the Bible on how to raise and educate children, an essential part of our Christian walk of faith and obedience to Christ. We are hopeful that the Holy Spirit will use this message to spark the next revival.
Speakers include: Ray Moore - Exodus Mandate, and Executive Producer of 'IndoctriNation' - will be the featured speaker.
Other speakers include:
Mac Dominick, Cutting Edge author
Walter Corbett -- Retired Public School Teacher of Advanced Physics
Brian Ray, National Home Education Research Institute
John Becker and Andy Thompson - Ohio Representatives
Dr. Carl Broggi, Pastor, Community Bible Church.
Run Time will be 1 hour, 30 minutes. Ready to ship early May

If you could possibly help us out with a donation to properly fund this monumentally important goal of producing this DVD warning of the dangers of Common Core and providing a workable solution, we would greatly appreciate it. Common Core is both an educational and a spiritual problem and, as such, we are praying that the Holy Spirit trigger an End Times revival on the level of the Great Revival of 1741.
But, we are short of funds to send our film crew to the locations needed to interview key speakers and to properly present this documentary at key shows in the next 30 days. Will you help?
---
Iran's prophetic participation in the Russian-led invasion of Israel (Ezekiel 38-39) takes on a deeper understanding once we comprehend Iran's preparations currently underway.
Subscribe To Headline News For Only $25 per year!
See All Our $9.99 Books / DVD's
72 Titles From Which To Choose!

See All Our $4.99 Books DVD's
30 Titles From Which To Choose!
---
May Jesus Richly Bless You,
David Bay, Director
Cutting Edge Ministries
800-451-8211