Hot News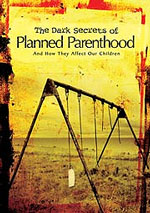 1. Planned Parenthood news continues to be so horrific that our very moral senses are violated!
Blocked videos may prove aborted babies were born alive before organs were harvested!!
NEWS BRIEF: BREAKING: Blocked videos may prove aborted babies were born alive before organ harvesting, Life Site News, July 31, 2015
"On CNN this morning, Center for Medical Progress leader David Daleiden explained exactly why StemExpress is seeking to block release of secretly recorded video from a meeting he had with its top executives in May In a meeting with their top leadership where their leadership admitted that they sometimes get fully intact fetuses shipped to their laboratory from the abortion clinics they work with, and that could be prima facie evidence of born alive infants. And so that's why they're trying to suppress that videotape and they're very scared of it."
These Planned Parenthood executives should be scared, for if it can be proven that they are paying for babies murdered outside the womb so they can then kill that baby and dismember its parts, they are guilty of murder! Even our horrifically flawed morality which governs America today recognizes this practice as murder!
Planned Parenthood executives could be going to jail en mass! Unless, of course, their Liberal -- and mostly Democrat -- political officials step in to stop the legal process! At that point, voters of conscience all across this land will know whom they must target for defeat in the next election or for impeachment removal!
Does America have this kind of moral outrage left?
Leftist Liberal Presidential Candidate, Hillary was finally flushed out of hiding on this Planned Parenthood debacle, and finally forced to defend these murderous actions. Last week, she stated that Planned Parenthood served a very "useful" function! She never did explain how these murders of tiny infants and the selling of their body parts serves a function that a civilized society finds "useful".
In fact, Hillary has expressed her undying affection and admiration for Margaret Sanger, the Founder of Planned Parenthood.
NEWS BRIEF: "Hillary channels Margaret Sanger", American Thinker, July 28, 2015
"She who will be the Democratic nominee ... (was) awarded Plan Parenthood's highest honor in 2009; named after its founder, outspoken racist and eugenics advocate Margaret Sanger. As secretary of state, under America's first black president, no less, Mrs. Clinton said in her acceptance speech, "I admire Margaret Sanger enormously – her courage, her tenacity, her vision." She further affirmed, 'I am really in awe of her'."
Hillary is "in awe" of the Hitler clone, Margaret Sanger? This fact tells us a lot about Hillary Clinton, the leading contender -- as of right now -- to succeed Barack Obama as the next President of the United States.
What can Hillary find so commendable in Margaret Sanger?
* "Mrs. Sanger's view was the creation of a (white) "master race" by determining or otherwise controlling who has children."
Writing in " a 1925 essay called 'The Need of Birth Control in America', Mrs. Sanger wrote: 'Such human weeds [defined by her in published writings alternately as morons/defectives, delinquents/misfits/the maladjusted, and dependents/the poor] clog up the path, drain up the energies and the resources of this little earth. We must clear the way for a better world..."
If you think this ranting and raving came from that demonically possessed Adolf Hitler, you are very close. As we demonstrate in the next news segment, below, Sanger's definitions as to who is fit to live on Planet Earth is almost word-for-word from Hitler.
Breitbart News captures a special view of Margaret Sanger that we need to understand.
NEWS BRIEF: "Racist, Pro-Nazi Roots of Planned Parenthood Revealed", Breitbart News, 14 July 2015
"Sanger was the birth control proponent who founded Planned Parenthood nearly 70 years ago. Her motives had nothing to do with liberating women or women's rights, she was a eugenicist — someone who believed that through abortion, birth control, and forced sterilization society could "assist the [human] race in the elimination of the unfit."
"The Federalist adds: Margaret Sanger, for those who are unaware, was a vile racist and eugenicist who dedicated her life to ridding the world of poor black babies, who she deemed the 'degenerate and defective'. She was a featured guest of the Ku Klux Klan and a huge proponent of the forced sterilization program of the Nazi regime in the 1930's." (Emphasis added)
Thus, we have this sequence of people over the past 90 years:
Adolf Hitler -- Margaret Sanger -- Hillary Clinton
Oh, yes, and we should add President Barack Obama to this list, since he has selflessly promoted Planned Parenthood.
NEWS BRIEF: "Obama fawns over Planned Parenthood butchers . . . 'God bless you' ", BizPac Review, July 22, 2015
"As Planned Parenthood's butchery-for-bucks schemes gets more exposure, the rabidly pro-abortion President Obama's support for the group gets more revolting. The release of a second, damning undercover video Tuesday showing a top Planned Parenthood executive dickering over the body parts of dismembered children, just makes the savagery at the heart of the nation's largest abortion provider more evident."
"And it makes it even more stomach-turning to watch the president of the United States saying 'Thank you, Planned Parenthood. God bless you', as he does in this speech in 2013.
"Remember in November" has been the rallying cry of Conservatives for many years, as they attempt to remind their followers of the stands taken by an opponent politician when they step into the voting booth in November. We urge our readers to "Remember in November of 2016" that Hillary will forever have the blood of millions of aborted babies from her support of Planned Parenthood.
In fact, I am concerned that this news story broke a year too soon. Breaking it in August, 2016, would have influenced the election far greater than breaking it now, fully 16 months before the election!
NOTE: News Alert continues after the advertisement, below
---
Prophetically Understanding World War III
World War III: History's Greatest Lynchpin Event
New DVD by David Bay
In the minds of most people, two words carry so much emotional baggage that people cringe whenever they hear these Apocalyptic words. 1) Armageddon; 2) World War III.
In the past 20 years, whenever a battle begins in the Middle East or whenever a verbal confrontation breaks out between major powers, 'gloom and doom' scare-mongers immediately begin to shout 'World War III',much like a person yells 'FIRE' in a crowded theater.
Bible prophecy reveals that Antichrist will be produced on the world scene by a number of signs, including 'wars and rumors of wars'. Demonic familiar spirits told the Elite in 1870 that three world wars will be needed to produce Antichrist. Make no mistake about it: Antichrist will be produced by World War III.
Therefore, the question of the hour is, 'when will this global war begin' and 'what are the signs it is about to commence'? Many major events are planned to occur just as World War III begins. Mankind will be systematically hit with unparalleled disasters of every kind as this planned global war unfolds. But, none of these events will occur until the lynchpin called 'World War III' is pulled.
When the Global Elite pulls this lynchpin event called World War III, events are going to be unleashed in such severity and in such great numbers the peoples of the world will not stand in awe, they will panic and run for the hills. Jesus said that 'men's hearts shall fail them for fear', and the Elite is creating just such climactic events which shall not occur until the lynchpin known as 'World War III' is pulled.
We will show you the 12 major disasters the Elite has created and is waiting only for the beginning of World War III to unleash them all, almost at once. No one need fear that any of these disasters will jump across the starting line ahead of time; each awaits the 'pulling of the lynchpin', World War III.
One Hour -- http://www.cuttingedge.org/detail.cfm?ID=2697
This DVD may be the most important you will ever see on End Times events
---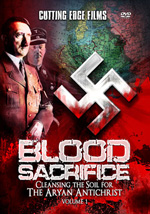 2. Margaret Sanger strongly supported Adolf Hitler in his genocidal campaign!
Planned Parenthood is Nazism revived.
NEWS BRIEF: "Planned Parenthood is the Descendant of Hitler's Third Reich", Michael Savage, WCBM Talkradio AM 680
" In today's issue: Dr. Savage points to the Baby Boomers' Sexual Revolution as the catalyst for the shameless barter of aborted body parts by Planned Parenthood caught on video, exposing the organization for what it really is. 'We've gone from sex, drugs and rock and roll to the Fourth Reich', Savage told his listeners."
"You thought that if you .... smoked pot day and night, that it would lead to freedom. Instead, it's led to the Fourth Reich, in which baby body parts are sold for profit by the Nazis of our time in Planned Parenthood ... Margaret Sanger was the godmother of Hitler and Planned Parenthood. Do you know how much money they get from Obama's government? Approximately half-a-billion dollars a year."
What, exactly, are the specific ties between Margaret Sanger and Adolf Hitler?
NEWS BRIEF: "Racist, Pro-Nazi Roots of Planned Parenthood Revealed", Breitbart News, July 14, 2015
"With the news that Planned Parenthood is trafficking in dead baby parts — news our mainstream media is almost certain to ignore or downplay — the time seems proper to reexamine the racist, pro-Nazi roots of Planned Parenthood, an organization found by vile racist Margaret Sanger, an organization that receives nearly a half-billion dollars a year in taxpayer dollars.'
"Sanger was the birth control proponent who founded Planned Parenthood nearly 70 years ago. Her motives had nothing to do with liberating women or women's rights, she was a eugenicist — someone who believed that through abortion, birth control, and forced sterilization society could "assist the [human] race in the elimination of the unfit."
In her belief that forced abortion could purify the human race by eliminating birth of babies from racially unfit mother lines her beliefs up perfectly with Adolf Hitler! The only practical difference is that Sanger was focusing on murdering babies within the womb, while Hitler was focusing on murdering older members of unfit races.
Listen to Sanger's own words. In a piece titled 'Birth Control and Racial Betterment', Sanger wrote in part:
" 'Before eugenists and others who are laboring for racial betterment can succeed, they must first clear the way for Birth Control. Like the advocates of Birth Control, the eugenists, for instance, are seeking to assist the race toward the elimination of the unfit. Both are seeking a single end but they lay emphasis upon different methods.... Eugenists imply or insist that a woman's first duty is to the state; we contend that her duty to herself is her duty to the state'." (Published Feb. 1919)
Sanger specifically praised Adolf Hitler and his proposed program to rid humanity of "unfit races".
"Who were the unfit? Sanger laid it all out in 1938, when she praised Nazi Germany's sterilization policies. The unfit included those suffering from, "congenital feeble-mindedness; schizophrenia, circular insanity; heredity epilepsy; hereditary chorea (Huntington's)' hereditary blindness or deafness; grave hereditary bodily deformity and chronic alcoholism."
What were Germany's conditions under which sterilization could occur?
"Reports in medical journals state that the indications laid down in the German law are being carefully observed. These are congenital feeble-mindedness; schizophrenia, circular insanity; heredity epilepsy; hereditary chorea (Huntington's)' hereditary blindness or deafness; grave hereditary bodily deformity and chronic alcoholism."
Clearly, Margaret Sanger and Adolf Hitler were two identical "peas in a pod"! Yet, while no American politician ever can be seen praising Hitler, Leftist politicians -- mostly Democrat -- fall all over themselves praising Sanger! Such is the moral disaster in which America finds herself today!
3. While we are all appalled by these revelations from Planned Parenthood, we all knew, in our heart of hearts, that these despicable people had been carrying out this carnage for years and years.
Therefore, the real question is how opposed to Planned Parenthood were Republican Presidents and other elected officials?
* Mitt Romney - omney's own record is clearly in support of 'a woman's right to choose' to kill her baby, and pro population control:
1992: Romney voted for "population-control fanatic" Paul Tsongas in the Democrat Presidential primary.

1994: In his U.S. Senate debate with Ted Kennedy, he said: "I believe that abortion should be safe and legal in this country. '

2002: In his campaign for Governor of Massachusetts, Romney told Planned Parenthood he supported Roe v. Wade, state-funded abortions ... I will preserve and protect a woman's right to choose and am devoted and dedicated to honoring my word in that regard..."

Romney "picked a pro-abortion running mate for Lt. Governor."

2005 -- Romney contradicted his own veto, signing a bill to get a federal waiver to expand distribution of "emergency contraception" to low-income women (as he had promised Planned Parenthood he would do in 2002) ... Planned Parenthood praised the Governor for this act."

2006: April 12: Romney signed RomneyCare into law, including Planned Parenthood on the advisory board
* George W. Bush - President Bush Signed Title X Funding Increase for 2005: Planned Parenthood's Abortion Funding Increased
* Bush delivered only rhetoric about ending Partial Birth Abortion, but never actually took action! (January 14, 2003, three years into the Bush Administration.
* Current GOP candidate, Jeb Bush, was a director of a Philanthropy committee which channeled tens of millions of dollars to Planned Parenthood
---

4. Speaker Boehner preparing 'inauguration-like setting' for Pope Francis
Francis is being treated like a "Head of State"!
We know that the Illuminati chose the Pope in early 1991 to be the global leader of the New World Order Religion (NEWS1052), a designation which makes the Pope -- whomever he is at the time -- the False Prophet of Revelation 13:11-18.
Pope Francis has been uniquely traveling around the globe, making worldwide contacts and promoting the New World Order. Has the time arrived for him to step forward on to the world stage?
NEWS BRIEF: "Boehner preparing 'inauguration-like setting' for Pope Francis", CNN Politics, July 8. 2015
"Washington (CNN) House Speaker John Boehner is preparing an 'inauguration-like setting' on the west front of the U.S. Capitol so members of the public can view Pope Francis's visit to Washington in September."
" 'The visit of Pope Francis to the U.S. Capitol is a historic moment for the country', Boehner said in a statement. 'Given the unprecedented nature of his visit, Pope Francis' address to a joint meeting of Congress will be broadcast live to members of the public on the West Front of the Capitol'."
" 'We look forward to welcoming Pope Francis and Americans from all walks of life to our Capitol on September 24', Boehner added."
We have been teaching since August, 1991, that the Roman Catholic Pontiff has been chosen by the Global Elite to be the top religious leader of the global New World Order Religion. We based this firm teaching on a Member's Only (and one guest) seminar of the New England House of Theosophy into which I was sneaked in August, 1991. The teacher was Bill Lambert, and the location was the Boston Headquarters of Theosophy.
Lambert revealed the circumstances under which the New World Order Religion was to be established, finally drawing all the world's existing religions into one. He further revealed who was the top leader chosen to lead this global religious behemoth. Of course, this leader would automatically be the False Prophet, of which Revelation 13 tells us much.
What did Lambert reveal about the exact circumstances under which the Pope would be declared the global leader of this New World Order religion?
"Sometime .... the following scenario will unfold, depending only on the right set of circumstances:
* Moslem and Jewish areas in Jerusalem will be combined with Christian to create the New Jerusalem Covenant
* All religions will convene to celebrate three (3) religious festivals simultaneously:
1. Festival of Goodwill -- normally in May-June

2. Festival of Easter -- normally in April (Celebrates new birth, as exemplified by the Christ -- Jesus Christ to Christians)

3. Festival of Wesak -- normally in March (Celebrates birth of the Buddha)
This celebration of these three combined Festivals will create the New World Order Religion and will be the spiritual equivalent to the political United Nations."
"Thus, when the three religious conferences and the three political/business conferences are simultaneously held, a grand merger of all forces will occur world-wide that will move the world in any desired direction."
"Then, and only then, will it be possible to build a combination Temple/Church/Mosque in Jerusalem."
Bill Lambert refused to say that this combination church building would be built on the Temple Mount, as I directly questioned him. But, note that the specific part of the New World Order Plan, called the New Jerusalem Covenant Project, envisions the establishment of a combination religious Jerusalem -- Islam, Christianity, Judaism.
Notice that a combination "Temple/Church/Mosque" is planned for Jerusalem and its construction will mark the turning point in creating the global New World Order Religion. At this point, it is possible that Pope Francis I will step out of the Vatican Chair and into the global office of the New World Religion.
To this date, no public announcement has been made that Moslem and Jewish areas in Jerusalem are planned to be combined with Christian to create the New Jerusalem Covenant. Nor have we heard that a combination spiritual worship center for the three monotheistic religions is planned.
The Pope visited Jerusalem last year (May 17, 2014) and no combination worship center was dedicated. In fact, we have not even heard that a section of Jerusalem has been dedicated to the monotheistic religions of the world.
Still, Pope Francis I is being treated as a head of state, all over the world. This fact seems to point to the reality that, one day, when the time is right, a combination Moslem, Jewish, Christian worship center will be built in a newly designated area of Jerusalem. At that moment, we will realize that the prophetic time has arrived for the Man of Sin to arrive, along with his False Prophet, on the world scene.
5. When will that be? How can we know the approximate time that Antichrist and his False prophet arise?
Once you know the Prophecy, you will never be falsely alarmed again.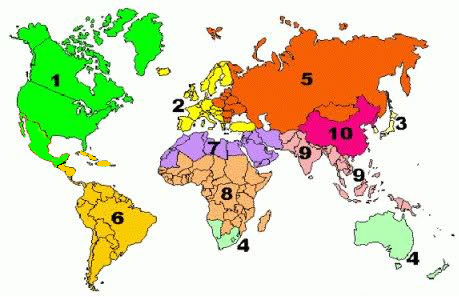 This time will occur when the prophesied reorganization of all the world's into 10 Supernations has been completed.
Please take a few moments to read our Archived Headline News article, NEWS2363, entitled, "There Is Only ONE Sequential Prophecy Which Shall Provide Us A Clear Gauge By Which We Can Know The Approximate Time That Antichrist Will Arise!"
Whenever someone states that one or more of the prophecies heralding the End of the Age is about to occur, check the progress to the completion of these prophesied 10 Supernations. Antichrist cannot arise, nor can his False Prophet, until these 10 Supernations are in place, and functioning as nations (Single leader, Parliament, Judicial System, single currency).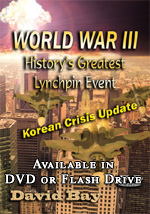 In our new DVD, "World War III: History's Greatest Lynchpin Event", we reveal the Plan of the Elite to create numerous disasters but to not allow them to occur until the World War III that is designed to produce Antichrist on the world scene has begun.
What are these planned disasters created, set in place to occur once World War III begins (but not beforehand)? These events have been meticulously planned a long time ago, but they have not been implemented yet. They are:
1) Total Dictatorship accompanied by the dissolution of every device limiting the powers of government, like America's Constitution.
2) All-out regional war breaks out in the Middle East.
3) A very frightening nuclear war threat will suddenly erupt from North Korea.
4) China will invade Taiwan.
5) Arab terrorists strike American and European cities with wide-spread terrorism, threatening to use nuclear devices. The world panics.
6) Unprecedented riots erupt in many American cities.
7) Economies all over the world buckle and collapse as the global war spreads from Israel to North Korea to China.
8) A 9.0 earthquake will strike Los Angeles. ("Behold A Pale Horse", Bill Cooper, p. 177)
9) Food shortages worldwide.
10) Free governments all over the world will be dissolved and Absolute Dictatorships will be implemented, more quickly than anyone could ever have imagined. In fact, when the time arrives to implement this dictatorship in every country in the world, the Elite plans on making this abrupt transition in only 72 hours.
People will be so surprised that most of them will not reach their survival supplies they have so carefully set aside.
The point is, the Illuminati has prepared many different scenarios which will not be triggered until World War III breaks out. Each these individual events are sitting like a race car at the starting line, engine idling, just waiting for the global war to break out so they can all be triggered at once.
These events will occur at a rapid rate, one after another after another. None of the planned events will occur before it's appointed time. And, the trigger for all these events is World War III, literally a lynchpin holding all planned events in place. Once this gigantic lynchpin is pulled, all these planned disasters will quickly follow. People worldwide will be so upset and so confused by so many disasters happening at once, they will literally leap at any proposal from global leaders that will "solve the problem".
At that point, the New World Order can be established as soon as World War III has run its course and the Masonic Christ has appeared on the world scene. But, do not be seized with alarm by reports that such and such an event is about to happen, when you can see that the prophesied 10-Nation Reorganization has not completed yet, and is at least 5, maybe 10, years away.
Did you know that Jesus foretold that one of the signs of the End of the Age will be false rumors that the Christ has appeared and that events connected with him have already begun?
"Then if any man shall say unto you, Lo, here is Christ, or there; believe it not. For there shall arise false Christs, and false prophets, and shall shew great signs and wonders; insomuch that, if it were possible, they shall deceive the very elect. Behold, I have told you before. Wherefore if they shall say unto you, Behold, he is in the desert; go not forth: behold, he is in the secret chambers; believe it not." (Matthew 24:23-26; Emphasis added)
Today, false teachers are screaming that events connected with the prophesied Antichrist are about to occur, not knowing or caring that they are planned to occur quickly together after the last Birth Pang of War has begun.
Do not listen to these people. In Jesus' words, " believe it not"!
POPULAR DVD's FROM
CUTTING EDGE FILMS JUST $14.99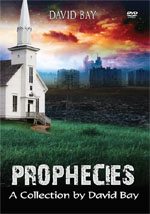 Prophecies Churches Are Ignoring - DVD Combo by David Bay - Volume 1 which contains 3 DVDs with our first six programs.
Here are the six hot topics:
• The Prophetic Beast Arises: Ten Toes of Daniel Are Forming
• Rapture Precedes Israels Final 'WEEK' of History
• Eternal Security: God's Anchor In A Brutal Storm
• End Times' Judgment On Iraq (Babylon) Worse Than Believed Possible - Isaiah 13
• Israel's Prophesied Annihilation of the Palestinians
• America Identified In Prophecy: Economic Babylon of Revelation 18
Regular Price: $89.94 Sale Price: $29.99
---
Four New Headline News Articles
IF The Iranian Nuclear Deal Just Concluded Allows Iran To Possess Her Own Nuclear Warheads, Does That Mean She Will Use Them Against Her Neighbors?
Why Does The World Give America Trust In Nuclear Arms Possession?

Incredible End Times Prophecy Unfolding In Israel!
Prominent Jewish Rabbi Declares Appearance of Jewish Messiah Is So Close That Jews Around The World Must Come Home!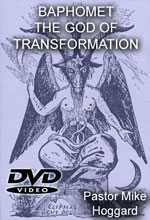 "U.S. Supreme Court Ruling Declaring Same-Sex Marriage to Be Legal Has Officially Forced America To Cross That Dreaded 'Sodom Judgment Line'."
America's new god is Baphomet, the Transgendered Demon of Hell

Baphomet's human symbol is now Caitlyn/Bruce Jenner!
"God's Loving Sovereignty Over His Chosen Nation, Israel"
God's Pattern In Dealing With Israel Revealed - From Ancient Israel To Today

Warning to all haters of Israel and the Jews: You are fighting 'Mission Impossible", fighting against Omnipotent God.
Subscribe To Headline News For Only $25 per year!
See All Our $9.99 Books / DVD's
72 Titles From Which To Choose!

See All Our $4.99 Books DVD's
30 Titles From Which To Choose!
May Jesus Richly Bless You,
David Bay, Director
Cutting Edge Ministries
800-451-8211