Actions like this one will be taken over the next few months or years which will attempt to force Orthodox Jewry into permanent decline!
2. Donald Trump is proven right -- AGAIN!
Liberal critics should learn to wait to lambaste Trump until they can check the facts.
NEWS BRIEF: "Trump is right about British fear of Muslims: London cops confirm", Israel National News, 12/10/2015
"Donald Trump's claim on MSNBC Tuesday, according to which some Muslim neighborhoods in Paris and Britain are no-go areas for police, has received the endorsement of London policemen .... Trump had said: 'We have places in London and other places that are so radicalized that police are afraid for their own lives'."
Remember, British policemen are not armed, so they would be no match for heavily-armed terrorists using military weapons and deploying military tactics. Liberal politicians and media correspondents openly denied that Trump was right.
"Home Secretary Theresa May rejected these claims Wednesday, 'The police in London are not afraid to go out and police the streets'."
But, individual policemen differed with the Home Secretary strongly:
* " 'There are Muslim areas of Preston that, if we wish to patrol, we have to contact local Muslim community leaders to get their permission."
* "We implement half measures such as 'No-one is allowed to come into work half blues, even in your own cars because if you get beheaded it'll be your own fault."
Can you imagine your police superiors telling you that you would be at fault if you are beheaded going into Muslim areas? People who advocate allowing Syrian refugees into their country had better take this British example to heart. Whenever Muslims invade a country they congregate into clusters and then become very threatening to anyone not a Muslim.
"They who do not learn from history are doomed to repeat it"!
3. As Republican leaders begin plans to hold their 2016 Nominating Convention, they are forced to address their most important question.
Will Trump bolt the party and lead an Independent campaign for President?
NEWS BRIEF: "Insiders: Trump independent bid would ruin GOP chances", Politico, 12/11/2015
"If Donald Trump runs for president as an independent, the GOP will lose the White House ... Roughly 4 in 5 GOP insiders, 79 percent, said it would be either 'impossible' or 'very difficult' for the Republican nominee to win the general election if Trump launches a third-party bid..."
Is Donald Trump even thinking about a Third-Party campaign for President?
"The real-estate developer and celebrity continues to hint at an independent bid — using the possibility as leverage against a party that is equal parts threatened and confounded at his ascendance ... A number of insiders pointed to 1992 — and, to a lesser extent, 1996 — when Bill Clinton won the presidency without capturing a majority of the vote because of a self-funding independent candidate. One Iowa insider called Trump, 'Ross Perot on steroids'."
We pointed out this danger earlier this year. Ross Perot doomed America to eight years of William Clinton by running as a Third Party candidate. Donald Trump would doom America to at least four years of the ravages of another Clinton in the White House -- Hillary.
That thought should keep every Conservative awake at night!
But, wait, there is even more trouble brewing! Candidate Ben Carson is threatening to leave the Republican Party!
NEWS BRIEF: "Ben Carson joins Donald Trump in threatening to leave GOP", CNN News, December 11, 2015
"Ben Carson on Friday took a page from Donald Trump's playbook by threatening to depart the Republican Party. Ahead of Tuesday's GOP presidential debate, the retired neurosurgeon slammed the party after reports emerged that Republican insiders were discussing the possibility of deal-making to decide the eventual nominee at the Republican National Convention."
This charge has often been made for both political parties: Big Whigs within the party decide on the candidate because of "backroom deals", not based upon voting results. Both John F. Kennedy and Ronald Reagan literally "came out of nowhere and the ruling chieftains from both parties did not like it one bit. You will not see a repeat of a candidate seizing the nomination against the wishes of real power brokers of the major parties.
Earlier this year, when I first raised the possibility of a Trump Third Party bid, I wondered out loud how the Elite plans to get such an unpopular candidate as Hillary Clinton into the White House. The answer might be a Third Party candidacy of Trump and maybe Trump/Carson.
Once again, America might be saddled with a Clinton minority presidency!
4. Palestinian President Abbas raises the alarm one more time: Israel is planning a new 'nakba' (catastrophe) action which will uproot the Palestinian people.
Is Abbas warning here of the upcoming fulfillment of Obadiah 15-18 -- as we detail in our new DVD, "Israel's Prophesied Triumph Over The Palestinians"?
NEWS BRIEF: "Abbas claims Palestinians are facing a new 'nakba' (catastrophe) designed to uproot them from Israel", The Jerusalem Post, 12/10/2015
"Palestinian Authority President Mahmoud Abbas on Thursday accused Israel of deliberately targeting Palestinian youth and children .... Palestinians are facing a "nakba (catastrophe) that is aimed at uprooting them from their lands and denying their existence," Abbas said, in a statement on the occasion of Human Rights Day."
We have often wondered if Palestinian leaders know of Israel's plan to annihilate them completely in fulfillment of Obadiah 15-18 (watch full details in the DVD above, "Israel's Prophesied Triumph Over the Palestinians").
Once you understand how this prophecy is marching to fulfillment, you will never read the news from the Middle East the same way again!
The Palestinians certainly are unleashing a wave of terror attacks, picking on a force they cannot defeat. All they are doing is creating an even more unpleasant image of themselves in the hearts and the minds of non-Muslims throughout the world. Consider some of the current terrorism which the Palestinians are waging against the IDF.
NEWS BRIEF: "Palestinian Terrorists Unleash Rash of Attacks in Israel", Christian Breaking News, 12/11/2015
"... Friday brought more attempted stabbing, shooting and vehicular attacks against Israelis, but thankfully no one was injured and the terrorists neutralized. "
These are the attacks mentioned in this current news story.
* "A Palestinian terrorist tried to run over IDF soldiers at the Hilhul Junction near Hebron on Friday. Troops thwarted the attack, firing at the assailant, resulting in his death."
* "Israeli security forces tracked down the man who rammed his car into a group of soldiers near Beit Aryeh in Samaria Wednesday, injuring four ... The terrorist told investigators he rammed the soldiers to avenge the 'murder of Palestinian children' and defend the al-Aksa Mosque, which according to the Palestinian Authority, Israel intends to destroy."
* "A day earlier, terrorists opened fire on an Israeli couple on their way home from a family Hanukkah celebration as they drove near Tulkarm. Authorities found 23 bullet holes in the car."
* "Also on Wednesday, terrorists stabbed a soldier and a civilian near Beit Hadassah in Hebron. "
Jewish citizens are finding it difficult to live normal lives in the midst of a terrorism-minded enemy that only wants them all dead. Remember several weeks ago, a top Palestinian leader urged all his people to carry knives with them as they went about their daily business and to stab any Jew they find. In response, a Jewish politician urged all Jews to carry guns with them as they walk down the street and go grocery shopping.
So far, more Palestinian assailants have been killed than Jewish citizens.
It never pays to bring a knife to a battle, does it?
The same situation is developing here in America, as numerous sheriffs have urged their citizens to not leave home without their gun and their concealed permit. The whole world seems to be on fire! And, that is exactly what End Times' prophecy predicted.
---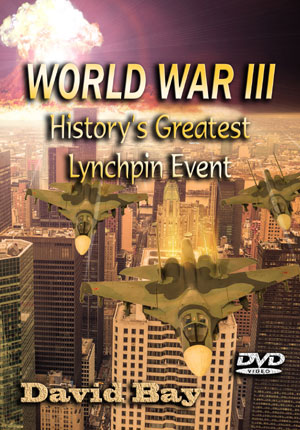 World War III: History's Greatest Lynchpin Event
New DVD by David Bay - Only $14.99
In the minds of most people, two words carry so much emotional baggage that people cringe whenever they hear these Apocalyptic words. 1) Armageddon; 2) World War III.
In the past 20 years, whenever a battle begins in the Middle East or whenever a verbal confrontation breaks out between major powers, 'gloom and doom' scare-mongers immediately begin to shout 'World War III',much like a person yells 'FIRE' in a crowded theater.
Bible prophecy reveals that Antichrist will be produced on the world scene by a number of signs, including 'wars and rumors of wars'. Demonic familiar spirits told the Elite in 1870 that three world wars will be needed to produce Antichrist. Make no mistake about it: Antichrist will be produced by World War III.
Therefore, the question of the hour is, 'when will this global war begin' and 'what are the signs it is about to commence'? Many major events are planned to occur just as World War III begins. Mankind will be systematically hit with unparalleled disasters of every kind as this planned global war unfolds. But, none of these events will occur until the lynchpin called 'World War III' is pulled.
When the Global Elite pulls this lynchpin event called World War III, events are going to be unleashed in such severity and in such great numbers the peoples of the world will not stand in awe, they will panic and run for the hills. Jesus said that 'men's hearts shall fail them for fear', and the Elite is creating just such climactic events which shall not occur until the lynchpin known as 'World War III' is pulled.
We will show you the 12 major disasters the Elite has created and is waiting only for the beginning of World War III to unleash them all, almost at once. No one need fear that any of these disasters will jump across the starting line ahead of time; each awaits the 'pulling of the lynchpin', World War III.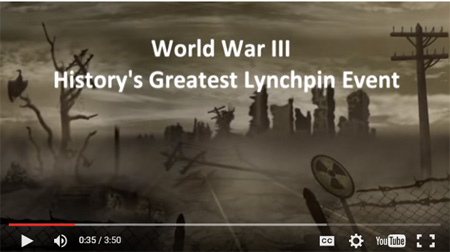 ---
NEW BOOK

A Marriage Built To Last Paperback Book
from Pastor Billy Crone
Many marriages today are under severe strain. Most of us can identify with this. But is this the kind of relationship that God had in mind when He instituted marriage? Absolutely not! A Marriage Built to Last looks at eleven steps to having a lasting and fulfilling marriage, including: Men and Women are Different. Love is and Action. The Need for Communication, Honor, and Intimacy. The Need for Biblical Men and Women. The Need for a Strong Family It's going to take some time and work, but if we'll just get back to God's plan for marriage, we're well on our way to having A Marriage Built to Last.
170 pages
---
Dynamic New DVD
"Masons In The Pulpit"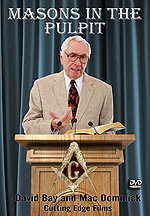 New DVD by David Bay and Mac Dominick - !
If your church allows Masons to fill the pulpit, or be Deacons, or Sunday School teachers, you have a very serious spiritual problem with Almighty God. The Holy Spirit has written 'Ichabod (The Glory Has Departed)' above your front door!
While Freemasonry has successfully deceived a great many people, convincing them that Freemasonry is compatible with Christianity, God knows the Truth and is not tolerant of Masons In The Pulpit.
We begin at a very reasonable beginning premise: If a pastor refuses to resign from the Masonic Lodge he does so because he feels greater loyalty to the Lodge than to Jesus Christ.
Starting from this premise, we examine a number of key Masonic teachings and then ask the Pastor how he can reconcile these teachings with Biblical Christianity. We ask, 'Mr. Pastor, when you are teaching key Biblical doctrine, are you really thinking of the radically different teaching of Freemasonry?
Prime Example: Freemasonry teaches that its religion is far superior to any other religion on Earth, including Christianity. Mr. Pastor, are you thinking how superior Masonry is to Christianity when you are teaching Biblical doctrine. Second Example: Freemasonry teaches that it is necessary for Lodge leaders to deliberately lie to their people until they are 'mature enough' to comprehend and accept the truth; Mr. Pastor, when you are teaching key Biblical doctrine, are you secretly thinking that it is necessary for you to teach these 'lies' about Jesus and the God of the Bible until your people are spiritually mature to comprehend the true Masonic doctrine?
We prove that a Holy God cannot tolerate Masons in the pulpit of a church for which His Son, Jesus, bled on that cruel cross of Calvary.
Almost two hours of teaching
Authors are Mac Dominick and David Bay.!
- http://www.cuttingedge.org/detail.cfm?ID=2712
Shipping NOW!