Hot News
1. Unrelenting propaganda over the past 30 years finally produced a perfectly worthless global Climate Change pact.
This agreement lacks an "Enforcement Mechanism"!
The most important element of this agreement is that top Auto Industry CEO's pledged significant changed in their products!
This accord was truly global, just as we predicted in 2007.
NEWS BRIEF: "Nearly 200 nations join together to fight climate change in historic Paris agreement", L.A. Times, December 12, 2015
"Representatives from nearly 200 countries made common cause in the fight against climate change Saturday ... The agreement reached at a United Nations conference outside Paris marks the first time that virtually every nation on Earth has committed to reducing greenhouse gas emissions..."
Stop right here. The REAL importance of this agreement is simply and only that it was a global event. The pact itself is "D.O.A." -- Dead On Arrival". The true meaning of this agreement is that virtually every country on Earth felt obligated -- required -- to attend. Thus, the general thrust of all matters these days -- the globalization of everything -- continues unabated to the goal.
Global Government is greatly enhanced, even if Climate Change itself is stillborn!
Perhaps the greatest achievement is that top Industrial Automaker CEO's were persuaded to attend, thus lending the dynamism and the ingenuity of private business to his endeavor.
NEWS BRIEF: "Auto Industry CEOs Unite In Rare Vow To Tackle Climate Change", Forbes Business News, Dec 14, 2015
"It's not easy to get the world's major automakers to agree on anything. But even before last weekend's landmark climate change agreement by world leaders in Paris, 13 auto industry chief executives from the U.S., Europe and Asia had pledged to accelerate the development of cleaner vehicles to reduce harmful greenhouse gas emissions."
This development is truly significant. Private Industry has always led the way to meaningful, and benign, technological change. If private industry can scientifically develop engines that no longer need fossil fuel, then the change so earnestly sought by Globalist Leaders can be achieved without the Globalist Dictatorial regulations sought by the Elite. Toyota is a prime example. She is reportedly on track to develop an engine powered by fusion technology, thus eliminating the fossil fuel polluter. Tesla Motors has led the way in developing electric cars that do work and operate enough like traditional gas burning engines that customer enjoy them. Now, Volkswagen, General Motors and Ford are racing to bring their own electric cars to market.
This next news segment reveals that these companies sent their Chief Executive Officers (CEO's) to this conference. Each CEO undoubtedly sent significant technical advisers to assist them during deliberations.
"The CEOs of General Motors, Ford Motor, Fiat Chrysler Automobiles, Nissan-Renault Alliance, Volvo Group, Beijing Automotive Group and India's Mahindra & Mahindra, along with the leaders of some of the world's largest automotive suppliers, signed a two-page commitment to help "decarbonize" automotive transportation."
Once the ingenuity -- the genius -- of private industry is harnessed in this effort, a genuine revolution in non-fossil engines might truly transfigure the entire landscape of automobiles which pollute the atmosphere! The rules and regulations so opposed by so many people might not be necessary to produce cleaner air, soil, and water.
Finally, we wish to examine the reality that this Climate Change Accord is practically toothless and is likely to die just as the Kyoto Accord of 11 December 1997 (Read full details in NEWS1520). Finally, on July 24, 2001, the Kyoto Accord was ratified without the support of the United States!
Listen to how toothless this accord is likely to be!
NEWS BRIEF: "Climate change and economic growth", American Thinker, December 14, 2015
"We have a climate change deal! We have a climate change deal! Or so they say in Paris. The deal has two problems."
"First, it has no enforcement mechanism. In other words, we can't force anyone to do anything. Secretary Kerry confirmed it Sunday. This is a deal that means nothing because no one will put sanctions on anyone who is polluting the air or burning too many gallons of fossil fuel."
Therefore, just as the Kyoto Accord failed to live up to its goals, so will this Climate Change fail. Knowing this fact to be true, political leaders the world over greatly pressured the private Auto Industry to attend and to thrown their ingenuity behind this accord.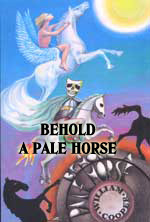 Secondly, this pact achieved a great goal by using Mass Media to promote Climate Change hysteria in the minds and the hearts of citizens all over the world. This is the original Illuminati Plan. Listen:
"When we come into our kingdom [New World Order] our orators will expound great problems which have turned humanity upside down in order to bring it, at the end, under our beneficent rule. Who will ever suspect, then, that all these peoples were stage-managed by us according to a political plan which no one has so much as guessed at in the course of many centuries?" ["Protocols of the Learned Elders of Zion", Protocol No. 13, also quoted in William Cooper, "Behold A Pale Horse", p. 303]
Certainly, this is the situation confronting us today, is it not? The purveyors of this coming One-World system want us to be panicked over a supposed global crisis, so we will accept their solution to this "problem", a One-World Government and Economy, with a Global Religion thrown in, also. Thus, even though many brilliant scientists are blowing the warning trumpet clearly and loudly to let us know Global Warning is a hoax, Federal Government leaders are choosing to ignore the warnings, and are trying to proceed full speed ahead on a course that assumes Global Warming is really true.
Finally, since the Obama Administration is pressing this hoax, the very Liberal National Teacher's Association will be teaching American children in Public Schools that Global Warming is threatening the survival of all mankind in this Global Village. Children will be bringing home many brightly colored pamphlets and Scholastic Readers that promote Global Warming, thus convincing many parents who otherwise might be more skeptical.
Therefore, even though this Climate Change Pact will never cause the global economic meltdown many pundits are predicting, the results are exceedingly significant. More propaganda can now be churned to convince countless millions of citizens around the globe that global government -- Absolute Dictatorship -- will be required to stave off "Climate Extinction"!
Truly, Adolf Hitler was correct when he boldly stated: "What luck for rulers that people do not think"!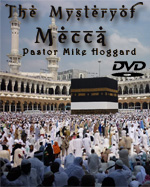 2. CNBC Senior Contributor, Larry Ludlow, changes his position on Immigration: he now supports closing our borders, realizing that America is at war with Islam!
Why did Republican Senator Rubio support legislation to allow unlimited Islamic immigration in certain categories?
NEWS BRIEF: "I've Changed. This Is War. Seal the Borders. Stop the Visas", by Larry Kudlow, Breitbart News, 11 Dec 2015
"A hardline shift from an immigration reformer. I know this is not my usual position. But this is a war. Therefore I have come to believe there should be no immigration or visa waivers until the U.S. adopts a completely new system to stop radical Islamic terrorists from entering the country. A wartime lockdown. And a big change in my thinking ... why am I taking this hardline position? In the past, I have been an immigration reformer, not a restrictionist. But we are at war. That changes everything."
Last week, Cutting Edge adopted this belief. We know the implacable hatred which Islam generates within the heart and the mind of all believers. We know that this hatred is especially aimed at Jews and Christians. There is no possibility of co-existing with Muslims once they have turned their "rage" toward you.
Therefore, since they have declared war on us and are carrying out this war through terror attacks on our streets, and by killing innocent people, we need to immediately move to a wartime mentality and national footing. We need to seal our borders -- now.
"Fortunately, the Republican House voted to tighten restrictions on travel to the U.S. by citizens of 38 nations who presently enter our country without a visa. This covers 20 million visitors a year who are allowed to stay 90 days. And of course this system is abused, big time. But I say seal the borders ... We need a wartime footing if we are going to protect the American homeland."
Ominously, in January, this year, legislation designed to throw open our borders was quietly introduced by selected Senators.
NEWS BRIEF: "Mark Zuckerberg-Backed Immigration Bill Would Allow Unlimited Muslim Immigration", Breitbart News, 13 December 2015
"In January of 2015, a handful of Senators quietly introduced new legislation in Congress that would allow for virtually unlimited Muslim immigration into the United States – lifting caps entirely on several categories of visas favored by immigrants from Muslim countries. The Mark Zuckerberg-backed legislation, S.153, is called the Immigration Innovation Act (or I-Squared), and it has taken on new significance following the terrorist attacks in San Bernardino. Those attacks were only possible due to Muslim immigration: Syed Farook is reportedly the child of Pakistani immigrants, and his jihadi bride, Tashfeen Malik, was reportedly born in Pakistan." (Emphasis added)
What were some of these highly favored "categories of visas" covered by this bill?
"Sen. Orrin Hatch is set to reintroduce his high-skilled immigration bill today ... Hatch's Immigration Innovation — or I-Squared — Act would raise the yearly cap on H-1B, or "high-skilled," visas from 65,000 to up to 195,000 and remove limits on the number of high-skilled visas for employees with advanced degrees."
This next provision may surprise and anger you.
" Hatch's bill would also enable visa holders' spouses to work, increase visa holders' ability to move between jobs, recapture unused green cards from previous years and eliminate yearly per-country caps for employment-based visa petitioners. "
In the San Bernardino shooting, wife Tashfeen Malik was able to enter the United States, and stay here long enough to produce a child, on a type of visa issued for wives of citizens. Therefore, this provision is not a good one; in fact, any Muslim of any level of technological skill can be easily radicalized to the point of becoming a terrorist. Doubt it not!
Now, prepare to be shocked. Senator Rubio (R-FL) was one of the bill's sponsors!
"The I-Squared bill is significant for a second reason. One of the Senators who introduced the bill is also running for President: Sen. Marco Rubio (R-FL). And several of Rubio's most prominent financial backers are among the bill's boosters."
Isn't Senator Rubio running for President as a Conservative? Once again, we see evidence that there is no bottom-line difference between Democrat and Republican, as leaders of both parties are equally committed to the planned New World Order.
Another distinctive teaching of Cutting Edge Ministries.
3. Senator Ted Cruz has surged 10% above Donald Trump in Iowa! Ben Carson sinks.
If Trump begins to sag in the race for President, he may launch a Third Party campaign, which would instantly elect another Clinton.
Is a Third Party bid the original plan for former Democrat Trump?
NEWS BRIEF: "Game Change: Cruz Soars to 10 Point Lead Over Trump in Iowa; Carson Sinks", Breitbart News, 12 December 2015
"Sen. Ted Cruz (R-TX) has taken a commanding 10-point lead over billionaire businessman Donald Trump in the all-important first-in-the-nation presidential caucus state of Iowa, a new poll from the Des Moines Register and Bloomberg shows. Cruz is now towering over the whole field at 31 percent, while Trump has fallen 10 points behind the Texas Senator to 21 percent. Dr. Ben Carson, another outsider, is in third place with 13 percent. The Washington establishment and donor class-backed Sen. Marco Rubio (R-FL) is in fourth place with 10 percent."
Furthermore, polls indicate that Senator Cruz has not peaked yet.
"The Register's lead political correspondent Jennifer Jacobs wrote in her piece on the poll that 'There are signs Cruz may not have peaked in Iowa yet. Another 20 percent of likely caucus goers say he's their current second choice for president'. Jacobs wrote. 'Cruz hits 51 percent support when first- and second-choice interest is combined, again leading the field'."
If Donald Trump reaches the Republican Party Convention is any place other than a solid first-round nominee, he may bolt the GOP in order to establish a Third Party campaign bid, just as Ross Perot did in 1992 and in 1996. And, just as Ross Perot guaranteed Bill Clinton the Presidency as a minority winner, so will Donald Trump guarantee a Hillary Clinton win.
Since Trump was originally a Democrat, was this his aim all along?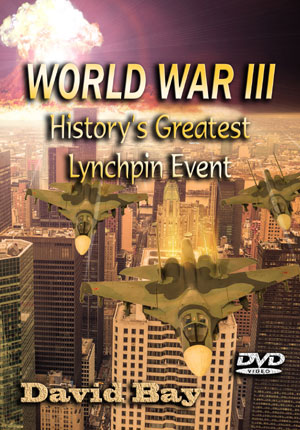 World War III: History's Greatest Lynchpin Event
New DVD by David Bay - Only $14.99
In the minds of most people, two words carry so much emotional baggage that people cringe whenever they hear these Apocalyptic words. 1) Armageddon; 2) World War III.
In the past 20 years, whenever a battle begins in the Middle East or whenever a verbal confrontation breaks out between major powers, 'gloom and doom' scare-mongers immediately begin to shout 'World War III',much like a person yells 'FIRE' in a crowded theater.
Bible prophecy reveals that Antichrist will be produced on the world scene by a number of signs, including 'wars and rumors of wars'. Demonic familiar spirits told the Elite in 1870 that three world wars will be needed to produce Antichrist. Make no mistake about it: Antichrist will be produced by World War III.
Therefore, the question of the hour is, 'when will this global war begin' and 'what are the signs it is about to commence'? Many major events are planned to occur just as World War III begins. Mankind will be systematically hit with unparalleled disasters of every kind as this planned global war unfolds. But, none of these events will occur until the lynchpin called 'World War III' is pulled.
When the Global Elite pulls this lynchpin event called World War III, events are going to be unleashed in such severity and in such great numbers the peoples of the world will not stand in awe, they will panic and run for the hills. Jesus said that 'men's hearts shall fail them for fear', and the Elite is creating just such climactic events which shall not occur until the lynchpin known as 'World War III' is pulled.
We will show you the 12 major disasters the Elite has created and is waiting only for the beginning of World War III to unleash them all, almost at once. No one need fear that any of these disasters will jump across the starting line ahead of time; each awaits the 'pulling of the lynchpin', World War III.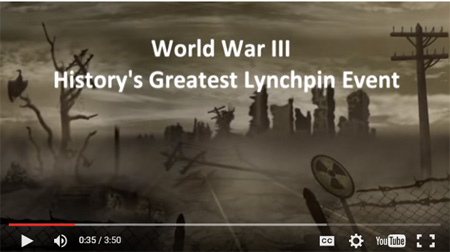 ---
NEW BOOK

A Marriage Built To Last Paperback Book
from Pastor Billy Crone
Many marriages today are under severe strain. Most of us can identify with this. But is this the kind of relationship that God had in mind when He instituted marriage? Absolutely not! A Marriage Built to Last looks at eleven steps to having a lasting and fulfilling marriage, including: Men and Women are Different. Love is and Action. The Need for Communication, Honor, and Intimacy. The Need for Biblical Men and Women. The Need for a Strong Family It's going to take some time and work, but if we'll just get back to God's plan for marriage, we're well on our way to having A Marriage Built to Last.
170 pages
---
Dynamic New DVD
"Masons In The Pulpit"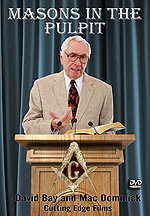 New DVD by David Bay and Mac Dominick - !
If your church allows Masons to fill the pulpit, or be Deacons, or Sunday School teachers, you have a very serious spiritual problem with Almighty God. The Holy Spirit has written 'Ichabod (The Glory Has Departed)' above your front door!
While Freemasonry has successfully deceived a great many people, convincing them that Freemasonry is compatible with Christianity, God knows the Truth and is not tolerant of Masons In The Pulpit.
We begin at a very reasonable beginning premise: If a pastor refuses to resign from the Masonic Lodge he does so because he feels greater loyalty to the Lodge than to Jesus Christ.
Starting from this premise, we examine a number of key Masonic teachings and then ask the Pastor how he can reconcile these teachings with Biblical Christianity. We ask, 'Mr. Pastor, when you are teaching key Biblical doctrine, are you really thinking of the radically different teaching of Freemasonry?
Prime Example: Freemasonry teaches that its religion is far superior to any other religion on Earth, including Christianity. Mr. Pastor, are you thinking how superior Masonry is to Christianity when you are teaching Biblical doctrine. Second Example: Freemasonry teaches that it is necessary for Lodge leaders to deliberately lie to their people until they are 'mature enough' to comprehend and accept the truth; Mr. Pastor, when you are teaching key Biblical doctrine, are you secretly thinking that it is necessary for you to teach these 'lies' about Jesus and the God of the Bible until your people are spiritually mature to comprehend the true Masonic doctrine?
We prove that a Holy God cannot tolerate Masons in the pulpit of a church for which His Son, Jesus, bled on that cruel cross of Calvary.
Almost two hours of teaching
Authors are Mac Dominick and David Bay.!
- http://www.cuttingedge.org/detail.cfm?ID=2712
Shipping NOW!