Hot News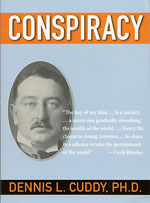 1. Immediate Republican Sell-Out!
Rep. Paul Ryan wasted no time proving to genuine Republicans that he is just as much a R.I.N.O. as the weak, spineless Majority Leader before him.
Like his predecessor in House Majority Leader, Ryan's job is to pretend he is Conservative, but cave to the President on all important issues of the day. Can you see why American Conservatives are so up-in-arms against all political Insiders?
NEWS BRIEF: "Paul Ryan Betrays America: $1.1 Trillion, 2,000-Plus Page Omnibus Bill Funds 'Fundamental Transformation of America'," Breitbart News, 16 December 2015
"Rep. Paul Ryan (R-WI)'s first major legislative achievement is a total and complete sell-out of the American people masquerading as an appropriations bill."
How does this funding bill constitute a "total and complete sell-out of the American people"? Since this statement seems so broad that some people simply cannot believe it is true?
(1) Ryan's Omnibus Fully Funds DACA -- Deferred Action for Childhood Arrivals
"The President's 2012 amnesty quietly continues to churn out work permits and federal benefits for hundreds of thousands of illegal aliens. Paul Ryan's bill funds entirely this 2012 executive amnesty for "DREAMers"—or illegal immigrants who came to the country as minors."
(2) Ryan's Omnibus Funds Sanctuary Cities
"Five months ago, 32-year-old Kate Steinle was bleeding to death in her father's arms. She was gunned down in broad daylight by a five-time deported criminal alien whose presence in the country was the direct result of San Francisco's refusal to comply with U.S. immigration law—yet Paul Ryan's omnibus rewards these lawless Sanctuary Cities with federal grants."
(3) Ryan's Omnibus Funds All Refugee Programs
"Despite broad support amongst Republican lawmakers for a proposal introduced by Rep. Brian Babin (R-TX) to halt all refugee resettlement, Ryan's appropriations bill will fund President Obama's refugee resettlement operation and will allow for the admission of tens of thousands of refugees with access to federal benefits."
Notice that this betrayal of Americans is coming as much at the hands of Republican lawmakers as from Democrat! Truly, Dr. Dennis Cuddy is absolutely correct when he states, "The Public doesn't have much choice when it comes to political candidates; the power elite controls both major parties" - ("Conspiracy", book by Dr. Dennis Cuddy)
The Power Elite set this system into place when it created the Council on Foreign Relations (CFR) in 1921. Aside from its publicized goals, the CFR was designed to train politicians from both major parties in the plan to produce the One-World Government, Economy and Religion in the system called "NOVUS ORDO SECLORUM" on the back of the American One Dollar Bill, a.k.a., the New World Order.
Therefore, nearly every meaningful political race would be between men who were members of the CFR. No matter whom you elected, the CFR plan would continue. In Ryan's case, he is thought to not be a member of the CFR, and yet, he was chosen by Mitt Romney to run as Vice-President in the 2012 presidential campaign, and he has been invited to speak to the CFR.
This abrupt betrayal of the American Conservative platform and his equally abrupt cooperation with President Obama on this matter brands him more than a traitor to our cause, but as a co-conspirator with the Democrats running the White House now.
Let us return to examine the rest of the troubling parts of this 1,200 page Omnibus Bill.
(4) Omnibus Funds All of the Mideast Immigration Programs That Have Been Exploited by Terrorists in Recent Years
"Although multiple immigrant and visa programs in recent years have been exploited by terrorists (such as the F-1 'student' visa, the K-1 'fiancée' visa, and our green card and refugee programs), Ryan's proposal does nothing to limit admissions from jihadist-prone regions'."
(5) Ryan's Omnibus Funds Illegal Alien Resettlement
(6) Ryan's Omnibus Funds the Release of Criminal Aliens
(7) Ryan's Omnibus Quadruples H-2B Foreign Worker Visas
"Despite Ryan's pledge not to move an immigration compromise with President Obama, tucked 700 pages into Ryan's spending bill is language that would resuscitate and expand a controversial provision of the Schumer-Rubio Gang of Eight plan to increase the H-2B visa program."
That Rubio fellow who cooperated with Liberal Democrat Senator Shumer, isn't he running for President as a Conservative Republican? Once again, we are brought to the point where we must realize that Democrat Governor George Wallace was absolutely correct when he said, "There ain't a dime's worth of difference between the Democrat and Republican parties"!
Or, as Dr. Cuddy states in his new book, "The Public doesn't have much choice when it comes to political candidates; the power elite controls both major parties"
(8) Ryan's Omnibus Funds Tax Credits for Illegal Aliens
(9) Ryan's Omnibus Locks-In Huge Spending Increases
(10) Ryan's Omnibus Fails to Allocate Funds to Complete the 700-Mile Double-Layer Border Fence That Congress Promised the American People
Yet, even though Ryan's turncoat credentials are plain for everyone to see, "conservatives in the so-called House Freedom Caucus are praising Ryan even as he permanently locks in these irreversible and anti-American immigration policies".
Once again, at a critical moment in our history, lawmakers who should have acted to protect our national interests have moved in the opposite direction. Over the years of study and research, I have concluded that no politician is allowed to rise to prominence unless and until they support the plans for the New World Order.
Is Donald Trump any different? I don't know, as he does not have a long political track record and he has enough personal money to run his campaign without being controlled by the Establishment. American Conservatives are demanding a new direction from a political outside candidate.
Donald Trump appears to be that man.
2. Donald Trump immediately blasted Ryan's support of the $1.1 Trillion Omnibus Bill. His exact words were that Ryan had "thrown in the towel"!
NEWS BRIEF: "Trump: Congress 'Threw In The Towel' on Budget Deal", Breitbart News, 17 Dec 2015
"GOP frontrunner Donald Trump told Breitbart News that Republicans in Congress "threw in the towel" when drafting the 2016 budget. 'The only special interest not being served by our government is the American people'," he said late Thursday night. 'If anyone needed more evidence of why the American people are suffering at the hands of their own government, look no further than the budget deal announced by Speaker [Paul] Ryan', Trump said about the Omnibus spending plan, which will likely be finalized on Friday morning."
Trump is exactly correct, as we detailed in story #1, above!
And, American Conservative voters are becoming more enthusiastic about Donald Trump every single day. If Trump gets his chance to be President, will he be able to roll back the Plan for the New World Order which is over 100 years in the making? Will he live to make such changes?
Is Donald Trump the man he purports to be?
We will discover the answers to this question very soon./
Events of today are handing all Insider politicians defeat, as American Conservatives are demanding real change in how America conducts business! Hillary and Jeb seem to be most at risk!
3. Did Bernie Sanders' campaign just guarantee victory to Hillary?
If Americans are demanding accountability from their leaders, Sanders' campaign leaders just might have given Hillary an early Christmas present.
NEWS BRIEF: "Bernie Sanders campaign accesses Hillary Clinton data: Gets suspended from DNC voter files", CNN News, December 18, 2015
"The Democratic National Committee suspended Sen. Bernie Sanders' presidential campaign's access to the DNC voter database after the party organization said the campaign was able to take advantage of a software error to access Hillary Clinton's confidential voter information. "
"The suspension is a setback for the Vermont senator -- who fired the staffer involved -- because the database is a goldmine of information about voters nationwide. Campaigns usually use that data to plot their next moves. The DNC database keeps the information gathered by different campaigns separated by a firewall. "
Bernie Sanders has been running as a trustworthy Liberal Socialist Democrat. This kind of betrayal could immediately doom his candidacy. But, then, I have always believed that Sanders was just a "stalking horse" for Hillary Clinton.
This election will not change anything unless a genuine Conservative is elected. Our only hope seems to be Donald Trump. Is he the man he says he is?
We can only wait to see.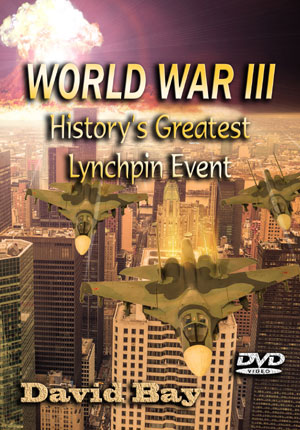 World War III: History's Greatest Lynchpin Event
New DVD by David Bay - Only $14.99
In the minds of most people, two words carry so much emotional baggage that people cringe whenever they hear these Apocalyptic words. 1) Armageddon; 2) World War III.
In the past 20 years, whenever a battle begins in the Middle East or whenever a verbal confrontation breaks out between major powers, 'gloom and doom' scare-mongers immediately begin to shout 'World War III',much like a person yells 'FIRE' in a crowded theater.
Bible prophecy reveals that Antichrist will be produced on the world scene by a number of signs, including 'wars and rumors of wars'. Demonic familiar spirits told the Elite in 1870 that three world wars will be needed to produce Antichrist. Make no mistake about it: Antichrist will be produced by World War III.
Therefore, the question of the hour is, 'when will this global war begin' and 'what are the signs it is about to commence'? Many major events are planned to occur just as World War III begins. Mankind will be systematically hit with unparalleled disasters of every kind as this planned global war unfolds. But, none of these events will occur until the lynchpin called 'World War III' is pulled.
When the Global Elite pulls this lynchpin event called World War III, events are going to be unleashed in such severity and in such great numbers the peoples of the world will not stand in awe, they will panic and run for the hills. Jesus said that 'men's hearts shall fail them for fear', and the Elite is creating just such climactic events which shall not occur until the lynchpin known as 'World War III' is pulled.
We will show you the 12 major disasters the Elite has created and is waiting only for the beginning of World War III to unleash them all, almost at once. No one need fear that any of these disasters will jump across the starting line ahead of time; each awaits the 'pulling of the lynchpin', World War III.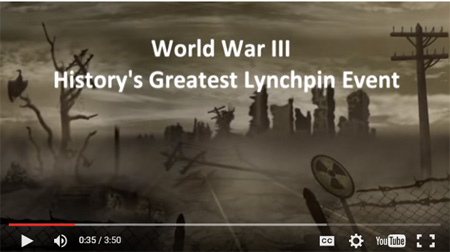 ---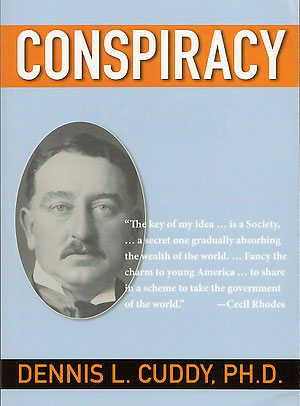 NEW BOOK by Dennis Cuddy
Have you ever wondered how people like H.G. Wells seemed to know what was going to happen? These people either had to be privy to the plans of the power elite, or they were extraordinarily intelligent at figuring out what the secret cabal running the world had planned.
An ancient saying 'Ordo ab Chao' (Order out of Chaos) applies to the power elite's machinations. And so as to make particular problems seem intractable, they select global leaders who feign incompetence. This is one way the American people are manipulated. In the end, the public really doesn't have much choice when it comes to political candidates, and the power elite controls both major parties.
207 pages. Order yours today
---
Dynamic New DVD
"Masons In The Pulpit"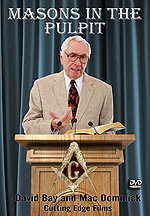 New DVD by David Bay and Mac Dominick - !
If your church allows Masons to fill the pulpit, or be Deacons, or Sunday School teachers, you have a very serious spiritual problem with Almighty God. The Holy Spirit has written 'Ichabod (The Glory Has Departed)' above your front door!
While Freemasonry has successfully deceived a great many people, convincing them that Freemasonry is compatible with Christianity, God knows the Truth and is not tolerant of Masons In The Pulpit.
We begin at a very reasonable beginning premise: If a pastor refuses to resign from the Masonic Lodge he does so because he feels greater loyalty to the Lodge than to Jesus Christ.
Starting from this premise, we examine a number of key Masonic teachings and then ask the Pastor how he can reconcile these teachings with Biblical Christianity. We ask, 'Mr. Pastor, when you are teaching key Biblical doctrine, are you really thinking of the radically different teaching of Freemasonry?
Prime Example: Freemasonry teaches that its religion is far superior to any other religion on Earth, including Christianity. Mr. Pastor, are you thinking how superior Masonry is to Christianity when you are teaching Biblical doctrine. Second Example: Freemasonry teaches that it is necessary for Lodge leaders to deliberately lie to their people until they are 'mature enough' to comprehend and accept the truth; Mr. Pastor, when you are teaching key Biblical doctrine, are you secretly thinking that it is necessary for you to teach these 'lies' about Jesus and the God of the Bible until your people are spiritually mature to comprehend the true Masonic doctrine?
We prove that a Holy God cannot tolerate Masons in the pulpit of a church for which His Son, Jesus, bled on that cruel cross of Calvary.
Almost two hours of teaching
Authors are Mac Dominick and David Bay.!
- http://www.cuttingedge.org/detail.cfm?ID=2712
Shipping NOW!