Hot News
Dr. Kevin Clarkson, of Prophecy In The News, and David Bay of Cutting Edge Ministries, discuss in depth the process of over throwing Saudi Arabia's brutal dictatorship in the new Cutting Edge Films DVD - 'BRINGING SAUDI ARABIA DOWN'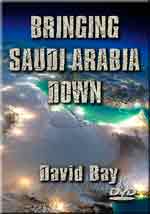 1. ISIS declares WAR on Saudi Arabia!
Events are occurring just as we predicted in our DVD, "Bringing Saudi Arabia Down"!
NEWS BRIEF: "Islamic State declares war against Saudi Arabia", YNET News, 12/18/2015
"The Islamic State officially declared war on Saudi Arabia on Thursday after the kingdom formed a 34-state coalition to fight against the terror organization ... In a new video released by ISIS, which purports to show another cruel execution, the jihadists warn Saudi from cooperating with the coalition of 'Crusaders'."
A Declaration of War is considered an inherently lethal serious act, for it inherently contains the goal of the destruction and the overthrow of the defeated enemy. Therefore, Saudi Arabia must considered this ISIS Declaration of War to be a very threatening act.
ISIS has already told the world that Saudi Arabia is not spiritually worthy to continue her control of Islam's holy places in Medina and Mecca, just as the 2006 Pentagon Map of the Middle East depicted. Let us now examine it, below:
As the map depicts, Saudi Arabia suffers grievous loss of territory according to President Bush's new map. She gives up land on all parts of her current border.
* She gives up land on the Red Sea so Jordan can be expanded
* She gives up land on the Persian Gulf so Iraq's Shia State can be created
* She gives up land to the south so Yemen can be expanded. From time to time, we have posted articles to Daily News Updates where American forces are fighting rebels in that country. Perhaps we shall have to be more vigilant in paying attention to Yemen.
The incredible fact is that, if this map is implemented, Saudi Arabia will be stripped of almost all her access to the ocean -- both on the Red Sea and the Persian Gulf! This reality must mean that some other nation is going to control Saudi Arabia's oil export terminals! How can the Saudis tolerate this violation of her sovereignty.
Another reason that Sunni Saudi Arabia launched war against Shi'ite controlled Yemen!
* Most shockingly, Saudi Arabia is going to be stripped of all management and control over the Islamic Sacred Sites! I cannot imagine any Saudi leader voluntarily giving up control of the Islamic sacred sites!
One day, Iran and her Shi'ite allies are going to counterattack Saudi Arabia, driving deep into the Desert Kingdom. This invading army will drive straight to the Islamic holy places, not far from Yemen's border. Saudi Arabia will likely collapse quickly and will be stripped of her control over the holy site, over much of her oil and much of her land.
The final indignity will be the loss of her name. 'Saudi Arabia' will be known simply as "Saudi Homeland Independent Territories"!
This map is being followed carefully, just as we demonstrate in our DVD, shown above, "Bringing Saudi Arabia Down"

2. As the Catholic Church moves its campaign to declare Mother Teresa a saint, others are remembering a far different Teresa!
NEWS BRIEF: "Why Mother Teresa is still no saint to many of her critics", Washington Post, Dec 18, 2015
"During an event Thursday to mark his 79th birthday, Pope Francis attributed a second miracle to Mother Teresa, the late Roman Catholic missionary who has become an international icon for her charitable work. It's an important move, effectively paving the way for the nun to become a saint, the highest honor bestowed by the Roman Catholic Church."
During Mother Teresa's lifetime, but especially in the last decade of her life, people began to be aware that this Catholic leader was not the force for spiritual salvation and for aid to the poor that the Vatican continuously depicted. Who could question the appearance of such sacrificial love? From the world's perspective, few have deserved the prestigious Nobel Peace Prize more than Mother Teresa. Ministering to the "poorest of the poor," she and her "sisters" -- the devoted Missionaries of Charity -- renounced all Western comforts to give themselves fully to the poor, sick and dying.
Yet Mother Teresa's amazing ministry brings a sobering warning, for it illustrates the Church's growing tolerance -- even appreciation -- for interfaith compromise. Her compassionate pluralism fits both the "emerging church" movement and the UN vision for spiritual oneness.
Listen to some of Teresa's words to gain a clearer understanding as to who the woman really was.
"We all belong to the same family. Hindus, Muslims and all peoples are our brothers and sisters. They too are the children of God."[1, p.35] Mother Teresa, Words to Love By, quoted by Berit Kjos - August 2007)
"We call upon the different religious and cultural traditions to join hands… and to cooperate with us." (Ibid)
In light of all this, we can readily assume that Mother Teresa was welcomed into Heaven by Jesus Christ immediately upon death, or at least after a short stay in Purgatory, correct? In spite of wishing that this were the case, we reluctantly point out that this may not be the case. At this point, we would only ask that you do not respond emotionally and reject what we are about to say; rather, do as the Bereans did to the Apostle Paul: examine the Scriptures to see if these things are true.
How does one qualify for Heaven? How does one inherit eternal life? These were the questions posed to Jesus Himself by Nicodemus. Listen to Jesus' solemn reply:
"Verily, verily, I say unto thee, Except a man be born again, he cannot see the kingdom of God." [John 3:3] Later, in verse 7, Jesus made it quite clear that He was speaking of a spiritual conversion, not a physical one.
Titus 3:5-6, states the case most succinctly. "Not by works of righteousness which we have done, but according to his mercy he saved us, by the washing of regeneration, and renewing of the Holy Ghost; Which he shed on us abundantly through Jesus Christ our Saviour." We are saved only through the power of the sacrifice of Jesus Christ, not by any good works which we might have done, not even a lifetime of good works.
The sad fact is that the Roman Catholic Church has not preached the necessity of being "Born Again" for over 1,000 years. Unfortunately, the Gospel they preach and the "salvation" they offer are very good counterfeits: they look and sound very close to the real thing, but they are not. Let us examine how the Roman Catholic Church teaches that a person may be saved, from eternal Hell, and saved to, eternal Heaven.
What did Mother Teresa believe about being Born Again? Saving faith also means believing in, and obeying, all the teachings of Jesus Christ. Since this is so, what might be some of the things which Jesus taught about Himself that anyone who is saved MUST believe and teach?
In John 14:6, Jesus boldly stated, "Jesus saith unto him, I am the way, the truth, and the life: no man cometh unto the Father, but by me." Jesus was saying that He was the only door through which a person may enter that can go to Heaven. This brands every other religion in the world a fraud and a fake, and spiritually worthless. Indeed, false religions are spiritually deadly, in that they lead its believers straight into eternal Hell.
In Acts 4:12, the Apostle Peter said, "Neither is there salvation in any other: for there is none other name under heaven given among men, whereby we must be saved."
Do not be deceived: there is no other way to Heaven except through Jesus Christ.
What was Mother Teresa teaching these poor people among whom she was serving? Was she teaching them the True Jesus Christ? Was she teaching them that they MUST believe on Jesus Christ as God come in human flesh in order to be saved? Was Mother Teresa true to Jesus' teaching that He was the only way to Heaven? Was Mother Teresa true to Jesus' teaching that He was the only way by which a person could come to God the Father?
Listen to Mother Teresa speaking about Conversion to her biographer, Desmond Doig. "What we are all trying to do by our work, by serving the people, is to come closer to God. If in coming face to face with God we accept Him in our lives, then we are converting. We become a better Hindu, a better Muslim, a better Catholic, a better whatever we are, and then by being better we come closer and closer to Him. If we accept Him fully in our lives, then that is conversion. What approach would I use? For me, naturally, it would be a Catholic one, for you it may be Hindu, for someone else, Buddhist, according to one's conscience. What God is in your mind you must accept." [Desmond Doig, "Mother Teresa: Her People and Her Work", William Collins Sons & Co., Ltd., Glascow, 1976, page 136, as quoted by Constance Cumbey, in "A Planned Deception: The Staging of a New Age Messiah", Pointe Publishers, East Detroit, Michigan, ISBN 0-935897-00-3, page 108] [Emphasis ours]
Just in case you need further explanation that Mother Teresa is confirming people in their lost, false religions, Mother Teresa continues explaining to Desmond Doig. "There are many Hindu ladies who want our way of life, the life of poverty, prayer, sacrifice and service. They want the life of a Missionary. But they wish to retain their faith, their own belief in God ... We live that they may die, so that they may go home according to what is written in the book, be it written according to Hindu, or Muslim, or Buddhist, or Catholic, or Protestant, or any other belief ... We give them whatever they ask according to their faith." [Ibid]
if you look closely at the last sentence of Mother Teresa's first quotation, above, you suddenly will receive a new revelation!! Let us review her quote again. "What God is in your mind you must accept." This, my friend, is standard New Age teaching!!! New Age doctrine teaches that there is no absolute Right or Wrong, that everyone can have a different belief in God, and still be on the correct spiritual path. This fact labels Mother Teresa as New Age!!
In fact, New Age doctrine also holds that each man is "divine". They teach that each person is inherently good, and can achieve godhood if they simply can properly "raise their consciousness level".
Guess what? Mother Teresa believes this, as well. Listen to another newspaper account of the life, work, and beliefs of Mother Teresa. "She visited many of the most desperate tenements and wretched alleys on the planet. She looked into the eyes of the loneliest, sickest, most forgotten men and women on earth, and saw their humanity -- and the divinity in their souls." [Mother Teresa -- 1910-1997 -- India's inspirational 'living saint' dies", Providence Journal Bulletin, September 6, 1997, page A-7]
This is not Biblical teaching; this is New Age teaching. Perhaps this is why Mother Teresa has consistently been seen attending and speaking at, various New Age conferences in the 20 years before her death. "Perhaps at least part of the apostate influences here [with Mother Teresa] may be traced to the Temple of Understanding's influence. Desmond Doig and Temple of Understanding materials indicate that on October 24, 1975, Mother Teresa spoke at a Temple of Understanding Conference. She has subsequently been a featured speaker at other New Age Conferences. [Constance Cumbey, "A Planned Deception", page 103].
She never made a Biblical commitment to the Biblical requirement of having to be Born Again in order to go to Heaven, and she confirmed false religions to the countless numbers of people who came into her Sphere of Influence while she was active. Thus, many millions of poor will be in Hell because of what Mother Teresa taught them.
Please keep these facts in mind as the world ratchets upwards its praise and adulation of Mother Teresa.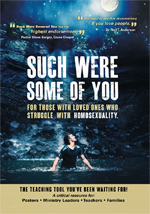 Trailer
3. A powerful homosexual group is now targeting Christian churches and universities who accept Federal Funding.
The specter of Sodom is becoming more and more ominous every day.
NEWS BRIEF: "Powerful Homosexual Group Threatens Christian Colleges and Universities", Breitbart News, 20 Dec 2015
"The anti-Christian Human Rights Campaign is asking the federal government to harass Christian schools that have asked for or been granted waivers that would allow them to live out their Christian faith. The 1972 Title IX amendments prohibiting sex discrimination in hiring, housing, and employment at schools receiving federal funds is at issue. The law allows religious schools to opt out of the requirements. On the heels of their huge Supreme Court win in the Obergefell v. Hodges decision mandating homosexual marriage coast to coast, the radical LGBT establishment is looking for their next win. They believe they have found it in going after religious companies and employers who may hold that accepting a normalization of the homosexual agenda is against their religious beliefs."
"Though the 1972 law has nothing to do with homosexual identity, homosexual activity, or so-called transsexuality, the $50 million-a-year Human Rights Campaign is nonetheless asking the federal government to put pressure on any school that has asked for or received such an exemption ... 56 schools have been granted religious freedom exemptions from the law. They claim such exemptions are dangerous for homosexual or transsexual students."
Churches and other ministries who have applied for, and who have received, 501(C)3 tax exempt status are especially at risk here. When a church accepts this status, they officially become "State Churches" in a manner similar to the Nazi State Churches during the reign of Adolf Hitler. Historians are amazed at how quickly and how easily Christian Churches succumbed to Hitler's demands. The answer is that most pastors did not want to surrender their privileges as State Churches.
As America totters toward becoming a resurrected Sodom, Christian Churches should expect ever greater pressure to succumb to the "New Paradigm" of official acceptance of homosexuality.
New DVD by David Bay - Only $14.99
In the minds of most people, two words carry so much emotional baggage that people cringe whenever they hear these Apocalyptic words. 1) Armageddon; 2) World War III.
In the past 20 years, whenever a battle begins in the Middle East or whenever a verbal confrontation breaks out between major powers, 'gloom and doom' scare-mongers immediately begin to shout 'World War III',much like a person yells 'FIRE' in a crowded theater.
Bible prophecy reveals that Antichrist will be produced on the world scene by a number of signs, including 'wars and rumors of wars'. Demonic familiar spirits told the Elite in 1870 that three world wars will be needed to produce Antichrist. Make no mistake about it: Antichrist will be produced by World War III.
Therefore, the question of the hour is, 'when will this global war begin' and 'what are the signs it is about to commence'? Many major events are planned to occur just as World War III begins. Mankind will be systematically hit with unparalleled disasters of every kind as this planned global war unfolds. But, none of these events will occur until the lynchpin called 'World War III' is pulled.
When the Global Elite pulls this lynchpin event called World War III, events are going to be unleashed in such severity and in such great numbers the peoples of the world will not stand in awe, they will panic and run for the hills. Jesus said that 'men's hearts shall fail them for fear', and the Elite is creating just such climactic events which shall not occur until the lynchpin known as 'World War III' is pulled.
We will show you the 12 major disasters the Elite has created and is waiting only for the beginning of World War III to unleash them all, almost at once. No one need fear that any of these disasters will jump across the starting line ahead of time; each awaits the 'pulling of the lynchpin', World War III.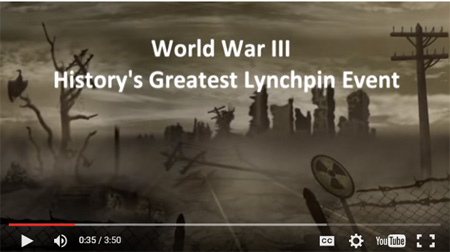 ---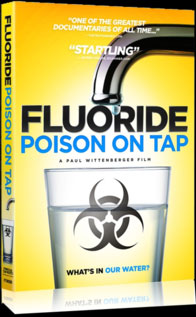 "FLUORIDE: POISON ON TAP" DVD
Water fluoridation has been hailed by the CDC as one of the ten great public health achievements of the 20th century. However, the practice has been mired in controversy since it began over 70 years ago. Does water fluoridation actually prevent tooth decay, or have we been sold a lie?
Join producers Paul Wittenberger and Chris Maple as they engage with world-renowned experts in exposing one of the biggest frauds the world has ever known. Together, they unravel the shocking secrets and deception of a corrupt industry that has been poisoning communities for generations. This surprising research creates a compelling case against the fluoridation of our water supplies, revealing long hidden health hazards, fraudulent findings, and corporate corruption.
FLUORIDE: POISON ON TAP will inspire you to take action on a local and global scale before its too late!

FEATURING SPEAKERS::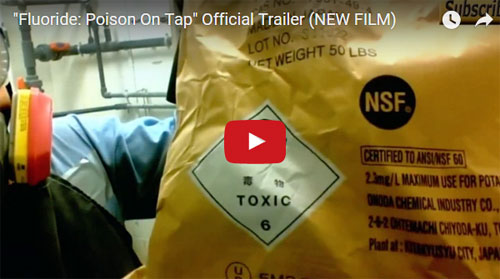 Dr. Edward Group
Dr. David Kennedy
Mike Adams
Dr. Paul Connett
Dr. James E. Rota
Dr. Charlie Goetschel
Karen Johnson
Neil Carman
Dr. Laura Pressley
Chris Maple
Gary Pittman
Paul Wittenberger
Mary Ellen Moore
Jeff Green
Dr. Doris Rapp
Gianluca Zanna
Only $19.98 - http://www.cuttingedge.org/detail.cfm?ID=2716
---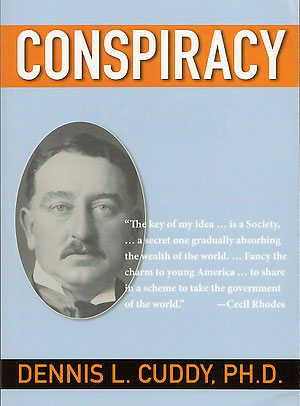 NEW BOOK by Dennis Cuddy
Have you ever wondered how people like H.G. Wells seemed to know what was going to happen? These people either had to be privy to the plans of the power elite, or they were extraordinarily intelligent at figuring out what the secret cabal running the world had planned.
An ancient saying 'Ordo ab Chao' (Order out of Chaos) applies to the power elite's machinations. And so as to make particular problems seem intractable, they select global leaders who feign incompetence. This is one way the American people are manipulated. In the end, the public really doesn't have much choice when it comes to political candidates, and the power elite controls both major parties.
207 pages. Order yours today
---
Dynamic New DVD
"Masons In The Pulpit"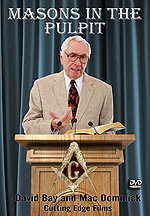 New DVD by David Bay and Mac Dominick - !
If your church allows Masons to fill the pulpit, or be Deacons, or Sunday School teachers, you have a very serious spiritual problem with Almighty God. The Holy Spirit has written 'Ichabod (The Glory Has Departed)' above your front door!
While Freemasonry has successfully deceived a great many people, convincing them that Freemasonry is compatible with Christianity, God knows the Truth and is not tolerant of Masons In The Pulpit.
We begin at a very reasonable beginning premise: If a pastor refuses to resign from the Masonic Lodge he does so because he feels greater loyalty to the Lodge than to Jesus Christ.
Starting from this premise, we examine a number of key Masonic teachings and then ask the Pastor how he can reconcile these teachings with Biblical Christianity. We ask, 'Mr. Pastor, when you are teaching key Biblical doctrine, are you really thinking of the radically different teaching of Freemasonry?
Prime Example: Freemasonry teaches that its religion is far superior to any other religion on Earth, including Christianity. Mr. Pastor, are you thinking how superior Masonry is to Christianity when you are teaching Biblical doctrine. Second Example: Freemasonry teaches that it is necessary for Lodge leaders to deliberately lie to their people until they are 'mature enough' to comprehend and accept the truth; Mr. Pastor, when you are teaching key Biblical doctrine, are you secretly thinking that it is necessary for you to teach these 'lies' about Jesus and the God of the Bible until your people are spiritually mature to comprehend the true Masonic doctrine?
We prove that a Holy God cannot tolerate Masons in the pulpit of a church for which His Son, Jesus, bled on that cruel cross of Calvary.
Almost two hours of teaching
Authors are Mac Dominick and David Bay.!
- http://www.cuttingedge.org/detail.cfm?ID=2712
Shipping NOW!