BIBLE PAMPLETS ON SALE HALF PRICE
PLUS 3 NEW DVDs SHOWN BELOW
---
We REALLY need your financial assistance on producing this precious DVD

DVD - "Escaping The Trap of Common Core: Setting Our Children Free"
Key Speaker Ray Moore, Executive Producer of "IndoctriNation" DVD
Common Core is a new label for state -controlled public education standards in an ongoing attempt to dumb down' the American educational system, a struggle that has raged for decades. Common Core will cause some students to become confused and to give up on academics. Are you horrified at the limited reading skills of children and young adults today? Just wait until this curricula has been taught for ten years! Few people will be able to read anymore.
We are NOT advocating that Christian parents aggressively try to reform the public school system from within. That concept is NOT biblical, has been tried for 40 years, and will never work. Scripture commands families to provide Christian education, not a secular or godless education.
We advocate that Christian parents remove their children from public schools to enroll them in the safe sanctuary of private Christian schools, home school or online Christian education.
The Bible tells the believer: 'Come out from among them and be ye separate, says the Lord...' (2 Cor. 6:17)
This 'Call To Action' is Biblically based! Many parents today refuse to address the spiritual forces endangering their childrens beloved eternal souls in public schools. Many are too in love with the worlds system - even if they have to send their precious children to a pagan, atheistic, hostile public school. Our approach is Biblical, following the express teaching of the Bible on how to raise and educate children, an essential part of our Christian walk of faith and obedience to Christ. We are hopeful that the Holy Spirit will use this message to spark the next revival.
Speakers include: Ray Moore - Exodus Mandate, and Executive Producer of 'IndoctriNation' - will be the featured speaker.
Other speakers include:
Mac Dominick, Cutting Edge author
Walter Corbett -- Retired Public School Teacher of Advanced Physics
Brian Ray, National Home Education Research Institute
John Becker and Andy Thompson - Ohio Representatives
Dr. Carl Broggi, Pastor, Community Bible Church.
Run Time will be 1 hour, 30 minutes. Ready to ship early May

If you could possibly help us out with a donation to properly fund this monumentally important goal of producing this DVD warning of the dangers of Common Core and providing a workable solution, we would greatly appreciate it. Common Core is both an educational and a spiritual problem and, as such, we are praying that the Holy Spirit trigger an End Times revival on the level of the Great Revival of 1741.
But, we are short of funds to send our film crew to the locations needed to interview key speakers and to properly present this documentary at key shows in the next 30 days. Will you help?
---
THREE NEW DVDs FROM PASTOR BILLY CRONE
Proofs of the Resurection DVD by Pastor Billy Crone This item is on sale for just $9.99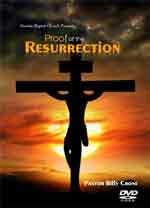 Jesus' Resurrection is THE MOST IMPORTANT event of all time and eternity. When He arose from the dead, He sealed Satan's eternal doom plus He defeated mankind's greatest single enemy, DEATH.
One of the biggest signs people are missing out on one of the most profound truths ever recorded for us in the Bible occurs on Resurrection Sunday. Every year it seems you walk up to these people and you ask them what Resurrection Sunday is all about and why theyre here and they say the same thing, 'I dont know. We always come to Church services on this day.' Heres a sign theyre missing out on the greatest truth of all; that Jesus Christ really did rise again from the grave so that we could be rescued from hell. MORE INFO
---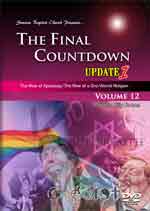 The Final Countdown Update 1 - Volume 12, Pastor Billy Crone - on sale.

Things are changing fast! We're hurtling toward eternity at breakneck speed. Pastor Crone starts with three studies on The Rise of Apostasy and finishes with three studies on The Rise of a One World Religion.
The American Church is sleeping while the world hurtles toward the tribulation. Apostasy is rampant and the Vatican is in the process of forming the One World Religion.
6 dynamic studies MORE INFO
---
The Final Countdown Update 1 - Volume 13 - by Pastor Billy Crone - This item is on sale.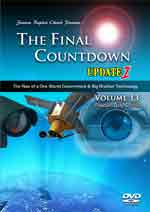 Volume 13 starts with two studies on The Rise of a One World Government and finishes with four studies on Big Brother Technology.

Surveillance technology is doubling every few years and very soon governments all over the world will be able to follow everything you are doing and saying 100% of the time, much like the movie, 'Minority Report'. Of course, once governments possess this minute by minute surveillance capability, they can be at the place where the Mark of the Beast prophecy can be fulfilled!

6 messages - MORE INFO


BIBLE PAMPLETS ON SALE HALF PRICE

Regular $3.99 now $1.99 while supplies last. Quantities are limited so order now to take advantage of this close-out sale. Almost 100 titles to choose from. See the full line-up HERE.