Hot News
I. President Obama is attempting to impose Gun Control by the "back door"!
American gun owners have always feared the day the Federal Government restricted ammunition sales as a means to indirectly establish Gun Control.
NEWS BRIEF: "Backdoor Gun Control: Obama's ATF Proposes AR-15 Ammo Ban", Breitbart News, 15 February 2015
"A notice from the Bureau of Alcohol, Tobacco, Firearms, and Explosives (ATF) shows the agency is considering a ban on the popular M855 AR-15 round — by re-categorizing the round as 'armor piercing'. Once categorized as 'armor piercing', sales of the M855 rounds can be restricted or banned altogether under language in the Gun Control Act of 1968 (GCA), which describes marketable ammunition as that which is 'primarily intended to be used for sporting purposes'."
Is this M855 AR-15 Ammunition capable of piercing armor? Or, is Big Government attempting to render all AR-15 guns useless? The NRA describes this ammunition as "general purpose".
"On Friday, the NRA-ILA responded to ATF's pending ammunition ban, describing it as "a move clearly intended by the Obama administration to repress the acquisition, ownership, and use of AR-15s and other .223 caliber general purpose rifles." The NRA-ILA made it clear that this is but a "continuation of Obama's use of his executive authority to impose gun control restrictions and bypass Congress."
However, the dirty little secret is that most .223 caliber ammunition will penetrate thin shields of armor!
NEWS BRIEF: "GOODBYE GREENTIP? ATF Seeks To Ban Common SS109/M855 5.56 Ammunition", Bearing Arms, 14 February 2015
"The "logic" behind the ATF reclassification attempt it is that recent prevalence of AR-15 pistols means that the SS109/M855 cartridge is now an armor-piercing pistol bullet according to the absurd definitions crafted by politicians and bureaucrats who can't tell a bolt-face from a 'shoulder thing that goes up' ... The ban on "armor-piercing pistol ammunition" is a great idea in theory, but is utterly absurd as a practical matter. Rifle caliber bullets are much more powerful than true pistol calibers, and all will easily penetrate Level IIa, Level II, and Level IIIa 'soft' body armor worn by police, even fired from rifle-class 'pistols'."
Ah, now we know the logic behind outlawing theM855 ammunition is that this action will open the door so that, later, another Executive Order can be issued that outlaws all ammunition from "rifle class pistols'. Every dictatorship in history refused to allow their private citizens from owning guns; since the "NOVUS ORDO SECLORUM" on the back of the American One Dollar bill is the most repressive dictatorship in history, we can understand how intensely the Federal Government wants to neutralize those 100 million guns in the hands of the law-abiding private citizen!
"Hell Is For Real: Why It Matters"
New Book by Gary Frazier
Americans need this teaching, badly. According to the results of recent surveys, Americans overwhelmingly believe that Heaven exists, though a much smaller number believe that Hell exists, with only one-half of one percent believing they will go there when they die.
After reading 'Heaven Is For Real', a discerning Christian will probably feel uncomfortable, for the almost subliminal message was that, eventually, all people go to Heaven. Since the book did not provide the Biblical road to Heaven, it leaves a message that all people will go there -- eventually.
To counter this eternally dangerous misunderstanding, Dr. Gary Frazier has written this great book. Since the danger to peoples souls is so great and is ETERNAL, Frazier speaks boldly and compassionately as he teaches the full Biblical teaching about what Hell is and why it is so terrible. Most of Frazier's warnings come directly from the lips of Jesus, since He taught more about Hell than about any other subject, and more than any other inspired Bible teacher.
WATCH VIDEO PROMO -- Order the Book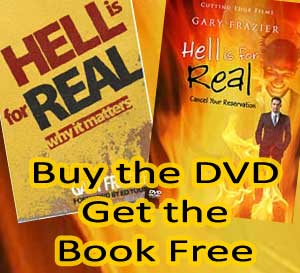 Hell Is For Real
DVD & Book by Gary Frazier
Buy The DVD, Get The Book FREE
Watch Book Video Promo and DVD Trailer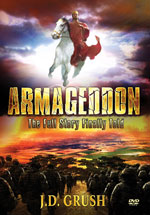 II. ISIS so outrages Egypt by beheading 21 Coptic Christians that she launches her fighter jets against rebel positions.
Egypt thus follows Jordan in attacking ISIS, prompting fears of Middle East conflagration.
NEWS BRIEF: "ISIS Beheads 21 Christians, Promises To 'Conquer Rome, By Allah's Permission' ", Breitbart News, 15 Feb 2015
"The Islamic State terror group released a video on Sunday showing the Islamic jihadis beheading 21 Egyptian Christians who were previously kidnapped in Libya. The Egyptian Copts, who were dressed in prisoner-like orange jump suits, were lined up along a beach and abruptly beheaded in the graphic five-minute video."
ISIS -- Sunni Muslim Extremists -- seized the graphic exhibition which beheading affords to be their most important symbol in shocking the Western world into cowering submission. But, thus far, this tactic is simply infuriating Islamic heads of state so much that they are retaliating with modern jet fighter planes.
NEWS BRIEF: "Egypt carries out bombing raids on ISIS targets in Libya after video of beheadings", The Straits Times, 2/15/2014
"Egypt's military said in a statement on state television that it had carried out an air strike against Islamic State in Iraq and Syria (ISIS) targets in Libya at dawn on Monday, a day after the group released a video appearing to show the beheading of 21 Egyptians there. The attack focused on ISIS camps, training sites and weapons storage areas across Egypt's border in Libya, where Islamist militants have thrived amid chaos."
Egypt thus joins Jordan in ordering military retaliation from the air for brutal slayings by beheading. Since Jordan also has 4,000 special forces operating inside Syria, I wonder if Egypt will also deploy ground troops in Libya? The danger of a military conflagration in the Middle East is as high as at any time in recent memory.
At the very End of the Age, God foretells that He will bring all nations into the Middle East for judgment (Joel 3). That alignment is now quickly taking shape. Christian, the time has arrived for us to "look up, for our Redeemer draweth nigh"!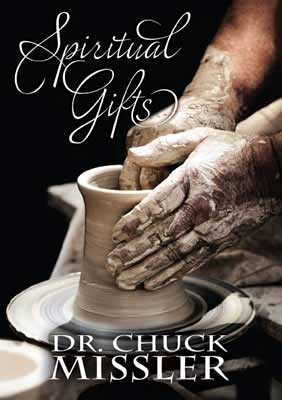 DVD - The Spiritual Gifts - by Dr. Chuck Missler
The apostle Paul told the Corinthian Christians, 'Now concerning spiritual gifts, brethren, I would not have you ignorant'.
Sadly, today many people are confused about the person and work of the Holy Spirit.
III. A cease fire takes hold in the Ukraine -- kind of.
This cease fire will be ultimately seen as furthering the Illuminati goal of creating Supernation #5 -- Russia and Eastern Europe!
NEWS BRIEF: "Ukraine Alleges Separatist Shelling as Cease-Fire Takes Effect", 2/15/2015
"Ukraine's truce is at risk of unraveling over the fate of a contested transport hub after the first day of a cease-fire brought a decrease in violence. The government in Kiev and pro-Russian militants accused each other of several violations near the town of Debaltseve, a key rail junction on the road that connects the rebel-held cities of Donetsk and Luhansk."
"The midnight truce was "overall respected" in the first 12 hours, with violations recorded in Debaltseve, Raihorodka and Luhansk, according to the OSCE ... 'The Minsk accords were another step toward peace but everything depends on Russia and whether our western allies will be able to restrain Russia', Ukrainian Prime Minister Arseniy Yatsenyuk said in an interview Sunday on television channel 1+1. "Peace can be reached and can be guaranteed only when Ukraine can defend itself."
Remember, this low-level war is simply means by which Russia will ultimately draw Urkaine into Supernation #5 of the Club of Rome Plan, a most important prophetic fulfillment! Events in the Ukraine are much more important than conflict in other parts of the globe, as a 2,600 year-old End Times prophecy is being fulfilled!
---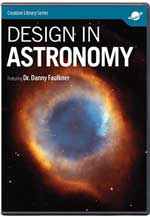 NEW DVD - Design in Astronomy
Featuring Dr. Danny Faulkner
There are many features of the Earth and its moon that make the earth ideally suited for life and humanity. Thus the earth is unique in our solar system. But what about the more than one thousand planets orbiting other stars that astronomers have discovered in recent years? None of these planets are suitable for life. As we learn more about astronomy, the uniqueness of Earth becomes even more clear! $12.99
---
See All Our $9.99 Books / DVD's
72 Titles From Which To Choose!

See All Our $4.99 Books DVD's
30 Titles From Which To Choose!
We REALLY need your financial assistance on producing this precious DVD

DVD - "Escaping The Trap of Common Core: Setting Our Children Free"
Key Speaker Ray Moore, Executive Producer of "IndoctriNation" DVD
Common Core is a new label for state -controlled public education standards in an ongoing attempt to dumb down' the American educational system, a struggle that has raged for decades. Common Core will cause some students to become confused and to give up on academics. Are you horrified at the limited reading skills of children and young adults today? Just wait until this curricula has been taught for ten years! Few people will be able to read anymore.
We are NOT advocating that Christian parents aggressively try to reform the public school system from within. That concept is NOT biblical, has been tried for 40 years, and will never work. Scripture commands families to provide Christian education, not a secular or godless education.
We advocate that Christian parents remove their children from public schools to enroll them in the safe sanctuary of private Christian schools, home school or online Christian education.
The Bible tells the believer: 'Come out from among them and be ye separate, says the Lord...' (2 Cor. 6:17)
This 'Call To Action' is Biblically based! Many parents today refuse to address the spiritual forces endangering their childrens beloved eternal souls in public schools. Many are too in love with the worlds system - even if they have to send their precious children to a pagan, atheistic, hostile public school. Our approach is Biblical, following the express teaching of the Bible on how to raise and educate children, an essential part of our Christian walk of faith and obedience to Christ. We are hopeful that the Holy Spirit will use this message to spark the next revival.
Speakers include: Ray Moore - Exodus Mandate, and Executive Producer of 'IndoctriNation' - will be the featured speaker.
Other speakers include:
Mac Dominick, Cutting Edge author
Walter Corbett -- Retired Public School Teacher of Advanced Physics
Brian Ray, National Home Education Research Institute
John Becker and Andy Thompson - Ohio Representatives
Dr. Carl Broggi, Pastor, Community Bible Church.
Run Time will be 1 hour, 30 minutes. Ready to ship early May

If you could possibly help us out with a donation to properly fund this monumentally important goal of producing this DVD warning of the dangers of Common Core and providing a workable solution, we would greatly appreciate it. Common Core is both an educational and a spiritual problem and, as such, we are praying that the Holy Spirit trigger an End Times revival on the level of the Great Revival of 1741.
But, we are short of funds to send our film crew to the locations needed to interview key speakers and to properly present this documentary at key shows in the next 30 days. Will you help?
---
---
May Jesus Richly Bless You,
David Bay, Director
Cutting Edge Ministries
800-451-8211