Hot News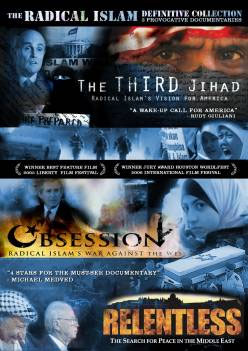 3 DVD Set
I. Which atrocity was worse? The militant Islamic slaughter at the Paris cartoonist office, or the systematic and brutal torure of Islamic fighters by American interrogators?
For the years during which the torture scandal against Islamic prisoners was unfolding, we warned that Bush/Chency were creating the most radical Islamic militant imaginable. Have these "chickens come home to roost"?
NEWS BRIEF: "Charlie Hebdo's cartoons were nothing compared to Abu Ghraib", Editorial by Tony Karon, The National Post, January 12, 2015
"In a scathing and thoughtful cartoon-critique, the celebrated cartoonist Joe Sacco wrote that it was permissible to tweak "the noses of Muslims"and other groups but ... He urged readers to 'try and think about the way the world is the way it is'. Over an image of the abuse of Iraqi prisoners by US soldiers at Abu Ghraib ... The backgrounds of the men involved in the Paris attacks suggest that it was far more than offence at cartoons that spurred them to violence. Cherif Kouachi was arrested almost a decade ago on his way to join the insurgency against the US-led invasion of Iraq. He was convicted of being part of a group sending fighters to join Abu Musab Al Zarqawi's Al Qaeda chapter in Iraq, and later served 18 months in a French prison. He had told the court that he was driven by his outrage at the events in Iraq and cited photographs published in 2004 of Muslims being humiliated."
Do you remember how thoroughly we tortured the suspected militants in places like Abu Ghraib and Guantanamo Bay? American interrogators were taught the ways in which they could humiliate Arab prisoners and they tortured them in just that way. We repeatedly warned that what was occurring was that the prisoners who were "culturally tortured and humiliated" by American guards would one day get out of prison and would become the most terrifying Isalmic militant imaginable.
Apparantly, this situation has become the West's new reality.
"... these men were radicalised while western powers were locked into massive military conflicts in Muslim countries ... they fuelled a backlash that has swelled extremist ranks by tens or hundreds of thousands – all angry young men seeking to avenge what they deem to be an attack on their faith and culture."
While I abhor the ease with which Muslims can be radicalized by seemingly minor offenses, I do realize that the brutality shown by Presidents Bush and Obama as they prosecuted these wars in Afghanistan and Iraq has proven to be catalyst for these victims to be radicalized. The West may yet pay a very high terrorist price for the sins of Abu Ghraib and Guantanmo Bay interrogators!
What does the Bible warn?
"... sin, when it is finished, bringeth forth death." (James 1:15)
This sin of wantonly torturing Islamic men in ways unique to their culture may finally be producing the death warned above.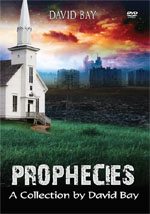 "Prophecies Churches Are Ignoring"
DVD Combo Set by David Bay - Volume 1
Reg $89.94, Only $39.94 Get Details
Why are so many pastors so reluctant to teach prophecy?
Cutting Edge Director, David Bay, teaches six hard-hitting lessons on six unique End Times instances where events are fulfilling prophecy, but no one is reporting it. Six hot topics on three discs:
"The Prophetic Beast Arises: Ten Toes of Daniel Are Forming"
"Rapture Precedes Israel's Final 'WEEK' of History"
"Eternal Security: God's Anchor In A Brutal Storm"
"End Times' Judgment On Iraq (Babylon) Worse Than Believed Possible - Isaiah 13"
"Israel's Prophesied Annihilation of the Palestinians"
"America Identified In Prophecy: Economic Babylon of Revelation 18"
5 1/2 hours of teaching
II. Will Jeb Bush's 2016 Presidential Campaign cause many Americans to support 'Common Core'?
Bush supports Common Core Curricula strongly, and will be supported by Mass Media. His stance will be opposed by more Conservative Republicans. Will the debate silently change the minds of many Americans?
This debate could doom the opposition to Common Core!
NEWS BRIEF: "Karl Rove: Common Core is Jeb's 'biggest challenge' ",
"Karl Rove says Jeb Bush's support for Common Core education standards will be the biggest obstacle he faces as he seeks the Republican presidential nomination. 'Common Core is, I think, the biggest challenge he faces," Rove said Tuesday on the Fox News show America's Newsroom ... "
At this point, Conservative Christians who oppose "Obama's Common Core" invention are going to be shocked. Karl Rove is one of the most influential Republican advisers in the country. Listen to whom he ascribes the genesis of Common Core.
"Rove, formerly the top adviser to Bush's brother, President George W. Bush, said Common Core was originally a Republican idea put forth by Bill Bennett, the secretary of Education under President Reagan who was later appointed to a post in the administration of President George H.W. Bush. But Rove said President Obama has since grasped onto it, making it toxic to Republican voters."
The stage is being set during the 2016 Presidential Campaign for Common Core to be hotly debated. While you might think it is a good idea, we believe it might just sound the death knell for opposition to Common Core. How can this be, you ask?
First, Mass Media will consistently report in favor of Bush's stand. This reality means that the reporting will be slanted toward making Common Core look reasonable and its opponents look ridiculous.
Secondly -- and most importantly -- a debate will trigger the beginning to the insidious "Six Step Attitudinal Change Plan". How does this plan work, and how might it work in this Common Core debate?
Step 1. Some practice so offensive that it can scarcely be discussed in public is advocated by a RESPECTED expert in a RESPECTED forum.
Step 2. At first, the public is shocked, then outraged.
Step 3. But, the VERY FACT that such a thing could be publicly debated becomes the SUBJECT of the debate. Focus slightly shifts from the merits of the offensive program to the very fact that an honest debate is finally underway.
Step 4. In the process, sheer repetition of the shocking subject under discussion gradually dulling its effect. The long duration of a presidential campaign proves the monotonous repetition which this plan requires.
Step 5. People then are no longer shocked by the subject. Remember, the key person in this debate is the one whose mind was not made up one way or the other prior to the beginning of this debate.
Step 6. No longer outraged, people begin to argue for positions to moderate the extreme; or, they accept the premise, challenging, instead, the means to ACHIEVE it.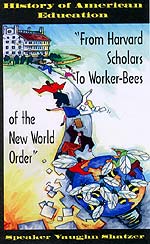 DVD Set
Let us see how this plan might apply toward Common Core:
Step 1. Some practice so offensive that it can scarcely be discussed in public is advocated by a RESPECTED expert in a RESPECTED forum. Jeb Bush's support for Common Core during the campaign will provide the "practice so offensive that it can scarcely be discussed in public is advocated by a RESPECTED expert in a RESPECTED forum."
Step 2 - Opponents of Common Core will express their outrage that such an inferior plan of education could even be forced upon the American public.
Step 3 -- The focus slightly shifts, from the position of Conservatives that the program should never have been implemented in the first place to the debate over its "merits".
Step 4 - Sheer repetition sets in as the debate goes on and on and on. In a debate, it is not important for the pro-Bush side to "win"; rather, what is important is that the subject gets repeated one more time. Sheer repetition is key.
Step 5 - People whose minds were not made up before the debate began are no longer shocked by the shocking reality of how bad Common Core is to the education of American children.
Step 6 -- After much repetition, millions of Americans will come to the point where they "accept the premise, challenging, instead, the means to ACHIEVE it." After this point, proponents of Common Core will have defeated their opponents, and can concentrate on how they can implement it nationwide.
The Six Step Attitudinal Change Plan gives New World Order Planners the ability to silently, almost invisibly, change the attitudes and values of the entire population of a people. They must achieve this before they stage the appearance of their Christ. We have demonstrated the many instances in which this plan has already changed minds on a number of key issues (NEWS2648).
Now, we fear, the same Six Step plan will unfold during the 2016 Jeb Bush campaign for President.
New Rapture DVD By Doc Marquis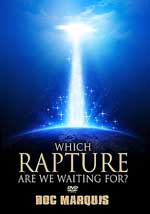 "Which Rapture Are We Waiting For?"
Doc Marquis educates us how the Rapture of the Church is defined in the Bible. Not surprisingly, the Biblical definition is much different than popular belief. From Genesis, the first book of the Bible, to the Book of Revelation, the last book of the Bible, God has instilled a measurable and repeatable pattern dealing with the Rapture of His Church.
Once you understand what a genuine Rapture truly is, you will immediately understand what our Christian forefathers said about this exciting subject, you will understand what God has to say, and you will see God's pattern of other raptures in the Bible. 'There has been more than one rapture in the Word of God'.
'Doc Marquis has assembled the 'magnum opus' of presentations on the '...blessed hope and the glorious appearing of the great God and our Saviour Jesus Christ' (Titus 2:13; Dr. David Schnittger, the Associate Pastor of Southwest Radio Ministries)
DVD is about 2 1/2 hours long -- Only $19.95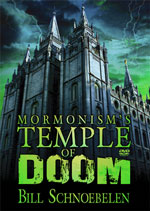 DVD
III. Former GOP candidate George Romney tells friend he still wants to be President of the United States!
NEWS BRIEF: "Romney Tells GOP Donors: 'I want to be president', " The Washington Post, January 9, 2015
"Mitt Romney forcefully declared his interest in a third presidential run to a room full of powerful Republican donors Friday, disrupting the fluid 2016 GOP field as would-be rival Jeb Bush was moving swiftly to consolidate establishment support ... '"I want to be president," Romney told about 30 donors in New York. He said that his wife, Ann — who last fall said she was emphatically against a run — had changed her mind and was now "very encouraging,"
America might see the fulfillment of the Mormon "White Horse prophecy" after all, where a Mormon candidate suddenly appears at a time when the Constitution is "hanging by a thread" and save it from destruction!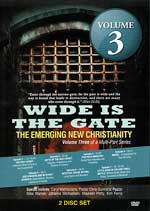 "Wide Is The Gate" Volume 3 DVD Is Now Instock!
" Hyper Charismatic and Pentecostal Movements"
Regularly $39.95, Now Only $29.95 - Disks, almost 6 hours
This final Volume features the Hyper Charismatic and Pentecostal Movements represented by a variety of names and leaders. This supposed 'new move of the Holy Spirit' coined as the New Apostolic Reformation (NAR) is also known as Third Wave, Manifest Sons of God, Latter Rain, Kingdom Now, Word Faith, Fresh Fire, and has many other names!
Poignant testimonies of former members recount the subtle ways they were enticed into believing they were part of something "new" God was doing, only to come to the sober realization that they had been ensnared by unholy spirits. Through careful Biblical analysis, well known experts help unravel the tragedy of growing deception in the Church masquerading as Revival, Renewal and vibrant New Christianity.
Caryl Matrisciana, who grew up for almost 20 years in India, insightfully explains how India's Eastern Mysticism is being practiced by millions of unsuspecting Christians in most mainline denominations. 2000 years ago, in conjunction with the birth of the church, Gnostic heresy (the foundation of Eastern Mysticism) attempted to creep in. Today, it presents itself as Western Mystical Spirituality and by hijacking Christian terminology, its 'doctrines of demons', warned about in 1 Tim 4:1, is deluding the Church. http://www.cuttingedge.org/detail.cfm?ID=2662
Volume #1 - "Wide Is The Gate DVD: The Emerging New Christianity, A Paradigm Shift" - Also On Sale
Volume #2 - "Wide Is The Gate DVD: Emerging Christianity In The Post-Modern Church" -Also On Sale