Hot News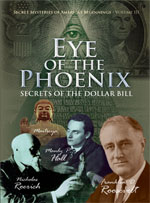 DVD
I. Russia abandons the Petro- Dollar
While this move provides currency liquidity within Russia, the real question is whether other nations will also abandon the Dollar as the world's reserve currency
NEWS BRIEF: "Russia Abandons PetroDollar By Opening Reserve Fund", Oil Price News, 15 January 2015
"2015 has not been good to Russia ... Their latest, and most dramatic, plan is to abandon the dollar – at least somewhat ... the Kremlin announced it will open its $88 billion sovereign wealth fund and flip it for rubles. The plan will see Russia convert as much as $8 billion to rubles (~500 billion) over a two-month span and place them in deposits for banks. Overall, the move will provide the Russian economy with some much needed liquidity and could speed up the healing if oil were to rebound..."
This move follows another announcement last December.
"In late December, the Kremlin ordered five large state-owned exporters – including oil and gas giants Rosneft and Gazprom – to sell their foreign currency reserves. Specifically, the companies must bring their foreign reserves to October levels by the beginning of March. To comply, the exporters may have to sell a combined $1 billion per day until March."
As of now, the US Dollar remains the global reserve currency, but that could change dramatically in 2015 if the price of crude oil continues to drop and if Russia's economy continues to sink. At this point, it would be helpful to realize that the Plan to produce a new global economy also included a plan to create a new global currency. The American Dollar was always targeted for replacement. After all, having the American Dollar as the global reserve currency provides dramatic strength to American National Sovereignty, and sovereignty of America is targeted for dissolution so she can meld into the coming North American Union!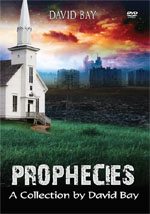 "Prophecies Churches Are Ignoring"
DVD Combo Set by David Bay - Volume 1
Reg $89.94, Only $39.94 Get Details
Why are so many pastors so reluctant to teach prophecy?
Cutting Edge Director, David Bay, teaches six hard-hitting lessons on six unique End Times instances where events are fulfilling prophecy, but no one is reporting it. Six hot topics on three discs:
"The Prophetic Beast Arises: Ten Toes of Daniel Are Forming"
"Rapture Precedes Israel's Final 'WEEK' of History"
"Eternal Security: God's Anchor In A Brutal Storm"
"End Times' Judgment On Iraq (Babylon) Worse Than Believed Possible - Isaiah 13"
"Israel's Prophesied Annihilation of the Palestinians"
"America Identified In Prophecy: Economic Babylon of Revelation 18"
5 1/2 hours of teaching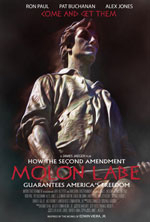 DVD
II. A prominent European Jewish Rabbi is calling for Jews to be allowed to carry guns in self-defense!
This Rabbi sounds like a spokesman for the National Rifle Association!
NEWS BRIEF: "Europe's Leading Rabbi: Jews Must Begin Carrying Guns", The Washington Free Beacon, 15 January 2015
"One of Europe's most prominent Jewish organizations is petitioning the European Union to pass new legislation that would permit Jewish community members to carry guns 'for the essential protection of their communities' ... The European Jewish Association (EJA) ... says that gun license laws must be altered following a string of deadly attacks on Jews in France and other European countries, where anti-Semitism has been growing at an alarming rate."
This line of thinking not only is common sense, it also parallels the longstanding argument in America that the best way to deter gun attacks is by allowing law-abiding private citizens to carry concealed weapons. If anyone in the Charlie Hedo cartoon office had possessed a gun when the three Islamic gunmen burst in, lives could have been saved by the return fire of the armed citizen! As it was, the three Muslim gunmen had free reign of terror until the police finally arrived. In the meantime, 12 innocent people were murdered in cold blood.
Then, later, at a Kosher supermarket in Paris, gunmen shot and murdered four young Jewish teens who were simply at the wrong place at the wrong time. Once again, had anyone at the supermarket been armed, the death toll might have been far less.
Jews all over Europe are feeling a rapid swelling of intense anti-Semitism, much of it from the Neo-Nazi elements of society. Jews are beginning to leave their homes in Europe and travel to Israel.
NEWS BRIEF: The 11th Aliya - French Jewry's accelerating exodus is painful, promising and irreversible", The Jerusalem Post, 1/15/2015
"The attack in Paris last week on a kosher supermarket, and those before it on the Jewish Museum in Brussels and the Otzar Hatorah School in Toulouse, underscore a security crisis checkered by hundreds of small-scale anti-Semitic incidents ... The bottom line of all this is a steadily growing emigration that now seems irreversible. While some opt for French-speaking Montreal, the US and Australia, the main destination – for social, cultural, geographic and economic reasons – is Israel."
As we have stated earlier, God is fulfilling His End of the Age promise to bring Jews scattered over the globe back home to Israel.
"... their children shall see it, and be glad; their heart shall rejoice in the Lord. I will hiss for them, and gather them; for I have redeemed them: and they shall increase ... And I will sow them among the people: and they shall remember me in far countries; and they shall live with their children, and turn again." (Zechariah 10:7-9)
Jews from all over the world are now returning in significant numbers. Christians who know their Bibles should take this development as a "Sign of the Times"!
Popular NEW End of the Age DVD Set - by Dr. Douglas Stauffer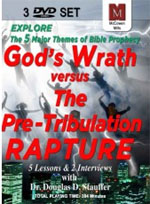 "God's Wrath vs Pre-Tribulation Rapture"
3-DVD Set by Dr. Douglas Stauffer
Regularly $39.99, Now Only $34.99
Explore the five (5) major themes of the End of the Age Prophecy! In these three (3) DVD's, Dr. Stauffer explores the following most relevant subjects:
1. The Rebirth of Israel.
2. The Realignment of the Nations.
3. The Rapture of the Church.
4. The Return of Christ.
5. The Revelation of the Millennium and Eternity Future.
Running time: 384 minutes -- 3 DVDs -- http://www.cuttingedge.org/detail.cfm?ID=2666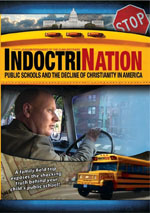 DVD
III. Common Core requirements may damage preschool children.
Common Core requires children in Kindergarten to read before they are physically and emotionally ready.
NEWS BRIEF: "Requiring kindergartners to read — as Common Core does — may harm some ", The Washington Post, January 13, 2015
"The Common Core State Standards call for kindergartners to learn how to read, but a new report by early childhood experts says that forcing some kids to read before they are ready could be harmful. Two organizations that advocate for early childhood education — Defending the Early Years and Alliance for Childhood — issued the report titled "Reading in Kindergarten: Little to Gain and Much to Lose." It says there is no evidence to support a widespread belief in the United States that children must read in prekindergarten or kindergarten to become strong readers and achieve academic success."
No one should be surprised to learn that Common Core curricula is NOT based upon solid educational fact. Common Core is not designed to enhance educational development in students, but to enhance the student's ability to meld easily in the New World Order. Students graduating from Common Core will be much more likely to meekly submit to government intrusion into their lives than students graduating from traditional curricula.
Private education will also be negatively impacted as the entire national job market will be severely tilted toward Common Core graduates. The time will come when job applicants will be legally required to have a Common Core diploma. Even if a student has an education that makes his education superior to Common Core, he / she will be shut out of the job market.
Today, we begin shooting our DVD on Common Core in conjunction with Ray Moore of Exodus Mandate. Ray was the primary force behind "IndoctriNation", so we expect an equally superior video highlighting the broad scale of educational disaster posed by Common Core.
Please pray for us as we endeavor to create a masterpiece.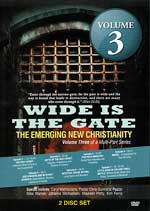 "Wide Is The Gate" Volume 3 DVD Is Now Instock!
" Hyper Charismatic and Pentecostal Movements"
Regularly $39.95, Now Only $29.95 - Disks, almost 6 hours
This final Volume features the Hyper Charismatic and Pentecostal Movements represented by a variety of names and leaders. This supposed 'new move of the Holy Spirit' coined as the New Apostolic Reformation (NAR) is also known as Third Wave, Manifest Sons of God, Latter Rain, Kingdom Now, Word Faith, Fresh Fire, and has many other names!
Poignant testimonies of former members recount the subtle ways they were enticed into believing they were part of something "new" God was doing, only to come to the sober realization that they had been ensnared by unholy spirits. Through careful Biblical analysis, well known experts help unravel the tragedy of growing deception in the Church masquerading as Revival, Renewal and vibrant New Christianity.
Caryl Matrisciana, who grew up for almost 20 years in India, insightfully explains how India's Eastern Mysticism is being practiced by millions of unsuspecting Christians in most mainline denominations. 2000 years ago, in conjunction with the birth of the church, Gnostic heresy (the foundation of Eastern Mysticism) attempted to creep in. Today, it presents itself as Western Mystical Spirituality and by hijacking Christian terminology, its 'doctrines of demons', warned about in 1 Tim 4:1, is deluding the Church. http://www.cuttingedge.org/detail.cfm?ID=2662
Volume #1 - "Wide Is The Gate DVD: The Emerging New Christianity, A Paradigm Shift" - Also On Sale
Volume #2 - "Wide Is The Gate DVD: Emerging Christianity In The Post-Modern Church" -Also On Sale