Hot News
The planned wave of Regime Change called for in the "Pentagon's New Map Strategy" has, at long last, reached Saudi Arabia. The Desert Kingdom is beset with struggles within and armed threat from without. Two breaking news stories tell of the coming fall of Saudi Arabia, a momentous death of kingdom which will NOT cause a global economic collapse.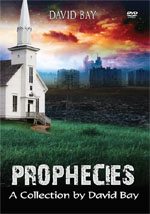 "Prophecies Churches Are Ignoring"
DVD Combo Set by David Bay - Volume 1
Reg $89.94, Only $39.94 Get Details
Why are so many pastors so reluctant to teach prophecy?
Cutting Edge Director, David Bay, teaches six hard-hitting lessons on six unique End Times instances where events are fulfilling prophecy, but no one is reporting it. Six hot topics on three discs:
"The Prophetic Beast Arises: Ten Toes of Daniel Are Forming"
"Rapture Precedes Israel's Final 'WEEK' of History"
"Eternal Security: God's Anchor In A Brutal Storm"
"End Times' Judgment On Iraq (Babylon) Worse Than Believed Possible - Isaiah 13"
"Israel's Prophesied Annihilation of the Palestinians"
"America Identified In Prophecy: Economic Babylon of Revelation 18"
5 1/2 hours of teaching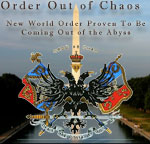 DVD
I. King Abdullah of Saudi Arabia dies at age 90!
Any death of a monarch causes some degree of uncertainty and instability as the successor moves to firmly establish power. Abdullah's death could not have come at a worse time for the kingdom.
NEWS BRIEF: "King of Saudi Arabia Dies, Aged 90", Huffington Post, 1/22/2015
"Saudi Arabia's King Abdullah has died ... Abdullah's designated successor is Crown Prince Salman bin Abdulaziz, his 79-year-old half-brother ... Abdullah bin Abdulaziz is believed to have been born in 1923 or 1924 as one of 37 sons of Saudi Arabia's founder, King Abdulaziz Al Saud ... Abdullah officially came into power in 2005, after the death of his half-brother, King Fahd. However, he had been the de-facto ruler since 1995, when Fahd was incapacitated by a stroke."
Now that a powerful King has died, who is his successor? He had better be a younger man and full of energy and good health, because the wolves are howling at his borders north and south and from within the camp.
"The new king, Salman, is a former defense minister and governor of Riyadh. He is widely reported to be in poor health and is rumored to suffer from dementia."
This new king will undoubtedly not survive long. King Abdullah planned for a second-in-line successor, and this one sounds like he will be more capable to defend a small rich nation which is now under fire from the greatest global powers on Earth -- the Illuminati.
"Last year, King Abdullah appointed his youngest surviving brother, 69-year-old Prince Muqrin bin Abdulaziz, as second-in-line to the throne. Salman is considered moderate and is experienced in balancing the kingdom's rapid modernization with the country's conservative power base."
The only question is how long Salman will last, and whether his tenure and his passing will be quick and efficient or whether it will last longer and be marked by indecision and chaos. The shortness of Salman's leadership will mean that Saudi Arabia's enemies will plan to strike quickly and decisively.
The stakes are enormous.
"Saudi Arabia's absolute monarchy rules over a country of vast wealth and influence. Saudi Arabia is the world's top oil exporter and has guardianship of Islam's two holiest sites."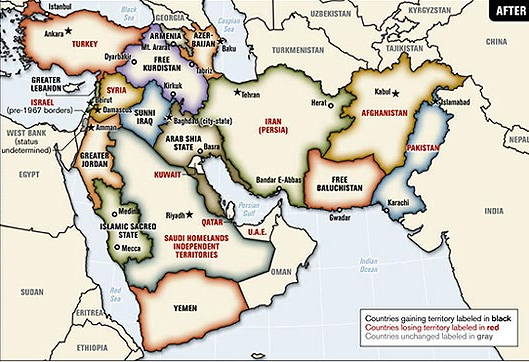 Speaking of controlling Islam's two holiest sites, the Pentagon's new Middle East map proves that the Global Elite plans to wrest control of Mecca and Medina from Saudi Arabia! The new king will have to fight these international forces to keep control of these sacred sites. He will likely not succeed. The forces coming against him will be too powerful to roll back.
The deliberate chaos created by the Illuminati will sweep the traditional monarchy away in Saudi Arabia, splintering power and permanently destroying the central government in Riyadh. One close look at this new Middle East Map demonstrates how thorough and complete the destruction of central government will turn out to be.
Right on cue, ISIS threatens so seize control of the Islamic holy sites of Medina and Mecca, just as this New Middle East Map depicts so clearly!
NEWS BRIEF: "ISIS Aims to Occupy Mecca", Newsweek, January 17, 2015
"In recent months, al-Baghdadi has issued calls for attacks inside Saudi Arabia ... he realizes that no one can claim to be the Islamic State without controlling the holy sites in and around Mecca and Medina and the wealth that comes with them."
Saudi Arabia likely will not be able to roll back and internal military campaign plus terror bombings every day like Iraq and Syria and Afghanistan have experienced. ISIS leadership likely senses that the vast oil wealth lies in a country with a soft underbelly that be easily cut open!
And that is exactly what the Illuminati has in mind: destroy the Saudi dictatorship and dispense the political power to various groups within the Desert Kingdom. The plan is working.
Popular NEW End of the Age DVD Set - by Dr. Douglas Stauffer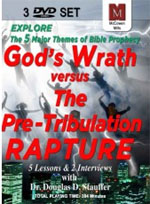 "God's Wrath vs Pre-Tribulation Rapture"
3-DVD Set by Dr. Douglas Stauffer
Regularly $39.99, Now Only $34.99
Explore the five (5) major themes of the End of the Age Prophecy! In these three (3) DVD's, Dr. Stauffer explores the following most relevant subjects:
1. The Rebirth of Israel.
2. The Realignment of the Nations.
3. The Rapture of the Church.
4. The Return of Christ.
5. The Revelation of the Millennium and Eternity Future.
Running time: 384 minutes -- 3 DVDs -- http://www.cuttingedge.org/detail.cfm?ID=2666
II. Shi'ite Iran continues encircling Saudi Arabia by controlling Shi'ite Iraq to the north and Shi'ite militants in Yemen to the south.
The pro-Western government in Yemen is ripping apart at the seams.
NEWS BRIEF: "Yemen president quits, throwing country deeper into chaos", Reuters News, 1/22/2015
"Yemeni President Abd-Rabbu Mansour Hadi resigned on Thursday, just days after Houthi rebels battled their way into his presidential palace, plunging the unstable Arab country deeper into chaos and depriving Washington of a key ally ... The announcement startled the Arabian Peninsula country of 25 million, where the Iran-backed Houthis emerged as the dominant faction by seizing the capital in September and dictating terms to a humiliated Hadi."
The Houthi rebels are Shi'ite Muslims and are completely supported by Iran.
If you look at the New Middle East which we posted for our first news story, above, you will see that Shi'ite Iran is encircling Sunni Saudi Arabia. Iran already controls Shi'ite Iraq, whose capital is Baghdad. Saudi Arabia has already demonstrated her fear of military action from Shi'ite Iraq by building a state-of-the-art security fence all along the 600-mile border with Iraq.
Now, once Iran controls Yemen with her Shi'ite Houthi rebels, she will be in position to pour unlimited military resources directly into the Desert Kingdom. Once these Houthi fighters begin waging the same kind of daily battle that Muslim fighters have been waging in Iraq and Afghanistan and Syria, Saudi Arabia will collapse very quickly. Her armed forces are simply not capable of surviving daily carnage brought on by suicide bombings, car bombings, assassinations and actual military attack.
The traditional Saudi Arabia is finished. The fragmented Saudi Arabia represented by the new Middle East map will rise in its place.
---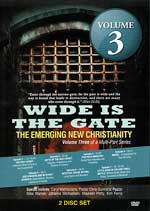 "Wide Is The Gate" Volume 3 DVD Is Now Instock!
" Hyper Charismatic and Pentecostal Movements"
Regularly $39.95, Now Only $29.95 - Disks, almost 6 hours
This final Volume features the Hyper Charismatic and Pentecostal Movements represented by a variety of names and leaders. This supposed 'new move of the Holy Spirit' coined as the New Apostolic Reformation (NAR) is also known as Third Wave, Manifest Sons of God, Latter Rain, Kingdom Now, Word Faith, Fresh Fire, and has many other names!
Poignant testimonies of former members recount the subtle ways they were enticed into believing they were part of something "new" God was doing, only to come to the sober realization that they had been ensnared by unholy spirits. Through careful Biblical analysis, well known experts help unravel the tragedy of growing deception in the Church masquerading as Revival, Renewal and vibrant New Christianity.
Caryl Matrisciana, who grew up for almost 20 years in India, insightfully explains how India's Eastern Mysticism is being practiced by millions of unsuspecting Christians in most mainline denominations. 2000 years ago, in conjunction with the birth of the church, Gnostic heresy (the foundation of Eastern Mysticism) attempted to creep in. Today, it presents itself as Western Mystical Spirituality and by hijacking Christian terminology, its 'doctrines of demons', warned about in 1 Tim 4:1, is deluding the Church. http://www.cuttingedge.org/detail.cfm?ID=2662
Volume #1 - "Wide Is The Gate DVD: The Emerging New Christianity, A Paradigm Shift" - Also On Sale
Volume #2 - "Wide Is The Gate DVD: Emerging Christianity In The Post-Modern Church" -Also On Sale
---
Redeemed Unredeemable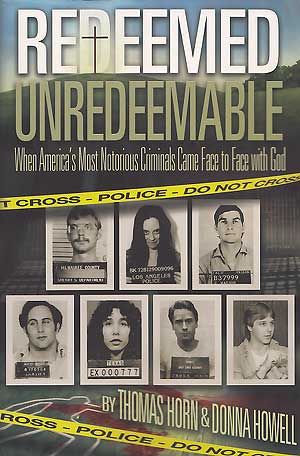 Redeemed Unredeemable: When America's Most Notorious Criminals Came Face to Face with God - New Book by Tom Horn

Jesus said that redemption 'eternal salvation' is available to everyone. No one is beyond His reach; no one falls outside the boundaries of His willingness to forgive. Anyone who calls on Him will be saved, He promises.
But, does that really include names like Jeffrey Dahmer, Ted Bundy, Susan Atkins, Charles 'Tex' Watson, Sean Sellers, David Berkowitz?
This book features a close look into the lives of infamous members of the Manson Family disciples such as Susan Atkins and Charles 'Tex' Watson, as well as serial killer Ted Bundy, 'Milwaukee Monster' Jeffrey Dahmer, 'Son of Sam' David Berkowitz, 'Pickaxe Killer' Karla Faye Tucker, and parent-killer Sean Sellers.
While in no way attempting to excuse or justify any of the devastating crimes these men and women have committed, the author's investigation brings to light not just seven case studies of hardened criminals, but seven accounts of loss. Seven stories of searching. Seven chronicles of change. And, ultimately, seven testimonies about redemption.
Read for yourself the untold stories of America's most notorious killers, and the unspeakably difficult journeys that brought them to their knees.
467 pages Order yours today
See All Our $9.99 Books / DVD's
72 Titles From Which To Choose!

See All Our $4.99 Books DVD's
30 Titles From Which To Choose!
Is America On A Collision Course With God? New Book By John McTernan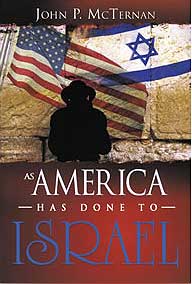 There is a direct correlation between the alarming number of massive disasters striking America and her leaders pressuring Israel to surrender her land for "peace."
Costing hundreds of lives and causing hundreds of billions of dollars' worth of damage, dozens of disasters, including devastating earthquakes, raging fires, hurricanes, floods, tsunamis, and tornadoes, have hit America, and always within twenty-four hours of putting pressure on Israel.
What can you do as an individual and what can America do to change the direction of our country in relation to Israel to prevent an increasing number of calamities?
This book has many pictures, some of which, have never before been released. These unique pictures include the Nazi movement in Long Island, New York prior to World War II ; the US Navy saving the Zionist movement in Palestine during World War I ; and many more.
---
---
May Jesus Richly Bless You,
David Bay, Director
Cutting Edge Ministries
800-451-8211