Hot News
I. How do you plan to spend your de facto Tax Cut?
Cutting gas prices puts many billions of dollars in our pocketbooks, benefiting every income bracket!
NEWS BRIEF: "Cheap Gas an Early Christmas Gift as Pump Prices Hit Five-Year Low", DNAinfo News, December 24, 2014
"CHICAGO — Hundreds of thousands of local drivers hitting the road for the holidays will get a welcome relief for their pocketbooks this week as gas prices hit a five-year low ... 'High supply, low demand, low oil prices', is how AAA's Beth Mosher explains it. 'Lower gas prices are filling stockings with a little more cash to spend on travel this year as travelers are expected to pay the lowest prices since 2009'."
At a time when Americans are being taxed really heavily, we are suddenly given a gift of a 50% reduction in prices at the pump and for all types of petroleum products. With cold weather upon us, home owners using home heating oil are going to be pleased that they are going to be spending a lot less this year than last. For a people used to being shafted economically for the past decade, this news is welcome indeed.
But, the really good news is that these lower gas prices are here to stay, at least for 2015.
"The even better news for motorists is that fuel prices are expected to continue to decline or stay low for the near future. 'In the near term, there is nothing on the horizon that would make us believe prices will rise', said Mosher. 'This is really out of the ordinary. It's not the usual supply and demand issues — there's plenty of supply'."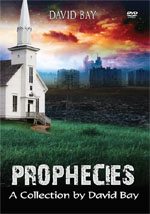 "Prophecies Churches Are Ignoring"
DVD Combo Set by David Bay - Volume 1
Reg $89.94, Only $39.94 Get Details
Why are so many pastors so reluctant to teach prophecy?
Cutting Edge Director, David Bay, teaches six hard-hitting lessons on six unique End Times instances where events are fulfilling prophecy, but no one is reporting it. Six hot topics on three discs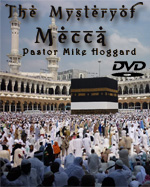 II. Intolerant Muslim extremists destroy Paris offices of satirical paper, killing 12 people, injuring many more. Westerners are being conditioned to the destruction of all Muslims worldwide.
As Pastor Hoggard reveals, the religion of Islam produces a depth of anger in its adherents unseen in any other religion on earth!
NEWS BRIEF: "Twelve dead, 10 wounded in Paris shooting - Satirical paper poked fun at Prophet Mohammad", Reuter's News, January 7, 2015
"Police are hunting three French nationals, including two brothers from the Paris region, after suspected Islamist gunmen killed 12 people at a satirical magazine on Wednesday ... The hooded attackers stormed the Paris offices of Charlie Hebdo, a weekly known for lampooning Islam and other religions, in the most deadly militant attack on French soil in decades."
"During the attack, one of the assailants was captured on video outside the building shouting "Allahu Akbar!" (God is Greatest) as shots rang out. Another walked over to a police officer lying wounded on the street and shot him point-blank with an assault rifle, before the two calmly climbed into a black car and drove off."
While many people expressed the false idea that Islam is a fine religion dedicated to peace, events of the past 1,000 years prove differently. Islam has always practiced "conversion by the sword". The only reason northern Africa and the Middle East are so devoid of Christians is that Muslims have always annihilated them, purging them out of the entire area.
Islam is history's greatest murderer of Christians. Not even the Roman Catholic Inquisition has murdered more genuine Christians!
Pastor Mike Hoggard has done a fine job in demonstrating this inherent, inbred, spiritually genetic reality of Islam: they are full of rage so much of the time. This widespread rage will contribute greatly to the wars in the Middle East as foretold in Zechariah, Daniel and the Book of Revelation.
Popular New COMBO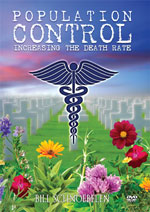 Population Control: Increase The Death Rate, 3-DVD Set
by Bill Schnoebelen
Regularly $54.98, Special Combo Price, $34.98, Saving You $20!
Did you know that the Plan of the Elite is to 'increase the death rate' to control population growth in the period leading up to the appearance of the New Age Christ?
In the past 100 years, this type of population control has proven most effective. Today, The third highest cause of death in America is "iatrogenic" -- induced in a patient by a physician! But that is not all the horror! A new study proves that aggressive radiation cancer treatments create a far more dangerous cancer cell than the one from which the patient is suffering. 'The new study is yet another blow to the failed and favored mainstream treatment paradigm of trying to cut out, poison out or burn out cancer symptoms (tumors) instead of actually curing cancer.'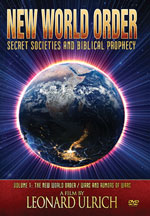 III. Republican and Democrat leaders immediately justify NSA spying on Americans as the only way in which we can be safe on our own soil.
The speed with which Illuminati leaders of both American political parties used this terror attack in Paris as an excuse to spy illegally on American citizens leads us to believe that this attack was planned.
NEWS BRIEF: "GOP senators: Paris attack justifies NSA surveillance", Digital Journal, January 9, 2015
"As Republicans took control of the US Senate and its powerful intelligence committee, leading GOP senators pointed to Wednesday's Islamist terrorist attack in Paris as proof that controversial National Security Agency surveillance is justified ... The National Journal reports a number of leading Senate Republicans cited Wednesday's attack on the Paris headquarters of the satirical anti-religion magazine Charlie Hebdo in an effort to drum up support for a heightened state of government surveillance as the United States continues to lead a 14-year global war against terrorism."
""If it can happen in Paris, it can happen in New York again or Washington, DC," warned Sen. Chuck Grassley (R-IA), the incoming chairman of the Senate Judiciary Committee. "It's a lesson to learn."
" 'I fear our intelligence capabilities, those designed to prevent such an attack from taking place on our shores, are quickly eroding', Sen. Lindsey Graham (R-SC), said. 'I believe our national security infrastructure designed to prevent these types of attacks from occurring is under siege'."
The reality is that terrorism is planned to be the last stage in the Illuminati plan to produce the Kingdom of Antichrist, a.k.a., the New World Order. The writers of the Plan for achieving the New World Order have boldly stated that, as the world is coalescing into the planned One World Government, Economy, and Religion, a final stage of planned violence in Europe and the United States is necessary to panic the public into allowing their freedoms to be taken away, and their present Constitutional system of Government to be suspended, supposedly so that our Government could deal effectively with the terrorism.
We entered into this era on September 11, 2001. We have been battling in the Middle East for the past 13 years, waging war in the name of battling terrorism. World leaders will continue beating the drums of the threat of terror until our freedoms are eliminated and our Constitution abolished.
Doubt it not!
---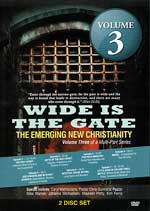 "Wide Is The Gate" Volume 3 DVD Is Now Instock!
" Hyper Charismatic and Pentecostal Movements"
Regularly $39.95, Now Only $29.95 - Disks, almost 6 hours
This final Volume features the Hyper Charismatic and Pentecostal Movements represented by a variety of names and leaders. This supposed 'new move of the Holy Spirit' coined as the New Apostolic Reformation (NAR) is also known as Third Wave, Manifest Sons of God, Latter Rain, Kingdom Now, Word Faith, Fresh Fire, and has many other names!
Poignant testimonies of former members recount the subtle ways they were enticed into believing they were part of something "new" God was doing, only to come to the sober realization that they had been ensnared by unholy spirits. Through careful Biblical analysis, well known experts help unravel the tragedy of growing deception in the Church masquerading as Revival, Renewal and vibrant New Christianity.
Caryl Matrisciana, who grew up for almost 20 years in India, insightfully explains how India's Eastern Mysticism is being practiced by millions of unsuspecting Christians in most mainline denominations. 2000 years ago, in conjunction with the birth of the church, Gnostic heresy (the foundation of Eastern Mysticism) attempted to creep in. Today, it presents itself as Western Mystical Spirituality and by hijacking Christian terminology, its 'doctrines of demons', warned about in 1 Tim 4:1, is deluding the Church. http://www.cuttingedge.org/detail.cfm?ID=2662
Volume #1 - "Wide Is The Gate DVD: The Emerging New Christianity, A Paradigm Shift" - Also On Sale
Volume #2 - "Wide Is The Gate DVD: Emerging Christianity In The Post-Modern Church" -Also On Sale
Aliens / UFO's Important Part of Staging Antichrist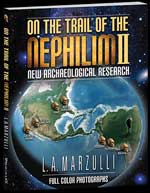 " On The Trail of the Nephilim" - Volume 2
" New Archaeological Research"
New Book by L.A. Marzulli: Free Nephilim Calendar!
Regularly $29.95, On Sale For Only $24.95
The Bible is full of strange and supernatural events. But there is none stranger than the events of the sixth chapter of the Book of Genesis. Theologians have speculated and debated this bizarre passage of Scripture for thousands of years and the debate rages on today hotter than ever! Best-selling author, L.A. Marzulli, lies at the root of this new paradigm, challenging the status quo of historical events and suggesting a cover-up of 'gigantic' proportions.
Traveling to Paracas, Peru, and other relatively-unknown places in South America, the author began to hunt for proof of a hybrid race of beings the Bible calls the Nephilim. His search left no stone unturned public museums, private skull and skeleton collections, secret caves known only to locals, interviews with archaeologists and curators . . . what Marzulli discovered has turned the world upside down, upsetting a few Darwinian apple carts along the way. Once you have laid eyes on a gigantic Nephilim skull, your worldview may change.
God started over with eight people, wiping the corrupt 'Nephilim seed' off of planet Earth. Once a person sets their eyes on a giant skull atop an 8 or 9 foot skeleton, their worldview will change forever. http://www.cuttingedge.org/detail.cfm?ID=2661
Other Alien Bookstore Resources
---
---
May Jesus Richly Bless You,
David Bay, Director
Cutting Edge Ministries
800-451-8211