BIG SALE ON POPULAR DVD's FROM
CUTTING EDGE FILMS JUST $9.99 Regular $14.99
Sale ends midnight Monday June 29th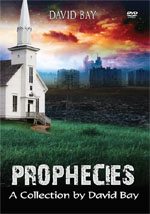 Also in this sale you can get Prophecies Churches Are Ignoring - DVD Combo by David Bay - Volume 1 which contains 3 DVDs with the first six programs shown above.
Regular Price: $89.94
Sale Price: $19.99
See All Our $9.99 Books / DVD's
72 Titles From Which To Choose!
Prophetically Understanding World War III
World War III: History's Greatest Lynchpin Event
New DVD by David Bay
In the minds of most people, two words carry so much emotional baggage that people cringe whenever they hear these Apocalyptic words. 1) Armageddon; 2) World War III.
In the past 20 years, whenever a battle begins in the Middle East or whenever a verbal confrontation breaks out between major powers, 'gloom and doom' scare-mongers immediately begin to shout 'World War III',much like a person yells 'FIRE' in a crowded theater.
Bible prophecy reveals that Antichrist will be produced on the world scene by a number of signs, including 'wars and rumors of wars'. Demonic familiar spirits told the Elite in 1870 that three world wars will be needed to produce Antichrist. Make no mistake about it: Antichrist will be produced by World War III.
Therefore, the question of the hour is, 'when will this global war begin' and 'what are the signs it is about to commence'? Many major events are planned to occur just as World War III begins. Mankind will be systematically hit with unparalleled disasters of every kind as this planned global war unfolds. But, none of these events will occur until the lynchpin called 'World War III' is pulled.
When the Global Elite pulls this lynchpin event called World War III, events are going to be unleashed in such severity and in such great numbers the peoples of the world will not stand in awe, they will panic and run for the hills. Jesus said that 'men's hearts shall fail them for fear', and the Elite is creating just such climactic events which shall not occur until the lynchpin known as 'World War III' is pulled.
We will show you the 12 major disasters the Elite has created and is waiting only for the beginning of World War III to unleash them all, almost at once. No one need fear that any of these disasters will jump across the starting line ahead of time; each awaits the 'pulling of the lynchpin', World War III.
One Hour -- http://www.cuttingedge.org/detail.cfm?ID=2697
This DVD may be the most important you will ever see on End Times events!