Hot News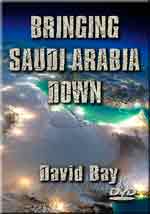 Trailer
I. The Situation in Saudi Arabia is deteriorating to the point where the American Embassy is closing indefinitely!
Security within the Desert Kingdom must be far more tenuous than anyone is letting on, because an Embassy in a country is closed usually only as a last resort.
NEWS BRIEF: "US embassy in Saudi Arabia closed indefinitely ", The Hindu, March 18, 2015
"The US embassy in Saudi Arabia will remain closed until further noticed due to heightened security concerns at US diplomatic facilities, the embassy said on its website on Wednesday."
At first, the Embassy attempted to paint a temporary face on its action, but later, admitted that the Embassy would be closed until further notice. Closing an Embassy -- especially in a country of significant importance -- is almost never done. The Embassy is officially American soil and therefore, normally immune from attack. American leaders can more easily communicate with key leaders of the country if their ambassador is on the ground in the capital.
These next statements are very illustrative:
"A new security message will be sent out as soon as consular services return to normal ... The embassy also warned its citizens to be aware of their surroundings, and take extra precautions when traveling throughout the country. According to the statement, the State Department has urged US citizens to carefully consider the risks of traveling to Saudi Arabia and limit non-essential travel within the country."
This pronouncement sounds like Americans are in danger throughout all of Saudi Arabia, and that the security situation must be considered tenuous throughout the whole region. And, of course, this scenario is precisely what we are demonstrating in our new documentary, "Bringing Saudi Arabia Down", pictured above.
Both ISIS and Iran have threatened to destroy Saudi Arabia, and Iran is literally at the door of the oil-rich kingdom.
NEWS BRIEF: "Iran at Saudi Arabia's frontiers", Al-Arabiya News, 2 March 2015
"Iran's fingerprints are everywhere. Its activities expand throughout the region, mostly around Saudi Arabia, in Iraq, Yemen, the Gulf, Syria and Lebanon, where it is involved in politics, media, oil, weaponry and religion ... Iran is currently in an offensive state, the likes of which we have not seen in modern history. It is directly fighting in Syria and Iraq, and has proxies in Lebanon, Gaza, Yemen and Bahrain. It also has a presence in Sudan ... we see Saudi Arabia in a state of defense ..."
To the south, Yemen's pro-western government has collapsed, allowing Iranian-back Shi'ite militants have seized control.
Therefore, the wolves are threatening Saudi Arabia to the north (Iraq) and from the south (Yemen). Soon, very soon, we shall see daily terrorist attacks, bombings, suicide attacks, pipe bombs, and gunmen killing indiscriminately in public places. Assassinations of key Saudi officials will also begin.
These tactics have leveled Syria and Iraq, but they will devastate Saudi Arabia. Saudi soldiers are not battle-tested and politicians are more at ease in the spa than on a street flowing from the bloody attack of a suicide bomber. Saudi Arabia will not last long once the daily internal attacks begin.
Remember, Saudi Arabia must suffer the overthrow of her brutal, repressive dictatorship. The goals of the "Pentagon's New Map" demand it. Only when the last dictatorship is removed can Supernation #7 be imposed on the Middle East / Northern Africa region. The plan of the Elite to reorganize the world into Daniel's Ten Toes will continue!
You must consider these events in this entire region in this light.
NOTE: This News Alert continues following the product advertisement, below.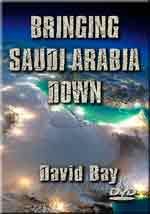 NEW DVD FROM CUTTING EDGE FILMS
"Bringing Saudi Arabia Down: Without Destroying World Economy" by David Bay

Saudi Arabia's brutal dictatorship must be overthrown according to the Pentagon's New Map Strategy. This war strategy -- followed since the 2001 Afghanistan invasion -- is overthrowing every single dictatorship in the Middle East and Africa. Already, Saddam Hussein of Iraq, Ghaddafi of Libya, Mubarak of Egypt, and Saleh of Yemen have been overthrown, while Syria's Assad is holding on to power by a thread. Find out more and Watch the Trailer
II. The controversy over Ethiopia's Renaissance Dam has gotten to the point where Egypt is now submitting to binding arbitration to try to preserve her historical right to Nile River water.
Egypt's Last Days' prophecy of Isaiah 19 draws near.
NEWS BRIEF: "Egypt's Water Minister: Nile deal will be binding on Egypt, Ethiopia and Sudan", Ahram Online News, 19 March 2015
"Egypt's minister of irrigation has said a tripartite agreement on sharing the Nile River's waters and operating Ethiopia's contested Grand Renaissance Dam will be binding on the three signatory states, Egypt, Ethiopia and Sudan, once signed."
For the last several thousand years, Egypt has demanded, and has received, the great majority of the water flowing down the Nile River, even though the headwaters of the Blue Nile are high in the Ethiopian mountains. But, now, Ethiopia wants to build a dam that would regulate the Nile River water flow and could conceivably shut off water to Egypt permanently. This scenario would so damage the desert nation that her armed forces cannot permit such a dam to be built.
Yet, Ethiopia is not only planning to build such a dam, she has actually begun construction! Therefore, Egypt considers that time is of the essence. Egyptian leaders must negotiate a diplomatic solution before the window of opportunity closes. Hence, she is attempting to set the terms of the negotiations, as this current news article reports.
"In comments carried by state news agency MENA Wednesday, Minister Hossam Moghazy said the deal will hold Ethiopia to amending the dam's specifications if consultancy studies on the hydroelectric project prove it harmful to downstream countries. Moghazy said the agreement sets forth "a system of monitoring and regulating the operation" of the dam project. He added that further details of the deal — due be signed on 23 March in Sudan's capital, Khartoum — will be announced after review by legal, political and technical experts, and approval by the heads of states of the three countries."
"The agreement, which aims to resolve the dispute over the mega-project, will be sent to the heads of the three states to give their seal of approval once reviewed."
The greatest threat to Egypt and her entire way of life, does not come from a misuse of the dam once it is in place. Rather, the greatest danger is from the construction of the dam itself! Egypt cannot even allow the dam to be built. As we demonstrate in this new DVD, shown above, "Egypt's Prophetic Tsunami", this Renaissance Dam is so poorly designed that it could come crashing down at anytime in its first 20 years. The incredibly large water reservoir pent up behind the dam is like a sword of death and destruction threatening Egypt every day after it is completed.
And, yet Isaiah 19 End Times' judgment against Egypt foretells that Egypt will be inundated with an incredible flooding from the Nile River. Ethiopia is building a dam that will fulfill God's prophetic Scripture! And you can follow along in our Daily News Updates.
DVD - "Escaping Common Core: Setting Our Children Free"
Key Speaker Ray Moore, Executive Producer of "IndoctriNation" DVD
Common Core is a new label for state -controlled public education standards in an ongoing attempt to dumb down' the American educational system, a struggle that has raged for decades. Common Core will cause some students to become confused and to give up on academics. Are you horrified at the limited reading skills of children and young adults today? Just wait until this curricula has been taught for ten years! Few people will be able to read anymore.
We are NOT advocating that Christian parents aggressively try to reform the public school system from within. That concept is NOT biblical, has been tried for 40 years, and will never work. Scripture commands families to provide Christian education, not a secular or godless education.
We advocate that Christian parents remove their children from public schools to enroll them in the safe sanctuary of private Christian schools, home school or online Christian education.
The Bible tells the believer: 'Come out from among them and be ye separate, says the Lord...' (2 Cor. 6:17)
This 'Call To Action' is Biblically based! Many parents today refuse to address the spiritual forces endangering their childrens beloved eternal souls in public schools. Many are too in love with the worlds system - even if they have to send their precious children to a pagan, atheistic, hostile public school. Our approach is Biblical, following the express teaching of the Bible on how to raise and educate children, an essential part of our Christian walk of faith and obedience to Christ. We are hopeful that the Holy Spirit will use this message to spark the next revival.
Speakers include: Ray Moore - Exodus Mandate, and Executive Producer of 'IndoctriNation' - will be the featured speaker.
Other speakers include:
Mac Dominick, Cutting Edge author
Walter Corbett -- Retired Public School Teacher of Advanced Physics
Brian Ray, National Home Education Research Institute
John Becker and Andy Thompson - Ohio Representatives
Dr. Carl Broggi, Pastor, Community Bible Church.
Run Time will be 1 hour, 30 minutes. Ready to ship early May

If you could possibly help us out with a donation to properly fund this monumentally important goal of producing this DVD warning of the dangers of Common Core and providing a workable solution, we would greatly appreciate it. Common Core is both an educational and a spiritual problem and, as such, we are praying that the Holy Spirit trigger an End Times revival on the level of the Great Revival of 1741.
But, we are short of funds to send our film crew to the locations needed to interview key speakers and to properly present this documentary at key shows in the next 30 days. Will you help?
---
Iran's prophetic participation in the Russian-led invasion of Israel (Ezekiel 38-39) takes on a deeper understanding once we comprehend Iran's preparations currently underway.
---
May Jesus Richly Bless You,
David Bay, Director
Cutting Edge Ministries
800-451-8211