Hot News
I. Senator Cruz chooses Christian Liberty University as the forum on which he announces his 2016 Presidential campaign.
Cruz also has significant ties to Israel.
NEWS BRIEF: "Cruz launches 2016 Presidential campaign at world's biggest Christian college", Chronicle Bulletin, 23 March 2015
"LYNCHBURG, Va. (AP) - Sen. Ted Cruz showed he was a candidate in a hurry early Monday morning, announcing his presidential candidacy on Twitter just right after midnight, quite a few hours ahead of the official launch at the college founded by the late Rev. Jerry Falwell Monday morning. The Texas Republican's selection of Liberty University for Monday's speech indicates he plans an aggressive courtship of cultural conservatives and young voters."
It is unique for a Conservative Republican official to announce his Presidential candidacy at a Christian university. This act speaks volumes as to the constituency on whom Senator Cruz is counting upon to fuel his campaign for the White House. Senator Cruz has created a very colorful and patriotic video to support his campaign.
"In a flashy video that accompanied it, Cruz supplied a preview of his nascent campaign's message. 'I believe in America and her people, and I believe we can stand up and restore our guarantee', Cruz stated in the net video as images of farm fields, city skylines and American landmarks and symbols played in the background. 'It's going to take a new generation of courageous conservatives to enable make America good once again, and I am prepared to stand with you to lead the fight'."
In this short video, Senator Cruz sets his candidacy separate from the perceived moral and patriotic failures of the Obama Administration. Sen. Rick Santorum will appeal to his Roman Catholic supporters, so this Presidential campaign should prove to be most interesting!
Senator Cruz also has significant Jewish roots.
NEWS BRIEF: "Analysis: The Israel Connection to Ted Cruz's Presidential Run", Breaking Israel News, March 23, 2015
"Cruz is a vocal and ardent supporter of the Jewish state. While on a visit to Israel in June 2014, Cruz stated that the threats facing Israel and the US 'have never been greater than they are right now' ... A religious Christian, the senator has many times come to the aid of Israel and the Jewish nation in times of great need. In one notable instance, Cruz was publicly shamed by some fellow Christians for his support of Israel."
Senator Cruz has also supported Israel's position over the Palestinian State.
"Unlike the current Obama administration, who has repeatedly attempted to force Israel to unsuccessfully negotiate with the Palestinian Authority-Hamas government, Cruz puts the failure of peace talks squarely on the shoulders of the Palestinians. 'The principal impediment to peace is that, to date, the Palestinians have refused to recognize Israel's right to exist as a Jewish state and have refused to renounce terror', he told the Knesset in May 2014. 'Unless and until the Palestinians can agree on those very basic starting block, no lasting peace solution is likely'."
We could not agree more! The Senator has at least correctly identified the Palestinians as the culprit in this battle and has correctly come to Israel's defense. Perhaps the major reason for this stance is that Senator Cruz' father is a lifelong Evangelical pastor.
Senator Cruz does have one significant obstacle to winning the White House; he was born in Canada, not the United States. How he overcomes this obstacle will speak volumes to the condition of the United States' Constitution. President Obama has ignored this requirement for many years, so it will be most interesting to see how the Republicans handle this Constitutional requirement.
President Obama has steadfastly claimed Hawaii as his birthplace, while Senator Cruz admits his Canadian birthplace. Will we see Cruz claim that he is a citizen of the North American Union? That defense seems to be his only avenue to continue his path to the White House, but that claim would only weaken the traditional Republican resistance to America joining the North American Union!
What a sneaky back door attack on the Constitution that would be!
NOTE: This News Alert continues following the product advertisement, below.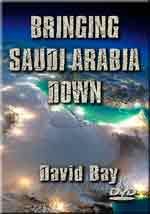 NEW DVD FROM CUTTING EDGE FILMS
"Bringing Saudi Arabia Down: Without Destroying World Economy" by David Bay

Saudi Arabia's brutal dictatorship must be overthrown according to the Pentagon's New Map Strategy. This war strategy -- followed since the 2001 Afghanistan invasion -- is overthrowing every single dictatorship in the Middle East and Africa. Already, Saddam Hussein of Iraq, Ghaddafi of Libya, Mubarak of Egypt, and Saleh of Yemen have been overthrown, while Syria's Assad is holding on to power by a thread. Find out more and Watch the Trailer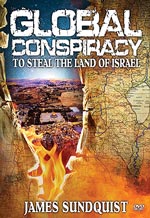 DVD
II. President Obama is "reassessing" his ties to Israel in the wake of Netanyahu's re-election to Prime Minister.
As a symbol of this "reassessment", the U.S. is focusing on the "Two-State Solution", i.e., carving a Palestinian State out of Biblical Israel.
NEWS BRIEF: "Obama to 'reassess' Israel relationship", CNN News, March 20, 2015
"President Barack Obama told Israeli Prime Minister Benjamin Netanyahu the United States would 'reassess' aspects of its relationship with Israel after Netanyahu's provocative statements leading up to Tuesday's Israeli election. The phone call Thursday was officially described as a message of congratulations on Netanyahu's victory, but it also carried a serious warning after the prime minister opposed the creation of a Palestinian state in the last days of his campaign."
This issue may be a whole lot of meaningless "hot air", since Presidents from Clinton to Obama, have attempted to reach a two-state solution with the Palestinians, only to fail because Palestinian leadership would not agree to any solution which leaves the state of Israel alive. From Yassir Arafat to Mohammed Abbas, these current leaders of the ancient "House of Esau" want any negotiations to result in a complete genocide of the Jewish people and of their state, Israel!
"White House Press Secretary Josh Earnest, speaking before the call, had stopped short of saying that the U.S. reassessment would include offering support for a U.N. resolution calling for the establishment of a Palestinian state. The resolution is opposed by Jerusalem, but U.S. officials have floated it as a possibility in the wake of Netanyahu's remarks."
Biblical prophecy is quite clear as to the final outcome of efforts to establish a Palestinian State. Listen:
"They shall call its nobles to proclaim the kingdom, but nothing shall be there, and all its princes shall be no more." (Isaiah 34:12
In other words, when you see Palestinian leaders announcing that they have established their "kingdom", you can know that their prophesied annihilation is drawing very close!
DVD - "Escaping Common Core: Setting Our Children Free"
Key Speaker Ray Moore, Executive Producer of "IndoctriNation" DVD
Common Core is a new label for state -controlled public education standards in an ongoing attempt to dumb down' the American educational system, a struggle that has raged for decades. Common Core will cause some students to become confused and to give up on academics. Are you horrified at the limited reading skills of children and young adults today? Just wait until this curricula has been taught for ten years! Few people will be able to read anymore.
We are NOT advocating that Christian parents aggressively try to reform the public school system from within. That concept is NOT biblical, has been tried for 40 years, and will never work. Scripture commands families to provide Christian education, not a secular or godless education.
We advocate that Christian parents remove their children from public schools to enroll them in the safe sanctuary of private Christian schools, home school or online Christian education.
The Bible tells the believer: 'Come out from among them and be ye separate, says the Lord...' (2 Cor. 6:17)
This 'Call To Action' is Biblically based! Many parents today refuse to address the spiritual forces endangering their childrens beloved eternal souls in public schools. Many are too in love with the worlds system - even if they have to send their precious children to a pagan, atheistic, hostile public school. Our approach is Biblical, following the express teaching of the Bible on how to raise and educate children, an essential part of our Christian walk of faith and obedience to Christ. We are hopeful that the Holy Spirit will use this message to spark the next revival.
Speakers include: Ray Moore - Exodus Mandate, and Executive Producer of 'IndoctriNation' - will be the featured speaker.
Other speakers include:
Mac Dominick, Cutting Edge author
Walter Corbett -- Retired Public School Teacher of Advanced Physics
Brian Ray, National Home Education Research Institute
John Becker and Andy Thompson - Ohio Representatives
Dr. Carl Broggi, Pastor, Community Bible Church.
Run Time will be 1 hour, 30 minutes. Ready to ship early May

If you could possibly help us out with a donation to properly fund this monumentally important goal of producing this DVD warning of the dangers of Common Core and providing a workable solution, we would greatly appreciate it. Common Core is both an educational and a spiritual problem and, as such, we are praying that the Holy Spirit trigger an End Times revival on the level of the Great Revival of 1741.
But, we are short of funds to send our film crew to the locations needed to interview key speakers and to properly present this documentary at key shows in the next 30 days. Will you help?
---
Iran's prophetic participation in the Russian-led invasion of Israel (Ezekiel 38-39) takes on a deeper understanding once we comprehend Iran's preparations currently underway.
---
May Jesus Richly Bless You,
David Bay, Director
Cutting Edge Ministries
800-451-8211