Hot News
I. America is supporting ethnic cleansing in Iraq: Just as Isaiah 13 foretold 2,600 years ago!
Further, few people realize that Iraq's Final Judgment contains a prophecy that God will cause a complete destruction of her land and annihilation of Iraq's citizens.
First, let us examine the prophecy that Iraq will fall into ruinous civil war.
Second, let us discuss the prophetic fulfillment of a complete destruction of Iraq's land.
Civil war is tearing Iraq apart. First, the prophecy.
The extent of the slayings and murders in civil war has not reached the height foretold: \
"Everyone who is found will be thrust through, and everyone who is connected with the slain and is caught will fall by the sword. Their infants also will be dashed to pieces before their eyes; their houses will be plundered and their wives ravished." [Isaiah 13:13-16]
Consider the extent of the Sunni/Shi'ite civil war,
NEWS BRIEF: "U.S. Is Providing Air Cover for Ethnic Cleansing in Iraq ", Foreign Policy News, March 28, 2015
"American warplanes have begun bombing the Islamic State-held Iraqi city of Tikrit in order to bail out the embattled, stalled ground campaign launched by Baghdad and Tehran two weeks ago. This operation, billed as "revenge" for the Islamic State (IS) massacre of 1,700 Shiite soldiers at Camp Speicher last June, was launched without any consultation with Washington and was meant to be over by now ..."
"Chairman of the Joint Chiefs Martin Dempsey told Congress on March 3: "What we are watching carefully is whether the militias — they call themselves the popular mobilization forces — whether when they recapture lost territory, whether they engage in acts of retribution and ethnic cleansing." He needn't watch any longer. They are engaging in exactly that."
Thus, the civil war foretold in Isaiah 13 is now underway.
Now, let us examine the march toward destroying the whole land, as also was foretold in Isaiah 13.
NEWS BRIEF: "Iraqi Holocaust: Depleted Uranium and Failed State", Daily Sabah News, March 24, 2015
"In the aftermath of the U.S. invasion in 2003, Iraq became a hub of insecurity and instability. Today, the country suffers severely from poor economy, sectarian strife and ISIS terrorism and is on the verge of becoming a failed state ... the death toll could now easily be several million ... This sad reality is further compounded by the environmental and health catastrophe afflicting Iraq today. As a direct result of American munitions, including depleted uranium used in Fallujah and other Iraqi cities, the air and water has been contaminated with radioactive materials. This has tragically seen babies born with numerous congenital birth defects, including severe mutations and cancers, and diminished lifespans. Mothers have also suffered from decreased health care due to a lack of sanitation and prenatal and postnatal care that has affected their likelihood of surviving the entire process from conception to birth."
In 2009, we posted an article that has proven to be all too true, on this unimaginable tragedy inflicted upon Iraqi citizens by the Depleted Uranium weaponry used by Coalition Forces during both Gulf War I (1991) and Gulf War II (2003 - 2011), Please take a few moments to read this article and to view the graphic pictures we used to illustrate our point. This article is NEWS2372, and is entitled, "Iraq Is Now A Radioactive Wasteland - Depleted Uranium Poisoning Is Starting To Take Its Toll Upon The Civilian Population".
Isaiah 13 prophecy is now being fulfilled to the letter from America's war against Ancient Babylon, Iraq. "Seize and destroy the whole land" is now becoming reality. Please consider the prophecy:
"The noise of the tumult of the kingdoms of the nations gathering together! The Lord of hosts is mustering the host for the battle. They come from a distant country, from the uttermost part of the heavens .... even the Lord and the weapons of His indignation--to seize and destroy the whole land."

(Isaiah 13:4b-5;

Parallel Bible, KJV/Amplified Bible Commentary

)
Coalition Forces seized the "whole land" of Iraq by mid-April, 2003, We have been in the process of destroying it with the severe contamination of Iraq through Depleted Uranium munitions!
But, Isaiah 13 is not finished with Iraq. After being assaulted by Coalition Forces -- "from a distant country, from the uttermost part of the heavens", God foretells that civil war will fall upon the country and that the Medes (Kurds) will move in to complete the 'ethnic cleansing" of the Iraqi people.
"Everyone who is found will be thrust through, and everyone who is connected with the slain and is caught will fall by the sword. Their infants also will be dashed to pieces before their eyes; their houses will be plundered and their wives ravished." [Isaiah 13:13-16; Ibid.]
God brings the Medes against the land of Babylon. The modern day descendants of the Medes may be the Kurds, who are right now caught in the middle of this conflict, but who are very eager to destroy Iraq in revenge for the terrible atrocities inflicted upon them by Saddam Hussein. Easton's Illustrated Dictionary lists the Medes as part of the Assyrian Empire, which covers the area of today's Iraq, Syria, Lebanon. This area borders on the mountainous border of Iran (Persia). Remember, the army that destroyed Babylon in Daniel 5 was a combined army from Medo-Perisa. The Kurds occupy exactly these regions today and are a serious problem to the nations of Iraq, Iran, and Syria. Even Turkey has a sizable Kurdish population now.
If the Kurds are going to be turned at the very end of the age against the now hapless Iraqi citizens after the destruction of the Iraqi military machine by American-led forces, then the description of this destruction in the following verses makes a lot of sense.
"Behold, I will stir up the Medes against them, who have no regard for silver and do not delight in gold [and thus cannot be bribed]. Their bows will cut down the young men [of Babylon]; and they will have no pity on the fruit of the womb, their eyes will not spare children. [Isaiah 13:17-18; Ibid]
One note of caution is merited here. This tragedy of uranium poisoning is a silent, slowly-developing affliction. Iraq will not likely be suffering her final stages of uranium killing the entire nation for another 10 years. In the meantime, the Elite does plan to build Shi'ite Iraq up to economic superpower status, where her dramatically increased oil output will go a long way in replacing Saudi Arabia's output, as we report in our new DVD, "Bringing Saudi Arabia Down".
The Elite knows that, in the final analysis, they can simply step in to operate Iraq's oil fields once so many people have died that Iraq is no longer a viable nation.
NOTE: This News Alert continues following the product advertisement, below.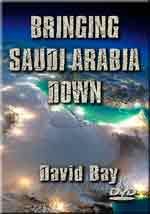 TWO NEW DVD's FROM CUTTING EDGE FILMS
"Bringing Saudi Arabia Down: Without Destroying World Economy" by David Bay

Saudi Arabia's brutal dictatorship must be overthrown according to the Pentagon's New Map Strategy. This war strategy -- followed since the 2001 Afghanistan invasion -- is overthrowing every single dictatorship in the Middle East and Africa. Already, Saddam Hussein of Iraq, Ghaddafi of Libya, Mubarak of Egypt, and Saleh of Yemen have been overthrown, while Syria's Assad is holding on to power by a thread. Find out more and Watch the Trailer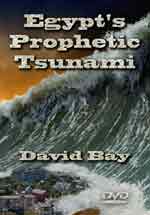 'Egypt's Prophetic Tsunami' - Isaiah 19
Still only $14.99, 53 minutes long
Egypt is dropping into the Abyss of her prophetic End Times Judgment - Isaiah 19. Current events are aligning perfectly with 2,600-year-old prophecy! Prepare to be amazed.
Isaiah 19 foretells two major events occurring in Egypt that will deliver her End Times destruction. These two events are:
1) Her government will turn severely dictatorial and will oppress the people. This oppressive government will spark a civil war in which Egyptian kills Egyptian;
2) The Nile River will inexplicably rise up in huge volume and will destroy Egypt's ability to feed herself. Ethiopia's Renaissance Dam is so poorly designed and built that it could burst, literally sending a tsunami wave all along the Nile River in Egypt.
But that's not the "end of the story"!
After pronouncing a death sentence on Egypt by the rampaging flood waters from the Nile River , God turns in great mercy to pronounce a millennia of blessing upon the Egyptian people!
Truly, these are exciting prophetic times - Watch the Trailer or order yours today.
II. The Entire Middle East is at war right now.
After tearing down the current national line-up, this chaos will enable the Elite to redraw the map using the 2006 Pentagon Map as their blueprint.
NEWS BRIEF: "Operation Charlie Foxtrot: Entire Middle East is at war right now", by DAVID ROTHKOPF, Foreign Policy News, March 27, 2015
"The entire Middle East is at war right now, and the Obama administration's strategic incoherence is aiding and abetting the chaos."
President Obama is simply continuing the plan set in motion by Former Republican President George W, Bush. The Pentagon's 2006 Map of the Middle East shows the new lineup of nations envisioned by the Illuminati. Please take a few moments to read our examination of this map and its major implications, in NEWS2544, entitled, "Iran Is Conquering Middle East: Last Target Israel".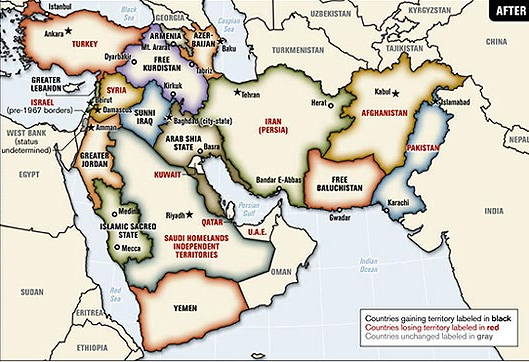 Now, let us return to our featured news article from Foreign Policy, to see how Bush's invasion of Afghanistan in 2001 has driven the entire Middle East into the kind of chaos the Elite needs if they are to redefine borders according to this map.
"Just because the Middle East's descent into chaos is hardly the fault of the Obama administration, that doesn't mean its policies in the region are not an egregious failure."
"The situation in the region is unprecedented ... For the first time since the World Wars, virtually every country from Libya to Afghanistan is involved in a military conflict ... The degree of chaos, uncertainty, and complexity among the twisted and often contradictory alliances and enmities is mind-boggling."
The time is coming soon when some leader will propose that an international summit be formed to "solve" all the problems caused by President Bush's invasions of 2001 and 2003 and by President Obama's bungled handling of his withdrawal from Iraq. The map shown above will be the result of this international summit.
No entrenched dictator will be left to hinder the imposition over this new Middle East and Northern Africa of Supernation #7 of the Club of Rome plan. The planned fires of war are burning hot all throughout the Middle East; the time for the final script for this region is drawing nigh!
NOTE: This News Alert continues following the product advertisement, below.
III. As Egypt enters her Final Days Judgment (Isaiah 19), the stage is being set for current events to occur precisely as this Judgment foretold 2,600 years ago.
NEWS BRIEF: "Egypt Officially Now In "Era of Water Poverty", Cairo Scene News, March 29, 2015
"Egypt's Minister of Irrigation and Water Resources announced - on the International Day of Water - that Egypt's water deficit is very real... As a third world country ... we are no strangers to poverty. But now we've apparently entered a whole new era and realm of poverty; that of the water variety. Yesterday, Egypt's Minister of Irrigation and Water Resources, Hossam Moghazi, said that we have officially entered 'an era of water poverty'."
"Our yearly consumption as a nation currently amounts to nearly 83 billion cubic metres but our actual share of Nile water is only about 55 billion ... The minister's statement comes just days after Egypt, Ethiopia and Sudan signed a Declaration of Principles, which outline some guidelines concerning the water sharing arrangement of the Nile in light of Ethiopia's under-construction Renaissance Dam, which is a source of contention among the Basin countries for fear that it will affect the water supply of downstream nations ..."
"Egypt's worry about a lack of water is now very real, as even before this dam gets built, we are already experiencing a shortage in supply. In a ministry event celebrating the International Day of Water, Moghazi proceeded to make the most uncelebratory statement possible; "Egypt has entered the era of water poverty. We have to rationalise consumption so we are accountable to Egypt's agricultural, industrial and drinking water needs."
This unusually mild statement of impending water doom does not adequately describe the magnitude of water disaster facing Egypt right now. As we report in the DVD, above, "Egypt's Prophetic Tsunami", Egypt will face two very different water disasters, at two very different points in time.
1) As the new Renaissance Dam is completed, and begins diverting water to fill her enormous basin, Egypt will be deprived of virtually all water for two years! That scenario is an absolute disaster for a nation living in such a dry, desert climate as Egypt.

2) After the Renaissance Dam is either blown up or collapses because of poor engineering, the resulting tsuami of water will destroy today's Egypt.
This Renaissance Dam project will fulfill Isaiah 19 prophecies. Doubt it not!
DVD - "Escaping Common Core: Setting Our Children Free"
Key Speaker Ray Moore, Executive Producer of "IndoctriNation" DVD
Common Core is a new label for state -controlled public education standards in an ongoing attempt to dumb down' the American educational system, a struggle that has raged for decades. Common Core will cause some students to become confused and to give up on academics. Are you horrified at the limited reading skills of children and young adults today? Just wait until this curricula has been taught for ten years! Few people will be able to read anymore.
We are NOT advocating that Christian parents aggressively try to reform the public school system from within. That concept is NOT biblical, has been tried for 40 years, and will never work. Scripture commands families to provide Christian education, not a secular or godless education.
We advocate that Christian parents remove their children from public schools to enroll them in the safe sanctuary of private Christian schools, home school or online Christian education.
The Bible tells the believer: 'Come out from among them and be ye separate, says the Lord...' (2 Cor. 6:17)
This 'Call To Action' is Biblically based! Many parents today refuse to address the spiritual forces endangering their childrens beloved eternal souls in public schools. Many are too in love with the worlds system - even if they have to send their precious children to a pagan, atheistic, hostile public school. Our approach is Biblical, following the express teaching of the Bible on how to raise and educate children, an essential part of our Christian walk of faith and obedience to Christ. We are hopeful that the Holy Spirit will use this message to spark the next revival.
Speakers include: Ray Moore - Exodus Mandate, and Executive Producer of 'IndoctriNation' - will be the featured speaker.
Other speakers include:
Mac Dominick, Cutting Edge author
Walter Corbett -- Retired Public School Teacher of Advanced Physics
Brian Ray, National Home Education Research Institute
John Becker and Andy Thompson - Ohio Representatives
Dr. Carl Broggi, Pastor, Community Bible Church.
Run Time will be 1 hour, 30 minutes. Ready to ship early May

If you could possibly help us out with a donation to properly fund this monumentally important goal of producing this DVD warning of the dangers of Common Core and providing a workable solution, we would greatly appreciate it. Common Core is both an educational and a spiritual problem and, as such, we are praying that the Holy Spirit trigger an End Times revival on the level of the Great Revival of 1741.
But, we are short of funds to send our film crew to the locations needed to interview key speakers and to properly present this documentary at key shows in the next 30 days. Will you help?
---
Iran's prophetic participation in the Russian-led invasion of Israel (Ezekiel 38-39) takes on a deeper understanding once we comprehend Iran's preparations currently underway.
Subscribe To Headline News For Only $25 per year!
See All Our $9.99 Books / DVD's
72 Titles From Which To Choose!

See All Our $4.99 Books DVD's
30 Titles From Which To Choose!
---
May Jesus Richly Bless You,
David Bay, Director
Cutting Edge Ministries
800-451-8211