Hot News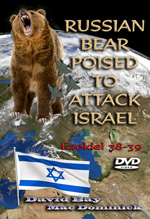 Trailer
I. Russian and Chinese navies are conducting joint exercises in the Mediterranean this week and in the Sea of Japan in August.
Russia is moving toward China right now, but soon, God will sink His Omnipotent hooks into "Gog's" mouth to turn him toward Israel (Ezekiel 38-39)
NEWS BRIEF: "Russia-China clinch tightens with joint navy exercises in Mediterranean", The Telegraph (UK), 11 May 2015
" Russia and China are launching joint naval exercises in the Mediterranean for the first time, in the latest sign of strengthening ties between the two countries. About 10 warships will take part in the drills starting on Monday, which are expected to run until May 21. Moscow has been tightening its clinch with Beijing in the face of sanctions imposed by the United States and the EU over the Ukraine crisis. "
Russia has been "tightening its clinch with Beijing" for several years now on the world's economic stage. Brazil, Russia, India and China, have cooperated to form an economic alliance known as "BRIC", comprised of nations "which are all deemed to be at a similar stage of newly advanced economic development."
"The acronym has come into widespread use as a symbol of the apparent shift in global economic power away from the developed G7 economies towards the developing world."
Given the immensity of current Gross National Product and the future expansion, one should not be surprised to learn that Russia and China are now cooperating in a different sphere of activity, i.e., in military expansion. At the very time American and E.U. naval ships are actively monitoring the Saudi blockade against Yemen, and Iran's determination to break it, this joint Sino-Russian naval exercise should not surprise anyone.
At the very least, America is now put on notice that her naval ships are not the only modern warships in the area.
Dr. Kevin Clarkson, of Prophecy In The News, and David Bay of Cutting Edge Ministries, discuss in depth the process of over throwing Saudi Arabia's brutal dictatorship in the new Cutting Edge Films DVD - 'BRINGING SAUDI ARABIA DOWN'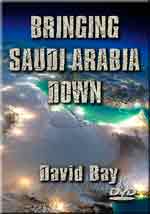 II. Saudi Arabian air forces resume heavy bombing after ground troops came under fire along the border.
An Iranian flotilla of aid ships continues to draw nigh to Yemen, protected by Iranian warships.
NEWS BRIEF: "Saudi Arabia Resumes Yemen Airstrikes Shortly after Truce Ends", Telesur TV News, 18 May 2015
"Saudi-led airstrikes began after a five-day humanitarian truce expired. Heavy clashes left several dead Saturday night ... witnesses reported explosions could be heard near the airport and two key neighborhoods in the port city of Aden ..."
More worrisome are the clashes along the Saudi Arabian/Yemen border, where 150,000 Saudi ground troops and tanks and truck-propelled heavy artillery are amassed. Coupled with the Saudi warning to civilians living along the border to evacuate immediately, this military build-up strongly indicates that a ground invasion by Saudi Arabia is growing close and is inevitable.
However, this war will explode to new heights should Iran and Saudi Arabia directly face off in direct battles.
NEWS BRIEF: "Iran is challenging Saudi Arabia in waters off Yemen", Business Insider, May 17, 2015
"An Iranian cargo ship carrying aid and activists crossed into the Gulf of Aden on Sunday and will reach Yemen's Hodaida port on May 21 ... in a challenge to Saudi-led naval forces controlling Yemeni waters. A coalition of Arab countries led by Saudi Arabia has imposed searches on all ships trying to enter Yemen in a bid to prevent weapons being smuggled to the Iran-allied Houthi rebel group which controls much of the country, including Hodaida."
Iran has bluntly challenged this Saudi-led naval embargo.
"Iranian officials last week said they would not allow the Saudi-led forces to inspect the Iran Shahed, which is under military escort, and warned of war if the cargo ship was attacked."
"War" is the word which is causing diplomatic electricity throughout the entire region. Then, Iran told of the provocative sea route this cargo ship was planning to take. Instead of landing at Aden, which the Shi'ite Houthis forces control, Iran's naval escort is going to take the cargo ship through the Strait of Bab el Mandeb! (See map on Business Insider).
"Reuters ship tracking data showed the Iran Shahed located off the coast of eastern Yemen at 1110 GMT, heading west towards the Bab el-Mandeb strait, one of the world's busiest oil shipping routes."
Thus, the stage seems set for a military confrontation between Iran and Saudi Arabia. Since Iran is negotiating with the Western Powers for the cessation of the crippling economic sanctions, this war will come at a very interesting time. Will the West continue its path of dropping sanctions if Iran is battling Saudi Arabia.
The conflict thus far is consistent with the scenario we laid out in our new DVD, "Bringing Saudi Arabia Down"!
NOTE: News Alert continues after the advertisement, below
---
Prophetic War Drums Are Coming Alive!
Stage Is Now Set -- Alliances In Place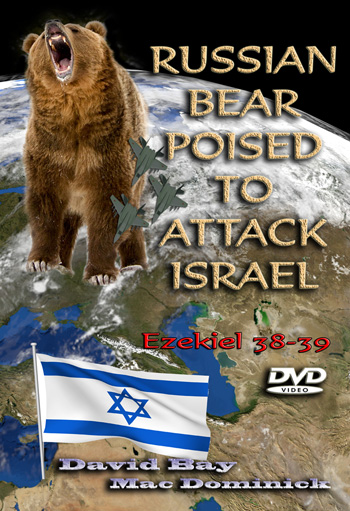 "Russian Bear Poised To Attack Israel: Ezekiel 38-39"
The Prophet Ezekiel foretold of a time at the End of the Age when Russia would lead a confederation of armies in an attack on Israel. The imagery of such an attack is stupendous and has excited people all through the ages.
Imagine! A vast army led by the largest country on Earth converging upon the smallest nation on Earth, and joined by some very formidable foreign troops, and still Israel wins this one-battle war. Actually, God wins the battle and annihilates both the troops in the field and the countries which sent them.
Today, the countries listed by Ezekiel 38-39 as joining in this formidable war have already coming together in alliance and are led by virulently anti-Israel leaders. The countries, the leaders, and the weaponry are all in place, awaiting only the SUPERNATURAL call from "Gog" to battle. The major emphasis of this study is Daniel 10, which reveals that human leaders are under constant assault from "Demonic Overlords" to do Satan's bidding. In this case, that overlord is named "Gog, of Magog"!
As these nations are awaiting the summons to march toward Israel, they are protected by Ezekiel 38-39 right now from any destruction or 'regime change'.
Truly, the world stands at the precipice of the End of the Age. While there will be NO Israeli or American attack on Iran, these 'Rumors of Wars' serve a very useful purpose as the Illuminati seeks to manipulate events in the world to her advantage so she can ultimately stage her Masonic Christ (Antichrist).
1 hour - $14.99 Shipping now! Order yours today
---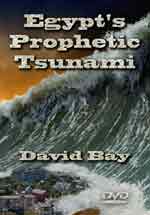 Trailer
III. Egypt's prophesied civil war may be close, as government has issued a Death Penalty to former President Morsi, a Muslim Brotherhood leader
Immediately, two judges are assassinated by the Brotherhood in protest
NEWS BRIEF: "Former Egyptian President Morsi Sentenced to Death", Egyptian Streets News, May 16, 2015
"Deposed President Mohammed Morsi has been sentenced to death on charges of escaping from prison. The Court has referred the papers of Morsi and 104 others to the Grand Mufti, Egypt's top Islamic scholar, for confirmation of the death sentences. "
The world was caught off-guard in these brutal sentences of so many Muslim Brotherhood leaders, including Egypt's first democratically elected President, Mohammed Morsi. Immediately, strong reaction exploded. Brotherhood extremists carried out assassinations!
NEWS BRIEF: "Two Egypt judges killed hours after Morsi sentence to death", The Australian, May 18, 2015
"The assassination of two Egyptian judges and a prosecutor in the volatile Sinai Peninsula has raised concern of payback from ­Islamic extremists for the sentencing to death of deposed president Mohamed Morsi. The court officers were gunned down hours after Morsi was condemned to die by a Cairo judge ... The attack took place in the provincial capital of El-Arish in the Sinai, where security forces are locked in a bloody struggle with an offshoot of Islamic State. A driver and second prosecutor were wounded when gunmen opened fire, killing the three ­judicial officials as they were being driven to court."
This strong reaction attack was accompanied by warnings of several top Middle East officials that Egypt will face exceedingly strong reaction if they do execute Morsi.
NEWS BRIEF: "Middle East turmoil if Morsi executed: Turkey warns", The Daily Star (Lebanon), May 18, 2015
"ANKARA: Turkey's presidential spokesman said Monday that the Middle East would be thrown into turmoil if death sentences handed down in Egypt to former President Mohammad Morsi and other senior Islamist figures were carried out. Ibrahim Kalin told a news conference in Ankara that Turkey would work with the U.N. Human Rights Commission following the sentences, and take 'all necessary steps' ... Turkish President Tayyip Erdogan is a vocal supporter of Morsi and the Muslim Brotherhood."
With Turkey threatening to invade Syria to help overthrow President Assad, this threat against Egypt takes on new scope. If Turkey is willing to put her troops on the northern border of Israel, she may be willing to militarily act against Egypt as well. Such an attack may take the form of supplying anti-Egypt forces weapons and logistical support. But, at the very least, Egypt threatens to alienate Turkey with this death sentence against former President Morsi.
NEWS BRIEF: "Strong Egypt Party Warns: Regime dragging Egypt into civil war ", Middle East Monitor, May 18, 2015
"The Strong Egypt Party has criticised the ruling regime saying it will drag the country into 'civil war'. Headed by Dr Abdel Moneim Aboul Fotouh, a former presidential candidate, the party's remarks came in response to the execution of six people ... He warned that "the Egyptian regime's unprecedented escalation against its opponents over the past few days will drag the country into civil strife."
As we demonstrate in our new DVD, "Egypt's Prophetic Tsunami", one of the judgments God delivers against Egypt in Isaiah 19 is unprecedented Civil War! Listen:
"The burden of Egypt ... and the heart of Egypt shall melt in the midst of it. And I will set the Egyptians against the Egyptians: and they shall fight every one against his brother, and every one against his neighbour; city against city, and kingdom against kingdom. And the spirit of Egypt shall fail in the midst thereof; and I will destroy the counsel thereof...." (Isaiah 19:1-3)
God will cause this civil war to result in the most severe Absolute Dictatorship imaginable. When you read this prophecy, you have to wonder if the Muslim Brotherhood might be swept back into power.
"And the Egyptians will I give over into the hand of a cruel lord; and a fierce king shall rule over them, saith the Lord, the Lord of hosts." (Isaiah 19:4)
Make no mistake about it; President Sisi is stirring up intense hatred from supporters of the Egyptian Brotherhood. Civil War is a logical outcome if Sisi carries out executions of several hunderd dissidents.
As this prophesied Civil War unfolds within Egypt, we must remember that God's second judgment will come from the Nile River. fist, the Nile will dry up as the reservoir behind the Renaissance Dam fills to capacity and then an awful deluge as the 60-foot-high wall of water come crashing down as the dam either collapses from shoddy work or is blown up.
---
Dynamic New DVD - by Cutting Edge Films"Invisible, Invincible Mind Control - YOU Are Targeted"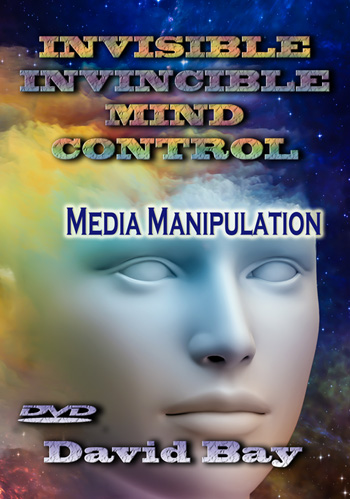 Only $14.99
You will be shocked to learn how totally bombarded with Change Agents you and your loved ones are every day.
This crisis is all the more sinister because it is invisible to those who have already become captive to its lie. How did we get to this point? Over the next hour, we will demonstrate a Six-Step Process by which people's attitudes are being changed permanently on a population-wide basis.
This process was developed to change those most-deeply held attitudes, which naturally are traditional Christian values. Once you hear this process, and understand the examples of its use, you will realize it is being simultaneously utilized in many areas by the Mass Media.
Even more ominous is the reality that, once a person's attitudes and/or values are changed by this method, they will not realize they have been changed by external forces. Rather, they will believe they have arrived at this new set of values on their own and they will defend against any attempt to change back to the old values and/or attitudes. You must protect against these change-forces from the beginning or you can lose your children.
We identify the Change Agents and show you how to defend yourself and your precious children.
Run time is 1 hour order yours now
Related Bookstore Items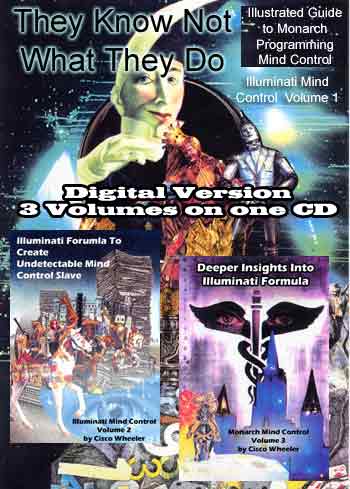 "Wheeler Three Volumes of Illuminati Monarch Programming Mind Control"
Digital Version On One CD
If three Books bought separately - $279.85
This Digital Version - $99.95
Training Manual Volumes 1, 2 and 3, for a very special price, saving $180 over buying all three separately as books.
This digital version comes to you on 1 CD in Adobe Acrobat PDF format and can be read on your computer screen or pages can be printed. The volumes are encrypted and password protected. Cisco Wheeler's father was a high-level Illuminist Wizard, and put Cisco through this entire Mind Control training. Later, Cisco would train others. These three volumes are THE definitive explanation of Illuminati Mind Control, and will answer many of your questions as to what is possible with individuals and with entire populations. After reading these volumes you will see how Biblical prophecy about the entire population rushing to worship and serve Antichrist, as foretold in the Book of Revelation will be fulfilled.
Volume 1 is entitled, 'They Know Not What They Do' explains and exposes the methodologies and horrors of Monarch trauma- based mind control. In this book we see a series of colored collages and explanations which describe the inner worlds of mind control victim. Volume 2, entitled, 'Illuminati Formula To Create Undetectable Mind Control Slave' explains in detail how the Monarch trauma based mind control system is set-up and layered into a victim. Volume 3, entitled, 'Deeper Insights Into Illuminati Formula', presents more in-depth and detailed insights into trauma based mind control as well as methods for deprogramming and therapy.
Total number of pages if you bought these three as books is 1,302 pages! http://www.cuttingedge.org/detail.cfm?ID=2683
Iran's prophetic participation in the Russian-led invasion of Israel (Ezekiel 38-39) takes on a deeper understanding once we comprehend Iran's preparations currently underway.
Subscribe To Headline News For Only $25 per year!
See All Our $9.99 Books / DVD's
72 Titles From Which To Choose!

See All Our $4.99 Books DVD's
30 Titles From Which To Choose!
---
May Jesus Richly Bless You,
David Bay, Director
Cutting Edge Ministries
800-451-8211