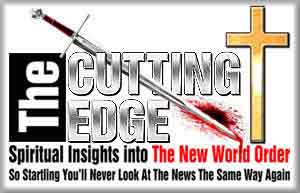 News Alert
Monday 7/10/2017
View the full News Alert online here
HOME - Book Store - News Alert Archives -Daily News Updates - Facebook
---
Excellent New Bookstore Items!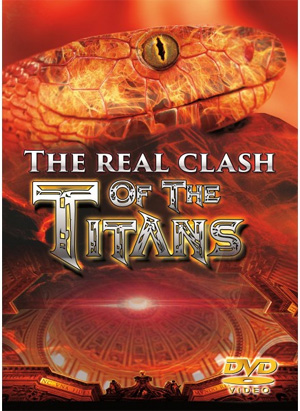 "The Real Clash of Titans DVD"
Five (5) Hours Long, Only $19.99
Bible stories you've known since childhood are actually accounts of supernatural war between God and the gods who rebelled. In three paradigm-changing presentations, Derek P. Gilbert, author of The Great Inception, shows where and how these battles took place and the importance of holy mountains to the rebels who conspire to steal the throne of God.
Satanists today continue this goal of storming the Throne of God after beating Jesus Christ at the Battle of Armageddon! At this point, the ultimate battle as shown in Daniel, Chapter 10, will erupt in the Heavenlies.
Gilbert also shows, through research into archaeology and ancient languages, that the Titans of Greek myth were real, and that God once did battle with the demigod Hercules. Also included on this DVD are two hours of exclusive TV interviews with renowned Bible scholar Dr. Michael S. Heiser, author of the groundbreaking book, Reversing Hermon. Dr. Heiser shows from the Bible that the sin of the angelic Watchers on Mount Hermon, mentioned briefly in the book of Genesis, is far more important to Christians than we have been told. In fact, understanding their sin is key to comprehending the full mission of Jesus Christ. -- http://www.cuttingedge.org/detail.cfm?ID=2776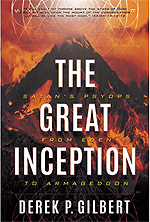 "The Great Inception-Satan's Psyops from Eden to Armageddon"
317-Page Book, Only $19.99
You stand on a battlefield, surrounded by an enemy that you've been told doesn't exist. This is a classic example of a PSYOP a psychological operation, a mission to change what you believe by feeding you information that is inaccurate, incomplete, or an outright lie.
This PSYOP is one of many by entities who've been at war with God since the Garden of Eden. The Bible calls them gods. God Himself calls them gods. But we have been taught that they're imaginary, so we stumble around the battlefield completely unprepared to defend ourselves and the ones we love. In The Great Inception, you will learn:
* How we know the war between God and the gods is real
* The importance of mountains ' and the holy mountain where the final battle will be fought
* Why the Tower of Babel was not in Babylon and the real reason God stopped it
* Where God led His heavenly army to battle the chief god of the Canaanites
* The true identities of Satan and Apollyon, king of the demons in the abyss
* The mystery behind what God meant when He told Abraham about 'the sin of the Amorites'
* Why the Red Sea crossing was a literal battle between God and Ba`al (and why a Canaanite god was in Egypt in the first place)
* The startling connections between the Titans of Greek mythology, the Nephilim of Genesis 6, and the people who fought Israel from the time of Moses to the present day
* Where Jesus did battle with the rebel gods
* How the moon-god of ancient Babylon is still influencing world events today
* Where Armageddon will be fought (and why it is not where you think)
* And a possible end-times scenario that includes the most diabolical double-cross in history
Combining research from scholars of ancient history, languages, archaeology, and Bible prophecy, Derek P. Gilbert shows that the Bible is anything but a boring list of thou-shalt- not's; it's an epic tale of a war between God and the rebel gods who want to usurp His throne before He can restore humanity to His holy mountain.
You will realize that the battles in the heavenlies between Godly angels and demonic beings as revealed in Daniel, Chapter 10, has been occurring from before the Foundation of the World and will continue until the Battle of Armageddon is complete. http://www.cuttingedge.org/detail.cfm?ID=2777
---
Critical News Headlines -- End Times
1. President Trump spoke to the Polish nation and boldly uttered a most powerful plea:
"We Want God"!
Has Trump invoked God's promise of national reconciliation of 2 Chronicles 7:14?
Trump also attacked the very Globalist foundation of the New World Order in this speech! How long will the Illuminati continue to allow him to erode their Globalist structure?
2. President Trump announced that he and the President of Mexico are "negotiating" NAFTA?
This trap is deadly and could give the world the global ideal for which they are panting, Supernation #1 of the 10-Nation Reorganization Plan of the Club of Rome!
3. During their time of negotiating at the G-20 Summit, Presidents Putin and Trump reached a ceasefire in Syria.
Is it time for the Elite to end this war in Syria and begin the next phase, which we have dubbed "Bush's New Middle East Map"?
---
Book of Genesis: Critical to Judeo-Christian Faith
New DVD Series by Mac Dominick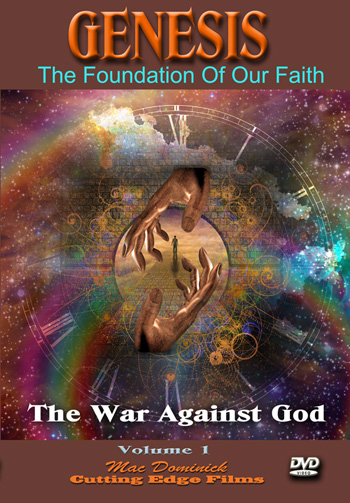 "GENESIS: The Foundation of Our Faith "
Volume 1, In The Beginning, GOD Created
Regularly $24.99, Only $19.99
If you liked Mac Dominick's Revelation Series you will love his Genesis Teaching, because Mac also teaches a combination of Traditional Bible exegesis plus unique Cutting Edge understandings.
'IN THE BEGINNING, GOD CREATED..."
God instantly claims this Earth and the Universe as HIS, uniquely belonging to Him because He created it by His Wisdom and Power. Evolution is forever debunked as a false system of belief, coming from Satan out of the Abyss.
Did you know that the sequence of creation listed in Genesis 1 is precisely the order scientists and mathematicians know that is essential to creating the world? At the conclusion of each of the SIX DAYS OF CREATION, God examined His work for that day, and pronounced it 'good', or 'approved'. But, on the sixth day, when all was created, God pronounced His work 'very good'.
Mac teaches Genesis One in light of essential faith and in End Times' prophecy, surprising even the most hardened skeptic.
2 hours run time, Mac plans 4 DVD's in this series - shipping July 24 http://www.cuttingedge.org/detail.cfm?ID=2775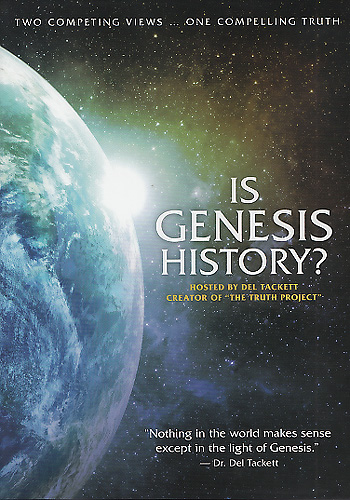 "Is Genesis History? DVD"
"Two Competing Views ... One COMPELLING TRUTH" Is Genesis History? Author examines the world and explains how the evidence intersects with the history recorded in Genesis. From rock layers to fossils to lions to stars, this fascinating film will challenge and change the way you see the world.
This new documentary is hosted by Dr. Del Tackett, creator of 'The Truth Project', and features CMI's own Dr. Robert Carter. Featuring top notch footage and over a dozen scientists/scholars, it's a fascinating look at the biblical, historical, and scientific evidence for Creation and the Flood.
Dr. Del Tackett, serves as your guide- hiking through canyons, climbing up mountains, and diving below the sea in an exploration of two competing views & and one compelling truth.
103 minutes run time
Check out related DVD, 'Genesis War Against God', by Mac Dominick
---
Critical News Analysis
1. President Trump spoke to the Polish nation and boldly uttered a most powerful plea:
"We Want God"!
NEWS BRIEF: "Editorial: Trump's statesmanship shines through Warsaw speech", Richmond Times Dispatch, July 8, 2017
"Donald Trump delivered a remarkable speech in Warsaw Thursday, as thousands of free Poles chanted the American president's name. He praised his hosts for their courage and sacrifice across generations in defense of Polish independence and the liberty of the people — and reminded them that Americans are their allies in that unending struggle. 'Our two countries share a special bond forged by unique histories and national characters', the president said. " 'It's a fellowship that exists only among people who have fought and bled and died for freedom'."
When reading the full text of the President's speech, I broke down several times to cry for his full-throated proclamation of individual right and freedom, values which had built American greatness but which had been driven nearly to extinction by the godless Liberal leaders of our country.
Neither President Obama nor Former Secretary of State Hillary Clinton had ever claimed to uphold these Judeo-Christian values. Since the 2016 election, as I have surveyed the power of Liberal and RINO leadership from all parts of our country, I am horrified to realize how close Global Elitism had come to achieving all power -- completing destroying this formerly great nation built on Judeo-Christian values.
And, what was the name of their new global godless system: New World Order!
Also known as "The Kingdom of Antichrist"!
Now, let us return to our featured editorial.
"Trump recalled the Warsaw Uprising of 1944 in defiance of the Nazis. He talked at length about the decades-long struggle against communism and suffocating oppression by the Soviet Union. He spoke movingly of Pope John Paul II's 1979 sermon in Warsaw, when 'a million Polish men, women and children suddenly raised their voices in a single prayer. A million Polish people did not ask for wealth. They did not ask for privilege. Instead, 1 million Poles saying three simple words: 'We want God'. In those words, the Polish people recalled the promise of a better future. ... Their message is as true today as ever."
"The people of Poland, the people of America and the people of Europe still cry out, 'We want God'."
In one leadership statement, the President of the United States stated that he identified with the sentiment of one million Polish men, women and children as they shouted:
'We want God'."
Has Trump invoked God's promise of national reconciliation of 2 Chronicles 7:14?