Critical News Analysis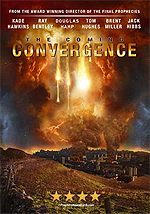 DVD
1. India and China are edging closer to war over the disputed Doklam Border area.
NEWS BRIEF: "China Says Countdown For War With India Has Begun", Yahoo News, August 10, 2017
"The relationship between India and China seemed to worsen Wednesday ... when an editorial in the state-run China Daily said that the 'countdown to a clash between the two forces has begun'."
"The China Daily editorial said the clock was ticking and that it seemed like a clash would be "an inevitable conclusion" between the two prominent Asian countries if India did pull back its troops from the disputed Doklam region."
Most Americans have never heard of this small border area between India and China. In fact, these two nations fought a bitter war in 1962 over this border. But, now, at the same time the world seems trembling over North Korea nuclear conflict, we are being subjected to another 'RUMORS OF WARS'!
"The article referred to a border standoff between the two countries that has continued for over two months. The controversy began when India opposed China's plan to extend a border road through a disputed plateau which Bhutan says is its Doklam region and China claims as part of its Donglang region."
"While China has warned India about consequences of not pulling back its army, India does not look like it is backing down. Speaking in India's parliament on Wednesday, Defense Minister Arun Jaitley said the country was ready to meet any challenge. "
This potential war is over National Sovereignty. China and India are attempting to control this small border area because they claim sovereignty over it. But, National Sovereignty is the main obstacle the New World Order leaders face in their attempt to force all sovereign nations to surrender that sovereignty to a Global Government led by the newly-arisen Masonic Christ (Antichrist).
If this war erupts at the same time the North Korea nuclear confrontation explodes, a war between Israel and the Palestinians would provide truly a World War!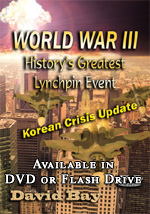 Trailer
2. North Korea confrontation update.
NEWS BRIEF: "N. Korea 'on standby to launch,' state-run paper says in response to Trump's latest warnings", Fox News, August 12, 2017
"North Korea took its turn Saturday in the country's escalating, back-and-fourth with President Trump, with the state-run newspaper saying leader Kim Jung Un's revolutionary army is 'capable of fighting any war the U.S. wants'."
North Korea's bellicose statements are much more colorful than Saddam Hussein's "Mother of All Battles" cry, don't you think? Since escalating public rhetoric most often precedes war, we all should be alerted to the escalating "war of words" between Trump and Kim Jung Un!
NEWS BRIEF: "Top U.S. General Readies Military Plan for North Korea", End Times Headlines, August 13, 2017
"The Pentagon's top military officer said here Sunday the focus remains on finding a diplomatic solution to the North Korea missile crisis, even as the military works up viable options in case they become necessary ... "As a military leader, I have to make sure that the president does have viable military options in the event that the diplomatic and economic pressurization campaign fails," said Chairman of the Joint Chiefs of Staff Gen. Joe Dunford in his first public remarks since the crisis escalated with North Korea's launch of a second intercontinental ballistic missile late last month."
North Korea is also poking the United States in the eye by preparing to demonstrate her ability to launch missiles from submarines!
NEWS BRIEF: "Satellite photos suggest North Korea preparing submarine missile test", France24 News, 12 August 2017
"WASHINGTON (AFP) -
Recent satellite photos suggest North Korea could be preparing for fresh submarine-based ballistic missile tests, an expert on its military said Friday ... 'Recent commercial satellite imagery reveals several developments suggesting that North Korea may be accelerating the development of the sea-based leg of its nuclear forces', he said."
How important is a submarine ballistic missile capability? Very important.
"A proven SLBM system would take North Korea's nuclear strike threat to a new level, allowing deployment far beyond the Korean peninsula and a 'second-strike' capability in the event of an attack on its military bases."
Let us hope that America's Naval capability to locating and destroying submarines is as capable as we have been led to believe! Otherwise, North Korea could park her SLBM's right off our coast!
All the Mass Media coverage of this "potential nuclear confrontation" is having its desired effect: People are becoming increasingly frightened!
NEWS BRIEF: "North Korea is scaring more Americans than ever: Poll", Newsweek, August 7, 2017
"North Korea's nuclear production, missile tests and verbal warnings are really wearing on the U.S., according to poll results out Monday from the Chicago Council on Global Affairs."
In fact, this current name of the organization is fairly new.
"In September 2006, the Council changed its name from the Chicago Council on Foreign Relations to the Chicago Council on Global Affairs." (Wikipedia)
Notice that this information is coming from the "Chicago Council on Global Affairs", a "Think Tank" who shares the same globalist goals as the Council on Foreign Relations. Therefore, this story may be propaganda. But, we report on it because this war is being fought along propaganda lines as much as it is along military lines!
"In the think tank's 2017 foreign policy survey, 75 percent of Americans said they believed Pyongyang's nuclear program has become a critical threat to the nation ... Americans across the political spectrum expressed anxiety about North Korea, which, according to ABC News, has launched 11 rockets this year alone and triggered an international debate about how to respond to the escalating aggression. Eight in 10 Republicans, 75 percent of Democrats and 72 percent of Independents said they thought North Korea's nuclear program was a critical threat to the U.S."
In other words, President Trump will go into any war with North Korea heavily backed by public opinion, across the political spectrum. Leftists and/or Democrats who would want to come out against the President on this issue had best be very careful what they say, because they might be arrested on charges of sedition, or at the very least, the Democrats might find that they have alienated still more voters.
In this next segment, notice that the American tussle with North Korea is furthering the global government agenda.
NEWS BRIEF: "North Korea creating sense of urgency for Haley, Tillerson & Trump: Gen. Keane said the U.S. is in a "very dangerous critical situation" , Fox Business News, August 8, 2017
""Now they see the international community standing with one voice… the international community really laid down the ground work saying, 'we're not going to watch you do this anymore.' Now, North Korea has to respond and yes they are going to say, they are going to threaten, they are going to do all of these things. But we are not going to run scared from them." (UN Ambassador Nikki Haley)
"General Jack Keane said the U.S. is in a 'very dangerous critical situation' as North Korea's military moves towards a nuclearized intercontinental ballistic missile [ICBM] capable of reaching the U.S. ... He also pointed out that U.N. leadership realizes President Trump will not accept nuclear missiles. 'They also recognize that there's different U.S. leadership in the White House and gone is the appeasement and accommodation of the Obama administration'."
Even Susan Rice, former National Security Director under President Obama, voiced publicly her expert opinion that Obama had failed the North Korea test.
NEWS BRIEF: "Obama National Security Advisor Susan Rice Admits U.S. Strategy on Countering North Korea Nukes Buildup Was a 'Failure',", Breitbart News, 11 August 2017
"Former President Barack Obama's National Security Advisor Susan Rice admitted on Thursday that, over the course of Obama's two terms in office, his administration failed to stop the communist North Korean government from building its nuclear weapons capability."
" 'You can call it a failure', Rice told CNN. 'I accept that characterization of the efforts of the United States over the last two decades'."
Barack Obama failed to stop the North Korean drive to build an intercontinental nuclear missile force in large measure because he could not live up to his threats, just as he demonstrated in Syria, when he refused to react militarily as Syrian forces violated his "Red Line" threat.
President Trump played with the mind of the North Korean dictator by proving he is unpredictable. He agreed that the United States might need to invade -- Venezuela!
NEWS BRIEF: "Trump Says 'Military Option' Possibility in Venezuela", Breitbart News, NBC News, August 11, 2017
"President Donald Trump raised the possibility of 'military option' in Venezuela over that country's president's power grab that has roiled the South American nation. 'We have many options for Venezuela, and by the way, I'm not going to rule out a military option," Trump told reporters..."
Now, Kim Jung Un knows that President Trump can be unpredictable!
Experts agree that the United States cannot wait much longer to strip North Korea of its nuclear capability, because they are steadily progressing in their military prowess!
3. The planned riots in American cities during World War III became a bit more real this weekend in Charlottesville, Virginia, and Seattle, Washington.
NEWS BRIEF: "Alt-Right Activists Condemn Violence, Dispute Mainstream Account", Breitbart News, 13 August 2017
"CHARLOTTESVILLE, VA – Conflicts with mainstream media and politicians', including Democratic Governor Terry McAuliffe's, characterization of events surrounding the white nationalist Unite the Right rally emerged quickly over the weekend.
"I have a message to all the white supremist [sic] and the Nazis who came into Charlottesville today … You came here today to hurt people and you did hurt people," McAuliffe told reporters at a press conference Saturday night."
But, the Liberal Governor did not single out Leftist violence!
"The governor repeatedly emphasized the violence of "nazis" but made no reference to violence by any left-wing group, despite being asked repeatedly about what role such groups may have played in Saturday's melee ... But a report on police conduct during and after the rally by ProPublica, a left-leaning investigative journalism non-profit, as well as eyewitness accounts by those who participated in the rally itself, have called the simplicity of this characterization into question. Both suggest mismanagement of police resources by political leadership may have exacerbated, rather than controlled, the violence surrounding the rally and the counter-protests, which included mainstream liberals and local faith-based 'anti-racism' groups as well as radical leftist 'Black Lives Matter' (BLM) and 'Anti-Fascist Action' (Antifa) outfits."
In other words, Governor McAuliffe and his police managed to mismanage the policing of this event so that Leftist activists could carry out their own violence, knowing that the official report would exonerate them and intensify criticism of the right-wing protestors.
While we most certainly do not condone right-wing violence, we are more concerned that this weekend violence in Charlottesville and in Seattle might be "dress rehearsals" for the planned riots in American cities during this North Korean conflict. After all, that is the domestic plan.
NEWS BRIEF: "'Anti-Fascists' (Anti-Trump Protestors) Set American Flag on Fire in Seattle Clashes", Breitbart News, 13 August 2017
"Supporters of President Donald Trump and so-called 'anti-fascists' clashed Sunday in Seattle, with the latter setting an American flag on fire and covering their faces with bandanas, goggles, and masks. The 'anti-fascists' were there to oppose and to shout down the pro-Trump Patriot Prayer group, which organized the rally."
Do not be deceived: the Global Elite plan to instigate massive riots in American cities all around this country as the North Korean conflict is underway. Former National Security Advisor to President Nixon, Henry Kissinger, told a reporter during the Los Angeles riots, that the time would come when Americans would welcome foreign troops to aid in putting down massive riots in cities like Los Angeles.
Of course, riots in American cities at the same time as American forces are engaging North Korean forces would provide the Illuminati the excuse to suspend our Constitution and impose Martial Law, exactly as the Plan foresees!
Please take a few moments to read "Might President Trump Be Forced To Implement Martial Law During The North Korean War?"
---