Critical News Analysis -- End of the Age
1. Does the Bible offer any Divine guidance as to whether a citizen can build a wall to protect his property from unwanted intruders?
YES! Jesus said "BUILD THAT WALL"!
You may be shocked to learn that God, Jesus Himself gave permission to property owners to build a wall around their dwelling and to protect his property!
"When a strong man, armed, keepeth his palace, his goods are in peace." (Luke 11:21, KJV)
The Greek rendering provides an expanded meaning of Luke 11:21.
"When the strong man, fully armed, from his courtyard, guards his own dwelling, his belongings are undisturbed, his property is at peace and is secure." (Luke 11:21, Amplified Commentary, Emphasis added)
Notice that the purpose of Jesus' admonition is to use the force of arms to:
* "Guard how own dwelling" (Palace)
* To ensure that his belongings are not disturbed, but are kept "secure"!
* To bring peace to his household and to keep that peace
And, how does Jesus expect a property owner to accomplish this kind of protection for his home?
Jesus said "BUILD THAT WALL"!
The difference between an open field and a "courtyard" is a fence, a wall! Listen to the Dictionary:
"courtyard -- a court open to the sky, especially one enclosed on all four sides."
Furthermore, Jesus' wording provides the additional meaning that a wall around his property is part of the weaponry which a property owner can use to fend off unwanted intruders!
In Biblical terms, a wall is "moral" because it helps protect the innocent from harm or death.
"Keep thee far from a false matter; and the innocent and righteous slay thou not: for I will not justify the wicked." (Exodus 23:7, KJV)
From this stern message from God, we learn that the entire campaign to spread Fake News constitutes a "false matter" and will earn God's judgment.
But, further, this blatant call to murder innocent people is truly troubling to Almighty God!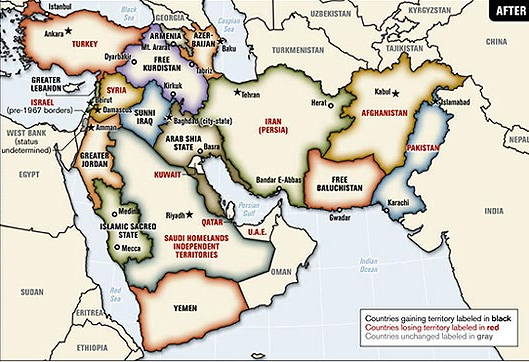 2. International diplomatic negotiations continue to abound between Russia, Turkey, Syria and the Kurds and will conclude soon with a new nation carved out of the Middle East -- "Free Kurdistan"!
NEWS BRIEF: "Russia continues to back dialogue between Kurds and Damascus", Kurdistan24 News, Jan 24, 2019
"ERBIL (Kurdistan 24) – Russian Foreign Ministry Spokesperson Maria Zakharova announced on Thursday that Russia continues to support greater communication between the Syrian government and Kurdish groups in the country's northeastern provinces ... Russia could play a role as a guarantor between the Syrian Kurds and Damascus."
Remember, the map shown above carves out changes which will create a "Free Kurdistan" while taking territory away from Syria, Turkey and Iran. Further, the only way in which these dramatic changes can occur is if both Russia and the United States are controlling the negotiations.
Therefore, it is highly instructive that current news reports are including all these nations!
NEWS BRIEF: "Turkey's Erdogan in Moscow for Syria talks with Putin", Rudaw News, 23 January 2019
"ERBIL, Kurdistan Region – Turkish President Recep Tayyip Erdogan is in Moscow for talks with Russia's Vladimir Putin as tensions mount over the future of Syria – the Kurdish-held north and Idlib in particular. Erdogan's office described it as a "working visit."
Notice that this next news segment states that Russia wants Syria to give up some territory, an absolute requirement if this new map is going to be created.
"Turkey is trying to expand its control in northern Syria ... Moscow, however, wants to see Syrian President Bashar al-Assad's government return to the roughly a third of the country that is being secured and administered by a Kurdish-Arabic alliance."
If "Free Kurdistan" is to be created, Syria must be forced to surrender exactly the territory described in this segment: "roughly a third of the country that is being secured and administered by a Kurdish-Arabic alliance."
In other words, Syria must give up the area northeast on the Eastern side of the Euphrates River!
However, either Russia or America must somehow guarantee that no regional nation -- Turkey or Iran -- can suddenly throw military forces into this region.
Russia and/or America could create air force "Safe Zone" in this area!
NEWS BRIEF: "Turkey, Russia have 'no problems' with northern Syria safe zone: Erdogan", Rudaw News, 23 January 2019
"ERBIL, Kurdistan Region – Turkey and Russia have no disagreement over the proposed safe zone in northern Syria, Turkish President Recep Tayyip Erdogan said on Wednesday after meeting with Russian President Vladimir Putin."
Erdogan has already had this conversation with the other superpower, America!
"Erdogan and US President Donald Trump are both backing the creation of a 'safe zone' that would push 32-kilometre deep into Syria along the length of the border with Turkey."
Next, we learn that the Kurds are also conducting dialogue with superpower Russia.
"The Kurdish administration is in talks with both Damascus and Moscow about its future ... Putin, who has propped up Syrian President Bashar al-Assad, said he supports dialogue between Damascus and the Kurds ... He said that the US pulling out of the country – where it is without the authorization of Damascus or under a UN mandate – is a 'positive step'."
Finally, Putin makes a reference to the implementation of an unidentified "plan" which is being worked out right now.
" 'In case those steps, those plans are really implemented, it will become a positive step and will help stabilize the situation in that troubled area of the Syrian state that is currently controlled by Kurdish units', he said. "
What is this "PLAN"?
You will find the details in our Headline News Article, NEWS2213, entitled, "President Bush's 2006 "Middle East Map" Is Enraging Friends and Foes Alike".
All this diplomatic activity is aimed at having the groundwork properly laid for the International Summit called by U.S. Secretary of State Mike Pompeo, scheduled for February 13-14 in Warsaw.
NEWS BRIEF: "Sec/State Pompeo announces international summit on Iran", Fox News, Jan 11, 2019
While the focus seems to be on containing Iran, the real agenda is to implement the 2006 New Middle East Map!
3. Senator Lindsey Graham (R-SC) is using his new position as head of the Judicial Committee to turn the political headlight on Obama's many scandals!
NEWS BRIEF: "Dems Angry As Lindsey Graham Uses New Judicial Committee Chair To Investigate Obama Era Scandals", Red State News, January 21, 2019
"Democrats are less than thrilled over the fact that Sen. Lindsey Graham (R-S.C.) has decided to use his new position as chairmen of the Senate Judicial Committee to look back into the scandals of the Obama Administration."
What are some of these scandals upon which Senator Graham intends to focus the light?
* "the FBI's investigation into Hillary Clinton's private email server"
* "the Foreign Intelligence Surveillance Act (FISA) warrant applications targeting former Trump campaign aide Carter Page."
We believe that Senator Graham is not only intent upon bringing long overdue focus on these matters of national security, but also to counteract investigations from the House on matters aimed at bringing President Trump down.
4. Covington Catholic School turns to Lawsuits to combat the vicious propaganda storm against her students.
NEWS BRIEF: "Covington Catholic High School Plans To Fight Back With Legal Action", One America News, January 23, 2019
"The aftermath of the Covington Catholic incident has many asking how the families and victims of this smear campaign can fight back. Legal analysts are saying they have a clear case of defamation."
The answer is to initiate lawsuits against individuals and organizations who are clearly defaming the good character of this Covington high school kids!
About Time!
Might this staged incident become a "Litmus Test" to determine who is honest and who is lying for propaganda effect?
5. The Progressive-Left is now openly calling for murder!
NEWS BRIEF: "Prog-Left Now Openly Calling All Would-Be Killers To The Kill", Canada Free Press, January 22, 2019
"Fueled by mainstream, social media and celebrity Twitter accounts, the hate-spewing progressive-left is now openly calling all would-be killers to the kill. It happened on Friday night when it became A-Okay to call for violence on Christian high school students who have been coming out in increasing numbers to 'march for life'."
The truly big story here is "that with the mainstream and social media and celebrities living behind walled mansions egging them on, the prog-left have gone all the way from mocking and smearing their targeted enemies to loud dog whistling to have them left vulnerable to potential physical harm."
Even the Catholic diocese is siding with the cowardly Left against these Catholic students.
"Covington Diocese continues to 'condemn' Catholic students, despite videos proving innocence."
What is the REAL reason that the Ultra-Left created this propaganda stunt?
"Make no mistake about it: the now viral Covington School debacle had nothing to do with racism or bigotry because the defiant intention of the prog-left is to defame the towering success of the 2019 March for Life."
In other words, the Left was embarrassed to admit that pro-Life forces had amassed many more people to Washington, D.C., than had the pro-Abortion crowd, they initiated this ploy to draw attention away from the disappointed pro-Abortion groups.
The Kentucky Prosecutor is now openly warning that his office will enforce state law against inciting to murder.
NEWS BRIEF: "Kentucky Prosecutor Fires Warning Shot To People Threatening Acts Of Violence Against Covington Catholic High School", Tea Party, January 21, 2019
"On Sunday, Rob Sanders, a Kenton County Prosecutor, fired a warning shot to leftists threatening acts of violence against Covington Catholic High School. Mr. Sanders represents the 16th Judicial Circuit in Kenton County and he made it very clear acts of violence will not be tolerated.
"Threatening acts of violence against educational institutions in Kentucky is a felony and we don't take it lightly no matter the circumstances. #KYcrime" Rob Sanders said in a tweet."
Do not expect that the Leftists will be defeated by this legal threat, because one of their main beliefs is that the "Ends Justify The Means"!
And, finally, Leftists are aware that America is now in the realm where "accusation equals guilt" and that a lie will eventually be believed if it is repeated often enough!