Critical News Analysis -- End of the Age
DVD
1. Republicans "flip" two Democrat seats in a special election in the very Liberal, Connecticut!
NEWS BRIEF: "Republicans Upset Democrats in 2 Connecticut Special Elections", People's Pundit Daily News, February 26, 2019
"The Republican Party scored two big upsets in Connecticut on Tuesday, flipping a district under Democratic control for roughly a quarter-century ... All five special elections were held to fill vacancies created when Governor Ned Lamont appointed Democratic incumbents to his administration in January."
The most shocking race was in Senate District 6, where Hillary Clinton won the district in 2016 against Donald Trump by 26%!
"Tonight was not the first warning sign for Democrats heading into 2020"
"The Republican gains in Connecticut and NoVa followed a Democratic loss in Minnesota Senate District 11. The special election on February 5 saw a 16-point swing to Republicans. The seat had been controlled by 3 generations of one Democratic family for over 20 years."
We believe that, despite the sound and the fury which the Mass Media daily pours forth, the Democrat Party agenda is so Liberal and so Leftist, and now so Socialist, that when the 2020 elections roll around, these purveyors of nonsense will be defeated at the polls all over America.
Let us hope that the Left continues advocating for these worthless and unworkable policies for the next two years!
2. Leftist politicians in Israel are identical to Leftist politicians in America.
NEWS BRIEF: "Dershowitz Warns: 'Indicting Netanyahu Would Open Up a Pandora's Box'," Breaking Israel News, February 28, 2019
"A decision indicting Israeli Prime Minister Benjamin Netanyahu on corruption charges in Case 2000 would 'endanger democracy and freedom of the press', Harvard University Professor Emeritus Alan Dershowitz wrote in an open letter to Attorney General Avichai Mandelblit on Tuesday ... Such charges would open up a Pandora's box out of which would flow a parade of horribles: Every government official—legislators, judges, prosecutors, police offices, administrators—who sought positive coverage in the media, and then did anything that helped the media, would have to be investigated', he wrote."
Both are willing to bring down the country if they could prevail.
NEWS BRIEF: "Israel awaits decision on Netanyahu corruption indictment", World Israel News, February 28, 2019
"Attorney General Avichai Mandelblit's aides say he is prepared to announce his decision after more than two years of intense investigations and deliberations."
The truth is that these Leftists in Israel began "investigating" Conservative Prime Minister Netanyahu about the same time as Leftists in America began "investigating" Conservative President Trump!
They could have brought indictments a year ago, but waited until the elections of April 9 were approaching before they brought official indictments. In other words, they have prepared an "October Surprise" as it is known in America, where a serious charge is proclaimed so close to the election that the accused has no chance to clear his name. In effect, the false charge is intended to swing enough voters against the target that he will lose the election.
In a statement, the Israeli Left reveals how close their rhetoric is to the American Left.
"The Labor party posted a message on Twitter saying, 'Enough, Netanyahu – confront reality and respect the attorney general's decision. It's time to put an end to the culture of government corruption you created'."
But, a Leftist victory in Israel might bring down the vultures of war!
The Palestinians are armed to the teeth and are preparing for war with Israel. Hezbollah is reported to have almost 150,000 missiles aimed at all parts of Israel. Hamas has almost 20,000 missiles. And, Iran is said to be outfitting some Hezbollah missiles with GPS guidance systems so they can hit their targets precisely.
The question is not, whether they will go to war with Israel, but "when".
Every enemy looks for a weakness in his opponent which will make victory over him more likely. Believe me, the Palestinians and the Iranians are following this indictment scandal very carefully. If they believe that Israel's ability of her Prime Minister to make military decisions in a timely manner is compromised by his indictment, they will strike.
Israel can only make one major mistake and they can be annihilated!
Thank goodness they have an Almighty God Who has momentously promised to never leave them or allow them to be defeated once He brought them back to their Holy Land. (Read full details in NEWS1010, entitled, "GOD'S MODERN DAY MIRACLE - ISRAEL A NATION AGAIN")
3. Pakistan and India have suddenly slipped toward war.
NEWS BRIEF: "Pakistan Says It Shot Down Indian Jets, Carried out Air Strikes in Kashmir", The Epoch Times, February 27, 2019
"ISLAMABAD/NEW DELHI—Pakistan carried out air strikes and shot down two Indian jets on Wednesday, Feb. 27, Pakistani officials said, a day after Indian warplanes struck inside Pakistan for the first time since a war in 1971, prompting leading powers to urge both sides to show restraint."
"Both countries have ordered air strikes over the last two days, the first time in history that two nuclear-armed powers have done so, while ground forces have exchanged fire in more than a dozen locations."
While India and Pakistan are again at each other's throats, the reality is that Pakistan is standing in place of India's real protagonist, China.
China so covets control over Kashmir that she has completed an all-weather road across these exceedingly high mountains that one day will be filled with 200 million Chinese soldiers and all their equipment, as these "Kings of the East" fulfill Revelation 16:12-13. (Read full details in NEWS1166, entitled "China Has Built A Huge Road That Sets Stage For Fulfillment of Bible Prophecy")
Listen:
"The sixth angel poured out his bowl on the great river Euphrates, and its water was dried up to prepare the way for the kings from the East. Then I saw three impure spirits that looked like frogs; they came out of the mouth of the dragon, out of the mouth of the beast and out of the mouth of the false prophet. They are demonic spirits that perform signs, and they go out to the kings of the whole world, to gather them for the battle on the great day of God Almighty." (Revelation 16:12-14, KJV)
Notice that this mighty Chinese Army is being led by "three impure spirits that looked like frogs ... demonic spirits that perform signs, and they go out to the kings of the whole world, to gather them for the battle on the great day of God Almighty."
When the Chinese Army marches across the dry River Euphrates, their final destination is the Plains of Meggido, and their end will be complete slaughter at the hands of Jesus Himself! We highly recommend this DVD shown above, "Armageddon: The Full Story Finally Told"!
J.D. Grush has delved into the subject of Jesus' return to slaughter the 200 million man army from the "Kings of the East" and we wholly recommend you learn of the prophetic reality that Jesus is TRULY returning as Conquering King!
Both India and Pakistan wield atomic weapons, so a nuclear exchange could be absolutely devastating.
4. British Prime Minister Theresa May reveals herself and her party as true Globalists and NOT British patriots.
The PM has paved the way for Great Britain to remain in the EU, despite strong electoral vote for Britain to leave.
NEWS BRIEF: "British PM May Caves to Remainer Threats and Paves Way to Delaying Brexit: Stopping Clean Break", Breitbart News, 26 Feb 2019
"Prime Minister Theresa May has paved the way for Europhile MPs to stop the UK leaving the EU in a clean break and to delay the Brexit date. Mrs May has said that should the House of Commons not back her Withdrawal Agreement in the second 'meaningful vote' scheduled for March 12th, she will allow MPs in the Remain-dominated lower house of Parliament to vote on whether it backs the UK leaving the EU without a deal — an already-agreed legal default position if London does not come to a deal with the Brussels by March 29th."
"After the statement, chairman of the European Research Group (ERG) Jacob Rees-Mogg MP told Sky News that if the delay is a plot to stop Brexit, he said it would be the "most grievous error that politicians could commit. It would be overthrowing a referendum result, two general elections — one to call the referendum, one to endorse the referendum — and would undermine our democracy."
We have felt, since the Brexit election nearly two years ago, that England would remain in the EU because she is geographically located in Supernation #2.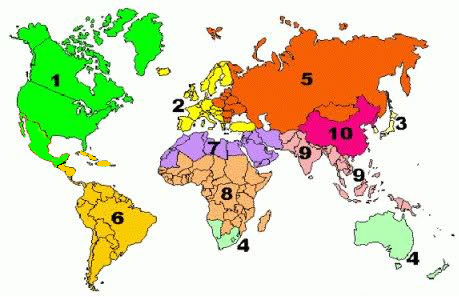 NOTE: This is the map of the Illuminati's Reorganization of the Nations of the world into the prophetic TEN. Once completed, Daniel 2:40-45, 7:7-8, and Revelation 17:12-17 will have been fulfilled.
Popular DVD's Back Instock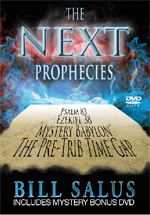 "The Next Prophecies': Volume 2 of 2
DVD by Bill Salus, Only $19.99
The NEXT PROPHECIES is A DVD that attempts to chronologically set in order the prophetic events of the end times. These PROPHECIES will happen soon after The NOW PROPHECIES and the stage is presently being set for their fulfillment!
More about this critically important video prepares the reader for powerful future world events! Don't get LEFT BEHIND to face these NEXT PROPHECIES! https://www.cuttingedge.org/detail.cfm?ID=2881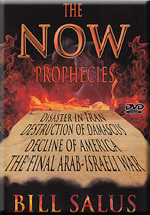 "The Now Prophecies" - DVD
The key word in these historical examples was NOW! What does God's Word say for us to prepare for NOW? What are the tough decisions we need to make?
The NOW Prophecies identifies the biblical prophecies that were written centuries ago for THIS GENERATION! These ancient inscriptions predict powerful events that will profoundly affect everyone. This video makes it easy to understand how to get ready NOW for what to expect in the near future!
More about this important DVD here - https://www.cuttingedge.org/detail.cfm?ID=2870
---