Critical News Analysis -- End of the Age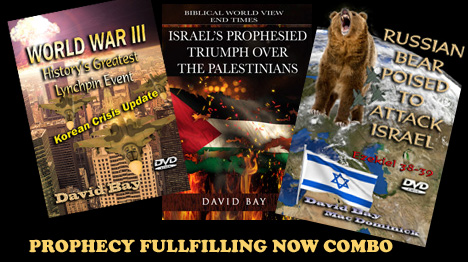 1. The President of the smallest non-nation just told the most powerful President in the world to "go to Hell" and take his peace plan with him
NEWS BRIEF: "PA President Abbas: May The Deal of the Century Go To Hell", MEMRI TV News, May 27, 2019
"Palestinian President Mahmoud Abbas spoke at an event honoring donors to the Mahmoud Abbas Foundation. In his address, which aired on Palestine TV on May 27, 2019, Abbas expressed his hope that the Deal of the Century – which he referred to as the "Deal of Shame" – will "go to Hell." He also said that the Palestinian Authority will not accept the economic workshop in Bahrain or its results because, according to him, the only way to solve the Palestinian issue is by dealing with the political issues. Abbas said the workshop is nothing more than "illusions" and that the money promised to the Palestinians will never arrive, and he added that when the Palestinian cause is resolved, the Palestinian will not need foreign aid because they will have an independent and modern Palestinian state."
The past 40 years of attempting to create "an independent and modern Palestinian state" has been scuttled every single time by the Palestinian leadership -- either Yassir Arafat or Mahmoud Abbas -- simply and only because the agreement which would establish a Palestinian State would also leave Israel in the land.
Let no one deceive you on this point: the only acceptable outcome to the Palestinian leadership is the complete genocide of the Jewish people and the complete eradication of Israel.
Nine million Jews dead.
That is the only acceptable outcome of an "independent and modern Palestinian state".
Doubt it not!
The Palestinians rejected the economic prosperity which might come to his people, in contrast to the greed of other powerful Arabs, he showed why the Palestinians are so hated by other Arabs.
Unlike the greedy and wealthy leaders of Saudi Arabia, UAE, and Bahrain, Palestinian leaders are so committed to the complete destruction of all Jews that they are not moved by arguments of economic prosperity.
NEWS BRIEF: "China, Russia Will Not Attend Trump's Bahrain Conference, Top Palestinian Official Says", Israel National News, May 27, 2019
"Senior Palestine Liberation Organization (PLO) and Palestinian Authority (PA) official Saeb Erekat said on Monday he had been informed by China and Russia that they will not participate in the upcoming US-led economic workshop that will be held in Manama, the capital of Bahrain."
"It has also rejected the US peace plan before it has even been unveiled, claiming it is biased in Israel's favor. While China and Russia will not attend the conference, Saudi Arabia and the United Arab Emirates publicly said last week they will take part in the conference and will help promote economic cooperation for the entire Middle East."
When the Palestinians, Hamas, and Hezbollah go begging to the international community for funds to keep their existence, remember this arrogance, when they claimed to not care about prosperity, opting instead for a political settlement.
NEWS BRIEF: "Kushner, Greenblatt Expected To Visit Middle East This Week", The Jerusalem Post, May 29, 2019
"During their meetings with the leaders of the three countries, Kushner and Greenblatt, are expected to discuss only the economic component of the plan, without addressing the political part."
Israel's need to hold another election, just weeks after the April election, will complicate matters greatly. It might even doom the "Deal of the Century" all by itself.
NEWS BRIEF: "New Elections - 'Goodbye' To Trump Peace Plan, The Jerusalem Post, May 29, 2019
"If Israel says hello to new elections in September, it is safe to assume it can kiss goodbye US President Donald Trump's 'Deal of the Century' ... The peace plan ... would fundamentally change the discussion of what is and what is not necessary and possible for an agreement. But now, because a fight over haredi (ultra-Orthodox) military service, that plan may never see the light of day."
"True, the Trump administration announced as a first step of the rollout an "economic workshop" in Bahrain in June, but that – according to the administration's own admission – will only deal with the economic aspects of the plan, and not the heart and soul of the conflict, not the core issues: Jerusalem, security, borders, settlements and refugees."
"... the Trump administration is simply running out of time."
2. Special Counsel, Robert Mueller, resigned in a speech that gave both sides the ammunition they needed:
* Democrats found in Mueller's twisted double-speak a justification to continue their attempted impeachment.
NEWS BRIEF: "Alan Dershowitz to Newsmax TV: Mueller Crossed Line", NewsMax TV, 30 May 2019
""The twist came from that one statement, saying if there were compelling evidence that he hadn't committed a crime, we would have said so. That was putting a spin on it," he said."
When a propagandist wants to utterly confuse, one of his tools is to confuse the language.
"... if there were compelling evidence that he hadn't committed a crime, we would have said so."
Probably, most of the people will toss their heads in confusion over this language and will conclude that it means the President probably did commit a crime, but the Mueller team could not prove it.
NEWS BRIEF: "Mueller: 'I couldn't find a Trump-Crime…so it's Time to Impeach him!', Canada Free Press, May 30, 2019
"I have never before witnessed such a sham of a legal system or—even worse—experienced the horror that the real criminals were the ones running it ... Mueller—with all of the Trump-haters on his staff—could find that President Trump committed no crime. So, in his own rather sleazy way, he turned it over to Congress to impeach him. This is the caliber of human being we currently have in upper management within the bowels of the US government."
Really, we are just witnessing the kind of people our previous Globalist leaders have always been; they were just successfully hiding behind a mask. Globalist leaders in every single country in the world believe that all National Sovereignty must be ended and our allegiance should be given to the Globalist government headed by the newly-risen Masonic Christ.
That is the plan.
When Trump was elected in 2016, he threatened to unravel all the progress made since 1776 toward that Globalist government known as "NOVUS ORDO SECLORUM" -- New World Order.
"To briefly recap, this investigation was built upon a foundation of sand which included the following:
* "A self-proclaimed Trump-hater and (former?) British MI-6 agent who worked with some Russians to create (out of whole cloth) the now-infamous "Trump Dossier".
* "The Clinton Campaign and DNC funded the "dossier": "The DNC and Clinton campaign-funded research continued through the end of October 2016."
* "The 'dossier' was requested and paid for by the Clinton Campaign."
* "The Mueller investigation began as a counter-intelligence investigation which metastasized into a full-blown criminal investigation…with NO CRIME mentioned! "
* "If there is no underlying crime…there can be no "obstruction of justice!"
"There are six things that the Lord hates, seven that are an abomination to him: haughty eyes, a lying tongue, and hands that shed innocent blood, a heart that devises wicked plans, feet that make haste to run to evil, a false witness who breathes out lies, and one who sows discord among brothers"—Proverbs 6:16-19 (Emphasis Added)
The Democrats find themselves in this exact position.
* Republicans found solid reason to forget this whole political charade and start running the country.
NEWS BRIEF: "Newt Gingrich: Mueller Didn't Say Trump Committed a Crime", NewsMax, 29 May 2019
"Outgoing special counsel Robert Mueller wrote a "convoluted, complex" report that did not conclude anything about President Donald Trump ... If Mueller had used the word guilty once, "we would be in a different world," Gingrich added. "He didn't come out and say President Trump is guilty of anything, where Starr said Clinton was guilty of 11 counts. That is a major difference where we are today."
"At some point in the hunt you have to decide there are no deer in the forest, and the fact is, they couldn't prove anything," Gingrich said. 'They ought to relax and just say you know, in the absence of proof in America, you are innocent. Therefore, by definition, President Trump is innocent'."
NEWS BRIEF: "Mueller says charging Trump with a crime was 'not an option' in Russia probe", Fox News, May 29, 2019
"Robert Mueller, in his only public remarks on the Russia investigation since being appointed special counsel, said his team did not have the 'option' to charge President Trump with a crime while indicating he does not plan to testify before Congress .... announced the closing of his office and detailed the findings of the Russia investigation, underscoring that there 'was not sufficient evidence to charge a conspiracy' with regard to whether members of the Trump campaign coordinated with the Russian government during the 2016 presidential election."
An investigator must prove that a crime was committed, not determine that a crime has not been committed, before he can proceed to charges. It is very difficult to prove that you did not commit a crime, which is why the prosecution must prove that a crime was most definitely committed.
"If we had had confidence that the president clearly did not commit a crime, we would have said that," Mueller said. "We did not determine whether the president did commit a crime."
No, but Mueller did not prove that Trump did commit a crime! This doublespeak is very troubling and provides Democrats a tiny loophole through which they can hold endless and pointless investigations.
However, these Democrats should be careful in their endless drive to impeach Trump, because the American people are fed up with this nonsense, and just want to move on.
NEWS BRIEF: "More than half of Americans want Congress to drop the Mueller probe in favor of 'more serious issues'," Daily Mail, 28 May 2019
"More than half of Americans want Congress to drop the investigation into Russian meddling in the 2016 election - a new survey has revealed. A poll carried out by CBS showed 53 per cent of respondents believe the Mueller Probe should be abandoned in favour of more serious issues.
"As many as 58 per cent also said they had heard enough about the report when it was published earlier this year."
This negative figure is only going to significantly increase as time drags on toward the November, 2020 election, putting the Democrats and/or Leftists at a distinct disastrous disadvantage at the polls.
3. For the first time in her modern history, Israel is going to hold a second election just a few weeks after her April election.
NEWS BRIEF: "New Elections to be held on September 17", The Jewish Press, May 30, 2019
"In a vote of 74 to 45, the 21st Knesset voted to dissolve itself after just 2 months from the last election ... Up to the last minute, Israel Beiteinu chairman Avigdor Liberman refused any of the compromise offers from PM Netanyahu and the Chareidi parties, and refused to join the coalition, leaving no other option than to go to elections."
"The new elections will be held on September 17 which would also be the 17th of Elul.
Israel's bitter enemies are watching this political turmoil with great interest, to determine if Israel is now uniquely vulnerable to attack.
4. The new nation, Free Kurdistan, continues to develop and to function in all ways a nation should function.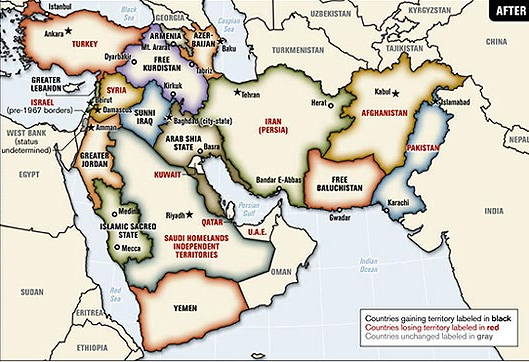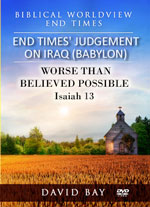 DVD
NEWS BRIEF: "Kurdistan President Nechirvan Barzani to take oath of office on June 10: Parliament", Kurdistan24 News, May 30, 2019
"ERBIL (Kurdistan 24) – Newly-elected President of the Kurdistan Region Nechirvan Barzani will take his oath of office on June 10 in a special ceremony, the Kurdistan Parliament announced ... At the event, Barzani will be sworn in oath and deliver a speech to attendees and the people of the autonomous Kurdistan Region."
Next, we learn of the praise heaped upon this new government by John Bolton (CFR), Trump's National Security Adviser.
NEWS BRIEF: "John Bolton congratulates Nechirvan Barzani on KRG presidency: (Kurdistan Regional Government), Kurdistan24 News, May 29, 2019
"WASHINGTON DC (Kurdistan 24) - White House National Security Adviser, Amb. John Bolton, offered his congratulations to Nechirvan Barzani on his election as the new president of the Kurdistan Regional Government (KRG)."
"Congratulations to the new President of the Iraqi Kurdistan Region," Bolton tweeted on Thursday, describing it as "a significant milestone for the Kurdistan Regional Government, a steadfast U.S. ally in the Middle East."
Without fanfare, the new "Free Kurdistan" is being carved out by the major powers, slicing territory from Turkey, Iran, Iraq, and Syria. This new country of "Kurds" is the Ancient Medes, of the old "Medo-Persian Empire" of Daniel, God's second great kingdom arising after the First kingdom, Babylon!
The Medes / Kurds have a very specific prophecy left to fulfill in Isaiah 13, at the end of the chapter! We detail this prophecy in the DVD showing above, "End Times' Judgement On Iraq (Babylon) Worse Than Believed Possible: Isaiah 13".
Specifically: After the initial foreign invasion devastates Iraq / Babylon, the West will then build up the Kurds (Medes) in northern Iraq, thus setting the stage in Isaiah 13 where the Medes will attack and finally annihilate the Babylonians. (Vs 17-22)
The only major prophetic points yet to be realized from the Isaiah 13 prophecy are:
1) The Medes (Kurds) have not yet finished God's judgments against the Iraqis;
2) The extent of the slayings and murders in war between Kurd and Iraqi has not reached the height foretold:
"Everyone who is found will be thrust through, and everyone who is connected with the slain and is caught will fall by the sword. Their infants also will be dashed to pieces before their eyes; their houses will be plundered and their wives ravished." [Isaiah 13:13-16]
3) Iraq is not yet as desolated as prophecy said she was going to be:
"And Babylon, the glory of kingdoms, the beauty of the Chaldeans' pride, shall be like Sodom and Gomorrah when God overthrew them. [Babylon] shall never be inhabited or dwelt in from generation to generation; neither shall the Arab pitch his tent there, nor shall the shepherds make their sheepfolds there. But wild beasts of the desert will lie down there, and the people's houses will be full of dolefully howling creatures; and ostriches will dwell there, and wild goats [like demons] will dance there. And wolves and howling creatures will cry and answer in the deserted castles, and jackals in the pleasant palaces. And [Babylon's] time has nearly come, and her days will not be prolonged." [Isaiah 13:17-22; Emphasis added)
"Bush's New 2007 Middle East Map" continues to build, and major prophecy continues to weave its supernatural design.