Thursday, 7/25/2019

HOME - Book Store - News Alert Archives -Daily News Updates - Facebook
View the latest News Alert online here
Get your daily news from our Daily News Updates -- 40-80 Articles Per Day Trustworthy Articles - Daily News Updates is updated constantly throughout each day.
"You will never look at the news the same way again"
---





"Grasping the Truth and Direction of the Word of God" DVD
Vol 2 - Are We Building The Kingdom of God?
This DVD contains the second installment of a study of the Kingdom of God that traverses the entirety of Scripture. As the study continues from Disc 1, we will be looking into the Word of God to ascertain the role of todays Christians in the construction of Gods Kingdom.
* We will discuss the New Covenant that God will make with the House of Israel as introduced by the prophet Jeremiah.
* We will then conclude the study in the Old Testament with a summation that lays the groundwork for and foretells of the coming Messiah, King of Israel, that will rule over the entire earth---both Jews and Gentiles.
* The Gospel of Matthew presents Jesus as the King for whom the Jews have long been awaiting
* We will learn of Jesus' bona fide offer of the Kingdom to First Century Israel, their rejection of the Kingdom, and their execution of their King.
* We will traverse a path that reveals the mysteries of the parables into the book of Acts, and ultimately to the Book of Revelation---the book that details the Kingdom of God on Earth.
* We study the misapplication of Scripture, the perverting of Scripture, and the outright redaction of the Inspired Word of God that is leading to a general gross misunderstanding of the Kingdom of God in the Church Age.
This message will prove to be indispensable to your understanding of Jesus' role in the foretold Millennial Reign. Run Time 1 hour 50 minutes.
Only $19.99, Shipping Now -- http://www.cuttingedge.org/detail.cfm?ID=2912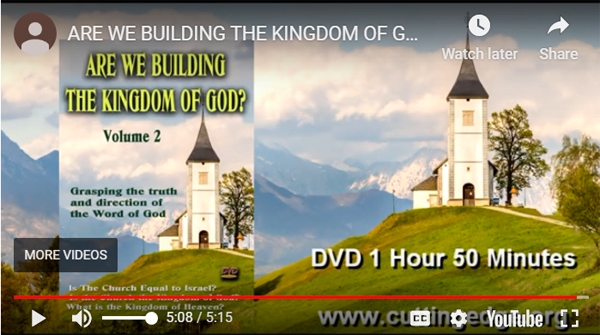 ---
NEW DVD-Are We Building The Kingdom of God? Vol 1 DVD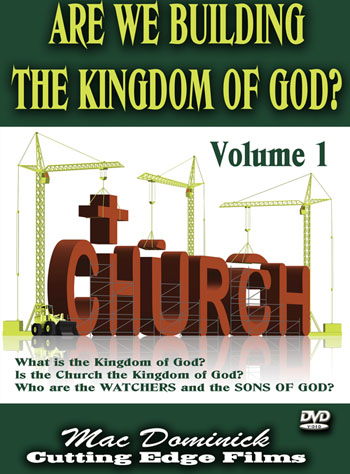 by Mac Dominick
* What is the Kingdom of God?
* Who are the Watchers and the sons of God and how do they fit in with Building the Kingdom of God?
* Are we now living in the Kingdom of God?
* Is the Church the Kingdom of God?

This study begins before Genesis, in Eternity Past, and continues through the Book of Revelation, and will be absolutely critical in maturing your faith at this End of the Age.
Isaiah 9:6-7 is the logical starting point for this study. Jesus Christ is revealed as:
* The coming ruler of World Government.
* His government shall rule from Jerusalem from the lineage of the Throne of David.
* His government shall rule FOREVER.
* He shall be Mighty God.
* He shall rule with eternal Justice and Peace.
* Christians today must focus their gaze upon this final wonderful ruler and His kingdom, because this world is going to have to go through an unparalleled tyrannical kingdom of Antichrist and of God's judgment upon all mankind. No matter how awful events are going to get, remember, you are not home yet!
In the ultimate analysis, who builds God's Kingdom on Earth? Human Church leaders or Jesus Christ?
Only $19.99, 2 hours long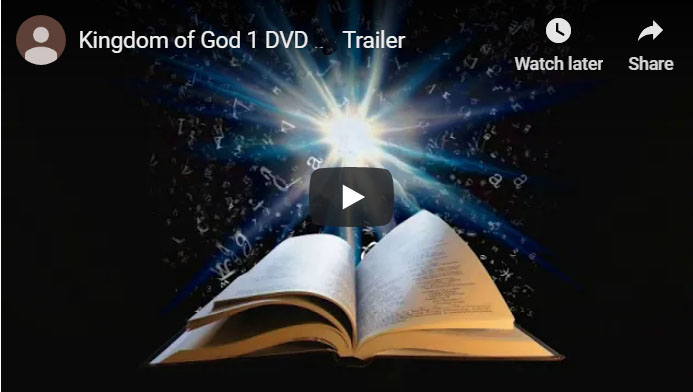 ---
Critical News Headlines -- End of the Age
1. When Former Special Investigator, Robert Mueller, testified before Congress yesterday, he bumbled and fumbled and contradicted his own written report on the Trump-Russia hoax.
When die-hard Leftists complain about his poor performance, you know that Mueller did the President no harm and probably buried any further talk of impeachment.
Now, can the Attorney General start investigating Hillary Clinton as the originator of this slime campaign against Donald Trump?
2. Israel continued her daily onslaught against Iranian military facilities threatening her from Syria and Iraq.
3. Now that Boris Johnson is the new British Prime Minister, can President Trump rely upon his office for help in destroying the Russia hoax?
But, the British Swamp may prove to be harder to drain and to dispose of the Creatures than the American Swamp.
---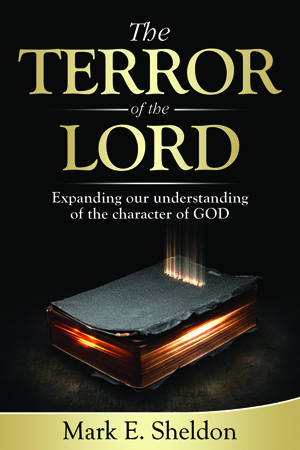 "The Terror of the Lord: Understanding ALL of God's Attributes"
Regularly $16.99, Now Only $14.99
The Christian Church has neglected to balance the teaching of Gods love with the equally important truth that He will judge each person who has ever lived. However, the pendulum of emphasis has swung to the side of His love and mercy for a long time.
But the pendulum needs to swing back. Not all the way to a judgmental and legalistic God, but to a balanced expression of His personality. There needs to be a declaration of His terror by those who know Him to those who know Him not. We who know Him are neglecting to warn people of the consequences of taking God too lightly.
Unbelievers have always had a reckless attitude toward God. That is no surprise. But Christians today are doing the same. We are living in an era of self-serving motivations. Even in Christian society, we don't want to lay ourselves down for the good of others. The idea of self-denial has become virtually obsolete. Anything that God would truly have us do we see as an annoying inconvenience. We shun Gods ordained opportunities to be included in His marvelous work of saving lost people from an eternal hell.
Whole congregations attend church Sunday after Sunday without ever hearing words like sin, judgment, and hell. Ministers and leaders teach year after year, never touching on phrases like 'the anger of the Lord' and 'the fear of the Lord'. We teach too lightly, preach too lightly, pray too lightly, and the result is the world takes God too lightly . Even the secular world is noticing this lack of fervor by the church.
The Tennessean newspaper ran a troubling headline on an Easter Sunday morning, way back in 1992. It read: 'Hells Not a Hot Topic Right Now.' Rest assured, Hell is as hot as it has ever been. Its the preaching that has cooled. If preachers wont preach about Hell, who will? If the churches wont warn sinners about Hell, who will?
One of the greatest sermons ever preached was titled 'Sinners in the Hands of an Angry God[', delivered by Jonathan Edwards. Edwards began his sermon with the verse from Deut. 32:35: Their foot shall slide in due time . . . (King James Version). where are these sermons today? Where are these preachers today? As Ravenhill so profoundly stated in his book, Why Revival Tarries: 'We have too many dead men in the pulpits giving out too many dead sermons to too many dead people.' 171 pages, https://www.cuttingedge.org/detail.cfm?ID=2911
Uses only King James Version
---




"Seven Clocks A' Ticking": Book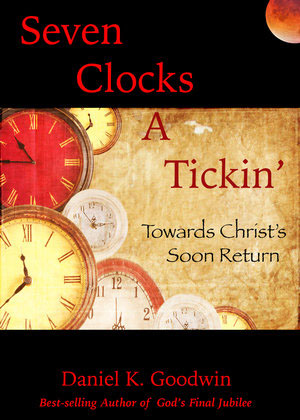 Prophecy by Dan Goodwin (author of 'God's Final Jubilee")
Regularly $21.99, Now Only $19.99
The hour is late, there are seven clocks all ticking towards midnight, and everything is about to change. This is not just a book about prophecy; it's a book that reveals the warning signs pointing toward the end times. I call them 'ticking clocks'
These seven clocks are sounding an alarm of impending doom, and are speeding towards a season of great tribulation upon the earth; a time of suffering and sorrow like the world has never seen.
Today, it is five minutes midnight; time is running out. Everything is about to change, and few are aware that a horrific storm is about to rock the plant.
The condition of the world today is like the folks on the Titanic: eating, drinking and being merry, unaware that time is running out and their doom is just hours away. Like those on the Titanic, humanity is unaware of the judgment soon to be released.
Are you spiritually prepared to meet Jesus in the air?
https://www.cuttingedge.org/detail.cfm?ID=2908
---
Analysis -- End of the Age Headlines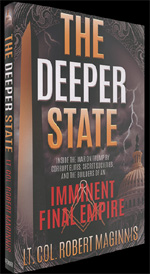 Book
1. When Former Special Investigator, Robert Mueller, testified before Congress yesterday, he bumbled and fumbled and contradicted his own written report on the Trump-Russia hoax.
NEWS BRIEF: "'Dazed and confused': Mueller undermines his own credibility", World Net Daily, July 24, 2019
"Democrats called former special counsel Robert Mueller to testify before Congress Wednesday on his report on Russian interference in the 2016 presidential election with the hope of finding grounds to impeach President Trump. What they got was halting and sometimes contradictory responses that indicated he was not familiar with his report."
In fact, Mueller's testimony cemented several facts in the minds of listeners which Republicans have been unable to convince voters of in the past 2 years of worthless "investigations"; and, it certainly helped that the Democrats made sure that Mass Media provided "wall-to-wall" coverage!
"Many Twitter users noted it became clear during the hearing that it was Mueller's staff of mostly Hillary Clinton supporters that drove the investigation and the report. 'His reputation gave credibility to an attempted coup d'etat', wrote Larry Edington. 'He clearly does not have the mental capacity to have been the driving force behind this report'."
"Mueller's team found no evidence for Democratic claims the Trump 2016 campaign colluded with Russia and decided not to refer obstruction charges."
Rush Limbaugh took notice and correctly provided the answer.
" 'He's either uninformed or incapacitated somehow', he said. 'Mueller is not there. Mueller has never been there'.He suggested Mueller was a 'figurehead', used by the Washington establishment to lend credibility to claims of collusion. 'This investigation has been run by staff', he said. 'He's part of the silent coup effort to get rid of Trump'."
When die-hard Leftists complain about his poor performance, you know that Mueller did the President no harm and probably buried any further talk of impeachment.
NEWS BRIEF: "For Democrats, Mueller hearings bomb", Personal Liberty, July 24, 2019
"Whatever it was Democrats were hoping to gain from dragging former Special Counsel Robert Mueller into two hearings over several hours, the consensus is they failed miserably – even among the Democrat-friendly mainstream media."
"Often appearing lost, confused and unaware of the conclusions found in his 400-plus page report on the investigation into Russian interference in the 2016 election, Mueller did nothing to advance the Democrat narrative that candidate Donald Trump colluded with Russia or obstructed justice after the election. The effort from the radical left to impeach Trump may have died along with what little credibility Mueller had left."
NEWS BRIEF: "Democrats tweet their heartbreak over Mueller hearing", The Daily Wire, July 24, 2019
"Prominent Democrats and members of left-wing media melted down on Wednesday in response to Special Counsel Robert Mueller's bumbling hearing in front of the House Judiciary Committee ... David Axelrod, a former senior advisor to President Obama, tweeted: 'This is very, very painful'."
"Leftist Harvard Law School professor Laurence Tribe tweeted: 'Much as I hate to say it, this morning's hearing was a disaster. Far from breathing life into his damning report, the tired Robert Mueller sucked the life out of it..."
"MSNBC's Jeremy Bash complained that Mueller 'sucked the life out' of the Russia report and seriously 'set back' efforts to hold Trump 'accountable'— meaning impeachment ... "
"Left-leaning journalist Michael Tracey tweeted: 'Democrats didn't even attempt to extract any new information from Mueller (which would ostensibly be the purpose of an oversight hearing). Instead they tried to goad him into dramatizing parts of the Report, which he repeatedly declined to do. It was a total embarrassment'."
One commentator believes he has the answer as to why Mueller's testimony was so bad.
NEWS BRIEF: "Robert Mueller Isn't Senile; He Was a Dirty Cop Forced to Take the Witness Stand", Breitbart News, July 25, 2019
"They told us Robert Mueller was Captain America: Crusader for Truth, and instead we got George Costanza and all the inept deception, sweaty stalling, and blundering dishonesty that comes with him ... You see, the sublime spectacle of watching Robert Mueller's reputation go up in flames, flames ignited by his own corrupt report and fueled by three years of the establishment media's hoax machinery, would not have been possible without the Separation of Powers, without the ability of one branch of government to hold the other in check,"
"My God, did you see what happened yesterday… The Emperor not only has no clothes, every time you toss him a reasonable question he acts as though you just woke him up in front of the TV to ask if he wants some oatmeal.
"Did you see what happened yesterday… Robert Mueller is a liar, a brazen liar who wants us to believe he never heard of Fusion GPS."
"You want to know who Robert Mueller reminded me of yesterday? A guilty man ... What I saw was a guilty man forced to take the stand against his will, a guilty man who fought like hell to never appear for a cross examination. Why? Because he's guilty ... nd in the end we saw who Robert Mueller really is — a dissembling, dishonest, deceptive bureaucrat — a front man (Captain America!) leading a criminal gang of coup plotters staffed with partisan prosecutors, the sore losers in the establishment media, the Democrat Party, and Toxic Revengers with names like James Comey and Andrew McCabe."
"A Dirty Cop..."
Now, can the Attorney General start investigating Hillary Clinton as the originator of this slime campaign against Donald Trump?
DVD's
2. Israel continued her daily onslaught against Iranian military facilities threatening her from Syria and Iraq.
NEWS BRIEF: "Israel's latest missile attack in S. Syria hit a new Iranian intelligence post with overview of N. Israel ", DEBKAfile, July 24, 2019
"In Israel's attack on Tal al-Hara in southern Syria early Wednesday, July 24, its surface missiles leveled a new Iranian forward intelligence station for an overview of northern Israel and parts of the eastern Mediterranean, which had just begun functioning. just 11km from the Israeli border."
"Israel's military intelligence watched construction of the station just 11km from the Israeli border and waited until it was up and running before taking it out with surface missiles. Also demolished at the same time were an Iranian observation post at Tal Al-Ahmar near Quneitra opposite the Israeli Golan."
NEWS BRIEF: "IDF Prepares For Hostilities in Face of Hamas Threats", Breaking Israel News, July 12, 2019
"The IDF is gearing up for heavier-than-usual riots on the southern border as Hamas threatens a violent response to the mistaken killing of a Hamas field commander who was trying to prevent Gazan rioters from breaching the security fence."
"Later on Thursday, Prime Minister Benjamin Netanyahu said that the military was preparing for any confrontation that may arise in the wake of the incident. 'I prefer that there be calm — not that we are under the illusion that we can reach a political agreement with [Hamas], who wants to wipe the State of Israel off the face of the earth. But we are preparing for a campaign that is not only broad, but also surprising," Netanyahu said in a meeting at city hall in the coastal city of Ashkelon."
Messianic Jew, Jerry Golden, shed some sobering light on the situation on the ground.
NEWS BRIEF: "Low Morale, for Hezbollah Terrorists, not Good News: Missiles will fill Israel's skies ", The Golden Report, July 24, 2019
"Iran finds themselves in a use it or lose it situation. With Israel killing hundreds of Iranians soldiers in Syria trying to establish missile bases to attack Israel over the past year it is making it very difficult for them to build any military infrastructure in Syria to be used to attack Israel."
"Hezbollah just moved forces to their southern border with Israel and along the Golan Heights. Israel of course has also moved IDF forces to our northern border along with anti-missiles batteries, tanks and artillery ... This time Iran has thousands of missiles aimed at Israel and their proxy Hezbollah is said to have 200,000 able to hit everywhere in Israel ... This coupled with Hamas now claiming to have larger and better missiles that can hit all of Israel."
Now, for the ultimate report:
"Many Israelis are very upset with Netanyahu for not going in and finishing off Hamas during this last round of over 700 missiles fired into Israel in a few days. Now when this war begins it is another front Israel must fight while everything is going crazy with the sky full of missiles." (Emphasis added)
"sky full of missiles" is the ultimate threat faced by every Israeli citizen and all signs point to a sooner rather than later beginning of this "Time of Jacob's Trouble" war, a war that will probably lead to an appearance of the Jewish Messiah (Antichrist).
Jerry concludes: "We are looking at the possibility of the death of hundreds of thousands of Israelis, Lebanese and Iranians. This is not going to be a war like any of the others. "
3. Now that Boris Johnson is the new British Prime Minister, can President Trump rely upon his office for help in destroying the Russia hoax?
NEWS BRIEF: "Boris Johnson Becomes UK's Next Prime Minister – Now Likely UK's Activities in Spygate Will Be Revealed", The Gateway Pundit, July 23, 2019
"Boris Johnson will take over as the leader of the UK after winning the Tory vote overnight. It's expected that Johnson will work with the US to uncover the origins of the Russia Hoax that took place in the UK."
"Johnson will not only oversee the UK's efforts to exit the EU per its mandate from a few years ago, he also is expected to assist the US in uncovering the UK's actions in Spygate. We reported more than a year ago that a foreign government did interfere in the US election of 2016 and that government was the UK – not Russia! "
"Soon the entire story will be out and Americans will be totally outraged!"
"... the Brits are busted. Their efforts to upend the US election for Obama and Clinton will soon be in the mainstream. The news is shocking – Put simply, on Obama's behalf the UK was spying on innocent American citizens within the UK, in particular George Papadopoulos. They were also permitting Obama's goons to spy on UK soil, by facilitating access, intel gathering and sharing."
"That's outrageous enough."
"What many have not realized yet, however, is that the UK government was likely spying on innocent Americans, within the United States."
But, the British Swamp may prove to be harder to drain and to dispose of the Creatures than the American Swamp.
---
Volume 2, "Israel's Past, Present and Future" DVD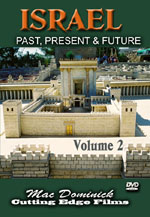 Regularly $24.99, Now Only $19.99 - You Save $5.00!
While many Christians in Bible-believing churches are familiar with the biblical history of the nation of Israel, many know very little regarding the sequence of events after the New Testament period that led to the founding of the modern state of Israel in the region known as Palestine.
Additionally, today's Christians have a very sketchy, superficial, and foggy knowledge of the progress of the Jewish state that has led to the conflict and confusion broadcasted by the current news media.
Almost 2 Hours long
Salvation Plan given at the end, so this DVD is a soul-winning DVD
You Can Also Order Volume 1, "Israel's Past, Present and Future" DVD
By Mac Dominic, Cutting Edge Films
Regularly $24.99, Now Only $19.99
Running Time 1 Hour 30 Minutes
SAVE $10 ON NEW DVD COMBINATION OFFER!
"Israel's Past, Present and Future" - DVD
REG. $39.98, Now only $29.98, Saving You $10
Vol 1: Jesus Christ is going to return to earth and set up His Kingdom. He will rule the entire world from Jerusalem, and those who are His children from all ages will rule and reign with Him for 1000 years. The Word of God is very explicit that the vehicle by which Jesus will establish His Kingdom is not the Church; but rather, the Nation of Israel.
The theme behind all of Scripture is the re-establishment of the global theocracy lost in the Garden of Eden and rule of the theocratic administrator the Messiah.
Vol 2 of our study of the Israel begins with a look at the modern birth of the nation in 1948 and will discuss events that lead right up to today's headlines.
Part II will center around the biblical perspective of the modern Jewish state. We will give all sides of the arguments regarding Zionism, Christian Zionism, Christian Palestinianism, and even look into the effects of the Hebraic Roots movement on modern Evangelicalism.
The goal of this study is to equip the individual Christian with a totally biblical perception of the modern nation of Israel, God's biblical plan for the Jewish people, and what we as Christians should do to align our thoughts and actions to the Word of God.
Each DVD is about 2hours long, Salvation Plan given at the end of each DVD, making these videos a Soul-Winning Tool
---





"The Cyrus Effect" DVD
'President Trump - A Type of King Cyrus!'
by Michael S. Smith, Only $19.99
The Cyrus Effect is a High Definition film describing many events that took place in 1917 and 1948, including the 1967 Six-Day War in Israel. There are also many parallels between King Cyrus and our President, Donald J. Trump, that will surprise you.
This documentary is a real piece of history which will both surprise you and please you.
Consider some key parallels between King Cyrus and President Trump: 1) Cyrus issued a decree which began the Jewish move back to Jerusalem and the re- establishment of Israel. President Trump issued a decree which moved the American Embassy to Jerusalem. 2) King Cyrus forced a peace between the Jews and their enemies as the Jews were making the move back to Jerusalem. President Trump is forcing a peace plan upon Israel's enemies which will result in the destruction of all of Israel's sworn enemies. 3) Gentile King Cyrus singlehandidly ensured that Israel could rebuild her destroyed Temple. President Trump can likewise ensure that the Third Temple is rebuilt.
You will absolutely love the message of this video!
Shipping June 7 -- https://www.cuttingedge.org/detail.cfm?ID=2906
---





by Michael S. Smith, Only $19.99
'Joseph in Egypt' is one of the most exciting stories in all of the Bible. It is packed with prophetic golden nuggets from beginning to end.
What would you say if we told you the rapture, tribulation and millennial kingdom were all in this story? One thing we can clearly say is that this Bible story is NOT from this dimension! Not only does this story show Israel's past, present, and future, but it also shows a clear pattern of God's relationship with all who love Him.
As Joseph went from the pit to the palace, we have the blessed hope and assurance that our journey on earth will soon be completed and we will go to our home in Heaven.
Michael Samuel Smith was stationed in Germany as a military pilot.
Shipping Friday, June 7 -- https://www.cuttingedge.org/detail.cfm?ID=2907
"How to Deter A Tyrannical Dictatorship"
Regularly $24.99, Now Only $22.99
Why are we seeing so many mass public shootings? Our 'Experts' seem to have no answers other than 'disarm the public'! Gun Control has historically made it much easier for a government to become more violent in the manner in which it treats its citizens; in fact, the first action a new dictatorship takes is to seize all guns from the people. Lenin and Hitler both seized individual weapons under the same false premise that they were making their citizens "more safe"; the reality was that they made their citizens more susceptible to a severe dictatorship.
New Age author, Bill Cooper, has some very pertinent things to say on this issue: In every instance that I have investigated since 1988, the shooters were all ex-mental patients or were current mental patients who were ALL ON THE DRUG PROZAC or some other mind-altering drug! This drug, when taken in certain doses, increases the serotonin level in the patient, causing extreme violence. Couple that with a post-hypnotic suggestion or control through an electronic brain implant, or microwave or E.L.F. intrusion, and you get mass murder, ending in every case with the suicide of the perpetrator." ["Beyond A Pale Horse".
Scholars tell us that tyrannical governments have murdered 262 million citizens after they had seized all private weapons. Since our government is still using the One Dollar Bill, we can only assume that it is still pursuing the type of government on the back of that bill:
NOVUS ORDO SECLORUM (New World Order), planned to be the most dictatorial government in all history.
How well is this deliberate government mind control program working? 'This plan is well under way, and so far is working perfectly. The middle class is begging the government to do away with the 2nd amendment'.
Our Founding Fathers did not write the right of americans to bear arms into the Constitution so we could hunt and shoot targets; coming out of the slaughter of citizens in Europe by dictatorial kings, our Fathers were most intent upon never allowing America to be so subjugated, and they realized that only a Constitutional right to keep and to bear arms could prevent private arms from being seized.
Spread the word! Our right to arms is being eroded and a dictatorship will be inevitable if private guns are eliminated. https://www.cuttingedge.org/detail.cfm?ID=2905
---

REVISED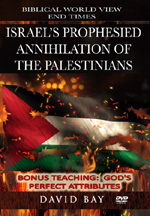 "Israel's Prophesied Annihilation of the Palestinians"
PLUS Bonus Section, 'God's Perfect Attributes
BONUS TEACHING: GOD'S PERFECT ATTRIBUTES
When the world wakes up one morning to discover that Israel has annihilated as many as 5 or 6 million Palestinians, they will be screaming for an explanation. The REAL reason people cannot comprehend this unparalleled disaster is that they do not understand God's Nature, in all of its Perfections. This bonus teaching will bring to light God's attributes, which explain why He carried out His prophesied annihilation of the Palestinians, after giving them 2,500 years of warning!
Obadiah 15-18 foretells the annihilation by fire of an entire nation, the House of Esau, which today are the Palestinians. Israel possesses the "Weapon of Fire" (Fuel Air Bomb) that could fulfill this prophecy precisely!
Understanding how Israel is planning to carry out this annihilation soon is critical to comprehending events in Israel today between the Palestinians and Israel.
Consider the somber prophecy of Obadiah 18: 'The house of Jacob shall be a fire and the house of Joseph a flame, but the house of Esau shall be stubble; they shall kindle them and burn them and consume them, and there shall be no more survivor of the house of Esau, for the Lord has spoken it.' [Verse 18]
This prophecy states that the nation of Israel [the combined houses of Jacob and Joseph] shall have some kind of a fire build up within them that will suddenly explode outward to consume the House of Esau in 100% annihilation. Since a weapon of fire does not travel outward from its source too far, we can assume that this House of Esau must be living in close proximity to Israel at the moment of this conflagration.
Thus, the major question is, 'who is the House of Esau today'? It is the Palestinians, led currently by Mahmoud Abbas.
You will be shocked to learn that God's Holy Spirit has been working since 1990 to convince the Israeli leadership of the need to annihilate the Palestinians. You will be further surprised to learn that the huge security fence Israel has erected around the Palestinian towns and cities will prove to be an indispensable tool in their strategy to carry out this complete destruction, as God has foretold 2,500 years ago.
We wish to reiterate that we take no satisfaction from this unbelievable prophecy of carnage, but a lot of people are going to be searching for valid answers in a hurry once this carnage does occur. They have to look no further for correct answers than this prophecy in Obadiah.
One hour, 17 minutes long - https://www.cuttingedge.org/detail.cfm?ID=2655
---