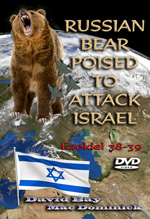 DVD
1. Russia has abruptly moved its buffer forces in Syria along the Golan Heights border.
NEWS BRIEF: "Russia lets Iranian-Hizballah forces redeploy opposite Syrian-Israel border", DEBKAfile, August 14, 2019
"Deep apprehension in Israel over a Russian U-turn, which is letting small Iranian Al Qods and Hizballah units regain former positions 10-15km from the Israeli and Jordanian borders. They are coming back after Russian forces drove them out last year and established a safe zone at those border districts in their stead."
"... the Russian forces, not content with allowing this Iranian-Hizballah comeback, have also evacuated their own positions, leaving the local population under the control of the Al Qods and Hizballah invaders. "
Immediately, Hezbollah forces occupied the buffer zone area vacated by Russia. Hezbollah now has bases about 10 km from the border!
"For now, neither the US nor Israel has decided how to respond to the new pro-Iranian buildup at Israel's back door."
2. Intense war rhetoric followed this movement of forces.
NEWS BRIEF: "Iranian Commander: Hezbollah honed its skills in Syria, can destroy Israel", Israel Hayom News, 8-14-2019
"Iranian Revolutionary Guards Commander Hossein Salami declared on Wednesday that Lebanese terrorist group 'Hezbollah has acquired capabilities in Syria that allow it to destroy Israel alone' ... The comments come after a Lebanese lawmaker affiliated with Hezbollah warned at the beginning of the week that Israel was preparing to wage war against the Iran-backed group and was ready to 'confront it'."
NEWS BRIEF: "'We will rain hundreds of rockets on Israel in a single barrage': Hamas", Israel National News, 8-14-2019
"Hamas leader Yahya Sinwar says terror organization continues to prepare for conflict with Israel, is still digging tunnels ... 'During the next conflict with Israel, we will rain hundreds of rockets in a single barrage'."
Several weeks ago, Hamas forces fired 700 rockets into Israel, without an Israeli response. Hamas revealed later that the reason they fired so many rockets in a short time period was because they were firing these missiles in barrages of 50-60 at a time, aimed at a specific single target.
You see, the only way to defeat Israel's missile defense system is to overwhelm it with sheer numbers.
Iran is the "Unseen Hand" behind all this preliminary military and terrorist activity.
NEWS BRIEF: "Iran helping Hamas revive terror cells in Judea and Samaria", World Israel News, August 14, 2019
"Palestinian Authority security sources say that a single thread connects recent violence against Israel, including the killing of Jewish student Dvir Sorek, Tisha B'Av riots on the Temple Mount and recent attempts by terrorists to infiltrate from the Gaza Strip. That thread is Iran according to PA sources ... "
"... Tehran hopes to revamp Hamas's terror cells in Judea and Samaria in order to carry out terror attacks against the Israel Defense Forces and Jewish civilians. (For example) They said the directive to ramp up the violence on the Temple Mount came straight from Iran.
"Activists in the area were instructed to set up squads to carry out kidnapping, shooting and stabbing attacks, to acquire weapons and to locate and recruit additional terrorist operatives... "
Throughout History, A Shooting war many times follows war rhetoric.
The Palestinian enemy is rapidly building up her forces to go to all-out war against Israel, Obadiah is about to explode on the world scene, and it will occur just as we have outlined in the DVD shown above, "Israel's Prophesied Annihilation of the Palestinians"!
3. Jordan's King Abdullah may be putting his country at risk of destruction by plotting a new Palestinian Intifada within Israel.
NEWS BRIEF: "Jordanian 'Opposition Coalition' Head: King Abdullah Is Plotting 3rd Intifada ", Breaking Israel News, August 14, 2019
"... Mudar Zahran, the secretary general of the "Jordanian Opposition Coalition" says that Jordan's King Abdullah is "creating a diversion while developing plans for a third Intifada, along with a variety of acts of systematic incitement against Israel and the US."
Please take note that the first two Intifada's were planned and were carried out by Yassir Arafat, the leader of the Palestinian Liberation Organization, now called the Palestinian Authority. Jordan was not involved in the Intifada's being waged inside Israel by the Palestinians.
If Jordan's Hashemite King Abdullah is planning a new Intifada against Israel, he is placing Jordan under the massive military arsenal of the Israeli Defense Forces.
Since over 50% of Jordan's population is Palestinian, if God is going to truly annihilate all Palestinians as Obadiah declares, Jordan's own Palestinians must come into conflict with Israel.
We may be at this point right now.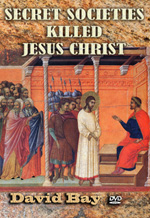 DVD
4. Why did the Jewish-owned New York Times consistently bury the news of the Jewish Genocide during the Nazi Holocaust, hiding the truth from the American people?
NEWS BRIEF: "Why Israel is a headache for the New York Times", World Israel News, August 13, 2019
"The word is out conclusively that The New York Times is in business for one reason only, to be the mouthpiece for the most radical elements of the Democrat Party ... Imagine the many Jewish lives that could have been saved if only the Times had spoken up. Roosevelt would have listened, and done more."
As I studied the book, "The Vatican's Ratlines", the story of the strenuous efforts by the Vatican at the end of World War II to rescue Nazi officials by moving them along Catholic Churches to an Italian port where they would be taken by ship to saftey, mostly Brazil and Argentina, I was shocked to learn that Roosevelt's own State Department hated Jews almost as intently as did the Nazis.
Numerous efforts were made by American Jewish leaders to open the immigration gates wider for European Jews so they could escape the death camps. By and large, these efforts were stymied.
If President Roosevelt and his State Department could ever hope to keep our immigration gates closed to European Jews, they needed the help of friendly Mass Media. The Jewish-owned New York Times buried news of the genocide being waged by Hitler, effectively hiding it from the American people.
"One man knew that from the inside. 'That history is being so terribly distorted, compels people like us to speak out'. So wrote legendary journalist A.M. Rosenthal to this writer June 21, 1994. Rosenthal had been the Times' executive editor in 1977-1988. "
And his conscience compelled him to reveal the awful truth of that era, when "synagogue of Satan" Jews conspired with Hitler to murder over 6,000,000 Jews! The truth is simple: "Europe had slaughtered and buried Six Million Jews and the Times had buried the story."
"If only the Times had been run by the right people at the right time…if only…if only…if only."
As 6,000,000 Jews were slaughtered from 1938-1945, the New York Times was complicit in giving Hitler enough time to annihilate two-thirds of European Jews.
To understand how certain Jews in Europe and in America could conspire to hide the truth of Hitler's Final Solution from 1938-1945, we have to begin with Jesus' shocking statement in Revelation 2 and 3, warning us that there is a Jew who secretly serves Satan.
"I know thy works, and tribulation, and poverty, (but thou art rich) and I know the blasphemy of them which say they are Jews, and are not, but are the synagogue of Satan." (Revelation 2:9, KJV)
"Behold, I will make them of the synagogue of Satan, which say they are Jews, and are not, but do lie; behold, I will make them to come and worship before thy feet, and to know that I have loved thee." (Revelation 3:9, KJV; Emphasis added)
From Jesus' own mouth, we discover that, during His earthly ministry, there were two types of Jews: 1) Genuine Jews; 2) Counterfeit Jews who secretly served "the synagogue of Satan"! In the DVD pictured above, we demonstrate that the leadership of the Pharisees were not genuine Jews, but were members of an underground secret society, based upon a Babylonian perversion of the first five books of the Bible.
These Jews passed down the perverted Babylonian doctrines by Oral Tradition, and totally engulfed the leadership of the Pharisees of Jesus' day; by 1100AD, an effort was successfully carried out to systematically write these doctrines down. This effort was labeled the Kabbala (Cabala) and it was Satan's perversion of the true Hebrew Bible.
The Cabala which these ancient Jewish religious leaders were practicing believed that the God of Abraham was an equal, but opposite, God to Satan. Therefore, once they killed the Suffering Servant Messiah, they could then stage the appearance of their own man the Messiah King.
Of course, they expected to bring forth their own Messiah King immediately, and several Jewish men did arise, claiming to be the Kingly Messiah, but the Romans ruthlessly destroyed each attempt.
Now, fast-forwarding to the modern era, Mayer Amschel Bauer (Rothschild) on May 1, 1776, joined forces with a former Jesuit priest, Adam Weishaupt, to form the Masters of the Illuminati. Rothschild was the descendent of the false Jews of which Jesus spoke, and he most definitely served "the synagogue of Satan"!
Now, let us quickly examine the role of Rothschild in the beginning of the Zionist move to re-establish Israel, the Zionist Conference in Switzerland. When the first Zionist Conference was held in 1897, in Basel, Switzerland, for the express purpose of beginning an organized and concerted effort to return significant numbers of Jews back to Israel, the prospects seemed bleak, indeed. The entire region was tightly controlled by the Turkish Ottoman Empire, whose rulers would most definitely not look with kindness on the return of Jews to their homeland, and to the restoration of the nation of Israel.
Nevertheless, the Jewish delegates to this conference felt a unique heavy hand upon them, propelling them forward. This conference ended with a commitment of influential and wealthy Jews to begin funding a return of individual Jews back to their Promised Land. And return they did, in the hundreds at first and then by the thousands, and then by the tens of thousands. From the beginning, the quiet, invisible spiritual direction leading Israel back to her land was NOT traditional Judaism, and it certainly was not Christian; rather, the spiritual leadership was Illuminist! The Rothschild family took early leadership in this crucial struggle, and provided the immense funding necessary for Jewish immigrants to buy land back from the Arabs once they settled in Israel. (Read NEWS1884)
Then Adolf Hitler seized control of Germany in 1933, and fueled by Illuminati money funneled through neutral Switzerland, he rebuilt Germany, created a fearsome military and began his plan to exterminate all Jews!
At this point, in Europe, Great Britain, and the United States, Jews of the synagogue of Satan, called in the modern era, Kabbalists / Sabbateans headed by the Rothschild Family, reared their ugly head. They wanted the Jewish people to survive, but not all Jews -- only the Jews they selected.
"If the children were not destined from Germany to Palestine, they were not destined to live. The same thing happened when choosing the Polish Jews fit to live. A letter to American Jews on United Jewish Appeal stationery continued to support the 'selected' immigration of Jews to Palestine, despite the fact that 3 million Jews were now trapped in Nazi-occupied Poland ... Sabbatean Labor Zionism concocted a dreadful tradeoff with the Nazis, which resulted in 50,000 indoctrinated German Jews escaping to Palestine from 1933 to 1939. The 3 million Jews of Poland were too religious to join the enterprise." (Emphasis added - ("The Sabbateans Plan To Destroy Israel ", by Shulamit Greenberg, Tel Aviv, Israel, reported in Rense, 6-9-2005)
Notice that the basis by which these Sabbatean Zionists chose those Jews who were to be spirited to Palestine was religion! Jews who were considered "too religious" were not selected to be saved, but were abandoned to Hitler's Death Camps!
Barry Chamish, an Israel journalist and author, spoke consistently about the Sabbatean / Rothschild leaders who were angry after Israel was declared a nation in May, 1948, as they discovered that the population of the new Israel contained far too many religious Jews. Chamish states emphatically that these "synagogue of Satan" Jews are planning another Jewish Holocaust in which they will allow the Arab enemy to slaughter most Israeli citizens, so that, when they do stage their Masonic / Kabbalist Messiah, he will come to an Israel in which the vast majority of citizens are NOT religious.
The Bible calls this next Jewish Holocaust "the Time of Jacob's Trouble"!
Some years ago, I received information from a confidential source that the IDF was going to be ordered initially to withdraw in the face of the Palestinian onslaught, and would redeploy to the modern military base which President Bill Clinton began to build before he left office. From there, the IDF would counterattack and annihilate the enemy.
The obvious problem with this strategy is that the IDF will expose the Israeli general population to the angry Palestinian mob for some periood of time. Immense numbers of religious Jews will die, just as the Sabbateans have wished since May, 1948.
Truly, Daniel 12:1 will be in detailed fulfillment: "And at that time shall Michael stand up, the great prince which standeth for the children of thy people: and there shall be a time of trouble, such as never was since there was a nation even to that same time: and at that time thy people shall be delivered, every one that shall be found written in the book." (Daniel 12:1, KJV)
How much destruction might Israel suffer from this coming war?
"And they that dwell in the cities of Israel shall go forth, and shall set on fire and burn the weapons, both the shields and the bucklers, the bows and the arrows, and the handstaves, and the spears, and they shall burn them with fire seven years: So that they shall take no wood out of the field, neither cut down any out of the forests; for they shall burn the weapons with fire..." (Ezekiel 39:9-10)
In other words, at the time of the Russian-led invasion of Israel, the Jewish state will have suffered so greatly that her people are depending upon firewood for their cooking and heating needs!
The prophesied great testing of Israel will have gotten underway!
Antichrist will appear after this great conflict is finished, giving the Sabbatean Jews their long-awaited Messiah King!
And, as we detail in the DVD shown above, the Rapture of the Christian Church will occur before Antichrist "confirms the covenant" as prophesied in Daniel 9:27!
Are you spiritually ready?