Critical News Analysis
1. Superpower China has just threatened to militarily and diplomatically side with North Korea!
NEWS BRIEF: "Chinese paper says China should stay neutral if North Korea attacks first: But China will intervene on behalf of North Korea is America strikes first", Reuter's News, August 10, 2017
"BEIJING (Reuters) - If North Korea launches an attack that threatens the United States then China should stay neutral, but if the United States attacks first and tries to overthrow North Korea's government China will stop them, a Chinese state-run newspaper said on Friday."
" 'China should also make clear that if North Korea launches missiles that threaten U.S. soil first and the U.S. retaliates, China will stay neutral', it added. 'If the U.S. and South Korea carry out strikes and try to overthrow the North Korean regime and change the political pattern of the Korean Peninsula, China will prevent them from doing so'."
In the murky realm of military deployment, it is very easy to confuse who fired the first shot and who retaliated. Throughout history, the aggressor will fire first, and then aggressively shout to the rooftops that their enemy fired first.
This stance by China is a slippery slope that can easily be turned in the Mass Media to redefine the truth of the situation. I expect North Korea to fire the first salvo and then claim the United States fired first.
Then, Superpower China is facing off against the United States!
Since 1997, we have believed that the only way in which a confrontation between "Mighty Mouse" North Korea and superpower United States is if China and/or Russia sided with the North.
2. North Korea says that an attack plan on Guam and outlying Japanese islands would "be ready" within days.
NEWS BRIEF: "WAR DRUMS: North Korea Claims Strike Plan Against US Will Be Ready In 'Days'," End Times Headlines, August 10, 2017
"North Korean state media has outlined details of the country's Guam strike plan expected to be ready by mid-August. The attack will reportedly include four missiles fired over Japan and landing within a few dozen kilometers of US territory. Continuing the heated exchange with US President Donald Trump, Pyongyang's state media outlet KCNA said that the country's leader, Kim Jong-un, will be presented with an elaborate plan of the attack by mid-August ..."
The calendar stands almost at "mid-August", so this "date stamp" is already activated.
"Pyongyang also ridiculed Trump's promise to counter any incoming threats from the North with 'fire and fury', labeling the remark a 'load of nonsense' and in its turn vowing to act with 'absolute force'."
U.S. air forces are said to be "ready" to launch an air assault within minutes of receiving attack orders from President Trump.
NEWS BRIEF: "'We're ready to attack North Korea': US bombers in Guam are 'ready and waiting' for Trump's order", Israel National News, 8/11/2017
"The US military is ready to fight North Korea and waiting for US President Donald Trump's order to fire, military officials said. The suggested plan would involve an attack by the US Rockwell B-1 Lancer supersonic heavy bombers based in threatened Guam ..."
I would expect that this attack will be launched once American spy satellites confirm that ballistic missiles are in the air and are heading for Guam. This tactic means that a powerful counterattack would be carried out, even if North Korean missiles get through American missile defenses.
In fact, the choice of the Rockwell B-1 bomber to carry out a retaliatory strike is an option which shouts that Trump does not want to escalate this conflict because the B-1 cannot carry nuclear warheads.
The President then spoke truthfully about the lack of toughness repeatedly shown by his predecessor, Barack Obama.
"On Thursday, Trump wondered aloud if his threat of "fire and fury" on North Korea was not enough. 'They've been doing this to our country for a long time, many years," he said. "It's about time that somebody stuck up for the people of this country and for the people of other countries. So if anything, maybe that statement wasn't tough enough."
President Obama always was the Cowardly Lion" occupying the White House. He timidly backed down when Syrian forces crossed his vaunted "Red Line" and he repeatedly took an appeasing stance toward North Korea.
But, this sad reality did not stop Obama's former Security Adviser, Susan Rice, from urging President Trump to appease the North Korean dictator!
NEWS BRIEF: "Susan Rice Urges Donald Trump to 'Tolerate Nuclear Weapons in North Korea', " Breitbart News, 10 August 2017
"Former President Barack Obama's National Security adviser, Susan Rice, wants President Donald Trump to accept North Korea as a nuclear power. 'History shows that we can, if we must, tolerate nuclear weapons in North Korea — the same way we tolerated the far greater threat of thousands of Soviet nuclear weapons during the Cold War', she wrote in a New York Times op-ed, criticizing the president's 'fire and fury' rhetoric in response to the escalating tensions between the two countries."
"She urged Trump to continue the Obama doctrine on North Korea despite growing hostility from the country."
"History" provides no accurate guide by which President Trump can use to determine his response to North Korean plans., for three reasons:
1) The North Korean dictator is unbalanced mentally and emotionally and cannot be counted upon to act in a restrained manner similar to the Russian leaders during the Cold War. Each had lived through the horrors of the Nazi invasion and knew firsthand the dreadful repugnance of seeing 20 million Russians die.
2) Endless acquiescence to a growing deadly threat is never an option,
3) This "nuclear confrontation in Korea" is a planned event, not accidental. Listen to the wording once again.
"The script is now written ... A hair-raising nuclear confrontation in Korea may ... threaten man's very survival." (Peter Lemesurier, 'The Armageddon Script", p. 223, 1981)
This scripted confrontation may even promise Kim John-on safety if he fulfills his scripted role. Antichrist will likely stride out of the smoke and the dust of this war.
Are you spiritually ready? "What Must I Do To Be Saved"?
3. Hamas is considering whether to turn their control of the Gaza Strip to their military.
NEWS BRIEF: "Hamas considers dropping Gaza civilian gov't for military rule: To prepare for war with Israel", Israel National News, 8/10/2017
"A senior Hamas official reported that leaders of Hamas' Al-Qassam Brigade had suggested to Hamas leadership a general plan which would help the unlivable conditions in Gaza ... "
"Turkish media reports that Hamas is planning to change how it governs Gaza in preparation for military escalation with Israel."
Such a move is necessary to move the Palestinians to the point where they can wage war with Israel.
Tensions have calmed down since the attack a couple weeks ago on the Temple Mount, in which two Israeli policemen were murdered. But, every day, the Palestinians are planning to attack Israel. They have over 100.000 missiles in Lebanon and many underground tunnels reaching deeply into Israel.
Daily, the situation inches closer to the complete annihilation of the Palestinians which God foretold 2,600 years ago in Obadiah, as we demonstrate in the DVD above, "Israel's Prophesied Triumph Over The Palestinians".
World War III will likely erupt with the North Korean scripted nuclear confrontation and then followed rapidly with this prophesied carnage against the Palestinians. Or, the order could be reversed.
4. The Department of Justice is reportedly offering Hillary Clinton a "plea deal"!
NEWS BRIEF: "Justice Department Has Offered Hillary A Plea Deal: 'Ample grounds for prosecuting Hillary on a number of counts'," The Daily Wire News, August 9, 2017
" 'The Justice Department has reopened the investigation of Hillary Clinton's mishandling of classified material on her private email system while she was secretary of state, and is considering offering her a plea bargain if she will agree to plead guilty to charges of breaking the law, according to a Clinton attorney, Newsmax reports."
The problem with a Plea Deal is that Hillary escapes prison time and the public never gets to know the enormity of her crimes.
Why on Earth would Russia want to swing the 2016 election to Donald Trump when they knew they already had Bill and Hillary Clinton in their back pockets?
Slowly but surely, the wheels of Justice are turning to the truth of Hillary and Bill criminally running the Secretary of State office and colluding treasonously with Russia.
Soon, the truth coming from the Hillary investigation will drown out the lies and innuendos from Robert Mueller's activities!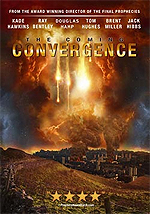 DVD
5. Volcanic and Earthquake activity along the Pacific "Ring of Fire" continues to heat up into critical watch stage!
NEWS BRIEF: "With 8 threatening volcanoes, USGS says California deserves close monitoring", SF Gate News, August 11, 2017
"With the world's top volcanologists heading to Portland, Ore., on Aug. 14 for the first international volcanology assembly held in the U.S. since 1989, the many famous, prominent and dangerous volcanoes of the West Coast will be the subject of field trips and much discussion. Throughout the Cascade Range to southern California, the West Coast is home to most of the country's highest-threat volcanoes, as ranked by the United State Geological Survey. And California has its share."
What are these eight (8) volcanoes in California which are considered by USGS?
1) Mount Shasta -- northern California
2) Lassen Volcanic Center
3) Long Valley Volcanic Region
4) Clear Lake Volcanic Field
5) Medicine Lake Volcano
6) Ubehebe Crater
7) Coso Volcanic Field
8) Salton Buttes
But, this renewed volcanic activity is not limited to California by any means! Consider these other volcanoes causing such concern:
1) Yellowstone Supervolcano -- Wyoming and Montana - over 1500 earthquake swarms in the past two months, and now, ground is deforming and heating up
2) Crater Lake, Oregon
3) Mount Hood, Oregon
4) Newberry, Oregon
5) South Sister of The Three Sisters, Oregon
6) Mount St. Helens, Oregon -- erupted in 1980, but is rumbling again
7) Baker, Washington
8) Glacier Peak, Washington
9) Rainier, Washington -- Rainier is the most dangerous of all the Cascade volcanoes and is the one so closely located to Seattle area, which has 3.6 million people
"Mangan said California had plenty to worry about ... 'Over the northern California volcanoes, the data from FAA suggests that there are a couple hundred jumbo jets on flight-lines that pass over those three volcanoes on a daily basis', she said. 'And, likewise there are a couple hundred jumbo jets that are flying over Long Valley Volcanic Region as well'."
"Michael Clynne, with the U.S. Geological Survey's Volcano Science Center and considered the world expert on all things Lassen, said the most recent volcano to erupt in the state, Lassen Peak, sits in the middle of a region ready to blow."
We are not saying that a major blow-up along the Pacific Ring of Fire is imminent, but, added together, they constitute a "sign" that we best not igorre.
The Sixth Seal of Revelation may be volcanic eruptions (Revelation 6:12)! Listen to our Lord's prophecy:
" And I beheld when he had opened the sixth seal, and, lo, there was a great earthquake; and the sun became black as sackcloth of hair, and the moon became as blood..." (Revelation 6:12, KJV)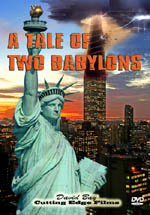 In this DVD pictured left, "A Tale of Two Babylons", we report the Biblical prophecy that God destroys the Economic Babylon of Revelation 18 in one hour of one day by what sounds like a volcanic eruption. Listen:
" Therefore shall her plagues (calamities) come in one day, death, and mourning, and famine; and she shall be utterly burned with fire: for strong is the Lord God who judgeth her." (Revelation 18:8, KJV)
A major eruption by the Yellowstone Supervolcano could certainly destroy all of the lower 48 states of the United States, and Canada and Alaska.
But consider the exponential damage God could create if he caused all of these 17 volcanoes to erupt at once! Truly, America would become like Sodom and Gomorrah!
"For in one hour so great riches is come to nought. And every shipmaster, and all the company in ships, and sailors, and as many as trade by sea, stood afar off, And cried when they saw the smoke of her burning, saying, What city is like unto this great city!: (Revelation 18:17-18, KJV)
Consider the "Convergence" of so many prophecies at this one time:
1) Wars and Rumors of Wars are ratcheting upward nearly every hour
2) Antichrist awaits the Third Global War designed to put him on the world scene
3) Volcanic and earthquake activity is alarmingly ratcheting upward
4) Multiple "Signs and Wonders In the Heavenlies" over the past several years is amazing many, and truly is a herald of the coming of Antichrist first, followed by Jesus Christ.
6) Israel is "locked and loaded", ready to carry out the annihilation of the Palestinians as foretold in Obadiah -- See the DVD "Israel's Prophesied Victory Over The Palestinians".
7) A company in Wisconsin "chipped" her employees, in an action which truly is a predecessor to the Revelation "Mark of the Beast".
Doubtless, you can think of many prophecies which are coming to fruition right now, in the type of "Convergence" of which the Lord spoke in Matthew 24!
Are you spiritually ready? "What Must I Do To Be Saved"?
---