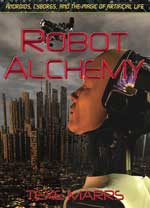 Since time immemorial, humans have sought to build artificial creatures that move and talk. You will see and discover many of these fantastic creations in this book.

But you will also see depicted a startling future in which science and alchemy turn everything upside down. Robotic life thrives, the machines conquer the workday world, and humanity shrinks before the advance of a superior life form.

This new age of robotic superiority, a time when humans are outworked, outthought, and outdone in every field, is no more than 25 years away. Artificial lifeandroids, cyborgs, robotswill prosper as the era of human life quickly vanishes and fades away. Homo Sapiens, the creator of robotics, must now bow to the strange new creature, for he is stronger, more cunning, and more useful.

Come and envision a near future in which a bold and intelligent Avatar rules a planetary kingdom of machines. It will be a time when artificial men and women are our sex partners, postal deliverers, chauffeurs, entertainers, and bankers; a transhuman era in which the wealthy, favored few are given artificial parts and a biochip to expand intelligence; when fast and brutal robots play an exciting form of professional football; and when the vast majority of humans grow extinct, unworthy of life extension.

236 pages Almost every other page has color!

NOTE: Texe has departed from his normal rhetoric in this book.