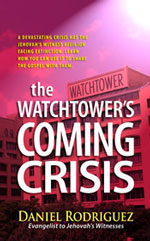 With the information and witnessing strategies in this book, you will be able to plant seeds of doubt and undermine the authority of the Watchtower. The Watchtower knows it is essential that this cornerstone doctrine of the 144,000 remain alive if it is going to continue to exist as the spiritual leader for its followers. Time is the enemy of this teaching and they know it.

The Watchtower Society teaches that they are members of the 144,000 who will be the only ones going to heaven. Membership in this group began with the early apostles. Over the centuries others have been added but the Watchtower declared that the number was completed in 1935. Anyone who claims to be one of Jehovah's Witnesses has to be one of the 144,000 and must be very old now. However, the Watchtower Society teaches that these are the only ones who hear from God and are responsible for Watchtower teaching and leadership.

Because these people are dying, the Watchtower is facing a credibility crisis. So, the Watchtower is quietly manipulating these death figures to keep the Watchtower organization alive! And now, just last year, Watchtower literature quietly began to try to wiggle out of the 1935 closing date for the 144,000. But this only adds further opportunity for you to show the 'JW' who comes to your door that he cannot trust the Watchtower with his precious eternal life.

Table of Contents

Preface
Chapter 1 - The Faithful and Discreet Slave: A Brief History
Chapter 2 - Who Was the Faithful and Discreet Slave?
Chapter 3 - Gathering the Watchtower's 144,000
        144,000: The Aging Class
        "Replacing" The 144,000
        144,000: A Sealed Number
        The Bible's 144,000
Chapter 4 - Joseph Franklin Rutherford's Prophetic Errors
        Rutherford's Books
Chapter 5- A Major Change
Chapter 6 - Your Witnessing Strategy
        Getting Started
        The Presentation
Chapter 7 - Who Exactly is Going to Heaven?