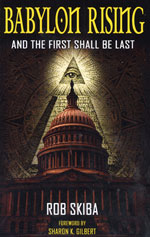 Simply Amazing! After researching the historical connections between the occult, secret societies and Biblical prophecy for the past five years, Rob Skiba has produced a masterpiece!

If you have ever been curious about the spiritual foundations of America, including our current place in history, economics, politics, science and Biblical prophecy, this book is for you!

What do the Mayan prophecies, the Aztec Calendar Stone, the symbols on Americas Great Seal and the U.S. Capital Building, all have in common?

America is the catalyst for many critically important End of the Age prophecies to occur. This incredible story is told by the American symbolism created over the past 250 years and by the actions of a number of our Presidents.

267 Pages

We do not agree with every conclusion of this book, but offer it to you because it does contain exciting information about Americas past, present and future, which you need to know.