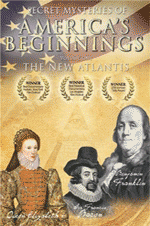 Volume 1 - "The New Atlantis"

Nearly 3 hours of intensity!

Award-winning video has won the following Film Industry awards:

1) New York Film Festival - ScreenCraft Award for best full-length feature documentary

2) Los Angeles Film Festival - Best Historical Documentary -- This award means the film industry judges recognized that we handled our historic facts properly and journalistically proved our facts, controversial though they may be

3) Official Selection of the Lake Tahoe Film Festival

4) 2006 Telly Award for excellence in TV and documentary production

This video unfolds the fascinating history behind the founding of America, and exposes the esoteric underbelly of its design. Why is Washington D.C. build on the 77th Meridian? Are the Revolutionary War cities really built in perfect alignment with Stonehenge? If America was founded as a Christian nation, why are many of its symbols, buildings, and monuments based on Pagan traditions? There is no doubt that America's cultural national heritage was Christian, but just as a coin has two sides, our national heritage has a second side – one based squarely on occult secret societies and their values.

Volume 2 - "Riddles In Stone: The Secret Architecture of Washington, D.C."

Nearly 3 hours of intensity!

Award-winning video has been officially selected by the following Film Festivals:

1) New York Independent Film Festival

2) Los Angeles Independent Film Festival

Continues to explore the fascinating history behind the origins and focus of the world's most powerful nation: America.

Why was this nation founded? How was the precise location of Washington, D.C., determined? What is the meaning of the seemingly countless occult images in our nation's capitol?

Volume II zeroes in on the Masonic & Rosicrucian influence so prevalent amongst our Founding Fathers as they planned, and began to implement, the layout of America's Capitol. For years, extreme controversy has abounded as to the exact meaning of the occult symbols found within the street layout, the buildings, and the monuments of Washington, D.C.

Is there really an inverted Pentagram formed by the street layout just north of the White House? We have discovered the esoteric reason why this Pentagram is missing one segment.

Was this city laid out to reflect the vision of a Masonic Christ foreseen by Sir Francis Bacon? Is it true that America's capitol was laid out "according to the stars", i.e., in the astrological shapes of certain planets and stars so revered by occultists?

Why did our Masonic Founding Fathers perform "Corn, Wine, and Oil" ceremonies at cornerstone layings and at the dedication of the finished structure?