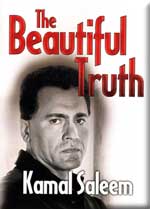 At the age of 4, Kalam Saleem learned at his mothers knee that the highest calling for a Muslim is to die a martyrs death trying to kill Americans and Jews. When 7 years old, Kalam went on his first mission, smuggling arms into Israel as a child soldier for Yassir Arafat. By 15, he was already an explosives expert. He then trained international terrorists for Libyan dictator, Ghadaffi.

As a young man, Kalam developed quite a reputation as a ruthless killer. Pursuing the cause of jihad in Paris, London, Afghanistan, and the opulent palaces of Saudi sheiks, Kalam was one of the up-and-coming stars of International Arab Terrorism. He had raised millions to support the ruthless Palestinian Liberation Organization (PLO).

But, suddenly, a life-changing crisis forced him to re-think all that he had been pursuing for all these many years. Through the kindness of strangers, Kalams heart was changed and he came to know the unconditional love of the Savior.

7 sessions, 3 DVD's.