Are YOU seized with bitter roots of anger and unforgiveness?
Does your soul feel withered and nigh unto spiritual death?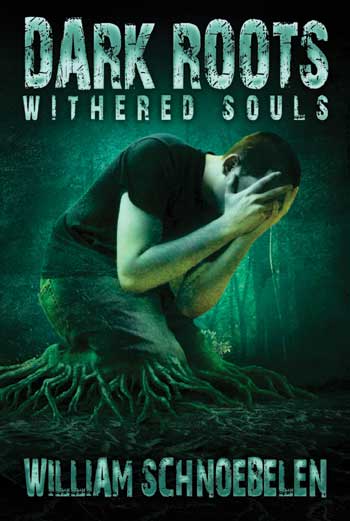 "Dark Roots, Withered Souls"
Spiritual Warfare - Spiritual Healing DVD
Regularly $24.95, Only $19.79 for 2 hours of teaching
Most families have at least one member who is bound by a 'Root of Bitterness', powerfully binding them to the dark spirits of the Abyss. This person seemingly cannot find joy in any part of life, but is continually saturated with a spirit of gall.
Schnoebelen shares critically important spiritual warfare information which can begin a spiritual healing that literally sets a person free!
Lack of forgiveness and bitter-root judgments powerfully bind even a genuine believer, preventing a full spiritual recovery.
Most people understand the need for forgiveness but do not fully comprehend how roots of bitterness and anger can prevent a person from gaining full victory in Jesus Christ.
Over 2 hours long, this DVD contains spiritual warfare and deliverance information you will never get from your local pastor!
NEWS STORY: ""More Americans Committing Suicide than During the Great Depression", Washington's Blog, May 17, 2013
America is a nation whose soul has rejected God and is now bound up in Satan's roots of bondage and unhappiness unto death. Thank God, there is deliverance!

---------- This Week's Hot News -------
DVD
I. Israel is said to be contemplating assassinating Syrian President Assad!
Angry Arab armies will begin mobilizing and taking forward positions to attack Israel!
NEWS BRIEF: "Israel Mulling Plot to Assassinate Syrian President Bashar Al Assad", Global Research, May 19, 2013
"The Israeli regime's security bodies are working on a plot to assassinate Syrian President Bashar al-Assad by the help of terrorist groups and armed rebels in the country ... Israeli security and spy agencies were shocked at Assad's resistance against two years of terrorist and sabotage operations against the country and are mulling other ways to topple him."
It is difficult to overestimate the political anger which would be unleashed should Syrian President Assad succumb to an assassins bullet. Arabs all over the world will automatically blame Israel, and many would point to this article as "proof" that Israel was behind the assassination. Remember the propaganda maxim: "Truth is not what is; truth is what people believe it to be". (Adolf Hitler, master propagandist)
Israel would be blamed. Armies will march. The Middle East will explode in the flames of regional all-out war.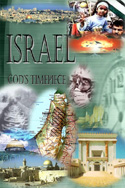 DVD
II. A retired IDF general voices doubt that Israel's air defenses could adequately protect Israeli cities from the arsenal of 100,000 Arab missiles surrounding the Jewish state.
This concern parallels a view of a retired Christian IDF military officer who moved from Tel Aviv to Hawaii so he and his wife would not perish in the coming military holocaust!
NEWS BRIEF: "Israel may not have answer to Syrian missiles: Ex-Military Intelligence Major-General (res.) Dayan, YNET News, 5.20.2013
"Israelis awoke to reports that Syrian President Bashar Assad has placed advanced surface-to-surface Tishreen missiles on standby with orders to strike at Tel Aviv if Israel launches another air strike on Syrian targets. The report was based on reconnaissance satellite photos said to show preparations for the deployment of the missiles, which Israeli analysts say could cause extensive damage to the country."
Israeli citizens have long placed a confidence in the IDF to protect them that borders on a supernatural faith. After all, the IDF has miraculously delivered Israel from overwhelming enemy forces and the belief is that the IDF can protect against anything the Arab enemy can throw at them.
But, this may not be the case this time.
" 'I'm not sure Israel has an answer to some of the missiles which the Syrians have and I'm not sure that the (anti-missile system) Iron Dome can be successful here', Mordechai Kedar, a former senior military intelligence official and professor of Middle East Studies at Bar Ilan University told The Media Line."
"In short, Israel might face a very big problem, especially where there are large concentrations of population like Tel Aviv," he continued. The difference between this and all out war with what's left of the Syrian regime is very close."
President Assad may not be acting here on his own initiative; rather, he may be planning a course of action in conjunction with the 2003 Iranian Plan to defeat America in Iraq by "lighting many fires" in the region. The last enemy to fall in this Plan is Israel. As Coalition Forces were crossing the Iraqi border on May 20, 2003, we posted an article on this subject. Please take a few minutes to read this most important article.
NEWS1910, entitled, "HAS IRAN 'IGNITED MANY FIRES' TO SET OFF MIDDLE EAST REGIONAL WAR?"
Please allow me to quote from this archived Headline News Article.
" 'The American Great Satan will never accept an Islamic system. It is coming to Iraq to complete its encirclement of our Islamic Republic before it moves against us. To help the Americans conquer Iraq easily would be suicidal for our revolution.' [Khamenei"s chief foreign policy adviser, former Iranian foreign minister Ali-Akbar Velayati]. Velayati claims that the US has two aims in the Middle East: preventing the destruction of the 'Zionist entity' and control of Arab oil."

"UNLIKE THE accommodationists who foresee an easy American victory, the confrontationists believe that US involvement in Iraq could become 'the beginning of its end.' He explains:

" 'Iraq is a swamp', Khamenei said in his address to the guards. 'The Great Satan will get caught in that swamp; and that will speed up its inevitable collapse'. In a recent article Velayati spelled out a strategy aimed at 'confronting the Great Satan in a number of fronts.' "
What were these fronts where Iran was planning to ignite into the fires of war so she could defeat America and destroy Israel?
1. Iraq

2. Afghanistan

3. Azerbaijan

4. Israel
Today, the CFR magazine, Foreign Affairs, as declared that Iran has defeated America in the Iraqi War.
Today, all Western forces are preparing to leave Afghanistan, and analysts are shouting that the Arabs have won this war.
Now, Iran can focus on Israel.
If Syrian President Assad is assassinated, the regional could systematically slip into all-out war, in much the same manner as Europe slipped into war in World War I. Once the Archduke of Austria was assassinated, events began to unfold in much the same manner. Like a rock thrown into a lake, each event started creating ever-increasing circles of subsequent events. Soon, the European world was divided into two camps and war was under way. This unfolding of events took 30 days to accomplish after the assassination. Many people worried that Israel's dramatic and heavy-handed assassination of the Syrian President could trigger this type of slide into the abyss of all-out war.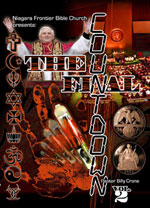 DVD
III. As if tensions were not high enough, Israel and Syria are actually shooting at each other!
NEWS BRIEF: "Syria, Israel Exchange Fire Over Border", ABC News, May 21, 2013
"Syria said Tuesday it destroyed an Israeli vehicle that crossed the ceasefire line in the Golan Heights overnight, while the Israeli military said gunfire from Syria had hit an Israeli patrol, damaging a vehicle and prompting its troops to fire back. The two sides appeared to be referring to the same incident."
This kind of live exchange on the ground has prompted a war many times in world history. Sometimes, troops in the field ignite a war that politicians and diplomats cannot stop.
"Tuesday's incident, however, marked the first time that the Syrian army has acknowledged firing at Israeli troops across the frontier, and appeared to be an attempt by President Bashar Assad's regime to project toughness following three Israeli airstrikes near Damascus this year. Assad said Syria is 'capable of facing Israel' and would not accept violations of its sovereignty. Firing at an Israeli target seems to be in line with the tougher rhetoric that followed the airstrikes."
Remember, the 1870 Illuminati Plan is to create the World War III which shall bring Antichrist to the world scene through an all-out war in the Middle East which shall then spread worldwide. Please read our archived article, NEWS1015, entitled, "Albert Pike's Occult Vision As To How To Achieve New World Order ".
Today, that plan seems closer to exploding than ever before. World War III may be closer than we think.
Antichrist will arise out of the smoke and destruction of this World War III. That is the Illuminati Plan and Bible prophecy! Therefore, it will happen.
Are you spiritually ready? Is your family? Are you adequately protecting your loved ones? This is the reason for this ministry, to enable you to first understand the peril facing you, and then help you develop strategies to warn and protect your loved ones. Once you have been thoroughly trained, you can also use your knowledge as a means to open the door of discussion with an unsaved person. I have been able to use it many times, and have seen people come to Jesus Christ as a result. These perilous times are also a time when we can reach many souls for Jesus Christ, making an eternal difference.
If you have accepted Jesus Christ as your personal Savior, but have been very lukewarm in your spiritual walk with Him, you need to immediately ask Him for forgiveness and for renewal. He will instantly forgive you, and fill your heart with the joy of the Holy Spirit. Then, you need to begin a daily walk of prayer and personal Bible Study.
If you have never accepted Jesus Christ as Savior, but have come to realize His reality and the approaching End of the Age, and want to accept His FREE Gift of Eternal Life, you can also do so now, in the privacy of your home. Once you accept Him as Savior, you are spiritually Born Again, and are as assured of Heaven as if you were already there. Then, you can rest assured that the Kingdom of Antichrist will not touch you spiritually.
If you would like to become Born Again, turn to our Salvation Page now.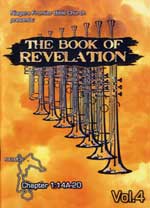 DVD
IV. The progress toward a North American Union is being aided immeasurably by the energy revolution occurring right now through fracking of shale!
America is now energy independent! This new reality will give tremendous impetus to forming the prophetic Supernation #1 in the Club of Rome Plan.
NEWS BRIEF: "The Pentagon's Most Powerful New Weapon", The 5 Minute Forecast, May 20, 2013
"• One of the most powerful weapons in the Pentagon's arsenal... and the generals and politicians never even saw it coming ... "This new energy weapon is a strategic game-changer," says our Byron King ... "I'm talking about the U.S. fracking revolution that has begun to liberate all manner of natural gas and associated oil from shale rock and tight sandstones across the U.S."
"No, the politicians and generals had nothing to do with it. In fact, they never anticipated it. But it's shifting the geopolitical landscape all the same ... "All of a sudden," says Byron, 'U.S. foreign policy isn't so beholden to events in faraway places filled with people we don't truly understand'."
However, as wonderful as it is that we no longer have to really worry about keeping the Strait of Hormuz open so the world's oil can pass through, this next fact is a real "prophetic game changer".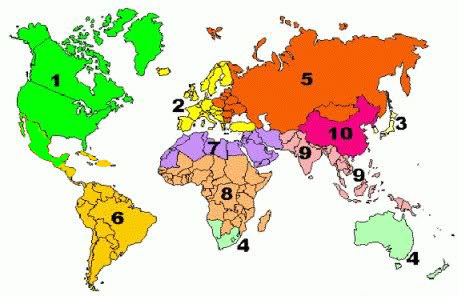 "U.S. oil imports from the likes of Algeria and Angola have collapsed. And even imports from major suppliers like Saudi Arabia, Venezuela and Nigeria are falling. 'At the rate things are going, the U.S.-Canada-Mexico block is moving toward a version of North American energy independence from the rest of the world'. "
What strikes me most about this paragraph is that the author speaks so matter-of-factly about the "U.S.-Canada-Mexico block" that it seems he believes this block is now a reality, a functioning system.
Of course, the politicians are not telling us that this new supernation has now become a reality, but that has been the method of politicians for hundreds of years. Politicians have quietly edged up to this new system with no fanfare, until the point has been reached when the progress toward the new nation has reached a "point of no return". No combined forces coming against Supernation #1 will be able to roll it back.
The "facts on the ground" will prove irresistible and all opposition is overwhelmed.
Welcome to Supernation #1, "The North American Union".
Prophecy is being fulfilled.
---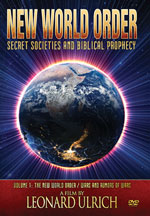 "New World Order: Secret Societies and Prophetic Wars / Rumors of Wars"
New DVD by Leonard Ulrich
Evil is organized, and pervasive and determined!
'New World Order: Secret societies and Biblical Prophecy' is a 5,000 year survey of secret societies followed by a 225 year survey of progressively engineered warfare.
L These studies clearly show how evil is fulfilling Biblical prophecy to the letter. Far from 'conspiracy theory', it calmly relies on original documents. This film is being shown to church groups and conferences around the world. It is for those who want the truth
This documentary is THE BEST in examining all the various forces and countries and movements in the past 225 years which have committed to the New World Order. Great for the novice who is just now being introduced to the concept of the New World Order. But, the student who has been studying this for a long time will also learn a great deal he/she has never thought of before. The best 'A-Z' study I have ever seen.
2 hours, 20 minutes - Regularly $24.99, Introductory Price Only $19.99 - http://www.cuttingedge.org/detail.cfm?ID=2518
---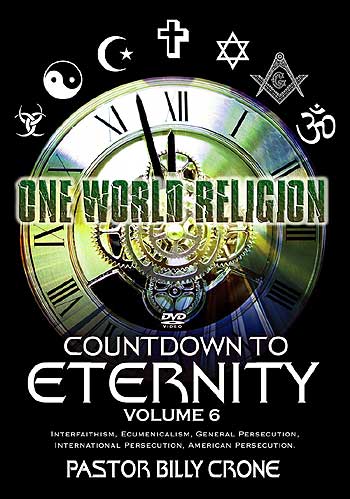 "Countdown To Eternity" DVD
"One World Religion"
Vol 6, by Pastor Billy Crone
Regularly $39.99, Only $19.99
Pastor Billy Crone alerts Christians of the movement towards a one world religion, in Today's News!
These are the key trends he covers:
Interfaithism
Ecumenicalism
General Persecution
International Persecution
American Persecution
Pastor Crone lists major prophetic signs God has given to lovingly wake us up so we'd repent and be saved before it's too late. These two DVDs are loaded with shocking film clips that illustrate the move towards the faith that all roads lead to God.
Over four hours long, 2-DVD Set - http://www.cuttingedge.org/detail.cfm?ID=2519

---
THREE NEW ROB SKIBA DVDs
Babylon Rising '322' - Tetrads and the Time of Jacob's Trouble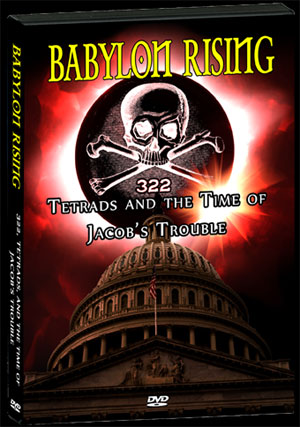 Babylon is rising and secret societies are actively at work, advancing an agenda to enslave us in their Luciferian plans for the New World Order. We can no longer afford to ignore the signs that are all around us.
In Genesis 1:14, we learn that the sun, moon and stars are to be for signs and for seasons. The prophets of the Old Testament wrote about the sun being darkened and the moon becoming as blood before the great and terrible Day of the Lord.
Moses wrote about the seven Feasts of God, which were known as moedim (appointed times) that were meant to be a miqra (something to be rehearsed). There are some very significant signs in the heavens lining up over Gods Feast Days between now and 2034, which could be pointing to the start of the time of Jacobs Trouble and the Second Coming of Jesus Christ.
This presentation examines all of this and more, while simultaneously revealing a curious link to the cryptic numbers 322 of Skull and Bones fame.
Archon Invasion: 2045 and the Quest for Immortality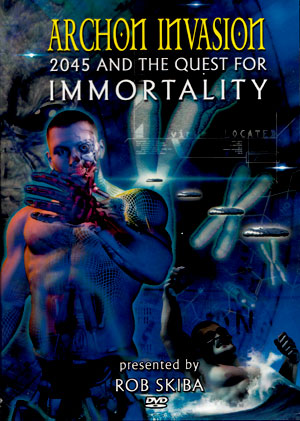 Part 3 "Archon Invasion" DVD by Rob Skiba

Who, or what, is an Archon? Who were the nephilim? How did they return both before and after the Flood? Why did Jesus say that the Last Days would be like the days of Noah? How do the advancements of the 20th Century relate to ancient prophecy from the book of Enoch? What did Aleister Crowley and Jack Parsons do that may have opened up portals to other dimensions? What does an ancient Canaanite blood altar have to do with the Federal Reserve? Why should we be concerned about the act of mixing animal and human DNA? What is the 2045 Strategic Social Initiative and how does it relate to the promises of the serpent in Genesis 3:4,4? How has the devil been preparing the masses for the acceptance of transhumanism and the potential return of the old gods?
Rob Skiba combines elements from his Archon Invasion parts 1 and 2 DVDs into one powerful information packed seminar that answers these questions and more!
133 minutes - Order yours now!
Babylon Rising DVD: And The First Shall Be Last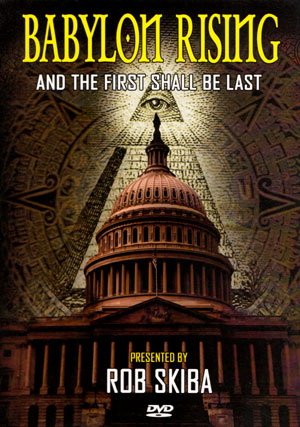 New Video by Rob Skiba
Simply Amazing! After researching the historical connections between the occult, secret societies and Biblical prophecy for the past five years, Rob Skiba has produced a masterpiece!
If you have ever been curious about the spiritual foundations of America, including our current place in history, economics, politics, science and Biblical prophecy, this video is for you!
What do the Mayan prophecies, the Aztec Calendar Stone, the symbols on Americas Great Seal and the U.S. Capital Building, all have in common?
America is the catalyst for many critically important End of the Age prophecies to occur. This incredible story is told by the American symbolism created over the past 250 years and by the actions of a number of our Presidents.
Includes
Over 2 hours
We do not agree with every conclusion of this video, but offer it to you because it does contain exciting information about Americas past, present and future, which you need to know. Order yours now!
---
NEW Countdown To Eternity - Volume 5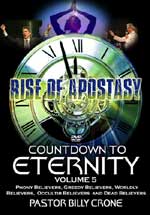 "Countdown To Eternity" DVD: Volume 5
"Phony Believers, Greedy Believers, Worldly Believers, Occult Believers, Dead Believers"
Regularly $39.99, Now Only $19.99
Pastor Billy Crone alerts Christians to several more key prophecies which are uniquely coming to pass right now, in Today's News!
These are the key prophecies he covers:
* Phony Believers
* Greedy Believers
* Worldly Believers Part 1
* Worldly Believers Part 2
* Occultic Believers and
* Dead Believers
Pastor Crone lists major prophetic signs God has given to lovingly wake us up so we'd repent and be saved before it's too late. These prophetic signs are many, but there are 10 REALLY IMPORTANT ones to which we seriously need to pay attention.
Nearly four hours long, 2-DVD Set -- http://www.cuttingedge.org/detail.cfm?ID=2508
NEW COUNTDOWN TO ETERNITY COMBINATION DVD OFFER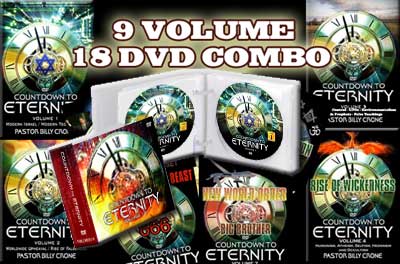 "COMBO OFFER: Countdown To Eternity End Times" DVD's
by Pastor Billy Crone
Regularly $79.96, Now Only $49.96 in this Combination Offer
The 'Countdown' To Eternity 5-Volume series takes a look at 10 major prophetic signs God has given to lovingly wake us up so we'd repent and be saved before it's too late. This fresh look at world events through the lens of prophecy is intended to convince unbelievers that the End of the Age is upon us NOW and to urge them to repent while the Age of Grace is still being offered by Jesus.
Each Volume has 2 DVD's lasting 4 hours, so this combination offer has 8 DVD's lasting 16 hours! http://www.cuttingedge.org/detail.cfm?ID=2505
---
"Freemasonry: FATAL In The First Degree"
New DVD by Bill Schnoebelen, Former Mason, Satanist
Once viewing this video, you will never again believe that your loved one can safely pass through the first degree of Freemasonry!
Bill demonstrates that Freemasonry is Satanic from the First Blue Lodge Degree right up through the 33rd Degree. The first degree of Masonry is taken directly from the first degree of Satanism, where the initiate bows his knee to Baal and Lucifer and MARRIES Baal! The first initiation degree is a spiritual marriage to the god Baal.
When your loved one completes the first degree there is a very high chance he will be demonically possessed or at least demonically afflicted. But, to make matters much worse, your loved one will bring these newly found demonic 'friends' right in the front door of your home, where he will begin to afflict all relationships within the home -- Spousal, siblings, father-children, spiritual. Every meaningful, cherished relationship will abruptly come under severe and continuous attack. Suddenly, there will be no peace in relationships and in your home.
But, there is more spiritual horror! When the new Mason begins a memorization program called 'Posting', his mind begins to change, as his mental programming is quietly and subtly reprogrammed through a mental virus very similar to a computer virus. Suddenly, he is not the same person. His relationships begin to change and he will grow spiritually colder.
Bill then Biblically guides you through the spiritual steps necessary for a person who is already caught by Masonry's trap to be free of the spirit of Masonry and full of the Holy Spirit.
Finally, Bill shows how you can be set free from any spiritual bondage if Freemasonry is in your family background, father, grandfather, mother or grandmother. Spiritual deliverance is thoroughly discussed. http://www.cuttingedge.org/detail.cfm?ID=2459
---
New Powerful NEW Headline News Articles For Our Faithful Supporters
Your faithful support enables us to keep Cutting Edge free for everyone else. Our readers have always loved the indepth correct news analysis found in our "Headline News Analysis".
"President Obama Is Gutting The Army, Navy, Marine Corps, and Air Force"
Defense Department Is So Gutted By Sequester Budget Cuts That Planes Are Grounded, Naval Ships Are Being Docked and Marines Lament That They Cannot "Handle Even One War"!
"UNPRECEDENTED! A Former Pope Moves Back Into The Vatican To Live and Work Side-by-Side With the New Pope"
"Is The Future False Prophet Being Set In Place?"
Iraq -- Ancient Babylon -- is nearing the End Times' final annihilating judgment just as God foretold 2,700 years ago in Isaiah 13.
"Mighty Babylon" is falling and her days shall not be prolonged!
The clock of death continues to tick, and soon, Iraq will be history's first "Dead Nation", a place where no person or animal can possibly live. Mighty Babylon is clearly succumbing to God's inexorable judgment -- and Skull & Bones George W. Bush drove the prophetic stake through the heart of the ancient nation of Nimrod!
The Federal Government Has Bought Almost 2 Billion Rounds of Ammunition. Is It Planning To Go To War With The American People?
As frightening as this scenario sounds, we will demonstrate that the Government is NOT planning to go to war with the American people, as they have a far different plan in mind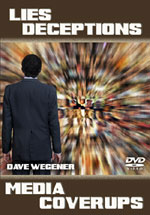 "10th Anniversary of the Iraqi War: At Last, Mass Media Is Admitting The War Was Launched On Lies And Is A Monumental Failure"
Cutting Edge was trumpeting this fact months before Bush's invasion! We knew the Illuminati had planned this war at the 1954 Bilderberg Meeting and we had filtered this knowledge through Bible prophecy and found a precise match.

Iraq's "Operation Enduring Freedom" meant only the 'freedom of the grave" for millions, but the worst is yet to come.
Part 1 of a Series Entitled, "Iraq War: Mad Dash On The 33rd Parallel"
"Powerful Current Positive Proof That America's Economy Is Fascist"
Capitalism is dead and buried. It will take less than a decade to move the entire economy to a Fascist economic system. This development is a major step toward the New World Order.
Is The Planned Moment Arriving For The Pope To Preside Over The Building of A Combination Worship Center For All Monotheistic Faiths In Jerusalem?
Israel has signed an historic agreement with the Vatican, giving the Pope a seat at King David's Tomb. Is Rome planning to soon move the throne of the Papacy to Jerusalem? Moving the Papal throne from Rome to Jerusalem would carry enormous End Times religious global implications.

"America Is Leading Western Powers In A Full-Scale Invasion of Africa!"
Now that the wars in Iraq and Afghanistan are winding down, the West is in full invasion mode destabilizing a major part of the "Non-Functioning Gap" region of the world. The "Pentagon's New Map Strategy" is being brilliantly followed. Have you noticed? Mass Media is either clueless as to what is occurring or they are part of a worldwide coverup.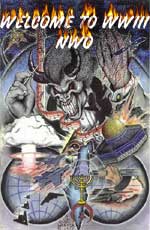 "World War III Will Be History's Greatest Lynchpin Event!"
Many major events are planned to occur just as World War III begins.
Mankind will be systematically hit with unparalleled disasters of every kind as this planned global war unfolds.
But, none of these events will occur until the lynchpin called "World War III" is pulled.
This article is perhaps the most important we have ever written!
---
May Jesus Richly Bless You,

David Bay, Director

Cutting Edge Ministries

800-451-8211