Now Available In DVD or Book!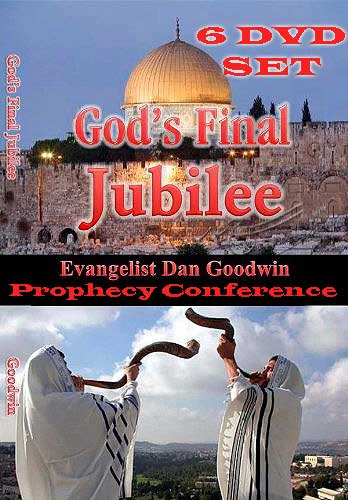 "God's Final Jubilee DVD's"
6-Disk Set by Evangelist Dan Goodwin
Regularly $39.99, Only $29.99 Introductory Price - You SAVE $10.00!
The most unusual, up-to-date study of prophetic events of our day. Prophecy Conference - Six Disk Titles:
1) 10 Proofs of a Pre-Trib Rapture;
2) A Wedding Made In Heaven;
3) Are We The Last Generation?
4) The 7 Feasts of the Lord;
5) What In The World Is Going On?
6) Seven Pillars of Biblical History.
Now you will know the truth. 6 hours of teaching on 6 DVDs - http://www.cuttingedge.org/detail.cfm?ID=2668
---
"Sign of the Times" Book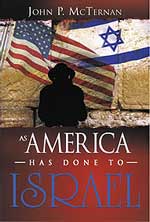 "As America Has Done to Israel"
"Is America On A Collision Course With God? "
New Book by John P. McTernan
There is a direct correlation between the alarming number of massive disasters striking America and her leaders pressuring Israel to surrender her land for 'peace.'
Costing hundreds of lives and causing hundreds of billions of dollars' worth of damage, dozens of disasters, including devastating earthquakes, raging fires, hurricanes, floods, tsunamis, and tornadoes, have hit America and always within twenty-four hours of putting pressure on Israel.
What can you do as an individual and what can America do to change the direction of our country in relation to Israel to prevent an increasing number of calamities?
This book has many pictures, some of which, have never before been released. These unique pictures include the Nazi movement in Long Island, New York prior to World War ll; the US Navy saving the Zionist movement in Palestine during World War l; and many more.
Watch Trailer - http://www.cuttingedge.org/detail.cfm?ID=2669
---
HOT NEWS
I. War tension is escalating in Israel today after Hezbollah forces hit an IDF vehicle with an anti-tank rocket.
The IDF immediately returned fire.
NEWS BRIEF: "Israel Shells Lebanon: Significant Escalation", NBC News, January 28, 2015
"TEL AVIV — Israel fired at least 20 artillery shells into Lebanon Wednesday in response to an attack on an Israeli military vehicle — an escalation in border violence that left a U.N. peacekeeper dead. "
"... A doctor at a nearby hospital said four soldiers were being treated for light injuries."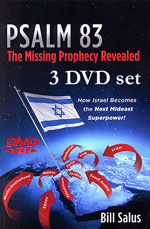 As Hezbollah claims responsibility, notice the Ancient Hatred spewing from their mouths; just as Bill Salus reports in his DVD, "Psalm 83" will be the prophesied basis of God's judgments against all of Islam!
"Hezbollah claimed responsibility for the attack ... In a statement, the militant Islamist group said its attack was carried out by a division calling itself the 'Heroic Martyrs of Quneitra'— a reference to an Israeli airstrike on the Golan Heights on Jan. 18 that killed six Hezbollah fighters. "
NEWS BRIEF: "Hezbollah claims responsibility for deadly attack on Israeli convoy", The Daily Star, January 28, 2015
"MARJAYOUN, Lebanon: Hezbollah fighters attacked an Israeli military convoy in the occupied Shebaa Farms, in south Lebanon Wednesday, killing four soldiers in a clear response to a recent Israeli airstrike ... 'At 11:25 [Wednesday morning] the Quneitra Martyrs unit targeted with appropriate missile weapons an Israeli military convoy comprising several vehicles and [transporting] Zionist officers and soldiers causing the destruction of several vehicles and inflicting many casualties on the enemy', the brief Hezbollah statement read."
"The ball now is in the Israeli court if the Israelis launch a wide scale response, Hezbollah will respond in kind," a senior political source told The Daily Star. 'At this stage we cannot completely rule out this spiraling out of this incident into a full fledged war', he added. "
"In Beirut, celebratory gunfire could be heard in the afternoon."
Yesterday, a news story indicated that the reason an Israeli airstrike against Hezbollah killed a senior Iranian general was because he was in Syria preparing a force to strike Israel. Today, Hezbollah launches an attack on an IDF convoy and threatens all-out war.
Israeli Prime Minister Netanyahu issued a very stern warning to the terrorist group.
NEWS BRIEF: "Netanyahu Warns Hezbollah 'Look What Happened to Hamas' ", Israel National News, 1/28/2015
"Prime Minister Binyamin Netanyahu responded to the Hezbollah attack on Har Dov in the Golan Heights on Wednesday, in which seven Israelis were reportedly wounded following anti-tank, rocket and mortar fire ... 'To all those trying to challenge us on the northern border, I suggest looking at what happened here, not far from the city of Sderot, in the Gaza strip', he added, referring to Operation Protective Edge last summer that was launched in response to a Hamas missile escalation. 'Hamas absorbed the hardest blow since it was founded last summer, and the IDF is ready to act with force on any front'."
At the time Israel was fighting in Gaza in Operation Protective Edge, analysts reported their belief that the next war Israel would have to fight would be in the north, where Hezbollah reportedly possesses 100,000 rockets and is backed by Iran.
That war may be getting underway!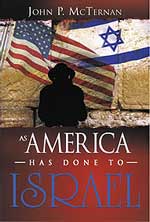 II. Iran and Hezbollah are preparing to wage joint war on Israel.
When Israeli gunners killed an Iranian general and six other senior Iranian commanders on a joint patrol with Hezbollah on the Israeli border, IDF commanders realized Iran is getting Hezbollah prepared to launch war!
NEWS BRIEF: "Fearing entanglement with Iran and Hezbollah on the northern border", The Jerusalem Post, 1/25/2015
"Amid growing tension in the wake of the death of six Hezbollah operatives and six Iranian Revolutionary Guards Corps commanders, killed by a missile while on a reconnaissance mission on the Syrian Golan not far from the Israeli border, contradictory messages are emerging."
1) "... On Tuesday, Reuters quoted a 'senior security source' in Israel saying the Iranian general killed in the operation – attributed by the foreign media to the Israel Air Force – 'was not the target'."
Israel appeared to be sending the message to Iran that she does not want conflict with the Iranian military, that her main opponent here is Hezbollah. How well will this message be received? Not well, I believe, as Iran originally declared her objective following Bush's invasion of Iraq in March, 2003, a set of goals which she has pursued remarkably.
In NEWS1910, we reported that Iran declared her intention to defeat the Americans in Iraq by igniting many wars throughout the Middle East, a declaration uttered just before the March 20, 2003, invasion date. Iran listed the countries in which she was going to start these other wars.
NEWS BRIEF: "Iran Preparing To 'Light Many Fires' To Defeat The Americans", The Jerusalem Post, March 21, 2003
" 'Iraq is a swamp', Khamenei said in his address to the guards. 'The Great Satan will get caught in that swamp; and that will speed up its inevitable collapse'. In a recent article Velayati spelled out a strategy aimed at 'confronting the Great Satan in a number of fronts.' "
He then spelled out those "number of fronts".

1. Iraq

2. Afghanistan

3. Azerbaijan

4. Israel

Iran has successfully stoked the fires of war in every one of the countries except for Azerbaijan. After the wars in Iraq and Afghanistan are concluded on terms favorable to Iran, the Persian Kingdom is encircling Israel by arming and training Hezbollah in the north and Hamas in Gaza.
The fact that Iran risked losing an Army general and five of his senior commanders on the Lebanon border with Israel proves Iran's determination to start a major conflagration with Israel.
But, the fact that Israel could not resist attacking and eliminating such a high-level entourage of Iranian military commanders proves Israel's determination to boldly strike whenever her leaders discover such a "target rich" opportunity!
Of course, any Israeli conflict with Syria or on Syrian territory brings up images of the fulfillment of the prophecy that Damascus will be utterly destroyed. Listen:
"The burden of Damascus. Behold, Damascus is taken away from being a city, and it shall be a ruinous heap." (Isaiah 17:1)
2) Israeli Prime Minister Netanyahu may be using this attack as means by which he can strengthen his popularity with voters, who will be going to the polls in just two months. The Prime Minister can only be helped by his firm and decisive hand in dealing with another enemy who is literally sneaking up to Israel's border with Syria, at the Golan Heights.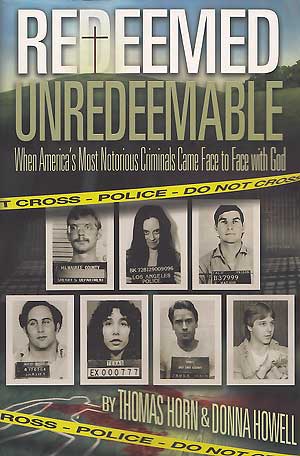 Redeemed Unredeemable: When America's Most Notorious Criminals Came Face to Face with God - New Book by Tom Horn
Jesus said that redemption 'eternal salvation' is available to everyone. No one is beyond His reach; no one falls outside the boundaries of His willingness to forgive. Anyone who calls on Him will be saved, He promises.
But, does that really include names like Jeffrey Dahmer, Ted Bundy, Susan Atkins, Charles 'Tex' Watson, Sean Sellers, David Berkowitz?
This book features a close look into the lives of infamous members of the Manson Family disciples such as Susan Atkins and Charles 'Tex' Watson, as well as serial killer Ted Bundy, 'Milwaukee Monster' Jeffrey Dahmer, 'Son of Sam' David Berkowitz, 'Pickaxe Killer' Karla Faye Tucker, and parent-killer Sean Sellers.
While in no way attempting to excuse or justify any of the devastating crimes these men and women have committed, the author's investigation brings to light not just seven case studies of hardened criminals, but seven accounts of loss. Seven stories of searching. Seven chronicles of change. And, ultimately, seven testimonies about redemption.
Read for yourself the untold stories of America's most notorious killers, and the unspeakably difficult journeys that brought them to their knees.
467 pages Order yours today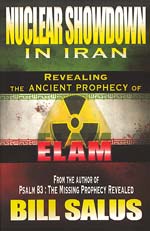 III. Iran and Hezbollah are cooperating to wage war on Israel!
When Israel killed an Iranian general and five Iranian officers on the Israel / Lebanon border, they realized that Iran and Hezbollah may well be preparing an attack on Israel.
NEWS BRIEF: "Iran and Hezbollah – an explosive combination", The Jerusalem Post, 1/26/2015
"There is no disputing the fact that Hezbollah is entirely a creature of post-revolutionary Iran – its stooge, if you will ... Hezbollah, aka 'The Party of God' ... pledged loyalty to Iran's supreme leader, Ayatollah Khomeini, urged the establishment of a Shi'ite Islamic regime in Lebanon, demanded the expulsion of Western peace-keeping forces from Lebanese territory, and called for the destruction of Israel."
Hezbollah is especially bitter toward Israel.
"Its struggle against Israel, it declares, 'will end only when this entity is obliterated. We recognize no treaty with it, no cease-fire, and no peace agreements, whether separate or consolidated'."
We should not be surprised that Shi'ite Iran would want alliance with Shi'ite Hezbollah and Shi'ite Hamas. In March, 2003, as the world awaited Bush to order the invasion of Iraq, the leadership of Iran saw their opening; they perceived that the war being forced upon Afghanistan and Iraq would shatter the status quo and would allow them to defeat their Sunni enemies in Sunni Iraq (ISIS) and in Saudi Arabia.
Then, once Iran had defeated the Sunni forces, they would encircle Israel and could begin to plan to bring the "Saturday people" into the genocide Hitler could not quite complete.
This reality is unfolding for Iran almost exactly as she had foreseen. The only obstacle to her plans will be God's formidable prophecies (Read NEWS1010,entitled, "God's Modern Day Miracle -- Israel Restored To Her Land")
At this moment when the plans of Iran and of the Illuminati strike the anchor of God's prophecies, those plans will sink more quickly than the mighty Titanic! And the destruction will be just as complete.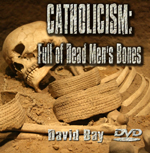 IV. Pope Francis' statements are beginning to pose problems with Catholics who are running for President in 2016.
NEWS BRIEF: "Pope Francis Turning Into a Headache for Catholic Presidential Hopefuls, Bloomberg News, 1/28/2015
"It is a new era for the Roman Catholic church, much to the dismay of three of its Republican members who are poised to run for president. On issues ranging from climate change to lifting the U.S. embargo on Cuba and the demotion of an anti-gay American bishop, Pope Francis has shown himself to be more liberal than many of the men who will likely seek the GOP presidential nomination, including Catholics such as former Senator Rick Santorum and Senator Marco Rubio."
I well remember the election of John Kennedy in 1960, when many critics questioned whether the Pope would have a veto say over policy decisions the President was going to have to make. Fortunately, Kennedy was not a devout Catholic, so this problem never manifested itself.
It is also safe to say that none of these current politicians are so dedicated to Catholicism that they would allow the Pope to dictate policy within the walls of the White House. However, these senators are more Conservative than Pope Francis I, and that is a problem as they attempt to appeal to a voter base who is very supportive of the positions taken by the Pontiff.
What bothers me is that Catholic justices on our Supreme Court hold a strong majority.
NEWS BRIEF: "6 Catholics, 3 Jews", Christianity Today, May 11, 2010
"Kagan is Jewish, as are Justices Stephen Breyer and Ruth Bader Ginsburg. All of the other justices—Chief Justice John Roberts, Samuel Alito, Anthony Kennedy, Antonin Scalia, Clarence Thomas, and Sonia Sotomayor—are Catholic. How did this situation come about in a historically Protestant-dominated country? And should evangelicals be concerned?"
Our concern is that Catholicism is NOT genuine Christianity and has historically been very antagonistic toward Protestant believers, History still records that the 300-year Inquisition tortured and murdered 70 million Christian believers.
History further still records that Pope John Paul II reinstated the infamous "Office of the Inquisition", also known as the "Defender of the Faith". One can only wonder why the Pope would reinstate this bloody office unless he intended to use it in the future.
The Illuminati decided early in 1991 that the Roman Pontiff, whoever he was at the time, would be the top religious leader in the New World Order Religion (NEWS1052). This designation immediately labeled the Pope as the False Prophet of Revelation 13:11-18.
And, that means that the Pope will be the man who will force all peoples of the world to take the "Mark of the Beast" under the threat of immediate beheading. Revelation 13:11 warns us that this False Prophet will have the heart of the Dragon (Satan).
"...he spake as a dragon."
The Spirit of Catholicism comes from the Abyss. Therefore, I am troubled to see that, as the prophecies of the End Times are rapidly coming to conclusion, so much of our government is being controlled by the same religion which martyred so many Protestants in the recent past and which shall force all peoples to take the Mark of the Beast.
This development is truly a "sign of the times"!
---
Cutting Edge Ministries is pleased to announce that we are partnering with Exodus Mandate in a joint endeavor to create two hard-hitting DVD's warning about the severe spiritual dangers of 'Common Core Curricula' now being implemented in public schools.
Exodus Mandate will bring their spiritual and educational expertise to bear, warning everyone that a child's mental and spiritual well-being are eternally at risk if they are subjected to the Godless curricula of Common Core.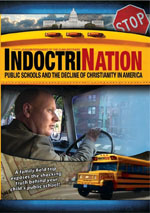 Christian parents must pull their precious children out of Common Core immediately. Toward that end, we shall offer inexpensive and practical alternatives to Public School. Exodus Mandate created the book and DVD entitled, "IndoctriNation", which proved that one of the major reasons American Christian Churches are in such decline is because Christian parents have left their children in Public Schools.
We pray earnestly that the Holy Spirit will use these two Common Core DVD's to spark an End of the Age revival. We will not be finished with these DVD's until July 1, so we have plenty of time to pray and fast to bring the power of Almighty God upon this video project. Will you pray and fast for the next seven months for revival? We believe that this issue can bring such a spiritual conviction upon parents that a revival may be sparked.
Pray, as the eternal souls of millions of Christian children are at stake! Hell awaits too many Christian kids whose souls and minds have been ruined by our Public School system, a tragedy which is only going to get worse once Common Core works its deadly spiritual magick.
May Jesus Richly Bless You All!
The title of our Common Core DVD is ", "Setting Our Children Free: Escaping The Trap of Common Core".

If you could possibly help us out with a donation to properly fund this monumentally important goal of producing this DVD warning of the dangers of Common Core and providing a workable solution, we would greatly appreciate it. Common Core is both an educational and a spiritual problem and, as such, we are praying that the Holy Spirit trigger an End Times revival on the level of the Great Revival of 1741.
Is this the issue that will bring this type of revival?
Speakers:
Ray Moore, Exodus Mandate, and Executive Producer of "IndoctriNation" will be the featured speaker.
Other speakers include:
Mac Dominick, Cutting Edge author
Israel Wayne, Dr Brian Ray, Kevin Swanson and Dr. Bruce Short - Homeschooling Educators
Dan Smithwick -- Nehemiah Institute
Walter Corett -- Retired Public School Teacher, Advanced Physics
John Becker and Andy Thompson - Ohio Representatives
Brian Ray, National Home Education Research Institute
By the time we complete this project, we shall have several more contributing speakers
We need money to fly speakers in to our studio in some instances and to fly our editor in some other instances, as well as trips to several HomeSchooling shows. We need to buy some additional equipment. In short, we need your help in raising the funds necessary to complete this project.
Please pray to see what the Lord would have you do.
---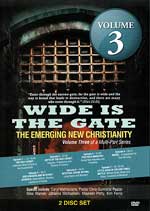 "Wide Is The Gate" Volume 3 DVD
" Hyper Charismatic and Pentecostal Movements"
Regularly $39.95, Now Only $29.95 - Disks, almost 6 hours
This final Volume features the Hyper Charismatic and Pentecostal Movements represented by a variety of names and leaders. This supposed 'new move of the Holy Spirit' coined as the New Apostolic Reformation (NAR) is also known as Third Wave, Manifest Sons of God, Latter Rain, Kingdom Now, Word Faith, Fresh Fire, and has many other names!
Poignant testimonies of former members recount the subtle ways they were enticed into believing they were part of something "new" God was doing, only to come to the sober realization that they had been ensnared by unholy spirits. Through careful Biblical analysis, well known experts help unravel the tragedy of growing deception in the Church masquerading as Revival, Renewal and vibrant New Christianity.
Caryl Matrisciana, who grew up for almost 20 years in India, insightfully explains how India's Eastern Mysticism is being practiced by millions of unsuspecting Christians in most mainline denominations. 2000 years ago, in conjunction with the birth of the church, Gnostic heresy (the foundation of Eastern Mysticism) attempted to creep in. Today, it presents itself as Western Mystical Spirituality and by hijacking Christian terminology, its 'doctrines of demons', warned about in 1 Tim 4:1, is deluding the Church. http://www.cuttingedge.org/detail.cfm?ID=2662
Volume #1 - "Wide Is The Gate DVD: The Emerging New Christianity, A Paradigm Shift" - Also On Sale
Volume #2 - "Wide Is The Gate DVD: Emerging Christianity In The Post-Modern Church" -Also On Sale
---
New Rapture DVD By Doc Marquis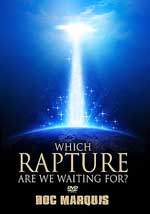 "Which Rapture Are We Waiting For?"
Doc Marquis educates us how the Rapture of the Church is defined in the Bible. Not surprisingly, the Biblical definition is much different than popular belief. From Genesis, the first book of the Bible, to the Book of Revelation, the last book of the Bible, God has instilled a measurable and repeatable pattern dealing with the Rapture of His Church.
Once you understand what a genuine Rapture truly is, you will immediately understand what our Christian forefathers said about this exciting subject, you will understand what God has to say, and you will see God's pattern of other raptures in the Bible. 'There has been more than one rapture in the Word of God'.
'Doc Marquis has assembled the 'magnum opus' of presentations on the '...blessed hope and the glorious appearing of the great God and our Saviour Jesus Christ' (Titus 2:13; Dr. David Schnittger, the Associate Pastor of Southwest Radio Ministries)
DVD is about 2 1/2 hours long -- Only $19.95
Related "Rapture" Bookstore Resources
---
---
Your faithful support enables us to keep Cutting Edge free for everyone else. Our readers have always loved the indepth correct news analysis found in our "Headline News Analysis".
If you want only to make a donation rather than subscribe to Headline News, simply click on the 'Donation Button' shown to the left and complete the simple form.

---