Cutting Edge End Times 'Biblical Worldview' DVD's
Regularly $14.99, Introductory Price $9.99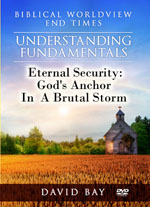 "Eternal Security: God's Anchor In A Brutal Storm "
"Wherefore comfort one another with these words" - 1 Thess 4:18
Watch Trailer
Watch Trailer For "Prophetic Beast Arises"
Watch Trailer For "Rapture Precedes"
NOTE: This Introductory Price will be removed on August 30.
In the future, new titles in this series will initially be offered at $9.99 only for 30 days, after which they will go to $14.99
---
HOT NEWS
Events in Israel, Syria, and Iraq seem confusing and inexplicable to many people. But, when you understand the true prophetic goals being pursued, then the confusion changes to a clear comprehension!
I. As Israel agreed to an open-ended ceasefire with Hamas in the Gaza Strip, a majority of Jews felt betrayed and defeated.
But, Israel accomplished her major, hidden, strategic objectives!
NEWS BRIEF: "Israel and Palestinians Reach Open-Ended Cease-Fire Deal", Time Magazine, August 26, 2014
"Palestinian President Mahmoud Abbas announced Tuesday that Israel and various Palestinian militant factions including Hamas and Islamic Jihad had reached a cease-fire deal to end seven weeks of devastating war, and to postpone negotiations over several remaining issues for one month."
The majority of Israeli citizens felt betrayed and defeated.
NEWS BRIEF: "Gaza Ceasefire Leaves Israelis Feeling Defeated", Israel Today, August 27, 2014
"Images of Hamas and its supporters dancing in victory upon the ruins of Gaza on Tuesday (pictured) as an open-ended ceasefire came into effect seemed ridiculous to outside observers. But expressions of defeat coming from much of Israel suggested that perhaps the terrorists had won the summer's Gaza war ... The battered residents of southern Israel were clear: "Israel surrendered to terror" by failing to destroy Hamas and accepting a truce that left the terrorists fully armed. The next Gaza war is only a matter of time, they insisted."
PM Netanyahu insisted that Israel had won a decisive victory. However, Jewish citizens living next to the Gaza Strip are not impressed and most will move further inland.
NEWS BRIEF: "Israeli Gaza Belt Leaders See Ceasefire as Surrender", Israel National News, 8/27/2014
"The heads of local government in the Gaza Belt region are sorely disappointed with the prime minister for accepting a ceasefire with Hamas ... The head of the Eshkol Council, Haim Yelin, said that he will not ask the residents of his region to return to their homes."
Indeed, a great many Jewish citizens who lived and worked on the border with Gaza will now be moving inland. When these Jewish citizens vacate this area next to the border, Israel will have expanded its "buffer zone" between her citizens and Palestinians.
And, this brings us to exposing Israel's true intentions. Biblical prophecy states that Israel will annihilate the Palestinians (House of Esau) completely at the End of the Age (Read full details in NEWS2095).
However, as we reported in our original article, NEWS1422, posted September, 2000, Israel must separate the population, Jew from Palestinian, lest her forces kill significant numbers of Jews.
A military can separate populations by two methods:
1) Erect a security barrier
2) Create a physical buffer zone
Since Palestinians live in two areas within Biblical Israel -- West Bank and Gaza Strip -- we should expect to discover that she is using these two methods to separate Jew from Palestinian.
This first image is of the security fence surrounding the Palestinians in the West Bank.
As you can see, this physical security fence has completely shut the Palestinians in.
Further, it has prevented them from growing outward, so the population density within the fence has really intensified.
The placement of this fence has given rise to charges that Israel has forced an "Apartheid System" upon the Palestinians, much like the system South Africa imposed upon the blacks.
However, Israel only created this fence to prevent Palestinian suicide bombers from easily entering Jewish areas and murdering innocent men, women and children.
Toward that end, this security fence has achieved its goal very well. Palestinian terrorists intent upon murdering Jews now must resort to terror rockets, because the fence, along with security checkpoints, has stopped suicide bombers almost completely.
Much of the security fence is made of concrete that would withstand a fire blast.
Therefore, we can see that Israel has successfully separated Palestinian from Jew in the West Bank through this Security Fence. But, what about the Gaza Strip? When Prime Minister Sharon ordered all Jews to be forcibly removed, he ensured that no Jews were living in harm's way.
However, Jewish citizens were living on the Israeli side, but right up next to the Gaza Strip border. Since Israel has shown no desire to build a mammoth security fence around Gaza, she must use a "buffer zone" to separate the populations.
This current war in the Gaza Strip against Hamas has accomplished this goal.
As you can see from this map, Prime Minister Netanyahu ordered a 5 km buffer zone all the way around Gaza. We believe this buffer zone was the real goal of this entire campaign.
Creation of this buffer zone shrinks the Gaza Strip by over 40%! Surely, a 5 km buffer zone would be wide enough to prevent the over spray from fuel-air bombs from killing Jews as it annihilates the Palestinians.
But, if Jewish citizens living next to the Gaza move further inland, then the buffer zone widens even further.
Therefore, Israel accomplished her major goal of using the war against Hamas in the Gaza Strip as the excuse to create the buffer zone she will need as she carries out God's decree of judgment in Obadiah 15-18! The real agenda was never to defeat Hamas, nor disarm her, but to prepare the Gaza Strip Palestinians for annihilation.
From this standpoint, the war against the Gaza was a smashing success. If Israel retains this broad buffer zone, we can know with certainty that God's judgment is close at hand.
SPECIAL WARNING: AS WE REPORT ON HOW THE ANNIHILATION OF THE PALESTINIANS IS ABOUT TO OCCUR, IN COMPLETE FULFILLMENT OF OBADIAH 15-18, WE TAKE NO PLEASURE IN THIS ANNOUNCEMENT. WE FEEL AS THE BIBLE SAYS, "For I have no pleasure in the death of him that dieth, saith the Lord GOD" [Ezekiel 18:32]
HOWEVER, THE MOST CALAMITOUS EVENTS IN WORLD HISTORY ARE ABOUT TO BREAK OVER OUR HEADS, AND PEOPLE WILL BE DEMANDING ANSWERS. THE TRUTH IS THAT A JUDGING GOD IS CARRYING OUT HIS JUDGMENTS EXACTLY AS HE FORETOLD 2,500 YEARS AGO. MAY PEOPLE SEE THIS PROPHECY FULFILLMENT AND TURN TO JESUS CHRIST FOR SALVATION!
---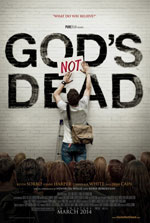 " God's NOT Dead" DVD
Present-day college freshman and devout Christian, Josh Wheaton (Shane Harper), finds his faith challenged on his first day of Philosophy class by the dogmatic and argumentative Professor Radisson (Kevin Sorbo).
Radisson begins class by informing students that they will need to disavow, in writing, the existence of God on that first day, or face a failing grade. As other students in the class begin scribbling the words 'God Is Dead' on pieces of paper as instructed, Josh find himself at a crossroads, having to choose between his faith and his future. GODS NOT DEAD weaves together multiple stories of faith, doubt and disbelief, culminating in a dramatic call to action. The film will educate, entertain, and inspire moviegoers to explore what they really believe about God, igniting important conversations and life-changing decisions.
Your soul will be filled with the Joy of Heaven by the message of this video. You will not only find fresh reasons for your faith in God, but you will want to buy this video for unsaved friends and loved ones.
120 minutes - http://www.cuttingedge.org/detail.cfm?ID=2639
---
STOCK REDUCTION SALE
Prices Good Now
See How Much $4.99 Can Buy!
Regularly up to $39.95 - Save Up To 88%