HOT NEWS
I. Arab and Jewish Christians meet together in Jerusalem to call attention to the imminent prophetic return of Jesus, Messiah!
Arab and Jewish Christians are shouting to the world that all Arabs and all Jews need to receive Jesus as Savior, now, while the Age of Grace is offered to mankind.
NEWS BRIEF: "Arab and Jewish Christians Unite to Proclaim Messiah's (Jesus') Return", November 26, 2014
"A new generation of Arab and Jewish followers of Jesus met together last week to strategize on how to 'turn Israel upside down'."
Orthodox Jewish leaders for many years have worried about the ability of Christian believers to "turn the world upside down" for Jesus. When the Holy Spirit starts to surge through a people, He has that kind of dramatic effect!
Listen to the uproar caused by the preaching of the Gospel of Jesus Christ in the Book of Acts:
"But the Jews which believed not, moved with envy ... set all the city on an uproar, and assaulted the house of Jason ... they drew Jason and certain brethren unto the rulers of the city, crying, These that have turned the world upside down are come hither also..." (Acts 17:5-7)
Today, as Israel proceeds toward her destiny with her final seven years -- 70th Prophetic Week -- the same Jesus Who created such a furor as to "turn the world upside down" is going to do it again!
Doubtless, these Arab and Jewish Christians are sensing that the turmoil within Israel, and especially around the Temple Mount, are sure signs that the appearance of Jesus Christ is getting closer and closer.
But, first, the messiah imposter -- Antichrist -- must arise and march to the Temple Mount to be enthroned and proclaimed to be The Christ.
Israel awaits.
The world trembles.
Jesus warned that a particular type of church was especially deadly. 'Woe unto you ... hypocrites! for ye are like unto whited sepulchres, which indeed appear beautiful outward, but are within full of dead men's bones and of all uncleanness." (Mt 23:27)
Over the past 1,500 years, the Roman Catholic Church has perfectly fit Jesus' description. Claiming to be the One True Church of Jesus Christ, they have been full of dead men's bones and of all uncleanness.
We prove that the only way to understand why Rome brought in truckloads of pagan doctrine, practices and dress is to realize that the Vatican is practicing Witchcraft!
We also examine the many symbols of Catholicism, demonstrating that they are symbols used in the Witchcraft Mystery Religions of Babylon, Egypt and Chaldea
This DVD will open the hearts and minds of loved ones caught up in Roman Catholicism like no other you have ever seen
One hour, 36 minutes long - Watch the trailer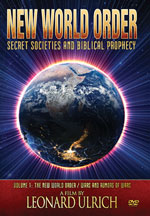 II. ISIS is declared to be "broken" in Iraq!
This country can now begin using its rich oil preserves to build a 21st Century nation.
NEWS BRIEF: ISIS, Broken in Iraq, Emerges in Saudi Arabia", The Fiscal Times, November 25, 2014
"In an effort to restore its momentum, ISIS, the terror monster created by the twin sectarian conflicts in Iraq and Syria, launched its largest attack on the city of Ramadi, 70 miles to the west of Baghdad ... The Iraqi army and Sunni tribal fighters fought back. For a day or so, ISIS controlled parts of eastern and central Ramadi. After three days of fierce fighting, ISIS was defeated. Tribal fighters engaged ISIS in battle while the city mosques called for people to fight ISIS, marking the dramatic change in the mood of the Iraqi Sunni community after the massacre of hundreds of Sunnis by ISIS a few weeks ago."
"Meanwhile, Iraqi government forces, Shiite militias and Kurdish Peshmerga captured the cities of al-Saadiya and Jalawla in Diyala province near the Iranian borders and to the northeast of Baghdad. By capturing the two cities, the province of Diyala is now totally in the hands of the Iraqi government ... The Iraqi air force has started dropping leaflets over the cities of Mosul and Falluja asking people to prepare for the liberation of the two cities."
It seems as though Shi'ite Iraq is emerging victorious against her intense battle against Sunni Iraq. Soon, an International Conference will be convened where the map of the Middle East will be completely redrawn.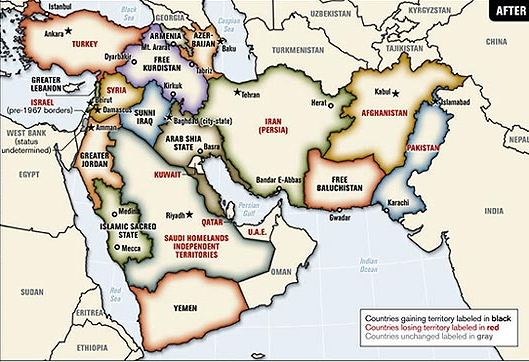 Note that Shi'ite Iraq will be given land on both sides of the Persian Gulf, from Iran on the one side and from Saudi Arabia on the other side. Sunni Iraq -- now called ISIS or ISIL -- will be forced back to within the boundaries of a small nation.
Don't you find it interesting that Saudi Arabia gives up control of her most holy place, Mecca and Medina? Changes are coming rapidly now, don't you think?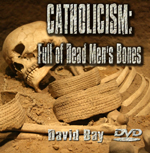 III. Pope Francis reacted strongly after an alleged sexual abuse victim called him to report several Spanish priests as pedophiles.
Finally, the Vatican has a Pope who cares!
NEWS BRIEF: "Spain arrests three priests, one teacher after alleged victim gets phone call from Pope Francis", New York Daily News, November 25, 2014
"Those arrested were charged with sexually abusing a minor. The young man who said he was abused had written a letter to the Vatican ... A young man in Spain wrote to the Holy See, saying he had been sexually abused by Roman Catholic priests as a young boy in Granada. On Monday, three priests and a teacher were arrested for allegedly abusing the minor ... The arrests of three priests in one day is the biggest case of its kind in Spain ... A total of 12 people, 10 of them priests, are under investigation, the journal said."
"Pope Francis asked the man, now 24, for forgiveness, on behalf of the church."
Cutting Edge has written extensively about the horrific proclivity in the priesthood to sexually abuse both boys and girls and women. Over 75% of young seminarians in the Catholic system are homosexual. But, before the 20th Century, priests were abusing mostly women and young girls in the confessional. Please take a few moments to read about the past 1,200 years of sexual abuse by the Catholic priesthood:
NEWS1614 - "Roman Catholic Priests Abuse Children Constantly: The Evil Confessor"
NEWS1646 -- "Why Do Child Sex Abuse Victims of Catholic Priests Remain Silent For Decades, Rather Than Reporting It To Their Parents?"
NEWS1676 -- "The True Face of Roman Catholic Inquisition: The Rotten Spiritual Fruit From The Abyss of Hell"
NEWS1656 -- "Pedophile Catholic Priest Confessed Directly To Pope John Paul II in 1973, But 'His Holiness' Took No Action"
NOTE: NEWS1656 is one of the most important articles we have written on the subject of Catholic Priest Pedophilia, as it reveals that the hardness of heart against child victims runs all the way up the Hierarchical ladder, directly to the Pope himself.
For this reason, Pope Francis' actions speak so loudly. At least he has the courage and the humility to try to end this moral scourge. If he becomes the False Prophet of Revelation 13:10-18, he will attract the support of untold tens of millions of people because he had the courage to take acation against the guilty and because he had the humility to ask forgiveness.
The question remains, however: what is so systemic within the Roman Catholic Church that it has produced 1,500 years of sexual perversion -- both heterosexual and homosexual -- within its priests. We humbly believe we have discovered the answer in oure newest DVD, "Catholicism: Full of Dead Men's Bones" -- pictured above.
---
Unique Biblical Worldview DVD's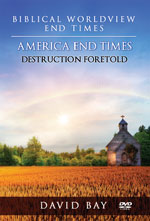 "America: End Times Destruction Foretold"
New DVD by David Bay, Director, Cutting Edge Ministries
Only $14.99 -- Watch Dynamic Trailer
One prophecy dramatically informs us that America, specifically, will be in some degree of financial prosperity until God annihilates her in judgment, with fire, in one hour. That inspired prognostication from God is found in Revelation 18, so let us turn our attention to this most important prophecy, maybe one of the most important predictions of our End of the Age time period.
America may be the Economic Babylon of Revelation 18, as she is certainly symbolic of the widespread system of Anti-God evil that the Bible says is inherent in any Babylonian system.
Revelation 18 describes destruction by fire--God's fire--of "Babylon the Great"
You will never look at news the same way again!
One Hour -- http://www.cuttingedge.org/detail.cfm?ID=2653
---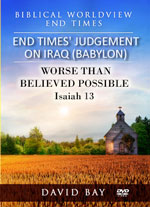 "End Times' Judgment On Iraq (Babylon) Worse Than Believed Possible - Isaiah 13"
Iraq -- Ancient Babylon -- is nearing the End Times' final annihilating judgment just as God foretold 2,700 years ago.
The clock of death continues to tick, and soon, Iraq will be history's first 'Dead Nation', a place where no person or animal can possibly live. Mighty Babylon is clearly succumbing to God's inexorable judgment -- and Skull & Bones George Bush drove the prophetic stake through the heart of the ancient nation of Nimrod! http://www.cuttingedge.org/detail.cfm?ID=2641
---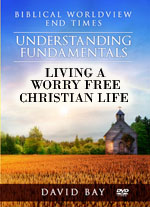 New "Biblical Worldview" Teaching DVD Series
by Cutting Edge Director David Bay
"Living A Worry-Free Christian Life"
How is a Christian to live during these evil End Times? Most Christians are in some degree of depression because our values are constantly under cultural and moral attack, and because times are hard economically, with wars raging on all continents save one, with hatred and anger raging on the Daily News. How does one live a 'Worry Free Life'?
We must live our lives in strict adherence to Biblical teachings. For Example: 1) How can we begin practicing this kind of joyful day-by-day living? We start to 'cast and release'. Psalm 55:22 "Cast thy burden upon the LORD, and he shall sustain thee: he shall never suffer the righteous to be moved."
'Cast and release' * Examples in daily living
* Notice from the IRS
* Mechanical difficulty with the car
* Distressing call from a loved one
* Distressing news from your job
* Unexpected bill & you don't have the money
The Psalmist understood this 'cast and release' principle as a means to lift his spirits during hard times. "Why art thou cast down, O my soul? and why art thou disquieted within me? hope thou in God: for I shall yet praise him, who is the health of my countenance, and my God." (Ps 43:11)
Peter understood this principle of releasing the weight of our troubles. 1 Peter 5:7, "Casting the whole of your care, all your anxieties, all your worries, all your concerns, once and for all on Him, for He cares for you affectionately, and cares about you watchfully."
This "worry-free life" brings us that most important state in which we can rest:
Heart Peace
Run Time is 1 hour Order now
---
Actual World War II Propaganda Footage!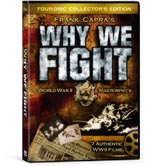 "Why We Fight"
4-DVD Collectors Edition Set - by Frank Capra, Biblical Worldview
An incredible overview of the events leading up to America's involvement of WWII. Master Filmmaker, Frank Capra, was commissioned by the US Army to produce this documentary series to show the soldiers what they were fighting for, and what evils they were fighting against. This video adds a new dimension to the study of history, a dimension that books and photos cannot match. http://www.cuttingedge.org/detail.cfm?ID=2644
Regularly $39.99, Now Only $9.99 -- While supplies last
---
---
Headline News Articles
Sick and Tired of All This 'Sky Is Falling' News?!
Chicken Little News Media always takes a news story to the absolute maximum, even though the news hardly ever warrants such an evil report. News is designed to be bad and to discourage as many people every single day as possible! You can avoid being such a casualty of the news.
Global Genocidal War Against Muslims Continues!
The Illuminati 'Blood In The Streets' Strategy Against Muslims Is Bearing The Evil Fruit The Elite Planned In The First Place
Enraged enemies are easily neutralized and manipulated by superior power and strategy. From October, 2001, when America led forces into Afghanistan, to March, 2003, when America led forces into Iraq, to ISIS of today, the Global Elite carry out their 'Silent War' designed to annihilate all Muslims.
But, now the time has arrived for the Elite to provoke exceedingly hot hatred amongst Western citizens against Islam, a hatred which will allow them to annihilate all Muslims.
Your faithful support enables us to keep Cutting Edge free for everyone else. Our readers have always loved the indepth correct news analysis found in our "Headline News Analysis".
If you want only to make a donation rather than subscribe to Headline News, simply click on the 'Donation Button' shown to the left and complete the simple form.

---