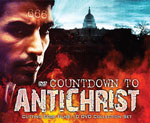 World events are picking up speed so greatly that discerning Christians everywhere are asking 'Is the appearance of Antichrist close at hand'? They are also asking what human forces are acting to produce this prophesied 'Man of Sin'?

Answers to these questions are taught by Chris Pinto, Doc Marquis, Dr. Stan Monteith, Bill Still, William Schnoebelen, and J.D. Grush. But be careful, your understanding of current world events may never be the same again!

Doc Marquis teaches in "Arrival of Antichrist' the plan of the global Illuminati to produce their 'Masonic Christ', the Biblical Antichrist. Marquis shows in "Illuminati Is Fulfilling Bible Prophecy' how many current events occurring right now to bring Antichrist to the world are specifically fulfilling numerous prophecies.

Chris Pinto reveals in 'The New Atlantis' that planning for America began in 1590 between Queen Elizabeth I and Sir Francis Bacon to use the power and wealth of the British Throne to establish history's most powerful nation out of the North American Colonies. America's Masonic Founding Fathers precisely carried out this plan, a scheme designed to bring the New World Messiah into the world.

In 'Riddles In Stone: Secret Architecture of Washington, D.C.', Pinto proves that the full blueprint to produce the Masonic Christ can be seen in the street layouts, the pictures, the monuments, the frescoes and building adornments. Pinto proves that the god of Washington, D.C., is Baal, a bloody pagan god who is a forerunner of Antichrist. Once you know the secrets of the Illuminati, Government Center reads like a book!

In 'Eye of the Phoenix', Pinto demonstrates that the incredibly complex One Dollar Bill also tells the story of the Masonic plan to produce Antichrist on the world scene.

In Armageddon: Warrior King, Grush reveals Biblical details about the furious battle between Jesus Christ and the armies of Antichrist that you have never understood before!

Six DVD Titles, Ten DVD Discs, almost 16 hours of teaching. You will never look at the news the same way again! And, you will be looking up, knowing that your Redeemer is drawing nigh.

These 8 DVD's are protected by a revolutionary wallet protective case. This gift set protects each DVD from getting ruined during shipping, as each DVD is in its own protective sleeve, with a fabric separating the disks to keep the quality top-rate. All sleeves are inside a loose-leaf library case. Each disc is fully protected.