The Bible mentions the name 'Babylon' 264 times in the KJV. Today, many Christians are confused about references in prophetic passages which use Babylon in seemingly difference ways. When a Christian tries to shoe-horn one definition into all references to Babylon he / she is unnecessarily confused.
In our study of 'A Tale of Two Babylons', we are going to demonstrate that prophetic literature speaks of God's judgment on one physical nation 'Babylon' (Judged in Isaiah 13) and one nation Symbolically called 'Babylon' ( Judged in Revelation 18).
If you understand this difference, you will properly understand End Times prophecy. But, if you do not understand the difference between these 2 Babylons, you will be unnecessarily confused, and will be open to being mislead on one of the most important End Times subjects.
Since the confusion begins with the definition of Babylon, let us begin at there! Bible scholars recognize that God uses the name Babylon in two distinct ways. (Quoting from The Free Dictionary Online).
1) "... the capital of the ancient kingdom Babylonia in Mesopotamia on the Euphrates. Established as capital c. 1750 bc, rebuilt in regal splendor by Nebuchadnezzar II after its destruction (c. 689 bc) by the Assyrians, Babylon was the site of the Hanging Gardens, one of the Seven Wonders of the World 2) A city or place of great luxury, sensuality, and often vice, corruption or a place of captivity or exile.
In this study of 'A Tale of Two Babylons', we are going to demonstrate that End Timesprophecy speaks of Gods judgment on one physical nation 'Babylon' and one nation Symbolically called 'Babylon'.
We will also reveal two major contributions to End Times' prophecy which Donald J. Trump is poised to fulfill. In fact, Trump may be the only leader who can fulfill these prophecies in America today. President Trump does not realize it, but he has 'An Appointment With Destiny', a favorite term uttered many times by 33rd Degree Masonic President, Franklin Roosevelt, referring to the New Age / Masonic Messiah, whom the Bible calls Antichrist.
This DVD covers Revelation, Chapters 15 through 18, four of the most insightful chapters in the Book.
Mac starts in Revelation 15 with the 7 vials of wrath and then moves to Revelation 16, where a Godly angel proclaims that all Divine Judgments are now completed.
Rev 17 and 18 describe two Satanic behemoths called 'Babylon' which tightly control all the Earth with their monstrous spiritual power and their spiritual influence on all mankind.
Rev 17 describes the False Religious Prophet and his authority over men. Bible scholars believe this prophet is the Pope of Roman Catholicism.
Rev 18 is proposed to be the physical and political capital of Antichrists Kingdom, a.k.a., New World Order. Great video, and very revealing.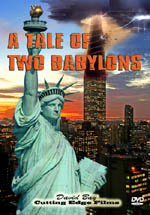 DVD
1. President Trump cascaded positive excitement during his speech last night to Congress which could easily lead to the economic boasting and idolatry prophesied in Revelation 18:7.
NEWS BRIEF: "Trump promises 'renewal of American spirit' in Congress speech", Yahoo News, March 1, 2017
"Washington (AFP) - Donald Trump pledged a "renewal of the American spirit" Tuesday, as he fleshed out his America-first agenda in a more measured presidential tone during a landmark speech to Congress. Transposing hardline campaign promises into a presidential key, Trump offered the most restrained and detailed explanation yet of his America-first world view."
"And although the 70-year-old again promised a hard line on illegal immigration, he outlined his policies in less-inflammatory economic terms, winning sustained applause from the Republican-dominated Congress."
" 'By finally enforcing our immigration laws, we will raise wages, help the unemployed, save billions and billions of dollars, and make our communities safer for everyone', he said ... Hailing what he called the 'new national pride' sweeping the country, he sought to use the pomp of the occasion and the presidential pulpit to reclaim authority and correct course after 40 difficult days. Trump struck a compassionate tone at times, embracing family-friendly policies like paid parental leave, and even won cautious praise from Democrats for his call for unity."
"He outlined plans for rebuilding America's creaking infrastructure and for high-stakes tax and healthcare reform ... "
The old, and very discredited "Equal Sum" opposition to cutting taxes was even uttered by a Democrat Senator!
" 'This plan doesn't add up. A third-grade math student can see that you're going to blow a huge hole in the deficit if you do the things the president is talking about', Democratic Senator Chris Van Hollen told AFP."
In other words, this ignorant Democrat senator is saying that, if you reduce taxes that will bring about a $100 billion reduction, you are going to have to find $100 billion in budget cuts to balance the budget.
This Senator must be so young that he does not remember President Ronald Reagan. Immediately after entering the White House on January 20, 1981, Reagan pushed through a huge tax cut, overriding this nonsensical "Equal Sum" objection.
As the tax cuts took hold, American consumers spent so much of the extra money they now had in their pockets that business boomed, factories had to add workers to fulfill increased demand, and the U.S. Treasury discovered it had more money coming in, even though the tax rate had been cut.
By the way, this tax cut/increased business scenario is the secret behind the emergence of Hong Kong's business following the devastation of World War II. The City Council debated how to bring in foreign investment in Hong Kong, so they could rebuild the city. The Council decided to dramatically reduce the cost of a foreign company doing business in the City, and suddenly, investors were lining up to open factories and shipping facilities. Even at the reduced tax rate, so much more money was pouring into City coffers that, over the years, the Council reduced taxes several more times.
This scenario will work every time it is used, as the power of the consumer spending is very powerful once it is set loose in the marketplace.
So, do not let anyone deceive you that, before the President can reduce taxes, he must identify the cuts he will have to cut to "pay for" the cuts. This fraudulent argument is designed to stop cutting taxes in its tracks.
NEWS BRIEF: "Media left and right give Trump's speech thumbs up", The Hill, 2/28/2017
"President Trump's address to a joint session of Congress exceeded expectations among the pundit class on Tuesday night."
Both Left and Right analysts applauded:
* "CBS's Gayle King felt Trump's speech was authentic."
* "Fox News's Chris Wallace echoed King's sentiment. 'I thought it was by far the best speech I've ever heard Donald Trump give," he said. "It was one of the best speeches in that setting I've ever heard any president give."
* "Democratic strategist and CNN contributor Kirsten Powers echoed Wallace's sentiments, calling it Trump's 'best speech' ever. "
* " 'Best speech @realDonaldTrump has ever given', wrote Powers, a former Fox News contributor. "
* "MSNBC's Rachel Maddow said the speech would be 'well-received'." Notice that Maddow did not say she received the President's speech well, but that she recognized that the American public would receive it well. Listen as she uses another propaganda ploy against Trump:
" 'It will be a notable thing that the president spent a big portion of what was in effect a State of the Union telling the country what vicious, murdering criminals immigrants are', Maddow said. "
Now, Rachel, Trump never said that ALL immigrants are "vicious, murdering criminals". He just vowed to get that kind of illegal immigrants out of our country!
Wall Street loved the President's speech:
NEWS BRIEF: "Dow's Latest 1,000 Point Advance New Record, Trump Policy Priorities Fuel Rally", Fox News, March 1, 2017
"The Dow Jones Industrial Average crossed the 21000 milestone at the opening bell Wednesday morning in what was one of the fastest 1,000-point advances in the blue-chip index's history. Optimism on Wall Street came from President Donald Trump's first address to a joint session of Congress on Tuesday night in which he outlined the ways in which he hoped to 'make America great again'."
"His policy priorities included repealing the Affordable Care Act – a cornerstone of President Barack Obama's administration, revamping the U.S. tax code, improving trade policies, and requesting Congress approve $1 trillion for infrastructure spending."
The President also made a significant point about the importance of cutting thousands and thousands of regulations which are adding a huge cost burden to American manufacturers. In fact, Trump touted his great start in the last 30 days in cutting regulations.
"The Dow rallied more than 330 points, or 1.6% to 21144 on Wednesday. If the index closes above the 21000 level, it will have taken just 24 days to advance from the highly-anticipated 20000 milestone..."
But the bottom line is President Trump's election as President.
"Trump's surprise November election helped spur confidence both on Wall Street and Main Street that the economy will continue to strengthen with a pro-business president in the White House. Since Nov. 8, the Dow has gained more than 14% while the broader S&P 500 has booked gains of 11%. "
And, please spare me any tripe about "giving Wall Street" barons another increase in profit. Have you looked at the incestuous love affair between Bill and Hillary Clinton with Wall Street barons J.P. Morgan and others?
Hillary Clinton is worth at least $32,015,004 and possibly $52,700,000 -- (2017 Net Worth for Presidential Candidate Hillary Clinton)
A good part of this figure is the $200,000 per speech which she demanded when she was able to "leverage her position" as Secretary of State! ("Hillary Clinton: $200,000 per speech")
The Democrats have as much to hide from dealings with Wall Street than do the Republicans.
Trump's promises for a prosperous America can lead us to the despicable worshipping of Money, Wealth, and worship of Self, on display in Revelation 18:7, and that leads to God's total annihilation in Rev 18:8!
Listen carefully to Jesus' prophecy:
"For all nations have drunk of the wine of the wrath of her fornication, and the kings of the earth have committed fornication with her, and the merchants of the earth are waxed rich through the abundance of her delicacies." (Revelation 18:3, KJV)
" How much she hath glorified herself, and lived deliciously, so much torment and sorrow give her: for she saith in her heart, I sit a queen, and am no widow, and shall see no sorrow." (Rev 18:7, KJV)
Notice the words of economic luxury of which these citizens are bragging:
"... merchants of the earth are waxed rich through the abundance of her delicacies."
The Amplified Bible Commentary sheds a bit more light on the full meaning of this verse:
" To the degree that she glorified herself and reveled and gloated in her sensuality [living deliciously and luxuriously], to that same degree impose on her torment and anguish, and mourning and grief; for in her heart she boasts, 'I sit as a queen [on a throne] and I am not a widow, and will never, ever see mourning or experience grief.'
Last night's emphasis on prosperity across the board is spiritually very dangerous. We are "right on" with our analysis in our new DVD "A Tale of Two Babylons: Trump's Prophetic Appointment With Destiny"!
---
FULL SPEECH: President Trump's address to a joint session of Congress
---
2. Democratic women last night wore white as protest against their belief that the President will try to roll back women's progress.
NEWS BRIEF: "Democratic Women in Congress Wear White to President Donald Trump's Speech
"Women in the House Democratic Caucus will be wearing white during President Trump's joint address to Congress on Tuesday in honor of women's suffrage ... 'We wear white to unite against any attempts by the Trump Administration to roll back the incredible progress women have made in the last century, and we will continue to support the advancement of all women. We will not go back', said Rep. Lois Frankel (D-Fla.), who chairs the Democratic Women's Working Group and is spearheading the move to wear white on Tuesday."
But, they could not believe their ears as they heard Trump speak about women's rights, women's health, and women's paid family leave! Was Ivanka Trump's influence seen here?
NEWS BRIEF: "Ivanka's role in Trump's speech", News Max, 1 March 2017
"President Donald Trump's address to Congress Tuesday night was written by senior adviser Stephen Miller, but Trump's daughter Ivanka played a part ... Ivanka worked hard on it with him on many of the parts, especially affirming that the president's desire to have an uplifting and inspirational speech was right," reads an email from a senior administration official to Axios."
What were the points the President made about women's rights and advancements? These Democrat Congress-people sitting there in white must have been saying "OOPS" and "OOPSIE"
* "... focus on women's health."
* "... 'paid family leave ..."
* "... women's health ... "
* "... clean air and clean water' . . ."
As I heard the President speak about these so-called "Women's Issues", I wished that I could have read the minds of these "women in white". Trump has pre-empted their empty protests. They must have been "going ballistic" as they heard the President ruin their white dress protests.
Listen to several Biblical times when a person wore "sackcloth and ashes" during times of mourning and personal grief.
" Is it such a fast that I have chosen? a day for a man to afflict his soul? is it to bow down his head as a bulrush, and to spread sackcloth and ashes ... wilt thou call this a fast, and an acceptable day to the Lord?" (Isaiah 58:5, KJV)
"So I directed my attention to the Lord God to seek Him by prayer and supplications, with fasting, sackcloth and ashes." (Daniel 9:3, KJV)
Sackcloth in the days of Ancient Israel was usually just a white animal feed bag where a hole is cut into the top for the head. This material was course and supposed to be a symbol that the person wearing it was full of grieve and anger and sorrow.
Were the white dresses really a Freudian Slip mourning "sackcloth and ashes" moment, as they realize their values defeat at the polls is possibly permanent and irreversible?
"Mourning in sackcloth and ashes" is a proper response as Conservatism takes over America.
3. Overnight polls show that 75% of Americans approved of Trump's speech, including most Liberal Media outlets.
NEWS BRIEF: "Poll: More than 3 in 4 Americans give thumbs-up to Trump address", The Hill, 3/1/2017
"More than 3 in 4 Americans who tuned in reacted positively to President Trump's Tuesday night address to Congress ... Trump addressed a joint session of Congress, discussing his vision for a sweeping policy agenda but providing few details. Still, the speech marked a break from Trump's usual harsh and bombastic speaking style, as he sought to present a more optimistic approach to tackling the country's problems."
Trump's next statement sounds impossibly bombastic:
"Everything that is broken in our country can be fixed' , he said. 'Every problem can be solved. And every hurting family can find healing, and hope'."
Can this prosperity promised by the President possibly be spread this wide and far, to cover virtually everyone? If the Holy Spirit does work through President Trump in setting the prophetic conditions of wide-spread prosperity across the whole nation, then the answer is "yes", the prophetic prosperity and/or the belief that prosperity can be gained, can be set in place.
As we demonstrate in our newest DVD, "A Tale of Two Babylons DVD: Trump's Prophetic Appointment With Destiny" , Trump's policies could move Americans to this point of self-worship so that the only thing that matters to these citizens is money, more money, wealth at home and that second car and that vacation home.
God is carefully allowing the citizens of this Economic Babylon of Revelation 18 to become trapped in their temporary material prosperity!
President Trump's theme of economic prosperity is exactly what I expected to hear if I was right about Trump using his business acumen to make America so prosperous that we would fulfill Revelation 18:7!
4. President Trump also signed an Executive Order which rescinded Obama's illegal "Social Security Gun Ban".
NEWS BRIEF: "Report: Trump Signs Repeal of Obama's Social Security Gun Ban", Brietbart News, 28 Feb 2017
"On a day when legislation benefiting women and black colleges and universities was signed with much pomp and circumstance, President Trump quietly followed through on his pledge to defend the Second Amendment by signing the repeal of Barack Obama's Social Security gun ban."
"The specific details of the ban are unknown, as it is being put together 'outside of public view'. But the LA Times reports that a ban on gun possession due to inability to handle finances would be sweeping; that it would cover those who are unable to manage their own affairs for a multitude of reasons–from 'subnormal intelligence or mental illness' to 'in competency', an unspecified 'condition', or 'disease'."
"The Times notes that the finances of roughly '4.2 million' Social Security beneficiaries are handled by someone else."
Had Hillary Clinton won the election, she was planning to use this Executive Order to start seizing guns -- from the elderly! The language in this ban was so deliberately vague that virtually any recipient of Social Security benefits could suffer the loss of his/her gun.
5. Baptist preacher Franklin Graham was extremely accurate -- but Politically Incorrect -- as he compared support for Planned Parenthood to helping fund the Nazi Death Camps!
NEWS BRIEF: "Franklin Graham: Supporting Planned Parenthood Is Like 'Raising Money To Fund A Nazi Death Camp'," Christian Headlines, 28 Feb 2017
"The Rev. Franklin Graham recently wrote that raising support for Planned Parenthood is like "raising money to fund a Nazi death camp."
Graham's words came in response to the news that Barbara Bush, the daughter of former President George W. Bush, would be delivering the keynote address at a Planned Parenthood fundraiser. Bush is the co-founder and CEO of Global Health Corps and has previously praised Planned Parenthood ... Graham went on to say that Planned Parenthood is the number one abortion provider in the U.S. and performs over 300,000 abortions a year. 'And this is the organisation whose employees were caught on video trying to sell baby body parts over wine. Disgusting'," he added.
And, might I add, one of those sins which are stacking up toward Heaven like cordwood, and God is keeping count. Listen to the prophecy in Revelation 18:
"... for her sins (crimes, transgressions) have piled up as high as heaven, and God has remembered her wickedness and crimes for judgment." (Revelation 18:5)
We applaud Franklin Graham for his courage to speak a bold truth, even in the face of certain opposition and ridicule.
Suddenly, speaking bold truth is taking hold in America!