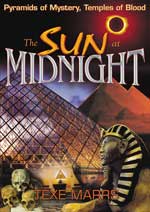 NEW DVD
"The Sun at Midnight - Pyramids of Mystery, Temples of Blood"
Introductory Sale - Regularly $24.99, Sale $19.99
Throughout the ages the pyramid has remained an object of mystery and awe. It has also often proven to be an ignoble place a satanic temple of death, blood, and human sacrifice.
"The Sun at Midnight" showcases an amazing array of new pyramidal buildings that have risen in cities across the globe. Some exist as mysterious religious centers of occult initiation; the purpose of a few remain mysteriously hidden except to insiders.
What is the astonishing Secret Doctrine embedded and incorporated in these strange pyramids across the globe? Discover for yourself how these ancient, yet modern, creations play a powerful mesmerizing role in the Illuminati's Agenda for a sinister New World Order. http://www.cuttingedge.org/detail.cfm?ID=2010
---
---------- This Weeks Hot News ----------
UPDATED April 4, 2009
I. A Vietnamese immigrant opens fire on a crowd in Binghamton, NY, killing 13 before committing suicide.
Gun Control advocates are going to say that if guns can kill this many people in a small town in Upstate New York, then no one in America is safe. Calls for stricter gun controls will grow increasingly strident.
NEWS BRIEF: "Gunman kills 14, including self in N.Y. shooting spree", Baxter Bulletin, April 4, 2009
"BINGHAMTON, N.Y. — Fourteen are dead after a gunman went on a shooting spree inside the American Civic Association in Binghamton, according to Binghamton Police Chief Joseph Zikuski. One of the dead had a satchel around his neck with ammunition and is believed to be the shooter, Zikuski said."
Let us stop right here to digest what we have just heard. This shooting tragedy bears two of the earmarks of a shooting deliberately carried out by the Illuminati in order to condition Americans to the need for severely strict gun control.
1) The shooter commits suicide before authorities can apprehend him;
2) Kills a specific number of people, in this case, 13, the occult number of extreme rebellion against constituted authority.
We shall be waiting for news stories to develop informing us whether the shooter was under treatment for depression, and therefore, on one of the many mind-altering drugs like Prozac or Ritalin. If any of you see such information, please send it to me at dbay@cuttingedge.org
This shooter had used fake ID in the past, so the identification found on his body was an alias.
In a bizarre twist, the Afghan Taliban claimed responsibility for this shooting, saying that the murderer was one of their own!
NEWS BRIEF: "Taliban claims responsibilty for deadly US shooting attack in Binghamton, N.Y.", The Jerusalem Post, April 4, 2009
"A Pakistani Taliban leader claimed on Saturday responsibility for a deadly mass shooting at a US immigration center in New York, in which 13 people were killed and four were critically wounded. ' accept responsibility. They were my men. I gave them orders in reaction to US drone attacks', Baituallah Mehsud reportedly told Reuters."
The Jerusalem Post could not confirm this report.
What makes this claim so interesting is that the Taliban just a couple of days ago warned that his forces would attack Washington, D.C., in retaliation for the drone attacks against his forces and against civilians in Pakistan. I am also intrigued that an attack on the White House by foreign forces was a key part of the current TV series of '24'. I remembered that the Illuminati loves to telegraph its punches, but I still considered this whole possibility a really remote possibility.
While it is theoretically possible for the Taliban to carry out an attack like this, I prefer to stay with the assumption that this shooter falls in a long line of mind-controlled victims who were programmed to carry out an attack like this one so that gun control advocates could get leverage to pass much stricter gun control laws. Remember the reality that America and the entire world are heading for the Absolute Dictatorship which will be in place when the Masonic Christ arises; therefore, citizens must be disarmed before the dictatorship can emerge.
Since this situation is so horrific and the hour is so late, we have brought in several gun control bookstore resources so you can have all the facts at your disposal when spreading the word as to what is really going on and why.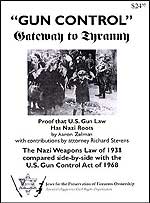 Hitler's Nazi Weapons Law of March 18, 1938
"Those who refuse to learn from history are doomed to repeat it".
This dynamic book contains the German language original of the Nazi Weapons Law of March 18, 1938, a page-by-page translation, and then a page-by-page comparison with the U.S. Gun Control Act of 1968.
The similarities are striking.
As the Obama Administration moves to make all gun ownership illegal, this book is absolutely REQUIRED READING for all discerning people.
History teaches that no Absolute Dictatorship can be established if ordinary citizens are not disarmed first. These public shootings are designed to so outrage people against guns that the majority of citizens will allow all guns to be confiscated. http://www.cuttingedge.org/detail.cfm?ID=2003
"Death By Gun Control" Book: Disarmed people are neither free nor safe - they become criminals' prey and tyrants' playthings. What disarms the citizens? The idea of "gun control."
"Dial 911 And Die": Gun control" survives as an idea because most Americans believe one single huge myth: 'You don't need a gun because the police protect you from crime'. Perhaps no other lie in history has been told big enough, often enough, so that citizens actually believe that, if they give up their guns, the police can and will protect them from armed "bad guys".
"Innocents Betrayed" DVD: Most parents will do anything to protect the lives of their precious children; yet, they naively trust history's greatest killer of innocents -- government! This video that will open eyes. Destroy myths. Change minds. Save lives.
Original Newsletter of April 1, 2009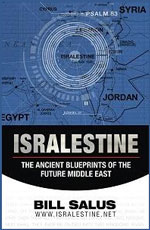 II. Israel finally has the Prime Minister who can actually bring in a Palestinian State -- the new "Hawkish" Netanyahu!
Only a Prime Minister thought of as a "Hawk Conservative" could possibly mollify Conservative opposition and bring in the Palestinian Nation.
NEWS BRIEF: "World wants Palestinian state, Peres tells Netanyahu", Reuter's News, April 1, 2009
"JERUSALEM (Reuters) - Israeli President Shimon Peres told new Prime Minister Benjamin Netanyahu on Wednesday that the world backed the Palestinian quest for a state, a goal the incoming right-wing leader has not endorsed."
From the moment Netanyahu assumes the office of Prime Minister, you will see a campaign of smoke and mirrors on the issue of the establishment of a Palestinian State -- a most important Illuminati goal. On the one hand, Netanyahu will quietly and closely follow the Illuminati Plan, but he will take a most circuitous route to get there, with many twists and turns and short detours along the way.
You see, the new Prime Minister must camouflage his support of the Palestinian State or he will arouse such Conservative opposition that his coalition government might fall.
But, if he operates skillfully, Netanyahu will deliver the Palestinians their nation without arousing the ire of the Conservatives in Israel. He will move ever closer to that goal by baby steps, by false public opposition to this goal, until he finally is so close to the deal that Conservatives cannot mount a campaign against him in time to prevent it.
And, all along the way, Netanyahu's credentials as a Conservative and his Conservative coalition partners, will lull genuine Conservatives into a fatal lull. In other words, genuine Jewish patriots will trust Netanyahu and will believe his public rhetoric until it is too late.
As I stated before, only a Prime Minister with Conservative credentials could lead Israel into establishing a Palestinian State.
Liberal President Peres did his part by urging Netanyahu to vigorously pursue "peace with the Palestinians", a code word for a Palestinian nation carved from Biblical Israel.
" 'The government you lead must make a supreme effort to move the peace process forward on all fronts," Peres said at the state ceremony at which former prime minister Ehud Olmert handed over formally to Netanyahu, who was sworn in on Tuesday. 'The outgoing government adopted the vision of two states for two peoples, promoted by the U.S. administration and accepted by a majority of countries in the world', Peres said. 'Your government must determine the shape of the coming reality," he said, stopping short of an explicit call for Netanyahu to declare support for the creation of a Palestinian state alongside Israel.' "
Netanyahu was non-committal:
" 'I listened seriously and am guided by a sense of responsibility and the need for unity', he said .. Netanyahu told the legislature, which later ratified his right-leaning government, he wanted the Palestinians to have sufficient authority to govern their own lives but not in a way that would threaten Israel's security."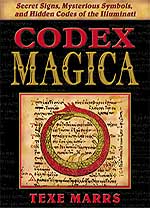 The Masonic President of the Palestinian Authority, Abbas, urged the world to put extreme pressure upon Israel to actively pursue this "two-state solution".
"Palestinian President Mahmoud Abbas, responding to Netanyahu, said on Palestine Television: 'This man doesn't believe in peace so how can we deal with him?'
This is the kind of rhetoric which one can expect when the final stretch toward this most controversial plan is being entered into. Do not be mislead by fiery anti-state rhetoric by Netanyahu or from someone in his governemnt because they will, in the end, back the Palestinian State. Beforehand, however, they must appear to Conservatives that they greatly oppose the plan.
That is the essence of the Hegelian method of achieving a goal. Two steps forward, one step back. Always hiding your real intentions and ultimate goal.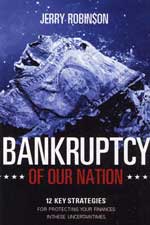 III. Now that President Obama has demonstrated to the world that he is the head of the largest Fascist Economy ever seen, he denies that he plans to run General Motors.
This action is Proof Positive that we now have a controlled Fascist Economy!
NEWS BRIEF: "Obama effectively becomes CEO-in-chief", by Daniel Howes, Detroit Free News, March 31, 2009
"President Obama says he wants to save America's auto industry. He says General Motors Corp., under a new CEO, has 60 days to sharpen its restructuring or submit to bankruptcy. He's giving Chrysler LLC 30 days to complete an alliance with Fiat SpA of Italy lest Detroit's No. 3 carmaker find itself in a federal court."
"But what the president didn't say Monday, as he detailed his administration's prescription for Detroit's two sickest automakers, is what he actually did -- oust a sitting CEO, GM's Rick Wagoner, and begin the process of remaking a board of directors deemed to have done too little, too late to prevent GM's slide into the arms of the federal government."
Please take a moment to absorb what you have just read.
For the first time in American history, a President of the United States possessed the authority to fire and then hire a Chief Executive Officer of a major corporation. This fact alone proves that we have been right all along as we stated that the goal was not to ruin the economy, but to overthrow the old Capitalist system and institute the planned Fascist economy. To read our original arguments, please take a few moments to read NEWS2317, entitled, "Financial Coup Completed: American Economy Now A Tightly Controlled, Severely Regulated Economy")
Now, General Motors and Chrysler and every other company who accepted Federal bailout funds, are "in the arms of the federal government". Welcome to the brave new world economy!
When President Obama took the oath of office, he was truly the most powerful President ever. Not only did he control the American political and military enterprises, he was also in control of every single company which had accepted government bailout funds.
Now that Obama has proven he can fire private company executives, other CEO's are said to be shaking in their collective boots.
NEWS BRIEF: "Wagoner's exit puts BofA CEO Lewis in hotseat", By Elinor Comlay - Analysis, Reuter's News, March 30, 2009
"Bank of America Corp Chief Executive Kenneth Lewis may be the next corporate boss to feel the heat after the administration forced General Motors Corp Chief Executive Rick Wagoner to resign in return for further government assistance. The second-largest U.S. bank has received $45 billion from the government, making it one of the biggest recipients of government bailout money in the banking system."
If General Motors and Chrysler succumbed to government control when they accepted "only"
$17 billion, what chance does Bank of America have to resist the government when they accepted $45 billion? You see, the government has been angry with banks like Bank of America because they did not resume normal levels of consumer lending once they accepted their huge bailout fund. Rather, they simply used this money to offset bad loans still on their books.
And, a few of them actually had the gall to pay huge bonuses to the very executives who had driven the bank into the abyss in the first place.
If Bank of America does not quickly comply with the White House, her CEO could be fired also, and quickly. The Federal Government now has "Hire and Fire" capability over many huge key industries throughout the economy. This is Fascism and it is here to stay.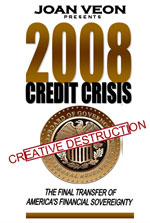 IV. White House plans for General Motors and Chrysler may be to force them into a controlled bankruptcy!
The "Creative Destruction" campaign is on schedule.
NEWS BRIEF: "Potential GM bankruptcy plan includes company split", By Emily Chasan, Reuter's News, April 1, 2009
"A possible bankruptcy plan being discussed for General Motors (GM.N) includes quickly forming a new company of the automaker's most profitable parts, while a group of other units would remain under bankruptcy protection for a longer period ... While the automakers would still prefer to avoid bankruptcy, advisers to both GM and Chrysler LLC have been working to prepare for potential bankruptcy filings that would aim to preserve, or sell off, the best parts of the companies."
One of the basic doctrines of a Fascist Economy is that the government aggressively limits the number of competitors which can provide the same service and/or the same product. I do not know exactly how this whole scenario is going to shake down, but when the dust finally settles some years in the future, America and the rest of the world will have less automakers in business.
This is the final agenda of these unfolding events.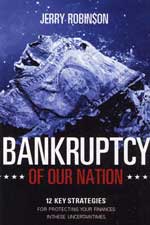 V. Will a global currency evolve out of the current G-20 economic summit in London?
So many hints about a super world currency have been made public before the G-20 summit that it seems very logical that this is their goal. In fact, Russia will propose this type of currency at G-20!
NEWS BRIEF: "Russia's Medvedev backs long-term 'super currency' ", March 29, 2009
"MOSCOW (Reuters) - Russian President Dmitry Medvedev called for a widening of the reserve currency basket and repeated Russia's interest in a new global reserve currency, during an interview aired by the BBC on Sunday. Russia has already proposed the creation of the new currency, to be issued by international financial institutions, according to the text of its proposal to the April G20 meeting published on March 16."
China had already proposed just such a global currency.
"China this week caused a stir ahead of the G20 when it suggested the world move towards greater use of the International Monetary Fund's Special Drawing Rights ... "
The Russian President then stated that the various currencies used throughout the world for business transactions were not adequate to meet today's tough economic challenges.
" '....it is quite obvious that the existing currency system has not coped with the existing challenges. We were lucky to have a set of currencies: dollar, euro, and a pound. But in the future this system should be based upon a multi-currency basket, it should also include other regional reserve currencies'."
The European Union set up the Euro as an alternative currency to the various national currencies in place at the time the E.U. was officially established. Since December 31, 1992, the Euro has grown in global power to the point where it is now the dominant currency of the European Union and a globally accepted currency.
Based upon this success, we have always felt that a similar basket of currencies would be set up, with the new global currency simply presented as one of the alternative currencies available to businesses and governments worldwide.
"Russia supports expanding the IMF's Special Drawing Rights (SDR) to include the ruble, the yuan and gold, but sees no chance of the G20 Summit accepting a new reserve currency, a Kremlin aide said separately on Saturday ..."
The world is most definitely on track to set up a new global currency, but such a currency will take years to develop. For now, we are excited to see this development, as it most definitely allows us to know that prophecy of a global economy and a cashless global currency is guiding world events.
As the End of the Age comes into view, our Omnipotent God is placing His indelible stamp on current world events. Are you paying attention? Are you sharing your knowledge with unsaved loved ones, co-workers and neighbors?
---