The Bible mentions the name 'Babylon' 264 times in the KJV. Today, many Christians are confused about references in prophetic passages which use Babylon in seemingly difference ways. When a Christian tries to shoe-horn one definition into all references to Babylon he / she is unnecessarily confused.
In our study of 'A Tale of Two Babylons', we are going to demonstrate that prophetic literature speaks of God's judgment on one physical nation 'Babylon' (Judged in Isaiah 13) and one nation Symbolically called 'Babylon' ( Judged in Revelation 18).
If you understand this difference, you will properly understand End Times prophecy. But, if you do not understand the difference between these 2 Babylons, you will be unnecessarily confused, and will be open to being mislead on one of the most important End Times subjects.
Since the confusion begins with the definition of Babylon, let us begin at there! Bible scholars recognize that God uses the name Babylon in two distinct ways. (Quoting from The Free Dictionary Online).
1) "... the capital of the ancient kingdom Babylonia in Mesopotamia on the Euphrates. Established as capital c. 1750 bc, rebuilt in regal splendor by Nebuchadnezzar II after its destruction (c. 689 bc) by the Assyrians, Babylon was the site of the Hanging Gardens, one of the Seven Wonders of the World 2) A city or place of great luxury, sensuality, and often vice, corruption or a place of captivity or exile.
In this study of 'A Tale of Two Babylons', we are going to demonstrate that End Timesprophecy speaks of Gods judgment on one physical nation 'Babylon' and one nation Symbolically called 'Babylon'.
We will also reveal two major contributions to End Times' prophecy which Donald J. Trump is poised to fulfill. In fact, Trump may be the only leader who can fulfill these prophecies in America today. President Trump does not realize it, but he has 'An Appointment With Destiny', a favorite term uttered many times by 33rd Degree Masonic President, Franklin Roosevelt, referring to the New Age / Masonic Messiah, whom the Bible calls Antichrist.
This DVD covers Revelation, Chapters 15 through 18, four of the most insightful chapters in the Book.
Mac starts in Revelation 15 with the 7 vials of wrath and then moves to Revelation 16, where a Godly angel proclaims that all Divine Judgments are now completed.
Rev 17 and 18 describe two Satanic behemoths called 'Babylon' which tightly control all the Earth with their monstrous spiritual power and their spiritual influence on all mankind.
Rev 17 describes the False Religious Prophet and his authority over men. Bible scholars believe this prophet is the Pope of Roman Catholicism.
Rev 18 is proposed to be the physical and political capital of Antichrists Kingdom, a.k.a., New World Order. Great video, and very revealing. Run Time 93 minutes Order Yours today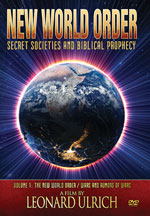 DVD
1. President Trump proudly declared to American Union workers:
"I am the President of the United States, not the President of the world".!
NEWS BRIEF: "Trump tells American Workers: 'I'm Not, and I Don't Want to Be, the President of the World'," Breitbart News, 4 April 2017
"President Donald Trump was warmly welcomed by union workers attending the 2017 North America's Building Trades Union legislative conference, as he promised to restore American jobs. 'I'm not, and I don't want to be the president of the world. I'm the president of the United States, and from now on it's going to be America first', Trump said as the crowd of workers applauded."
" 'Washington and Wall Street have done very, very well for themselves', he said. 'Now it's your turn and you're going to be also sharing the wealth ... "The era of economic surrender is over," he said."
Trump also stated the obvious:
"Trump reminded them that they had a builder in the Oval Office, and urged both Democrats and Republicans to come together for a massive trillion dollar infrastructure spending bill. Standing before me today, in this very hall, are the men and women who if given the chance can transform these communities', he said. 'You are the citizens who can rebuild our cities, revive our industries, and renew our beloved country and I know you will stop at nothing to get the job done."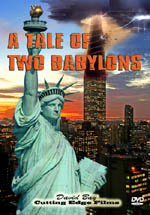 DVD
Wall Street investors are already getting this Trump message of economic well being.
NEWS BRIEF: "Trade Deficit Falls by 10% as U.S. Factories Benefit from Economic Stability Worldwide ", Breitbart News, 4 April 2017
"The U.S. trade deficit shrank by nearly 10 percent in February, hinting that the economy may be growing at a faster pace than many economists expect ... The Trump administration has made the reduction of the trade deficit one of its central economic goals, describing our persistently large trade deficits as both an economic and security risk. February's decline makes that goal easier to achieve."
"A lower trade deficit is a boost to the economy and may raise first-quarter gross domestic product. More importantly, it likely means growth will be even stronger in the spring as manufacturers and service providers kick into higher gear and hire more workers to meet rising global demand."
Obama-era economic policies contributed to the decline of the American manufacturing industry.
"Research has shown that the deindustrialization of the American Rust Belt is at least partly attributable to trade imbalances with China ..."
NEWS BRIEF: "Another Blow-out Numbers of Growth, Private payrolls grew 263K in March vs. 185K est.: ADP", CNBC News, April 5, 2017
"The year's fast start for job creation showed no signs of letting up in March as private payrolls saw another big boost ... Companies added 263,000 jobs for the month ... That was well above the 185,000 expected from economists surveyed by Reuters and also better than the 245,000 reported for February."
"In addition ... the month also continued a trend away from services-oriented positions dominating job creation. Goods-producing firms contributed 82,000 to the total, as construction led the way with 49,000 new jobs."
America cannot become "great again" if it does not add significant numbers of manufacturing jobs. Service-industry jobs cannot create real wealth to the economy. As Lee Iacoca once said, "America is dead unless it creates manufacturing jobs".
NEWS BRIEF: "Private Sector Reports Stronger-Than-Expected Boost to Payrolls in March", The Wall Street Journal, April 5, 2017
"Private-sector hiring this year remained strong as employers reported adding more workers to their payrolls in March than expected ... Private payrolls across the nation rose by 263,000 last month ... The gains are broad based but most notable in the goods producing side of the economy including construction, manufacturing and mining," said Mark Zandi, chief economist of Moody's Analytics."
" 'Consumer dependent industries including health care, leisure and hospitality, and trade had strong growth during the month', said Ahu Yildirmaz, vice president and co-head of the ADP Research Institute."
As we demonstrate in our newest DVD, shown above, "A Tale of Two Babylons: President Trump's Prophetic Destiny", the world is close enough to fulfilling Revelation 18:7 that we believe President Trump -- the consummate billionaire businessman and builder -- can bring America to fulfilling that prophecy. Listen:
" How much she hath glorified herself, and lived deliciously (and gloated in her sensuality, living deliciously and luxuriously), so much torment and sorrow give her: for she saith in her heart, I sit a queen, and am no widow, and shall see no sorrow." (Emphasis added from AMP)
Trump is systematically tearing down the New World Order wall, brick by brick.
2. Vice-President Pence and his wife have always adhered to the Biblical mandate to "avoid the very appearance of evil".
NEWS BRIEF: "Jewish Thought And The 'Pence Rule'," The Jerusalem Post, 4 April 2017
"Nobody can stop talking about a recent Washington Post profile of Karen Pence, the wife of US Vice President Mike Pence. The profile describes Karen as deeply religious, always on the same page as her husband and very socially conservative."
So far, so good. So, what is the problem? The problem turns out to be Far-Left Feminists and their super-sensitive feelings -- about themselves as women and as participants in our rapidly evolving society.
Leftist journalists across the board are slamming the V.P. for being "sexist"!
" it's one specific line that set social media alight: In 2002, Mike Pence told the Hill that he never eats alone with a woman other than his wife and that he won't attend events featuring alcohol without her by his side, either;, wrote Ashley Parker in the now-famous piece."
When I was growing up in rural Colorado in the 1950-s'1960's, Christian couples set this standard for themselves, most of whom never had to be told that this is what they needed to do. Why is it necessary for men and women to protect themselves from even the "appearance of evil"?
Rather than trying to deny that there exists any inherent differences between a man and a woman, the Bible wisely identifies those differences and then regulates them so the activities of both men and women are protected because they are holy.
"The Pences did not confirm if the practice is still in place, but it became quick fodder for satire and mockery, and many were angry at what they considered the outdated and damaging beliefs. Reactions quickly split into two camps – those who thought Pence should be admired for safeguarding his marriage, and those who saw him as unable to view women as full professional partners, as opposed to sex objects."
Listen to an example of the inane -- almost insane -- reactions of Liberals.
"Writing for Time magazine, Glennon Doyle Melton said this idea 'perpetuates religious and political ideologies based on false, dehumanizing ideologies about women'. She added: 'He is perpetuating the patriarchal notion that women are either Mary, Jesus' pure virgin Mother, or Eve, a temptress, a liability'."
These Liberal journalists are ignoring the 900-pound gorilla in the room, put there by God Himself.
Now, let us examine some of the common-sense rules contained within the Judeo-Christian religions.
"... many commentators also pointed out the parallels between Pence's purported rules and Jewish law, in particular the laws of yichud, 'seclusion'... At its basis, yichud proscribes an unrelated man or woman from being alone in a room together. A man eating a meal with a woman while seated in a restaurant or public space would be permitted under Halacha."
"Fellowship, wrote that aside from Jewish law, keeping this stringency 'makes good pastoral and professional sense'. He added that the sages 'are supposed to act in ways to preempt suspicion, be aware of society'."
Consciously acting "above reproach" makes sense also when you realize that twisted, perverted Liberals are always lurking around, trying to find some tiny mole hill into which they can change into a mountain simply by making a charge of impropriety because the man and woman did not protect themselves as Vice President Pence and his wife are doing.
3. Former Obama National Security adviser, Susan Rice, is revealed as the source of the security leaks and/or false news which have bedeviled President Trump and his transition team.
NEWS BRIEF: "Susan Rice requested to unmask names of Trump transition officials", Fox News, April 3, 2017
"Multiple sources tell Fox News that Susan Rice, former national security adviser under then-President Barack Obama, requested to unmask the names of Trump transition officials caught up in surveillance."
Rice then spread this information up and down the Executive Branch, and that may have been illegal.
"The names were part of incidental electronic surveillance of candidate and President-elect Trump and people close to him, including family members, for up to a year before he took office ... It was not clear how Rice knew to ask for the names to be unmasked."
These next revelations make it very clear that officials within the Obama Administration were determined to use their authority while they were still in office, to gather as much damaging information as possible.
"This comes in the wake of Evelyn Farkas' television interview last month in which the former Obama deputy secretary of defense said in part: "I was urging my former colleagues and, frankly speaking, the people on the Hill – it was more actually aimed at telling the Hill people, get as much information as you can, get as much intelligence as you can, before President Obama leaves the administration."
Once again, we can see the mean-spirited nature of these type of Obama/Clinton Democrats! They have tried harder than any other defeated party to ruin the ability to govern of the man who beat them at the polls!
Senator Rand Paul declares his desire to call Susan Rice before Congress, to determine "what President (Obama) knew and when he knew it"!
NEWS BRIEF: "Senator Paul calls on Rice to testify after reports of unmasking: Was she ordered by Obama?", Fox News, April 3, 2017
"Sen. Rand Paul, R-Ky., said Monday that President Obama's former national security adviser Susan Rice should testify on new reports that she sought to 'unmask' the names of President Trump's transition officials caught up in surveillance. Paul, on Twitter, called the reports on Rice a 'smoking gun'."
" 'I don't think we should discount how big a deal it was that Susan Rice was looking at these, and she needs to be asked: Did President Obama ask her to do this? Was this a directive from President Obama?' Paul reportedly said."
4. Piece by piece, President Trump is dismantling the damage Obama did to this beloved country.
NEWS BRIEF: "Bit by Bit, Trump Methodically Undoing Obama Policies ", Breitbart News, 3 April 2017
"Amid the turmoil over staff shake-ups, blocked travel bans and the Russia cloud hanging overhead, President Donald Trump is steadily plugging away at a major piece of his agenda: Undoing Obama."
The going has been rough and tumble, and with mixed results.
* ObamaCare was not "repealed and replaced"! RINO Republicans stood in the way because they put forth a plan by House Speaker Paul Ryan which was so close to the original Obama plan that no genuine Conservative could support it.
* "CLIMATE CHANGE -- Trump signed an executive order last week to deliver on his pledge to unravel Obama's efforts to curb global warming."