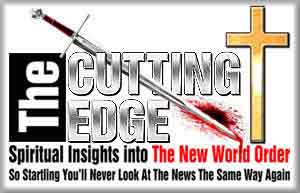 Newsletter
Wednesday 5/3/2017
HOME - Book Store - News Alert Archives - Facebook
To view the latest Newsletter online go here
---
Stephen Colbert: Invisibly Mind Controlled
The only explanation for the relentless ranting and raving of Late Night Talk Show Host, Stephen Colbert against President Trump, is that he is a victim of Media Mind Control Manipulation, just as we demonstrate in this DVD pictured left.
What, exactly, did Colbert do and say that has gotten him into such trouble?
NEWS BRIEF: "Stephen Colbert's Shocking Attack On Trump Concludes With A Homophobic Slur", Decider News, May 2, 2017
"Once the clock struck midnight on Donald Trump's 100 days in office, Stephen Colbert's claws came out. He delivered his most vicious attack on the President to date during the monologue of Monday night's The Late Show with Stephen Colbert, using language many were shocked to hear come out of the late night host's mouth — including a derogatory slur many consider to be homophobic."
Even according to the gutter tactics of the Liberal Leftist crowd, Colbert's tirade was over-the line and just plain madness. What did he say, exactly, during his 12-minute merciless monologue?
* "Mr. President, I love your presidency, I call it 'Disgrace The Nation'
* ""You're the 'presi-dunce' but you're turning into a real 'prick-tator" (First sexual innuendo)
* "Sir, you attract more skinheads than free Rogaine."
* " You have more people marching against you than cancer. "
* "You talk like a sign-language gorilla that got hit in the head."
* " 'In fact, the only thing your mouth is good for is being Vladimir Putin's cock holster', which elicited gasps from the studio audience ... "
This last statement is so horrific that men and women who are guided by Christian principles of decency and morality are hard pressed to find words which can properly explain our disgust, while still staying within the bounds of decorum.
Because, you see, Colbert just said that both President Donald Trump and President Vladimir Putin are practicing homosexuals and that Trump obediently performs oral sex on Putin at the Russian president's pleasure.
As this news story explained, even Colbert's Liberal studio audience was flabbergasted at how insane he had become, and on national TV, no less! Colbert passed well beyond that unseen line separating right from wrong, even in the rarified air of antichristian standards.
But, you can understand how Colbert could lose his mind for 12 minutes as he ranted and raved against the duly elected President of the United States. Stephen Colbert has been in the Mass Media mind control system so long that he has unwittingly become mind controlled himself.
In the DVD pictured above, "Invisible, Invincible Mind Control: Powerful Media Manipulation", a person gradually succumbs to the principles of this type mental control day by day, not realizing they are gradually changing because of the invisible workings of this technique.
You will be shocked to learn how totally bombarded with Change Agents you and your loved ones are every day. This crisis is all the more sinister because it is invisible to those who have already become captive to its lie. This process was developed to change those most-deeply held attitudes, which naturally are traditional Christian values. Once you hear this process, and understand the examples of its use, you will realize it is being simultaneously utilized in many areas by the Mass Media.
Even more ominous is the reality that, once a person's attitudes and/or values are changed by this method, they will not realize they have been changed by external forces. Rather, they will believe they have arrived at this new set of values on their own and they will defend against any attempt to change back to the old values and/or attitudes. You must protect against these change-forces from the beginning or you can lose your children.
We identify the Change Agents and show you how to defend yourself and your precious children. You do not want them to become as invisibly controlled as Stephen Colbert!
We wish to allow this journalist to conclude, as he sums up this fiasco precisely.
"However, using a derogatory, homophobic slur like 'cock holster' to denigrate the rightfully elected leader of our nation seems like a step way, way too far. In a misguided attempt to defend his friend and fellow Tiffany Network employee, Colbert's blustery bravado regressed from pointed punnery into nasty schoolyard bullying, embarrassing himself, his staff, his network and everyone that watches his show."
And, in so doing, Colbert revealed the extent of America's moral decay. Our morality is truly rotted out through and through. Could a news leader in Sodom verbally poured such slander against the leader of that city, without consequences?
God's prounouncement of doom on Sodom to see if His anger does not fit Colbert's words:
"Because the cry of Sodom and Gomorrah is great, and because their sin is very grievous ..." (Genesis 18:20, KJV)
"Then the Lord rained upon Sodom and upon Gomorrah brimstone and fire from the Lord out of heaven;" (Genesis 19:24, KJV)
Now, let us examine that late, formerly great Babylon, the Economic Babylon of Rev 18.
" And he cried mightily with a strong voice, saying, Babylon the great is fallen, is fallen, and is become the habitation of devils, and the hold of every foul spirit, and a cage of every unclean and hateful bird ... For her sins have reached unto heaven, and God hath remembered her iniquities ... How much she hath glorified herself, and lived deliciously, so much torment and sorrow give her: for she saith in her heart, I sit a queen, and am no widow, and shall see no sorrow." (Revelation 18:2, 5-8)
"Therefore shall her plagues come in one day, death, and mourning, and famine; and she shall be utterly burned with fire: for strong is the Lord God who judgeth her." (Revelation 18:5)
This description of America today, whose attitude is exemplified by Stephen Colbert's words, fit these cultural descriptions, above!
"... for strong is the Lord God who judgeth her."
(Get all details in "A Tale of Two Babylons", shown above)
NOTE: This newsletter continues following this advertisement, below.
---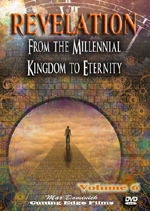 "REVELATION, Volume 6, From The Millennial Kingdom to Eternity" DVD"

From Mac Dominick, Cutting Edge Films - Final Volume in this Series
JESUS CONQUERS ALL!! This video examines Rev 19-22, a most exciting and impactful chapter as Jesus Christ speedily concludes His dealing with wicked, sinful mankind, preparing the world for the purity required for his Millennial (1,000 Year) Reign!
Jesus begins this final segment with His holy angels proclaiming ' Alleluia; Salvation, and glory, and honour, and power, unto the Lord our God' and concluding with Jesus proclaiming to John 'Surely I come quickly'!
During these four chapters, Jesus consummates His 'Marriage Supper of the Lamb', His final judgment - the 'White Throne Judgment' - seizing Satan and binding him and his demons for Jesus' 1,000 year reign, the final battles as Jesus releases Satan for a short while, and the New Heaven / New Earth, and the glorious beginning of Eternity!
A triumphant wrap-up to a glorious book in which Jesus purifies Earth of its sinners and their sin so that He can begin the Eternal reign which He planned far back in Eternity Past.
1 Hour, 15 Minutes, Only $19.99
---
"Revelation Five"!"Fall of Babylon, Capital Of The New World Order"
by Mac Dominick of Cutting Edge Films
REVELATION 15-18

Runtime 93 minutes http://www.cuttingedge.org/detail.cfm?ID=2765
For more information and trailers on the DVDs individually select the front cover in which you are interested, below:
Combo Offer is Available, Volumes 1-4: You save $16
---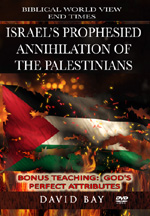 2. Despite American resistance, the United Nations body, UNESCO, passed a resolution which stridently denied that Israel had any right to Jerusalem!
God is sitting on His omnipotent throne, taking notes and writing down the names of those people who are creating these abominations!
NEWS BRIEF: "UNESCO passes anti-Israel resolution: UN culture organization votes to adopt resolution denying Israeli rights to capital, Jerusalem", Israel National News, 5/2/2017
"The United Nations Educational, Scientific and Cultural Organization (UNESCO) Steering Committee voted Tuesday afternoon to adopt a resolution denying Israel's rights to its own capital, Jerusalem."
These enemies of Israel and of her God, the Almighty One of Abraham, Isaac, and Jacob, carefully chose a sensitive time to pass this abominable denial of history and of God's Word.
"The vote took place on Israel's Independence Day. 22 nations voted in favor of the resolution, compared to 10 which voted against it. 23 nations abstained."
What is so vile about this resolution?
"The resolution declares that 'all legislative and administrative measures and actions taken by Israel, the occupying Power, which have altered or purport to alter the character and status of the Holy City of Jerusalem, and in particular the 'basic law' on Jerusalem, are null and void and must be rescinded forthwith'."
An " occupying Power"? How can any nation be an "occupying Power" over a land given them by an Omnipotent God in perpetuity? The answer is that this resolution is as worthless as a $3 Bill!
"Israel's Ambassador to the UN, Danny Danon, slammed the resolution as an assault on the history of the Jewish people. 'This biased and blatantly deceitful decision, and the attempts to dispute the connection between Israel and Jerusalem, will not change the simple fact that this city is the historic and eternal capital of the Jewish people. Israel will not stand silently by in the face of this shameful resolution', Danon said."
God warned that, at the End of the Age, after He had brought Israel back to her land, people would arise who seek to divide His holy land.
"For, behold, in those days, and in that time, when I shall bring again the captivity of Judah and Jerusalem, I will also gather all nations, and will bring them down into the valley of Jehoshaphat, and will plead with them there for my people and for my heritage Israel, whom they have scattered among the nations, and parted (divided) my land." (Joel 3:1-2, KJV)
God ended the captivity of Judah and Jerusalem (Israel) on May, 1948, so the rest of this prophetic chapter will occur because of the reason God gave, i.e., Israel's enemies have divided His holy land.
" Prepare war, wake up the mighty men, let all the men of war draw near; let them come up: Beat your plowshares into swords and your pruninghooks into spears: let the weak say, I am strong." (Verse 9-10)
Note this statement is a reversal of the prophecy of Isaiah 2:4, where God proclaims that His kingdom will be one of peace, where no one will "learn war any more". In Joel 3:9-10, God is issuing a clarion call for all-out war, as we see in the verses immediately following.
"Put ye in the sickle, for the harvest is ripe: come, get you down; for the press is full, the fats overflow; for their wickedness is great. Multitudes, multitudes in the valley of decision: for the day of the Lord is near in the valley of decision." (Joel 3:13-14)
Therefore, this Gentile effort to cast Israel out of her eternal land and to deny Jerusalem as their capital is a prelude to an annihilating war where God Himself calls the doomed for battle in the Valley of Jehoshaphat (Middle East).
This UNESCO vote is a sign that God will start His annihilating prophecies against Israel's enemies, and that certainly includes the Palestinians. In the DVD pictured above, "'Israel's Prophesied Triumph Over the Palestinians' ", Israel is now prepared to carry out God's prophesied annihilation of the Palestinian people.
The prophesied doom of Israel's enemies draws nigh, as these news events portend.
The new DVD pictured below lays out the Biblical right of Israel to claim her land and Jerusalem her capital.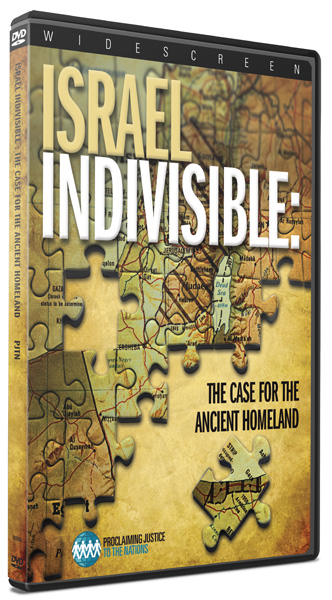 'Israel Indivisible' examines the many political twists and turns that make Israel the world's most controversial nation. From Abram and the Promise, to the fall of the Ottoman Empire the film examines the historical, archaeological, legal and Biblical evidence for the ancient and modern state of Israel.
In response to the increasing worldwide pressure on Israel, Christians have an important question to ask that is at the root of the current action: Does the modern State of Israel have a right to the land on which it exists?
To help answer this question we are making available an excellent DVD documentary that addresses that very question - Israel Indivisible: The Case For The Ancient Homeland.
Regularly $24.99, now only $19.99
You save $5.00
http://www.cuttingedge.org/detail.cfm?ID=2766
NOTE: This newsletter continues following this advertisement, below.
---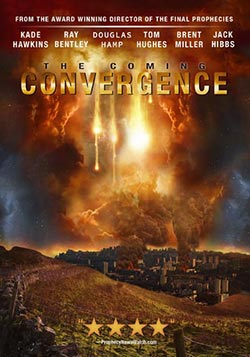 "The Coming Convergence" DVD - Dynamic Prophetic Message Whose Time Has Come
Jesus boldly proclaimed that one of the major prophetic signs that His return was close was CONVERGENCE, "when you see these signs, lift up your heads, for your Redemption draweth nigh" (Luke 21:22) Jesus' second coming was also compared to a woman's labor pains, which converge at the end to give birth to the baby. Likewise, we are to expect a 'convergence' of prophetic labor pains just before Jesus returns. That 'convergence' is upon us NOW!
Jesus chastised religious leaders in the first century for not knowing the time of His arrival. Will we make the same mistake today? Christ stated how His second coming would be preceded by global events signifying the end of our age. We may not know the day or the hour, but we can know the season!
The Coming Convergence also pulls you deeper into the reality of an approaching apocalypse as you follow the story of a young girl that is living through the end of days. Her words of warning are a wakeup call to the horrors mankind will soon face. The conclusions of The Coming Convergence explain how the scenarios described within Revelation are converging before our very eyes.
BOTTOM LINE: THE CONVERGENCE OF PROPHESIED EVENTS IS THE STORY!
This documentary-film features Kade Hawkins, Ray Bentley, Douglas Hamp, Tom Hughes, Brent Miller Sr and Jack Hibbs!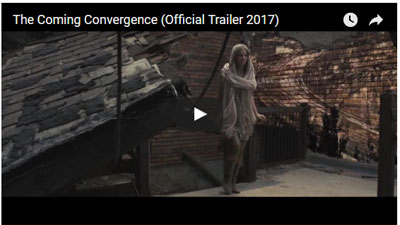 ---
We truly need your support now to continue reaching the lost.
Do not believe that, because Donald Trump has become President, Christians do not need to feel an urgency to reach the lost for Jesus Christ. Trump is going to fulfill some critically important prophecies during the next four years.
In fact, we have just introduced our first DVD which details how Trump is going to led America to the prosperity foretold in Revelation 18:7 -- "A Tale of Two Babylons: President Trump's Appointment With 'Destiny".
We are also introducing new DVD's and Books, whose purpose is to educate you and inform you of current news in light of End Times prophecy. We need your support in the Bookstore.
We're a small non-profit with costs of a top website: servers, staff, studio expenses and programs. We believe everyone should have access to free knowledge, without restriction or limitation. If Cutting Edge is useful to you, please take one minute to keep us online and to keep us reaching out to over 75,000 people a year with the Plan of Salvation.
If the Lord has blessed you this year, and if you value the special prophetic viewpoint which Cutting Edge provides, please favor us now with a special gift. Just click on the green button and follow the prompts.
We have tried to make supporting Cutting Edge Ministry easy and convenient, with our green "Donation Button".

May Jesus Richly Bless You. David Bay, Director
---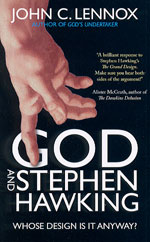 3. Renowned scientist, Stephen Hawking shocks everyone when he boldly announced that mankind MUST LEAVE planet Earth.
Our survival is said to be at stake!
NEWS BRIEF: "Stephen Hawking Warns Humanity Must leave Earth!", End Time Headlines, May 2, 2017
"Humans will need to colonize another planet within one hundred years to ensure our survival, according to Professor Stephen Hawking. The astrophysicist has made a new documentary, Expedition New Earth, as part of the BBC's new science season Tomorrow's World. In it he will claim that time is running out for Earth and if humanity is to survive climate change, asteroid strikes, epidemics and overpopulation we will need to leave our planet and venture further afield."
You have to feel sympathy for Professor Hawking, as brilliant as he is: because he does not believe in the Holy Bible, he does not realize that God is in control, that all these seemingly chaotic and 'random' events will not destroy God's plan for Planet Earth and for mankind.
After God cleanses the earth by the prophecies in the Books of Revelation, Daniel, and the Major and Minor Prophets in the Old Testament, He will establish His Millennial Reign on a purified Earth, and that is followed by His creation, a "New Heaven and New Earth"!
Relax in Jesus, Professor Hawking and allow Him to calm your anxious heart.-
---
Shipping NOW!!!
"A Tale of Two Babylons DVD: Trump's Prophetic Appointment With 'Destiny' "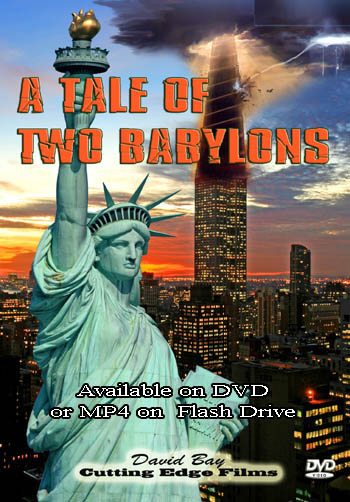 by Cutting Edge Director, David Bay -- Only $19.99
The Bible mentions the name 'Babylon' 264 times in the KJV. Today, many Christians are confused about references in prophetic passages which use Babylon in seemingly difference ways. When a Christian tries to shoe-horn one definition into all references to Babylon he / she is unnecessarily confused.
In our study of 'A Tale of Two Babylons', we are going to demonstrate that prophetic literature speaks of God's judgment on one physical nation 'Babylon' (Judged in Isaiah 13) and one nation Symbolically called 'Babylon' ( Judged in Revelation 18).
If you understand this difference, you will properly understand End Times prophecy. But, if you do not understand the difference between these 2 Babylons, you will be unnecessarily confused, and will be open to being mislead on one of the most important End Times subjects.
Since the confusion begins with the definition of Babylon, let us begin at there! Bible scholars recognize that God uses the name Babylon in two distinct ways. (Quoting from The Free Dictionary Online).
1) "... the capital of the ancient kingdom Babylonia in Mesopotamia on the Euphrates. Established as capital c. 1750 bc, rebuilt in regal splendor by Nebuchadnezzar II after its destruction (c. 689 bc) by the Assyrians, Babylon was the site of the Hanging Gardens, one of the Seven Wonders of the World 2) A city or place of great luxury, sensuality, and often vice, corruption or a place of captivity or exile.
In this study of 'A Tale of Two Babylons', we are going to demonstrate that End Times prophecy speaks of God's judgment on one physical nation 'Babylon' and one nation Symbolically called 'Babylon'.
We will also reveal two major contributions to End Times' prophecy which Donald J. Trump is poised to fulfill. In fact, Trump may be the only leader who can fulfill these prophecies in America today. President Trump does not realize it, but he has 'An Appointment With Destiny', a favorite term uttered many times by 33rd Degree Masonic President, Franklin Roosevelt, referring to the New Age / Masonic Messiah, whom the Bible calls Antichrist.
1 hour 37 minutes run time
- http://www.cuttingedge.org/detail.cfm?ID=2768
---
New Headline News Articles

'The Shack' Movie Presents A Spiritual Danger Which Shall Introduce You To Satanism While Taking Your Breath Away
MK Ultra Mind Control Manuals
by Former Satanist, Cisco Wheeler
The official trailer contains colors and filters which creates a look and feel of the 'Wizard of Oz', which introduced hundreds of millions to the Black Magick world of the House of Theosophy, and created a most important "Mind Trigger" for the Master MK Mind Controller.
Just as "Wizard of Oz" movie created a new Mind Control trigger/controller, so might 'The Shack' today. Antichrist is foretold to control the minds and actions of most people on Earth. Did you know it is possible for entire populations to be mind-controlled without using super-natural mind control? How much easier would it be, then, to control entire nations using occult mind control?