Listen to more quotes from the Illuminati as to the type of Absolute Dictatorship they are planning:
"... while the peoples of the world are still stunned by the accomplished fact of the revolution, still in a condition of terror and uncertainty, they should recognise once for all that we are so strong, so inexpugnable, so super-abundantly filled with power, that in no case shall we take any account of them, and so, far from paying any attention to their opinions or wishes, we are ready and able to crush with irresistible power all expression or manifestation thereof at every moment and in every place, that we have seized at once everything we wanted... Then in fear and trembling they will close their eyes to everything, and be content to await what will be the end of it all." [Ibid.; Emphasis added above]
"When we come into our kingdom, our orators will expound great problems which have turned humanity upside down in order to bring it, at the end, under our beneficent rule. Who will ever suspect, then, that all these peoples were stage-managed by us according to a political plan which no one has so much as guessed at in the course of many centuries?" [End of Protocol #13 ]
Therefore, if American citizens ever allow the wolves to disarm them, wolves will be freely feeding on sheep carcasses in the street. However, very soon, these wolves will be scattered by the horrific sound of tanks coming down the street and warplanes screaming overhead.
Doubt it not! This scenario occurred in Nazi Germany and Communist Russia during the 1930's and in Communist China in the late 1940's. Over 200 million citizens, disarmed and defenseless, were murdered, by the very government to which they had just surrendered their weapons!
4. Israel is ominously warning that over 150,000 homes in the north part of Israel are unprotected!
NEWS BRIEF: "Home Front Command Warns: Over 150.000 Homes Are Unprotected in the North", The Jerusalem Post, 22 May 2018
"There are over 150,000 homes within 100 km from the northern border that are not protected in case of rocket fire, the Home Front Command warned Monday. We see it as a severe problem that the Israeli government is not prepared for a phenomenon we're all living under," Gafni said. "When there is a conflict in the south, all the systems work, and if that didn't happen, there would be much greater damages. We will not give up; this must be implemented in the north.
"We pray this won't happen, but we know that the north could be exposed to attack," Gafni added."
"Former defense minister MK Amir Peretz (Zionist Union) warned that, "At the end of the day, we define the Israeli citizen's ability to deal [with emergencies] by one question alone: Can the State of Israel continue its everyday routine during a confrontation ... In the south, the routine can continue during a confrontation, not only when it's just tension', Peretz added. "
Daniel 12:1 is getting close to being carried out! Israel's National Angel -- Gabriel -- is preparing to fight for tiny Israel.
"And at that time shall Michael stand up, the great prince which standeth for the children of thy people: and there shall be a time of trouble, such as never was since there was a nation even to that same time: and at that time thy people shall be delivered, every one that shall be found written in the book (of Life)." (Daniel 12:1, KJV)
Note that every person whose name is written in the "Book of Life" shall be delivered from this unparalleled "time of trouble". But, those people of Israel whose name is not found written in the Book of Life shall be killed.
While God will never let the nation of Israel to be destroyed, He is going to allow many to die and much destruction of property and means of sustenance. We get an idea as to how much property and cultural destruction God is going to allow Israel to pass through.
"And they that dwell in the cities of Israel shall go forth, and shall set on fire and burn the weapons, both the shields and the bucklers, the bows and the arrows, and the handstaves, and the spears, and they shall burn them with fire seven years." (Ezekiel 39:9, KJV)
God states that the people of Israel will not have to worry about gathering fuel for seven (7) years because they can just cannibalize the leftover remains of this vast army which God has just destroyed.
Now, pause for a few moments of contemplation: At the time of the Russian-led invasion, Israeli citizens are going to be depending upon firewood again for their cooking and heating needs? What kind of fearsome destruction of homes, buildings, and infrastructure will be required to lower the Standard of Living this drastically?
News Snippets
NEWS BRIEF: "Shooters Aren't Shooting Up the Sheriff's Office – They Go 'Where There Is No Self-Defense', Column Written by Senator Rand Paul, Breitbart News, 18 May 2018
"During an interview with the Fox News Channel on Friday, Senator Rand Paul (R-KY) argued that schools can't be defenseless and disturbed shooters 'aren't so disturbed that they're going to shoot up the sheriff's office. They're showing up where there is no self-defense'."
Maybe we have focused our attention on the wrong subject; maybe we need to focus on eliminating "Gun Free Zones", starting with our public schools. I refuse to eat anywhere in public if the restaurant has a sign outside saying "No Guns Allowed".
NEWS BRIEF: "The Blessed Virgin Stormy Daniels?", MRC Newsbusters, May 19, 2018
"The Catholic Church has a rich history of imagery for fashion designers to explore. But their tweaking of religious imagery was a child's game of patty-cake next to Time magazine, which delighted in publishing a related piece: "The Story Behind This Photo of Stormy Daniels as the Virgin Mary."
As an Independent Baptist, I place no extra-biblical faith in Mary the Mother of Jesus, but I can certainly emphathize with devout Catholics who have every right to be upset by the depiction of the porn star, Stormy Daniels, to their venerated Mary.
And, of course, this lack of empathy for key persons in the Catholic Religion is part of the overall loathing we are seeing throughout the Western World today.
NEWS BRIEF: "Pope Francis tells gay man, 'God made you like this and loves you like this', Fox 10 Phoenix News, May 21, 2018
"Pope Francis reportedly told a gay man from Chile who was visiting the Vatican that God made him that way and loves him the way he is. Juan Carlos Cruz, who was reportedly a victim of sexual abuse at the hands of a priest, reportedly spent days at the Vatican to talk about his experiences."
The future False Prophet of Revelation 13:11-18 falsely comforted a man who is undoubtedly not saved; therefore, the Pope just encouraged this man to continue being gay and continue down the pathway to Hell.
The LGBT-Q community was thrilled that this Pope validated their lifestyle.
NEWS BRIEF: "LGBT community cheers pope's 'God made you like this' remark", End Time Headlines, May 21, 2018
"Pope Francis' reported comments to a gay man that "God made you like this" have been embraced by the LGBT community as another sign of Francis' desire to make gay people feel welcomed and loved in the Catholic Church. "
The spiritual doors are opening wider every day to the acceptance of Antichrist as the coming World Messiah. As Jesus somberly warned,
"Likewise also as it was in the days of Lot ... the same day that Lot went out of Sodom it rained fire and brimstone from heaven, and destroyed them all. Even thus shall it be in the day when the Son of man is revealed." (Luke 17:28-29, KJV)
The world is embracing homosexuality in all its forms, just as it was in the Days of Lot!
Look up, Christian, for our Redemption is drawing nigh!
Goddess worship is now reaching new levels of deception.
NEWS BRIEF: "Beyoncé's Family Buys a Church, Goddess Worship may have just Gone to a Whole New Level", End Times Journal, May 22, 2018
"Beyoncé's family reportedly purchased a historic church in New Orleans, complete with pews, a pulpit, and ready for service. The church is over 100 years old and located on the corner of Camp and 7th in downtown New Orleans ... The church was purchased on May 11, just weeks after a San Francisco church held a Beyoncé mass. Nearly 1,000 people showed up to sing Beyoncé songs and listen to a sermon by Reverend Yolanda Norton about the Biblical themes in the music. Broadly reports that the event was "to tell a story of empowerment for particularly women of color, but for anyone who happens to sing praises to the goddess herself, Beyoncé."
To the Goddess herself, Beyonce!
Look up, Christian, for our Redemption is drawing nigh!
---
New End Times' Bookstore Resources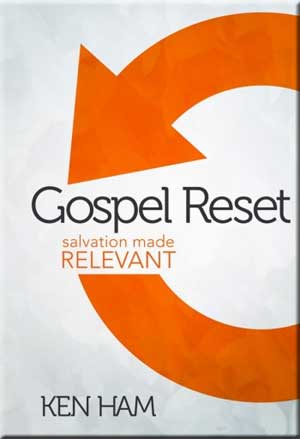 "Gospel Reset"
Reaching Millennials With A Salvation Message They Can Understand -- by Ken Ham
'The Gospel message hasn't changed but the way in which it needs to be presented in a secularized culture does need to change. It is time for a 'Gospel Reset'! (Ken ham)
Our culture has changed. Christian values, traditions, and terminologies that were once common knowledge have become a thing of the past. The typical Sunday morning call to Salvation is sadly like listening to another language for many people today.
Hardback book, only $14.95 -- Order Now
---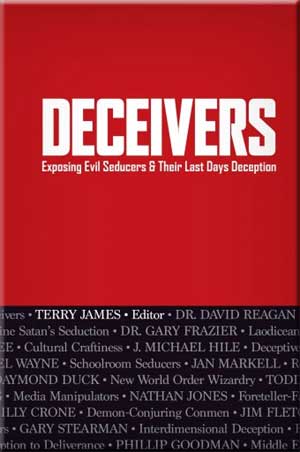 "DECEIVERS: Exposing Evil Seducers & Their Last Days Deception"
There is no doubt that Jesus' End of the Age Bible prophecy is unfolding right now before our eyes. Literally, Last Days' prophecy is being printed on today's newspapers!
15 top prophecy experts examine today's' issues and events to expose end times deception in Light of God's Word. Experts like Pastor Billy Crone, Dr. Gary Frazier, Jim Fletcher, Gary Stearman, Eric Barger, and many others reveal critical events almost ready to unfold.
Hardcover 334 Pages -- Only $19.95 -- Order Now