---
Headline News Analysis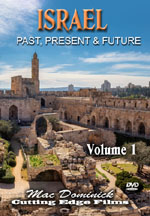 DVD
1. Modern Israel (2018) has just proclaimed officially what Modern Israel (1948) established on the ground, i.e., that Israel is a Jewish State.
NEWS BRIEF: "Nationhood is socially moral: Nationhood is the moral solution, and not the moral problem", by Dr. Chaim Charles Cohen, Israel National News, 7/30/2018
"The Knesset's recent passage of the constitutional Nationality Law is an important accomplishment for the Jewish people in the Land and State of Israel ... principled, declaratory statements, particularly when democratically approved as constitutional law, can have tremendous, positive educational impact. And this I believe is the significance of the Nationality Law."
"The Jewish people are proudly proclaiming to the Western world that nationhood (nationalism) is a critical element of our social morality. The Nationality Law teaches us that a healthy, balanced nationhood is the moral solution, and not the moral problem, for coping with the social ills of ailing, post modern Western society."
In the immediate aftermath of the Nazi Holocaust in which two-thirds of all Jews in the world were exterminated, Jewish scholars and leaders concluded that a Jewish nation would have been able to prevent forces like Germany's Nazism from ever gaining such control over the fractured European Jewish community that they could wantonly annihilate so many Jews.
If the Jews during the time of Hitler had a nation state to which they could flee, Hitler could never have carried out his genocidal campaign.
Therefore, Jews are very sensitive and aware of the "life and death importance" of a Jewish nation state. After Modern Israel had survived multiple challenges and threats for a "Generation" (70 years), the Modern Knesset felt the time had arrived for Israel to declare that she was a "Jewish Nation"!
"The law similarly teaches that constitutionally Israel is a Jewish State, and not a state whose national character is a sum total of the various characters of all its citizens, Jews and non Jews."
And that Jerusalem is the eternal capital of this JEWISH STATE!
This proclaimed fact forever changes the rhetoric between Israel and the Palestinian negotiations, if they ever resume and if they ever bear the fruit of a Two-State Solution. No longer will the Palestinians be able to claim that Jerusalem -- or a part of it -- belongs to them.
2. Modern Israel today is positively energized by "Messiah Mania"!
NEWS BRIEF: "Messiah-Mania Reaches Fever Pitch In Israel", End Time Headlines, July 30, 2018
"Messiah-mania has reached a fever pitch in Israel ... while a group promoting the rebuilding of the Temple released a new TV spot saying, "The time has arrived'."
"... now that the majority of Jews in the world now live in Israel, prophecy is read to be fulfilled ... This demographic fact has far-reaching messianic ramification in Jewish Law, requiring the Jews to reinstate Biblical commandments that have not been seen in two millennia and bringing redemption one, rather significant step closer."
Right on cue, Israel's enemies are mobilizing around her borders for the final attacks in which God uses Israel as an anvil on which He will annihilate enemies of this Jewish State.
NEWS BRIEF: "Defense Minister Lieberman Threatens Bloody Gaza Reprisals if Israel is Attacked", Breaking Israel News, 7/30/3028
"During a visit to Kibbutz Or Haner, approximately 3 kilometers from the Gaza border, Defense Minister Avigdor Lieberman (Yisrael Beitenu) threatened bloody reprisals if Israel were to be attacked from Gaza ... after a few relatively calm days, Palestinian arson terrorism raged again over the weekend, as 28 fires were sparked in Israeli communities near the border by incendiary balloons."
NEWS BRIEF: "Jordan, Palestine and Saudi Arabia warn Israel against Turkey", Al- Jazeera News, 28 June 2018
"Saudi Arabia, Jordan and Palestine have warned Israel on separate occasions about Turkey's creeping influence in occupied East Jerusalem ... senior officials from the three Arab countries told Israel that Turkey was "extending its influence in Arab neighbourhoods of Jerusalem" which they said was 'part of an attempt by Turkish President Recep Tayyip Erdogan to 'claim ownership over the Jerusalem issue'."
NEWS BRIEF: "Iran's Judiciary chief: Iran mightier than ever at Israeli borders", Islamic Republic News Agency, July 30, 2018
"Today Iran is mightier than ever right at the Israeli borders and that's because the United States is so hasty to bring Iran to its knees, said Iran's Judiciary chief Ayatollah Sadeq Amoli Larijani on Monday."
Prophecy declares in numerous places that God will personally act to destroy Israel's enemies.
Soon, Jews will feel so safe they no longer need the walls for protection.
Just as prophecy declares:
"And thou shalt say, I will go up to the land of unwalled villages; I will go to them that are at rest, that dwell safely, all of them dwelling without walls, and having neither bars nor gates ..." (Ezekiel 38:11, KJV)
3. President Trump knows the fragile state of Iran, and he is pushing sanctions hard.
NEWS BRIEF: "Currency Crash: Iran's Rial Hits Record-Low of 100,000 to the Dollar", Breitbart News, 30 July 2018
"Iran's currency hit a record low on Sunday of 100,000 rial to the dollar amid a deepening economic crisis and the imminent return of full US sanctions. The unofficial rate stood at 102,000 rials by midday ... The rial has lost half its value against the dollar in just four months, having broken through the 50,000-mark for the first time in March."
"... Iranians worried about a prolonged economic downturn turning to dollars as a safe way to store their savings, or as an investment in the hope the rial will continue to drop."
Iran may be collapsing internally, as the disintegration of her Rial currency is shocking and profoundly pervasive.
DVD
4. National Democrat Party Chairman, Tom Perez, announced that "Socialism" was the future of the Party.
NEWS BRIEF: "DNC CHAIR TOM PEREZ SPOTTED CARRYING $1,840 DESIGNER BAG AT AIRPORT AFTER CALLING SOCIALISM 'FUTURE' OF PARTY", The Daily Caller, 7/30/2018
"Perez has recently embraced the rise of socialism within the Democratic ranks. He recently described the socialist views of rising star Alexandria Ocasio-Cortez as the 'future' of his party."
At this time, when Democrat Party National Chairman, Tom Perez, announces that "Socialism" is the future of the Democrat Party, he gets really bad news:
Only 19% of Democrat voters want the Party to convert to Socialism!
NEWS BRIEF: "Reality Check: Only 19% of Democrats want their party to convert to socialism: Poll", The Washington Times, July 27, 2018
"Democratic socialism has an appealing image these days, thanks in part to the spirited 2016 presidential campaign of Sen. Bernard Sanders of Vermont, and the recent surprise victory of Alexandria Ocasio-Cortez ... A new Rasmussen reports survey finds that 51 percent of likely Democratic voters have 'a favorable impression of socialism'."
"Democratic flirtations with socialism does not translate into action, however. The poll found that only 19 percent of Democrats said their party should convert to a national socialist party."
Republican voters are sensing that the Democrats would be flirting with disaster.
"Perhaps sensing a political or cultural advantage in the long run, a plurality of GOP voters — 41 percent — said the Democrats should just go ahead and make the change."
Question of the Hour: Who can point to even one country who is both Socialist and Prosperous!
NEWS BRIEF: "MEGHAN MCCAIN EXPLAINS DEMOCRATIC SOCIALISM: 'NAME ONE COUNTRY' THAT HAS SUCCESSFULLY USED SOCIALISM'," The Daily Caller, July 24, 2018
"Meghan McCain went after Democratic Socialist Alexandria Ocasio-Cortez and the fundamental concept of socialism on Tuesday's episode of 'The View' ... 'by the way, I hope Democrats do run a Democratic Socialist ... and then I'll look forward to election night when I finally get to tell everyone 'I told you so' if you end up running a radical', McCain said."
At this juncture, McCain quoted a very famous lady Prime Minister to make her point.
"The problem with socialism, in the words of Margaret Thatcher: 'At a certain point you run out of spending other people's money' ... Name one country [where] socialism has ever worked'."
No one could name a country where Socialism works, because there is not any such country!
5. What is the worst electoral nightmare for Democrats?
A black gay Veteran man leaving the Party!
NEWS BRIEF: "Dems' Worst Nightmare: Black, gay vet leaves party to become a Republican, tells the world why", BPR News, July 29, 2018
"Rob Smith represents everything Democrats fear most in the #WalkAway era. A black, gay, Army veteran, Smith became so sick of false narratives from liberals, and the perpetuation of a victimhood mentality that he decided to switch parties and become a Republican."
But, the opposition party continues to shoot itself in the head, politically speaking!
6. The Democrat Party is now inviting whites to leave!
NEWS BRIEF: "New York Times: New Hampshire is Too White, And That's A Problem", Big League Politics, July 29, 2018
""New Hampshire, like its neighbors Vermont and Maine, is nearly all white. This has posed an array of problems for new arrivals, who often find themselves isolated and alone, without the comfort and support of a built-in community ... This pure anti-white propaganda runs contrary to everything the left has told us we are supposed to believe about 'diversity' ... But apparently the problem with New Hampshire's whiteness is so pressing that 100 government officials and business leaders got together to discuss it."
Other Liberal leaders have recently lamented that "white privilege" is helping to ruin America. One does not have to read between the lines to get the impression that whites are being consigned to the "back of the bus" in Democrat politics.
The problem is that 62% of America's population is White!
Democrat candidates and office holders are pushing Israel away by their policies!
NEWS BRIEF: "Are Far-Left Candidates Pushing the Democrats Further Away From Israel?", Breaking Israel News, July 29, 2018
"Much like the 2016 presidential election, the 2018 midterm congressional elections are shaping up to be one of the most contentious in recent memory ... Yet for the American Jewish and pro-Israel community, the upcoming midterms and their results may also have a profound effect on the future of bipartisan support for Israel. Many worry that the leftward shift among Democrats in their opposition to Trump during this election season may bring the party closer towards the anti-Israel views found on the party's far-left, as exemplified by Vermont Sen. Bernie Sanders ... One of the biggest surprises so far in the primary season was the upset victory by Democratic Socialist candidate Alexandria Ocasio-Cortez ... While Ocasio-Cortez has drawn much of the attention, other Democratic candidates, such as Ilhan Omar, Leslie Cockburn and Scott Wallace, have also been criticized for their anti-Israel views or ties to pro-BDS groups..."
"They won because the party as a whole is shifting to the far-left, and that's where their primary votes are. They seem to think it's a good strategy, but we're proving that it isn't', he said ... Up and down the Democrat Party ... it has become a race to see who can run farthest from the United States' close, fruitful relationship with Israel'."
Since American Jewish voters have been known to vote Democrat at about the 90% level, a loss of significant votes would be devastating to many House and Senate seats in November.

7. Cardinal Theodore McCarrick, one of the U.S. Catholic Church's most prominent figures, has resigned because of sexual abuse allegations.
NEWS BRIEF: "Catholic Cardinal Steps Down Amid Sex Abuse Scandal", Big League Politics, July 29, 2018
"In a nearly unprecedented move, one of the most prominent Catholic Cardinals in the United States resigned from his position today amid sexual abuse allegations. Pope Francis on Saturday accepted the resignation of Cardinal Theodore McCarrick, one of the U.S. Catholic Church's most prominent figures who has been at the centre of a widening sexual abuse scandal ... "
"He stands accused of sexually abusing a 16-year-old boy more than 50 years ago, accusations which the Catholic Church say are 'credible and substantiated'. Another alleged victim has come forward claiming the McCarrick abused him at age 11, and several men have alleged that the Cardinal forced them to sleep with him at his New Jersey home while in seminary school."
Sex abuse by the clergy continues to roil the Roman Catholic Church, a disaster which traces back over 1,000 years.
Why, oh why, has the Catholic priesthood been sexually molesting little boys, young women and married women for the past 1,000 years? The answer is simple: Roman Catholicism is NOT genuine Christianity, but a mixture of numerous pagan doctrines and practices, all of which lead to sexual deviancy.
Former Catholic Seminarian, Bill Schnoebelen, proves in his DVD, "Church On Haunted Hill" that, given the true inner heart nature of Catholicism, sexual deviancy and molestation is what we should expect from many priests!
Bill also shockingly reveals that Catholic priests teach that Jesus was able to perform miracles only because He had gone into the Occult and was using the power of Occult spirits! Jesus condemns this belief in the strongest of terms (Matt 12:22-31). Therefore, priests who believe this heresy are no longer subject to the promptings of the Holy Spirit and can fall into unusually hateful and hurtful sins.
Bill also reveals that in the Catholic seminary he attended he discovered that about 75% of the men studying for the priesthood were gay, many of them very openly gay. Once you understand the truth contained within these three DVD's, you will never look at Roman Catholicism the same way again!