2. LGBT groups are "up in arms" over the Vatican's action to ban homosexual priests from seminaries.
NEWS BRIEF: "LGBT Groups Blast Vatican for Banning Homosexuals from Seminaries", Breitbart News, 9 December 2016
"A number of LGBT advocacy groups have slammed the Vatican's new document on priestly formation that confirms a ban on admitting men to seminary who exhibit 'homosexual tendencies'."
" 'Pope Francis has a lot of explaining to do', said Francis DeBernardo, executive director of New Ways Ministry, a nominally Catholic LGBT organization."
No one should be surprised or scandalized by this new Vatican directive; rather, you should be scandalized that a Catholic leader like Francis DeBernado should "demand an answer" from Pope Francis.
So many Catholic Priests, Bishops and Cardinals have fondled, raped and/or sodomized young boys within their church that hundreds of millions of believers have left their church, with many of them losing faith in Jesus Christ.
Further, homosexual students in Catholic seminaries is not new.
Consistently, 75% of seminary students from Catholic schools have been homosexual, creating the sex scandal which has threatened the very existence of Roman Catholicism.
"Former Catholic Seminarian, Bill Schnoebelen, proves that, given the true inner heart nature of Catholicism, sexual deviancy and molestation is what we should expect from many priests! Bill also reveals that in the Catholic seminary he attended he discovered that about 75% of the men studying for the priesthood were gay, many of them very openly gay." ("Catholicism: The Church On Haunted Hill" - DVD - pictured above as part of the Combination Offer)
This new Vatican decree will change nothing, because the root of this sexual deviancy exists because the Roman Catholic Church is NOT genuine Christianity, but a mixture of numerous pagan doctrines and practices, all of which lead to sexual deviancy. Bill Schnoebelen, proves that, given the true inner heart nature of Catholicism, sexual deviancy and molestation is what we should expect from many priests!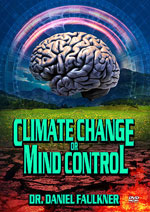 3. Pope Francis is such a strong proponent of 'Climate Change' that he is now requiring priests to teach this heresy from their pulpits!
NEWS BRIEF: "Catholic Church: New Priests Will be Expected to Preach Global Warming", Watts Up With That, december 10, 2016
"LOS ANGELES, CA (California Network) — The Catholic Church is intimately concerned about climate change. The Vatican's Pontifical Academy of Sciences is the world's oldest, longest running scientific mission. That body, which advises the pope on matters of science, has concluded that global climate change is real and is caused, at least in significant part, by human activity."
"This is important to the Church because creation care is part of our mission. We are called to be stewards of creation. It's also important because climate change can exacerbate the ills of poverty. Poor people in much of the world are the most vulnerable to changes."
This official announcement brings a global religious organization of over One Billion people on the side of treating Climate Change as a real phenomenon created by human activity. This change alone will bring great strength to the New Age / Illuminati propaganda campaign designed to promote a global scare which will provide greater impetus to establishing a Global Government known as the New World Order.
Please take a few moments to read our treatise of about 10 years ago on the five (5) global crises designed to lead the peoples of the world into the planned Global Dictatorship (NEWS2193, entitled, "Five Major Created Global Disasters Are Being Constantly Preached To The World As Reasons To Form The Global New World Order!")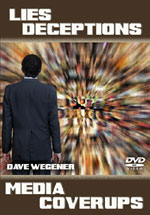 DVD
4. Immediately following the Presidential election, Democrats realized they had to preempt the growing scandal over the "Fake News" of which they had been guilty all along.
NEWS BRIEF: "Top 10 'real' news stories that turned out to be fake", The Washington Times, December 6, 2016
"Since "fake news" is all the rage within the mainstream media, here's the top 10 "real" news stories they reported on — and some downright propagandized — that turned out to be, well, fake. It's the reason this new narrative of 'fake news' will never catch on, and why Americans' trust in the press is at an all-time low."
What are these top 10 fake stories which were presented at the time as real?
1. If you like your health care plan, you can keep it -- In 2013, about 4 million Americans got cancellation letters, and PolitiFact labeled the statement the lie of the year."
2. Hands Up, Don't Shoot -- 'Hands up, don't shoot' didn't happen in Ferguson, Missouri, but that didn't stop the narrative from spreading throughout the news media and in Black Lives Matter protests ... A grand jury couldn't confirm the narrative, and neither could the Department of Justice."
3. The Iran deal was negotiated with moderate Iranians, not the radical mullahs
4. Bowe Bergdahl exchange was hard-fought/negotiated
5. Benghazi attack inspired by online viral video -- this bold lie evidently came directly from Secretary of State Hillary Clinton, who suddenly found herself in very hot political water regarding her in competent role during this attack.
6. Climate change will produce more storms like Hurricane Katrina"
"Guess what? The U.S. hasn't experienced a storm like Katrina since it hit more than a decade ago."
7. Cuba has great health care; murderous dictator Fidel Castro was good
"Mr. Castro oppressed his people for 59 years, torturing and killing an estimated 15,000 of his own citizens who opposed him. His reign was so idyllic, over an eighth of the island's population chose to go into exile, with about 700,000 coming into the U.S. prior to 1980."
8. Myth of the killer cop epidemic
"The paper for the National Bureau of Economic Research, which examined thousands of incidents at 10 large police departments in California, Florida and Texas, concluded that police were no more likely to shoot non-whites than whites after factoring in extenuating circumstances."
9. Donald Trump's adviser Steve Bannon is a white supremacist
"There is absolutely no evidence of this, but the mainstream media loves to splash the idea around — or at least infer that Mr. Bannon, because of his association with alt-right website Breitbart, is a white supremacist, racist, bigoted, xenophobe, etc."
10. Donald Trump can't win the White House
"Mr. Trump's campaign manager Kellyanne Conway said during a Harvard University panel last week that the mainstream media's narrative saying Mr. Trump could never get the 270 electoral college votes he needed to win the White House was the biggest fake news of them all."
All these "news stories" were "fake news". And, immediately after the November Presidential Election, the Liberal Media realized they and their bold lies were exposed for all voters to see.
How did they defend themselves? By being the most aggressive and the most "horrified" over the fake news campaign.
NEWS BRIEF: "I WAS DONE IN BY 'FAKE NEWS'!: We Need to Fix the Internet", TMZ News, December 8, 2016
"Hillary Clinton is back on the attack ... blaming the Internet, at least in part, for her loss to Donald Trump -- and she's demanding some big changes ... Since her defeat, there's been a lot of talk about websites posting fabricated stories about Clinton and their impact on voters -- not to mention the wave of Wikileaks ... Watch ... Hillary's suggesting legislation and/or technology can help shut down the problem. Sounds like a slippery First Amendment slope, but she sounds determined."
The very people who created and disseminated "fake news" during the campaign are now the ones in the forefront of crying buckets of tears over how terrible they were impacted by this lying "News"!
This incredible turn of events proves what we have been teaching since December, 2001, that the truth of the matter is usually discovered at the opposite end of the political rhetoric! (Read full details in NEWS1558, entitled, "BREAKING OUT OF THE MENTAL BOX -- LEARNING TO THINK IN THE OPPOSITE DIRECTION OF PROPAGANDA TO FIND THE TRUTH")
5. President Trump realizes the global economic facts more clearly than the average citizen.
He realizes that China needs the United States more than we need her!
NEWS BRIEF: "Taiwan Play: Trump Knows China Needs Us More than We Need Them", Breitbart News, 9 December 2016
"Although China, with its huge Treasury bond holdings, was seen during the Obama administration as having a strong hand in trade negotiations, President-elect Trump is aggressively communicating that the need for access to U.S. consumers is China's weakness."
Liberal Leftist Media has been trumpeting the lie that China is rapidly closing the gap with America and would soon take us over. Thankfully, we can now know how much of a lie that truly was.
"George Friedman of Geopolitical Futures in a new report concludes that:
China is more economically dependent on the U.S. than the U.S. is on China. This is because the U.S. is not wholly reliant on China for any strategically important commodities or products, the U.S. has significant extra capacity in many of its manufacturing sectors, and the U.S. is resilient to Chinese retaliatory moves."
"Despite the U.S. depending on imports of cheap Chinese products and certain commodities, such as rare earth elements, America could quickly find alternatives if necessary. In a trade war between China and the U.S., both would suffer short-term consequences, but China would feel the impact of U.S. protectionist measures much more and for far longer than the U.S. would feel any economic retaliation."
This reality means that the United States today is uniquely fulfilling prophecy of the Economic Babylon of Revelation 18.
"Babylon the great is fallen, is fallen, and is become the habitation of devils, and the hold of every foul spirit, and a cage of every unclean and hateful bird. For all nations have drunk of the wine of the wrath of her fornication, and the kings of the earth have committed fornication with her, and the merchants of the earth are waxed rich through the abundance of her delicacies."
Watch the Presidency of Donald Trump. I believe he could very well parallel President Reagan's Presidency, where America prospered economically, but continued to slide down the moral slippery slope toward the Abyss.
Reagan accomplished nothing of real value: he did not eliminate Abortion, did not force the Panama Canal to be taken from Chinese control, did not balance the budget and did not reduce the size of the Federal Government.
But, his policies greatly stimulated the economy.
President Trump could well follow this same pattern.
---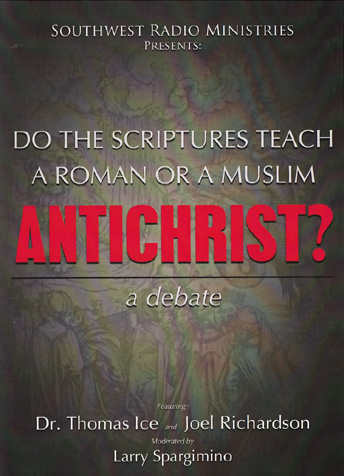 "Is Antichrist A Jewish/Roman or An Islamic Caliphate Muslim?" DVD
Great Debate Between Two Christian Scholars
Regular Price $24.99, Introductory Price $17.99, Saving you $7.00
An age-old debate rages onward today, as Dr. Timothy Ice, and author Joel Richardson, meet for a masterful debate under the auspices of Southwest Radio Bible Church, for 2 hours, 40 minutes of lively discourse.
Traditional prophetic teaching is that Antichrist will come from a Resurrection Roman Empire (European Union); however, since the rise of the Islamic Caliphate (Islamic State), modern scholars have arrived at the belief that the Biblical Antichrist will be Islamic, and will rule the Islamic Caliphate.
After seeing and listening to these two Bible scholars, you will know how to 'properly divide the Word Of Truth' and come to the correct understanding
2 Hours, 40 Minutes of teaching