I. Donald Trump and Hillary Clinton debated last night for the second time, and for the first time in a very long time, I believe Hillary may NOT be the next President of the United States.
We shall have to spend some time discussing numerous critical aspects of this debate, so please bear with us.
1. Hillary is correctly named as Bill's Enforcer/Enabler against his women victims, as she aggressively acted to intimidate them in order to keep them from reporting Bill as a rapist.
NEWS BRIEF: "Broaddrick, Willey, Jones tell Bill Clinton's Defenders: 'These Are Crimes,' 'Terrified' of 'Enabler' Hillary", Breitbart News, 9 October 2016
"In an exclusive video interview at the presidential suite of the historic Watergate Hotel, the victims of Bill Clinton's alleged sexual assault — Juanita Broaddrick, Kathleen Willey, and Paula Jones — got together for the first time in person to express their personal fear of Hillary Clinton and to warn voters that Clinton does not stand for women's issues."
Perhaps this issue is the largest one of all: Hillary Clinton is NOT supportive of women's values, since she is NOT a typical woman. She is, and always has been, a man in her own mind, which is why she has pushed herself into all sorts of situations normally held by men.
Hillary felt nothing was wrong or out of place when she aggressively pursued every one of Bill's sex victims. She attacked them just like any "Alpha Male Dog" would have done, and she thought nothing was wrong with that!
"The three women, who say their lives were forever changed by their experiences with the Clintons, used words like 'terrified' and 'frightened' to describe their feelings about the prospects of a Hillary Clinton presidency."
"When asked about the counter-argument that their allegations toward Bill Clinton only dig up past 'infidelities', all three women attacked establishment media figures for using this language."
These victims were rightfully angry that the Mass Media used words like "infidelity" or, even worse, "indiscretion", to describe Bill Clinton's rape of them. Listen to their response:
" 'We were not willing participants', Broaddrick said. 'These were crimes' ... Willey called out NBC News' Andrea Mitchell and CNN's Jake Tapper by name, challenging them: "These are not infidelities. A rape is not an infidelity. These are crimes. Any other people would be in jail… This is no longer about infidelities, indiscretions, girlfriends, sex, interns — none of those. This is about a serial rapist, a predator, and his wife who has enabled his behavior all of these years'."
Remember, these women spoke to the Media BEFORE the debate began. Is this the reason that Hillary did not go against Trump for his bad-mouth sexual bantering? I would suspect this to be the case, in which Trump proved again that a "good offense is better than a good defense".
At this time, I would strongly interject that I do not approve of the totally evil verbal bantering which occurred between Donald Trump and Billy Bush, both of whom displayed completely childish mindsets. As a Christian, I am abhorred.
But, I heard this type of bantering when I was in high school football, in the locker room. It has always amazed me that most men resort to sexual boasting when trying to prove to the "guys" that they were true men; somehow, manhood has gotten tangled with sexual prowess in this country.
But, none of the football players which I heard boast so mightily in the locker room ever tried to take that talk and turn it into action against the girls they mentioned during the banter. Outside the locker room, these foolish young men were respectful and polite to the girls they were verbally assaulting in the locker room.
Donald Trump participated in just this kind of sexual bantering. But, no one is suggesting that he ever "pulled a Bill Clinton" by actually carrying out his sexual fantasies. And, this is exactly what Bill Clinton did. He physically attacked many women, and he should be in jail, not giving speeches and making business deals that have made him nearly a billionaire,!
NEWS BRIEF: "TRUMP PUNKED THE PRESS: Told Reporters They Were Going to Pre-Debate Presser, Walked in on Clinton Rape Victims!", Gateway Pundit, Oct 9, 2016
"WOW! The reporters thought they were going to a pre-debate photo op with Donald Trump. They walked in on Trump sitting with Clinton rape victims ... Paula Jones, Juanita Broaddrick & Kathleen Willey..."
A fourth woman -- Kathy Shelton -- appeared at this gathering of the Clinton victims because, when she was raped as a 12-year-old, her attacker was successfully gotten off by lawyer Hillary Clinton. Hillary was heard brazenly bragging about how she had skillfully gotten this vicious attacker released.
NEWS BRIEF: "Bill Clinton heckled as a 'rapist' during Hillary campaign event (VIDEO)", Russia Today News, 9 October 2016
"Bill Clinton was heckled by an audience member calling him a "rapist" during a campaign rally for Hillary in Milwaukee. The protest is the latest in a growing string of similar outbursts against the former US President ... Clinton was discussing the Republican Party candidate Donald Trump's controversial position on global warming during a rally on Saturday when the outburst was recorded.
"Clinton opened a sentence by saying, 'No one can dispute the fact', to which a protester intercepted, 'That you're a rapist!' This was followed by another protester who chimed in, 'Bill Clinton is a rapist!' "
Bill was clearly rattled and he never did get his key message back on track with this audience.
NEWS BRIEF: "Roger Stone Touts His New Book, 'The Clintons' War on Women', Breitbart News, 9 October 2016
"New York Times bestselling author Roger Stone has a new book, The Clintons' War on Women ... this book is about the non-financial crimes of the Clintons." Stone is one of the best-known — and best-dressed — political insiders in New York.
"It's a horrifying true story of rape, intimidation, cover-up, drugs, greed and power."
"The Clintons' 'systematically abuse women and others – sexually, physically, and psychologically – in their scramble for power and wealth', says the book's press release. Hillary Clinton's core agenda is a quest for power, even while she presents herself as champion of women's issues', Stone says."
"If Hillary intends to build her campaign around an appeal to women, her campaign is built on quicksand," said Stone. But 'Hillary is a life-time abuser of women and her advocacy on women issues rings hollow', he said."
How can a woman -- particularly one who labels herself as a protector of Women's Rights -- act to support her husband's rapes and try to smear his victims? Once you understand that both Bill and Hillary are practicing occultists, you will comprehend why Wife Hillary automatically jumps at the opportunity to keep victims silent.
First, we prove that Hillary and Bill are both practicing witches, in our new DVD, "Hillary Clinton: The Sun Goddess Unleashed".
Secondly, as worshippers of Black Magick, Hillary and Bill each believe they are above the Law, especially since our current system of laws is based upon Judeo-Christian ethics. Black Magick Satanists hate our current system of laws and are determined to first undermine, and then destroy, all our laws.
Let us quickly review principles taught as doctrine in Black Magick Satanism.
The Satanic Bible teaches indulgence in the following areas of life:
1. Greed
2. Pride
3. Envy
4. Anger
5. Gluttony
6. Lust
7. Sloth [laziness] (Anton LaVey, "The Satanic Bible", p. 46)
Bill and Hillary are just acting out their spiritual beliefs -- which are rooted in Satanism -- in their sex lives. Bill wants sex as much as he wants it and with whom he wants it, while Hillary understands Bill's "needs" completely and is willing to act as his "enabler", coming along behind a sexual tryst and intimidating the victim to simply "Shut Up"!
Throw in Bill and Hillary's "Pride" and "Anger", both areas which are listed above as "Indulgence" categories. In other words, a Satanist believes they are entitled to "INDULGE" in each area listed above in the Satanic Bible.
Now, let us return to our premise, above, that Bill and Hillary not only hate the Judeo-Christian principles currently under-girding our national laws, they want to destroy them. What better way to undermine laws based upon Judeo-Christian ethics than to have the President of the United States and his First Lady, arrogantly abusing women sexually and forcibly/violently raping women and then flaunting it after being discovered?
Do you remember how the foundations of our nation shook during the Monica Lewinsky Affair? Not only was the President of the United States defacing our White House and his position by having sexual encounters within the Oval Office, but the Senate refused to complete his removal from office after the House voted to impeach him
Would that undermine our current laws based upon Judeo-Christian values? Of course, it would and this is the REAL reason behind the outrageous sexual crimes by Bill and the equally outrageous cover-up by Hillary.
And, if Hillary becomes President, she will attempt to use all the power of the White House and the Judicial System to totally overthrow our current system of laws, replacing it with "Indulgence" in the seven areas listed in "The Satanic Bible", quoted above.
Doubt it not!
2. Trump kept Hillary at bay last night, all night long.
NEWS BRIEF: "TRUMP Calls For A SPECIAL PROSECUTOR ON HILLARY – Debate Audience Loves it!", American Lookout, October 9, 2016
"Trump went after Hillary in the debate! Tonight he even called for a special prosecutor for Hillary. And here's how the audience responded, courtesy of Frank Luntz. (Click to see colored graphic)
"The audience loved it! The numbers went through the roof!!"
"At the beginning you can see the ratings of Trump supporters in red – They're around 70 on a hundred point scale. And the numbers of undecideds are in yellow – About 70."
"Then Trump mentions the special prosecutor, and the numbers go off the scale! The numbers for undecideds go up and up, then off the screen – Over 80!! And even the Hillary supporters give Trump a rating over 50!"
NEWS BRIEF: "Trump Calls Out Hillary For Deplorables Remark: "I will be a President for ALL of our people." (VIDEO)", American Lookout, October 9, 2016
"Democrats and their leftist allies in media have tried desperately to paint Donald Trump as a bigot but he has gone out of his way to reach out to all Americans and he repeated it in a great moment at the debate last night. When asked how he would work for everyone as president he brought up Hillary's "deplorable" comment and said:
"She calls our people deplorable… and irredeemable. I will be a president for all of our people."
"It was a powerful moment.
How does Hillary expect to be embraced by the entire American public when she's already written half of them off as deplorable and irredeemable?
The simple truth is that she can't."
Hillary had no effective response, much like Mitt Romney had no effective response to his "47 % remark" during the 2012 election against President Obama.
3. Any good debater uses One-Line Zingers to his/her advantage.
Last night, Donald Trump used several of them to keep Hillary off balance all night long.
NEWS BRIEF: "'You'd be in jail' Trump says to Clinton & other debate zingers", Russia Today, 10 October 2016
* "Speaking at the second presidential debate on Sunday, Clinton said it was 'awfully good that someone with the temperament of Donald Trump is not in charge of the laws in this country'."
"Quickly responding to that remark, Trump said that was 'because you'd be in jail' if that were the case'."
* "Trump also promised that he would hire a special prosecutor to look into the Clinton email scandal. 'If I win, I am going to instruct my Attorney General to get a special prosecutor to look into your situation, because there has never been so many lies, so much deception, there has never been anything like it, and we're going to have a special prosecutor', the Republican candidate said."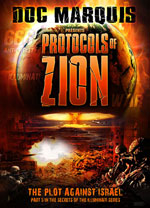 DVD
* "Clinton was asked about a Friday WikiLeaks release during the debate, which includes transcripts of some of her paid speeches before Wall Street firms. In one of those, she reportedly said that you need a 'public and private position' at times, in order to achieve things in politics."
The English language has a strong term for deliberately creating a "public and private position" in politics. That term is a "L-I-E"!
But, Hillary is just reiterating one of the Illuminati's main points:
* "... the word should not agree with the deeds of the diplomat." [Protocol #7] Not only is lying permitted, it is required! How can we ever believe anything Clinton, or any other leader involved in the coming New World Order, say?
* "Moreover, the art of directing masses and individuals by means of cleverly manipulated theory and verbiage ... and all sorts of other quirks, in which the [common people] understand nothing, belongs likewise to the specialists of our administrative brain." [Protocol #4]
These leaders are deliberately schooled in how to speak deceptively. After they have spoken this way long enough, they are simply able to do it without thinking specifically, even on the spur of the moment. Thus, they can appear to be so natural, so full of empathy, when lying.
* "Only one trained from childhood for independent rule can have understanding of the words that can be made up of the political alphabet." [Protocol #1] Notice that, in their minds, a completely different alphabet, language, exists other than the normal language spoken by the people. Both Clintons are exactly trained in this way, which is why they are so effective in deception.
* "The principal object of our directorate consists in this: to debilitate the public mind by criticism; to lead it away from serious reflections calculated to arouse resistance; to distract the forces of the mind towards a sham fight of empty eloquence."
"In all ages the peoples of the world, equally with individuals, have accepted words for deeds, for they are content with a show and rarely pause to note, in the public arena, whether promises are followed by performance. Therefore, we shall establish show institutions ..." [Protocols #5; reiterated in Protocol #10]
Now you know the truth about "Lying Hillary"! She is just another "Pea in the Pod" with her husband, Bill, in lying so cleverly and so often that they look very normal as they are telling the biggest and the most shocking lies imaginable.
Welcome to the world of Establishment politicians! Welcome to the world of Black Magick!
II. Hillary quite clearly believes that America should continue to be brought down and her National Sovereignty destroyed, in this planned New World Order. You can count on her to bring America fully into this global prophetic system.
NEWS BRIEF: "Clinton called for 'open trade and open borders' in both private & paid speeches", Fox News, Oct 8, 2016
"Hillary Clinton told bankers behind closed doors that she favored 'open trade and open borders' and said Wall Street executives were best-positioned to help reform the U.S. financial sector, according to transcripts of her private, paid speeches leaked Friday."
When a politician like Hillary publicly professes support for "open trade and open borders", that politician is voicing support to reorganize all the world's nations and to create a global economy, i.e., the New World Order!
Steps taken to create such a global system since World War I have brought the world to the cusp of the New World Order of Antichrist. That is the plan, and it brings with it the forcible plan for every national leader to commit treason, as he plans to transfer National Sovereignty to a Regional Power, and eventually, to the United Nations!
Hillary has expressed her determination to create the changes needed within the first 100 Days of her Administration to finally create Supernation #1, the North American Union (Read full details in NEWS2556).
As President, Hillary would forcibly seize all guns through Executive Order.
NEWS BRIEF: "Wikileaks Release: Hillary Clinton Press Sec Says Gun Control to Be Implemented by Executive Order", Breitbart News, 7 October 2016
"The batch of emails released by Wikileaks on October 7 includes one in which Hillary Clinton press secretary Brian Fallon explained that Clinton 'would support…closing the gun show loophole by executive order' ... and her support for a scenario wherein victims of crime would be able to sue gun manufacturers."
She and her United Nations colleagues evidently believe that they would be able to throw enough firepower into American homes and business to seize our private weapons!
Or, do they plan to wait a bit longer, until Antichrist and the False Prophet are on the scene, forcing everyone to take the "Mark of the Beast", because the "Mark" can cause everyone in a targeted community to just go to sleep.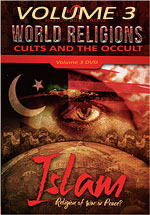 DVD
III. President Barack Obama just clearly admitted that he is a Muslim!