2. The 2020 Democrat Party Platform screeches the most radical claptrap imaginable. White People are:
* Too white
* Too rich
* Too privileged
* Too Evil
NEWS BRIEF: "Draft DNC Platform Declares White Americans Too Rich, Too Privileged, and Too Evil", Breitbart News, 24 July 2020
"The Democrat National Committee draft platform for its 2020 convention mentions 'whites' a total of 15 times, each of them within a 'damning' context ... In more than 80 pages in the draft platform published by Politico, whites are mentioned 15 times, all critical, including three references to white supremacy or supremacists and one to white nationalists ... "In most mentions, the reference is to how whites are better off at the expense of others. And the promise often is to 'close the gap' between minorities and whites, though no solutions are offered'."
The Democrat Party is great in conjuring up vast "problems" facing citizens of this country, but they offer no real solutions. The answers they give are really a stale plate of ruined leftovers, scenarios which have been tried already, and failed miserably.
"If this is a legitimate draft ... It still reveals how ugly the Democrat Party has become and how ugly and divisive the future will be, should this approach to national politics ever prevail."
From the beginning of the Trump Administration, I have been shocked to my core by the bitter and divisive actions of this Democrat Party. They openly invited all ProLife, Christian, Catholic, Capitalist, and defenders of our Constitutional Republic to leave the Democrat Party.
That is no way to win a national election, and Democrat strategists know it. It almost seems as though top party leadership, led by George Soros, decided to throw off the mask of patriotic Americans and show the world that their beating heart was Communist to the core.
The shocking fact is that the Democrats have demonstrated that they cannot successfully manage a people and an economy, because the Democrat-controlled cities are festering with the same problems which this platform pretends to address.
"As we have seen in pretty much every Democrat-run city in America, cities plagued by failure, by massive income inequality, by poverty, terrible schools, poorly-trained police, and racial strife, Democrat ideas and the Party's agenda are a proven failure. In one city after another, Democrats hold total power. There is no Republican opposition in a countless number of these cities, which gives Democrats carte blanche to institute their ideas and policies unopposed… And they have failed, failed miserably. So…"
This draft platform identifies the Democrats and Joe Biden for who they really are.
Before we leave this discussion, we believe that the prophecy in Revelation 18 powerfully shouts that Joe Biden and his Democrats cannot win this election, because a Leftist win this November will immediately and rapidly tear down the economic success which President Trump has started and which will a reality when the time comes for Revelation 18:7-8 to be carried out.
If this current economy is destroyed, never again in the history of mankind will such a powerful and successful economy be raised up. This government / economy is unique in the annals of history. But, today's young adults have no idea how precious and unique this system is, because they just completed 12 years of Public School learning how rotten our government and economy are.
Who has been supervising the writing of textbooks these past 70 years?
And, yes, this platform issues a "Jew Ban"!
NEWS BRIEF: "The Democrats Declare a Jew Ban", Townhall News, July 27, 2020
"Anyone concerned with Jews and Israel should be horrified by the Democrats' newly released 2020 platform. It directly threatens the Jewish state, employs double-talk calculated to stoke antagonism between the American left and Israel, and pays passing lip-service to opposing antisemitism ... "
This current diabolical diatribe against Israel began in 2009, when Barack Obama entered the Oval Office.
"Though claiming to be 'pro-Israel', Obama – and then Democrats generally - relentlessly demonized Israel's center-right Likud party and its popular leader, Bibi Netanyahu ... Their narrative is now the norm among Democrats across the spectrum: the establishment's anti-Israelism is deniable as 'anti-Netanyahu' or 'anti-Likud' while the progressives' antisemitism is sanitized as "intersectionality" or "anti-Zionism." As for actual policy shocks, their 2015 Iran Deal strengthened, enriched, and normalized the Islamic Republic over Israel's fearful pleas. Their 2016 Memorandum of Understanding (MOU) neutered Israel's ability to engage with pro-Israel members of Congress. Their parting shot, UN Resolution 2334, criminalized the mere act of living in Judea while Jewish. "
"In every respect the Democrats' agenda is intended to break Israel's back; to punish the Jews for daring to survive."
"... Democrats have articulated a brutally antisemitic program treating Jews and Israel as pariahs, uniquely worthy of discriminatory treatment. It makes mockery of Israel as a sovereign state and an American ally. It directly aligns the Biden campaign—and the entire Party—with Israel's mortal enemies. "
Thus, these Leftist Democrats have added one more national sin for which God is going to annihilate us in Revelation 18: the sin of deserting Israel at a time of her greatest need.
"... And I will bless them that bless thee, and curse him that curseth thee ..." (Genesis 12:3, KJV)
3. As rioters continue to turn their highly caustic anger toward the very rich and powerful who supported their cause, they cry out for police protection!
NEWS BRIEF: "DHS Deputy Secretary Ken Cuccinelli", Conservative Brief, July 27, 2020
"The president recently got into a verbal spat with Chicago Democratic Mayor Lori Lightfoot. Trump said he was going to send in federal law enforcement to combat the historic violence in the city. Lightfoot slammed the idea several times and said she was never going to allow it."
Throughout this crisis, Mayor Lightfoot employed very caustic language in battling the desires of President Trump to restore law and order. She seemed to be looking down her proverbial nose at her President.
Then, suddenly, she reversed course and is now cooperating with Trump. What caused such an immediate 180-defree turn? Be prepared for a good belly laugh.
"Lightfoot called the police after saying she heard gunshots outside her home."
After being an important cog in the Democrat machine in advocating police defunding and in criticizing every action the police carry out, the Chicago Mayor panicked when she heard the mob outside HER home screaming and yelling and shooting weapons.
Lightfoot frantically called the police -- for their armed intervention and for their expertise in dispersing a rampaging mob.
NEWS BRIEF: "Portland Riots Day 58: Portland PD Out In Force Second Night in Row", Red State News, July 27, 2020
"... as has happened every night for more than a week, as the evening got later the "protesters" faded away and were replaced by agitators and rioters. The Mayor then leaves the scene at the federal courthouse and walks with his entourage to the nearly county courthouse. Along the way he was denounced by the crowd, and more objects are thrown in his direction. Eventually, a scuffle between the crowd around him and his own security detail of 6-7 men ended with Wheeler getting inside the county courthouse with the door locked behind him."
"Wheeler leaves the scene. Protesters throw water bottles at him and curse him. He manages to get inside a building after a scuffle between protesters and his security detail."
If the mob treats this sympathetic mayor in this rough and brutal manner, what can we expect the mayor to do?
"But since that night Wheeler has changed Portland's "hands-off" policy when it came to dealing with the rioters in the streets around the federal building. The Portland PD has returned to the action, and for the second night in a row was out in force working side-by-side with the federal agents. "
Joining Chicago Mayor Lightfoot, Portland Mayor Wheeler now has been educated as to the true nature of this Marxist rebellion.
NEWS BRIEF: "ESPN Radio Host Who Previously Dunked on Trump Has an Awakening About Rioters", Red State News, July 26, 2020
"Paul Gallant is a talk show host at 710 ESPN Seattle. He's the co-host of "Danny and Gallant", weekday mornings ... Back when Seattle was dealing with the CHAZ autonomous zone and President Donald Trump was calling out the mayor's inadequacy at dealing with the situation, Gallant responded back in an interesting way, 'Chill Dawg'."
"But Gallant had an altogether different take when the rioters made it to his neighborhood and his apartment complex on Sunday during the riot in Seattle ... 'Came home to my apartment complex. The Starbucks underneath has been destroyed, and cops are telling us to stay away in case something explosive is inside'."
Still later, Gallant sounds close to truly panicking.
" '... there's a fire a few blocks from me which had me freaked out when I saw it from the highway. Zero clue what's going on ... I feel like I need to buy a firearm, because clearly this is going to keep happening. Enough is enough. It looks like a block party down the street from me. Really angry right now."
When a radical leftist comes to the point where they are contemplating buying a firearm, that is a monumental change! Did Gallant and Mayor Lightfoot have a phone conversation? Thank God, when they called the police, they did not get social workers instead!
But, people are feeling the need for personal protection.
NEWS BRIEF: "Firearm Ownership Surging Among Black Americans amid Nationwide Run on Firearms", Breitbart News, 28 July 2020
"Gun ownership is surging among black Americans as stores across the country report that the run on guns and ammunition is continuing. Politico reports that black Americans have been arming themselves 'since the beginning of the pandemic'."
If black citizens started buying guns and ammunition for personal protection because of the uncertainty created by COVID-19, how much more anxious are they now that Black Lives Matter Marxist protestors are on the prowl?
"NAAGA's Philip Smith suggested black American's growing interest in gun ownership and self-defense is too big to be a fad. He said, 'The days are over of African Americans sitting around singing Kumbaya and hoping and praying that somebody will come and save them. We're gonna save ourselves, and any politician that wants our vote moving forward, they better be on the side of our thinking otherwise, you're not gonna get our vote. We're not gonna be sheep anymore'."
That is music to my ears, that blacks are actually going to think critically about whom they are going to vote, rather than automatically pulling that lever for Democrats.
4. A group of concerned doctors held a press conference on Capital Hill yesterday to clear the air over COVID-19.
NEWS BRIEF: "Frontline Physicians Aim to Dispel 'Massive' COVID-19 'Disinformation Campaign'," Breitbart News, 27 July 2020
"American doctors are holding a 'White Coat Summit' on Capitol Hill Monday to address what they call 'a massive disinformation campaign' surrounding the Chinese coronavirus to which 'American life has fallen casualty'."
Their message was brief and to the point, but brutally honest.
" 'If Americans continue to let so-called experts and media personalities make their decisions, the great American experiment of a Constitutional Republic with Representative Democracy, will cease', reads the event's information page."
The message was too threatening to the Leftist crowd, so Facebook, Google/YouTube, Twitter Censored Viral Video of Doctors' Capitol Hill Coronavirus Press Conference!
The bottom line is explained below. After reading this fact, you will wonder how so many people could be so vastly panicked over so little a threat.
But, that kind of scenario is the skill of the master propagandist.
NEWS BRIEF: "Doctor Dispels Coronavirus Fears: '99.8 Percent of People Get Through this with Little to No Progressive or Significant Disease'," Breitbart News, 27 July 2020
"Dr. Dan Erickson, owner of Accelerated Urgent Care, spoke at Monday's "White Coat Summit" on Capitol Hill as part of a greater effort to extinguish fears surrounding the Chinese coronavirus and reminded the public that "99.8 percent of people get through this with little to no progressive or significant disease."
What skyrocketed during this lockdown were "Anxiety hotline calls up 1000 percent. Child abuse both sexual and non up. Financially, emotional distress, Suicide. Alcohol. 150,000 Americans a month not receiving cancer screening ... Delay in medical care. We talked about that. Orthopedics, nonessential. Suicide calls up 600 percent. Suicide calls..."
The time has come for the Democrat crying and moaning and frightening to be over so America can get back to work and to living normal lives.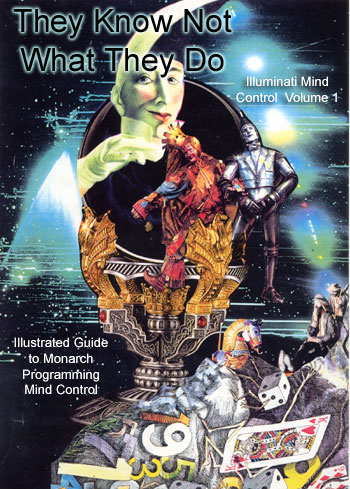 Table Top Manual
This entire COVID-19 scenario is resembling Illuminati Mind Control.
NEWS BRIEF: "COVID: Trauma-Based Mind Control ", by Jon Rappoport, July 27, 2020
"The covert operation called COVID, which has been planned for years, is all about trauma-based mind control. The trauma combines fear of a germ with the sudden psychic shock of the lockdowns, the masks, the social distancing, the economic destruction."
If you are surprised by the idea that COVID-19 was planned a long time ago, we would refer you to the quote from the New Age book, "Behold A Pale Horse", by Bill Cooper, 1992.
Listen: "The only alternative left to the world's ruling elite was to increase the death rate ... Dr. Aurelio Peccei of the Club of Rome ... advocated that a plague be introduced that would have the same effect as the Black Death of history." ["Behold A Pale Horse", ( p. 49, 167)
Dr. Peccei conceived the possibility of "increasing the death rate" through the introduction into the world of a plague which would kill at the rate of the "Black Death of History" in 1954!
And, of course, what caught my attention is that a type of Black Death plague is foretold in Revelation 6, in the Fourth Seal. Listen:
"When the Lamb opened the fourth seal, I heard the voice of the fourth living creature say, 'Come!' I looked, and there before me was a pale horse! Its rider was named Death, and Hades was following close behind him. They were given power over a fourth of the earth to kill by sword, famine and plague, and by the wild beasts of the earth." (Rev 6:7-8, KJV)
The combined death toll from this Fourth Seal is to reach 25%. How many people died during the Black Death pandemic?
"The Black Death ... estimated to have killed 30% to 60% of Europe's population." (Wikipedia)
Now, can you see how dangerous Dr. Peccei's suggestion was to reintroduce a plague as deadly as the Black Death Plague?
Now, let us return to our current news report:
"The government and media messaging about the "pandemic" was immediate, and it was launched as a wall-to-wall campaign. News reports, ads, public service announcements, talk shows, newspaper articles, press conferences, etc. No room was permitted for counter-opinion and evidence or intelligent discussion and debate. The messaging flood plays a major role in the trauma effect.
"In a state of subconscious paralysis, people obey. They follow orders. They sleep-walk. They even, on top of the layer of paralysis, actively defend the powers-that-be. A nation asleep. A world asleep."
This entire crisis over COVID-19 is Illuminati Mind Control.
"Re the use of fake official science as mind control: "Brainwashing is a system of befogging the brain so a person can be seduced into acceptance of what otherwise would be abhorrent to him. He loses touch with reality…"
"Brainwashing is defined as an observable set of transactions between a charismatically-structured collectivity and an isolated agent of the collectivity with the goal of transforming the agent into a deployable agent."
"COVID IS A MASS MIND CONTROL PROGRAM."
5. The debate intensifies over whether school children should return this Fall, led by Leftist Democrat mayors and governors.
NEWS BRIEF: ""Schools Steal This Joy From Children": Homeschool & Outdoor Programs See Huge Surge Amid COVID-19", Activist Post, July 24, 2020
"School districts and counties across the US, including counties in COVID-resurgent Texas this week, have mandated that all public and private schools not start their school year until after Labor Day (Sept. 7)."
"Bottom line is that school-wise it's a time of extreme uncertainty and anxiety for families across the US. ... Due to these and other lingering questions, homeschooling is set to explode across the US ... all kinds of 'alternative' and hybrid stay at home schooling programs are now popping up organically amid continued pandemic and 'shutdown' fears."
Our Proposal: schools should be locked down until we can get older textbooks in the system, so that we are no longer training our children to believe that Socialism / Communism is preferable to Capitalism.
The unbelievable millions of young Americans who prefer Leftist concepts believe that way because they were trained in our Public Schools!
This dramatic shift from Christian-based education to this Marxist education currently afflicting u is also planned a very long time ago.
America's Public School system no longer teaches accurate history, no longer teaches the Constitution, and no longer teaches the historic values and attitudes which built this country. As early as 1911, the Illuminati began buying textbook writing companies, until they owned them all after World War I. Once they got control of textbooks, they gradually began to "dumb down" the curricula and rewrite history. Today, students of public schools since World War II have received increasingly inferior educations, until now the population is largely academically inferior, is political herds of "sheeple", and is religiously ignorant of Biblical Truth.
In fact, the Illuminati gained control of the American Public School system between World Wars I and II, riding the popularity of Dewey and C.F. Potter.
Potter captured the thinking of the Illuminati toward the Public School system very clearly. Listen carefully:
"C.F. Potter, author of `Humanism, A New Religion' (1930), said `Education is thus a most powerful ally of Humanism, and every American public school is a school of Humanism. What can the theistic Sunday Schools, meeting for an hour once a week, and teaching only a fraction of the children, do to stem the tide of a five-day program of humanistic teaching?'"
Now, can you understand that students should be kept home until the old textbooks can be printed again and disseminated throughout our Public Schools? Changing the textbooks should not be as much of a problem as you might believe.
Christian parents must now pull their precious children out of Public Schools, to save their souls. Remember, the Public School System was originally advocated by none other than Karl Marx, in his Communist Manifesto. American children were not subject to Public Schools controlled by the State until the latter part of the 19th Century. From 1776 until approximately 1900, students were educated in a collection of private schools, including churches.
When I was in Pensacola Christian College in 1991, having delivered one of our daughters to the school to begin her Freshman year, I toured the college. At the Library, on the third floor, I saw that Pensacola College had recreated a one-room schoolhouse. Bookshelves had been built-in around three of the walls of the schoolhouse. They were filled with extremely old books. Since I have always loved old books, I was intrigued. As I pulled several of them off the shelf, I realized that these books were textbooks, with some dates in the late 1800's. I asked the Pensacola student on duty in the Library where Pensacola College had gotten these old books. She replied that the college had been given these books by a wide variety of people over the years, and that these old textbooks were used in the A Beka Home Schooling Program as the basis for their current textbooks.
I must have looked shocked, so the student explained. She said, Pensacola college professors recognized that textbook materials in America have been "dumbed down" since World War I, and could not be depended upon to draw from to produce modern textbooks. But, these old textbooks were not "dumbed down"! Therefore, Pensacola uses the material in these old textbooks to produce excellent textbooks for today.
Truly, the decline in American academic standards is most appalling, especially when we learn that the stated objective is to produce obedient little citizens to an all-powerful state government, rather than to train their students in the skills necessary to be a productive individual. Finally, the downward slide to actively teaching occultism to our students in another proof that we are indeed in the End of the Age, in the time period immediately preceding the appearance of the New Age Christ [Antichrist].
6. As Israel seemingly struggles with lockdown over COVID-19, her enemies are growing restive.
NEWS BRIEF: "IDF is Locked and Loaded: Netanyahu Warns Lebanon and Syria", United With Israel, July 26, 2020
"Prime Minister Benjamin Netanyahu on Sunday warned Iran, Syria and the Hezbollah terror group in Lebanon not to mess with Israel, following a cross border incident last week with Syria and threats by Hezbollah to attack."
"The IDF said it was prepared for an "imminent" attack by Iran-backed Hezbollah terrorists ... 'There's no need for panic, we just hope, for Hezbollah's sake, that they will think hard before the next provocation', local official Moshe Davidovich said."
They seem to believe that Israel is facing a unique weakness right now. Israel is taking concrete steps to prepare for a major war.