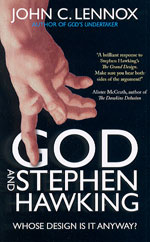 Renowned scientist, Stephen Hawking, claims to have 'banished God' in his newest book, 'The Grand Design'. Oxford Mathematician John Lennox takes a very close and critical view of Hawkings logic.

Hawkings claims that the laws of physics, and not God, created the fabulously complicated world and universe in which we live.

In lively, easy-to-understand laymans language, Lennox guides us through key points in Hawkings arguments, with clear explanations of the latest scientific and philosophical methods and theories, and proves that, far from disproving God, they make His existence a requirement!

Sir Isaac Newton commented that the existence of gravity proves the existence of Creator God; but Hawking says that because of laws like the law of gravity that the universe can create 'itself out of nothing'.

A great value for only $5.99!