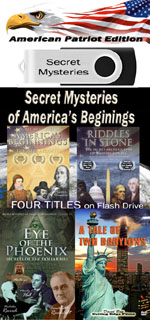 Save by buying Videos 1, 2 and 3 of the Secret Mysteries series and A tale of Two Babylons - rather than buying them individually
Video 1 - New Atlantis - demonstrates that the Secret Society plan to create a New Atlantis nation on the North American Continent began in the 1580's between Queen Elizabeth I and Sir Francis Bacon. We also show that America's Founding Fathers carefully carried out the Baconian Plan in establishing the government of America. This video ends by showing that this plan ends with Antichrist coming to the world scene, a plan which is shown in the street layout of Washington, D.C. Nearly 3 hours long
Video 2 - Riddles In Stone: The Secret Architecture of Washington, D.C., closely examines the pagan monuments, paintings, sculptures, and street layout in Government Center and show how the original Bacon Plan can be seen in these pagan depictions demonstrate that America was founded according to the Baconian Plan. Nearly 3 hours long
Video 3 - Eye of the Phoenix examines the two Seals on the back of the One Dollar Bill and demonstrates that they are Global Illuminati Seals, not Seals of the U.S. Government. Also demonstrates that the occult design of these Seals represents the most powerful 'Magick" of any other document in history. These two Seals hide three (3) hexagrams, forming a '666', another example of the hidden plan to produce Masonic Christ (Antichrist). Nearly 3 hours long
Video 4 A Tale of Two Babylons: by David Bay, Cutting Edge Ministries - In our study of 'A Tale of Two Babylons', we are going to demonstrate that prophetic literature speaks of God's judgment on one physical nation 'Babylon' (Judged in Isaiah 13) and one nation Symbolically called 'Babylon' ( Judged in Revelation 18).
Entire Combination Offer has over 10 hours of video. You will be mesmerized and your view of American history and of our national place in history. Four hot topics in 4 videos in MP4 format on one USB Flash Drive.
These videos are for play on your windows 10 computer or a Mac if you have a USB adapter. This may also play on a smart TV from your computer or on smart phone with a USB flash drive adapter and some technical savvy on your part. See our flash drive instructions for that.
There is so much on this flash drive that we have put the full description in a PDF file for you.
Secret Mysteries of America's Beginnings Collection full description